As wedding decorations, ceiling fixtures, melted sculptures and more, disco balls are back—and they've found a new home in everyday interior design. Whatever comes next, stay in the know with our weekly roundup of headlines, launches and events, recommended reading and more.
Business News
Airbnb announced last week that employees will now have the option to work remotely permanently, as well as the ability to move anywhere in the country without taking a pay cut. According to The New York Times, the company abandoned its previous position mandating employees return to the office in September 2022, leaning instead toward a workplace model that offers the flexibility to travel. As chief executive Brian Chesky has noted, one in five guests on the platform used Airbnb to work remotely last year. In recognition of the fact that 10 percent of the American workforce is remote now, the new policy reflects the company's efforts to encourage users to utilize the platform's listings as work-from-home offices.
1stDibs is expanding its presence in Europe, Reuters reports, with the debut of a localized site in Germany and plans underway to unveil another in France next month. The platform's users in those countries will have access to a search process that prioritizes items located in Europe, along with features tailored to their local language, local currency, customer service and shipping. According to CEO David Rosenblatt, 1stDibs has a large presence in Western Europe, with France and Germany as its two largest non-English speaking markets, encompassing 40 percent of the sellers and one third of all traffic on the platform outside the U.S.
For its next gallery, RH is eyeing Linden House, a 41,762-square-foot Indianapolis mansion formerly owned by the late businesswoman and philanthropist Christel DeHaan that comprises 61 rooms, terraced patios, indoor and outdoor pools, gardens and more. According to the Indianapolis Business Journal, the home furnishings retailer has partnered with Aspen, Colorado–based M Development to acquire the estate contingent on zoning approvals; though a purchase price was not disclosed, the property was listed for $14 million earlier this year. According to a presentation CEO Gary Friedman gave at Linden House last week, once the sale is finalized, RH plans to feature a showroom, restaurant, wine bar, in-store interior design services and outdoor furniture galleries on the property, which is scheduled to open in the fourth quarter of this year or the first half of 2023.
The Biden administration passed legislation last week to begin phasing out the sale of most new incandescent lightbulbs in 2023 as part of an effort to set stricter energy efficiency standards, The New York Times reports. The move is intended to continue the shift toward LED lights, which last up to 50 times longer than incandescent bulbs in addition to cutting electricity costs and greenhouse gasses. The Department of Energy estimates that the new law will save Americans $3 billion collectively on utility bills each year and reduce carbon dioxide emissions by 222 million metric tons.
Investment company Polaris has sold its stake in Danish furniture and lighting group Designers Company—the owner of design brands like Menu, The Audo, by Lassen and Brdr. Petersen—to global design group Design Holding, which oversees brands such as B&B Italia, Fendi Casa, YDesign Group and more. The price of the deal was not disclosed. The move follows a year of growth for Design Holding, which saw revenue increase by 21 percent in 2021. According to Reuters, the company may be considering a possible IPO this year, with sources close to the matter reporting that Design Holding has hired investment bank Lazard to facilitate the process, predicting the company could raise roughly $1 billion for a market valuation exceeding $4 billion.
Home energy monitoring firm Sense has announced the completion of a $105 million Series C fundraising round led by Blue Earth Capital, TechCrunch reports. The Boston-based company was established to provide homeowners with better insight into their energy usage by connecting its software to solar panels, batteries and generators. With the new capital, Sense plans to expand its reach to markets in Europe and Asia as well as increase its focus on new construction stateside in order to build its technology directly into homes from the ground up.
International Design Surfaces Holdings, an investment company within the Investindustrial group, has sold its stake in stone services company Neolith to CVC Capital Partners Fund VIII. The terms of the deal have not been disclosed. Neolith, which produces large-format stone surfaces for architects, interior designers and everyday consumers, has undergone a series of developments since Investindustrial invested in the company in 2019, including growth in the North American and Asian markets and several new product launches.
New York–based antique and decorative arts dealer Newel has acquired the collection of midcentury furniture and decorative accessories dealer Dual Modern, bringing on more than 10,000 pieces through the deal. Since its founding in 2005, Dual Modern amassed a variety of items including American, European and Scandinavian furniture, lighting and accessories from iconic designers like Charles and Ray Eames, Harvey Probber and George Nelson. Newel's newly expanded inventory will be shoppable online or through the company's showrooms in Manhattan and Long Island.
Launches and Collaborations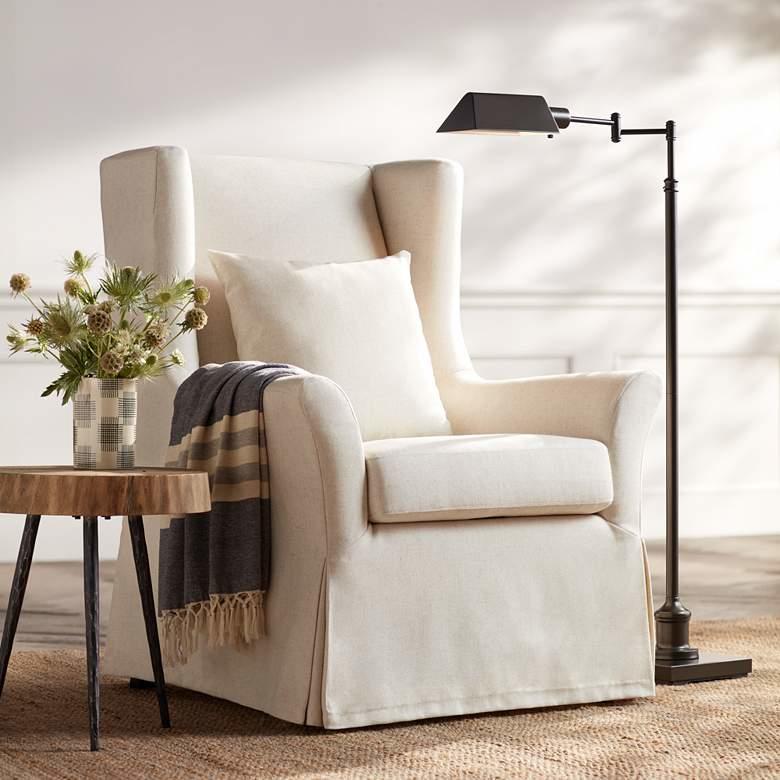 Reese Witherspoon and Havenly have launched the inaugural collection of a multiyear collaboration between the interior design company and Reese's Book Club. Intended to adorn a home reading nook, the assortment includes chairs, bookcases, lighting, pillows and blankets, with a percentage of the profits to be donated to the Women's Bridge housing facility in Los Angeles.
Audrey Gelman, founder of women-focused coworking space The Wing, has moved into the home sphere with the opening of The Six Bells—a boutique offering textiles and kitchenware in Brooklyn's Cobble Hill neighborhood, The Cut reports. Under Gelman's stewardship—prior to her stepping down as CEO due to reports of low wages and racism in the workplace—The Wing was well known for its interior aesthetic, marked by bright pink furnishings and color-coded bookshelves. The new store taps into various of-the-moment post-pandemic nesting trends, stocking cottagecore-inspired decor and antiques, as well as objects related to leisurely pursuits like gardening and crafting—all of which is inspired by a fictional English village.
The National Kitchen & Bath Association has announced a new partnership with the Home Technology Association, which connects home design and building professionals with qualified home technology installation firms for residential construction projects. Through the collaboration, HTA will provide NKBA members with access to its library of educational resources. The NKBA, meanwhile, will help develop opportunities between design and construction members and HTA-certified home technology integrators.
UK–based home decor brand Lick has launched its services in the U.S. following a banner year for the company, which experienced growth at a rate of 400 percent year-over-year in 2021. After debuting in 2020, the business has set out to provide a curated collection of paints and wallpapers alongside color consultation services with dedicated specialists.
Recommended Reading
For most of the 20th century, The Textile Building in Manhattan was a thriving showroom hub for makers of sheets, towels and rugs. When the building was sold in 2019, its new owners planned to double the rents and convert the space into industrial-chic offices—leaving longtime resident textile makers in the lurch and ultimately displacing 78 businesses. For The New York Times, Jane Margolies traces the history of the century-old building and speaks to former residents about their fondest memories—and how they've found new communities by creating textile hubs nearby.
For those working from home, sofas may seem like a welcome alternative to the traditional desk setup—but beware: Potential health risks can arise from spending long periods of time camped out on the couch. For Apartment Therapy, Arielle Tschinkel details her experience with "sofa dermatitis," an allergic reaction brought on by the anti-mold and antifungal agents commonly used in furniture, which left her itching intensely for more than a year of the pandemic.
The New York real estate market is experiencing a dearth of one-bedroom apartments—are post-pandemic breakups to blame? For Curbed, Bridget Read uses personal experience to explore the possibility, collecting anecdotes from long-ago exes, real estate agents and fellow singles to test her theory.
Cue the Applause
The Atlanta Decorative Arts Center has announced the winners of the 2022 Southeast Designers and Architect of the Year Awards, selecting three honorees from a group of 38 regional finalists spanning seven states. The awardees are Harrison Design of Atlanta in the architect category; Harris Interiors of Atlanta in the contract design category; and Liz Hand Woods of Liz Hand Woods Associates in Birmingham, Alabama, for the residential design category.
New England Home has announced the winners of its 2022 5 Under 40 Awards, which spotlight emerging talent in high-end residential design. This year's recipients are Hannah Oravec of Lawless Design, Roisin Giese of Twelve Chairs Interiors and Lauren Hamilton of August Interiors for the interior design category; Erika L. Dodge of ELD Architecture for the architecture category; and Devin Hefferon of Matthew Cunningham Landscape Design for the landscape design category.
Call for Entries
Maison & Objet is now accepting submissions for the first-ever Future on Stage program, which will promote emerging companies in the home decor, design and lifestyle industries. A jury of experts will select three winners, who will receive a curated exhibition at the design fair in September, organized meetings with various fair visitors and partners, brand promotion through social media and the Maison&Objet magazine, a spot on the MOM digital platform and more. Applications are due by May 31. For additional information or to apply, click here.
Thermador, in partnership with the Interior Design Society, is now accepting applications for the 2022 Diversity in Design Pipeline initiative. With the goal of promoting diversity in the design sector, the program selects five design students to receive a $10,000 scholarship, a yearlong mentorship with acclaimed interior design professionals, IDS membership and access to exclusive trade events, training and career resources. Applications are due by May 30. For more information or to apply, click here.
Homepage image: The new collection from Havenly and Reese's Book Club | Courtesy of Havenly