As internet-native brands pick off customers left and right, the rise of online mattress shopping has sent a collective shiver up the spine of those in the industry with physical stores. Sleep Number happens to have 650 of them. Now, the Minneapolis-based chain is rolling out a new retail format—first in Edina, Minnesota, then in an additional 18 locations by the end of the year—to entice buyers to peel themselves away from their screens and come on in.
True to Sleep Number's brand position as the tech-forward player in an old-school industry, the new format has plenty of digital bells and whistles. According to Angela Gearhart, Sleep Number's vice president of connected brand experience, the stores will feature artificial intelligence, interactive displays and a system of QR codes that "create the maximum immersive experience."
This remodeling program, which will be rolled out across the entire chain over time, comes as Sleep Number introduces its new flagship model, the $10,000 Climate360 Smart Bed. With an elevated shopping experience and its priciest product ever, the brand is likely looking to win over the kind of customer who can be upsold to a bed with a five-digit price tag—and create an even greater distinction from the promotion-heavy online players. Sleep Number is also probably hoping to better educate consumers on a product category—the Smart Bed—that inspires both excitement and confusion.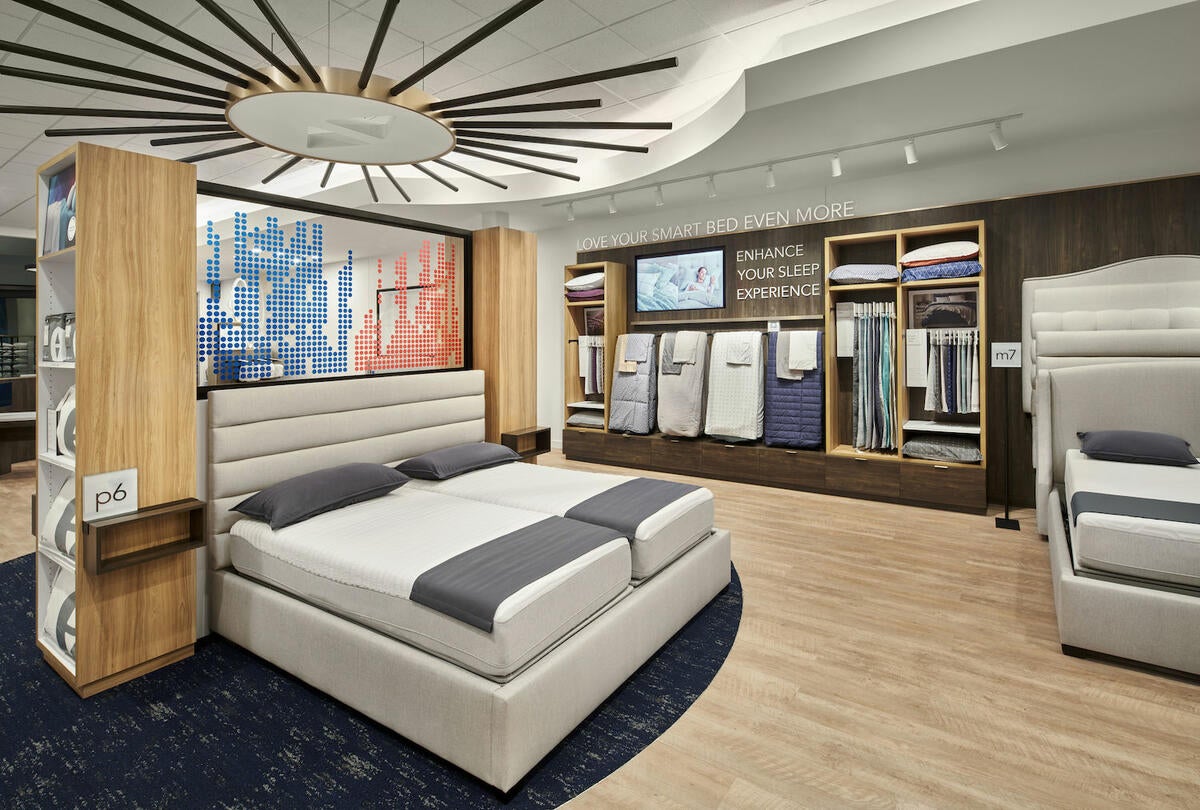 To that end, in the new locations shoppers will find beds "introducing themselves" via an audio/video presentation that runs automatically with a narrator who sounds "a little like Scarlett Johansson," according to Gearhart. A QR code system will be employed to match mattresses and bedding accessories like pillows and sheets. "We wanted the customer journey within the store to be very guided," she says.
In addition to adjusting the technology on display, Sleep Number is also planning to green up its retail fleet. Sustainability features include: carpeting made from post-industrial waste, domestically made store elements, 100 percent recycled acrylic fixturing, wallcoverings with no PVC, LED lighting that is LEED-certified and even low-flush toilets.
With the new store design, the Climate360 introduction and this focus on sustainability—the company is even converting its headquarters to solar power—Sleep Number is looking to stay a step or two ahead in a highly competitive sector. If the changes can entice a deep-pocketed upscale consumer, the brand can rest easy.
Homepage image: The new Sleep Number storefront in Edina, Minnesota | Courtesy of Sleep Number
____________
Warren Shoulberg is the former editor in chief for several leading B2B publications. He has been a guest lecturer at the Columbia University Graduate School of Business; received honors from the International Furnishings and Design Association and the Fashion Institute of Technology; and been cited by The Wall Street Journal, The New York Times, The Washington Post, CNN and other media as a leading industry expert. His Retail Watch columns offer deep industry insights on major markets and product categories.