The 50 States Project is a series of candid conversations with interior designers across the country about how they've built their businesses. This week, Las Vegas–based designer Taylor Borsari tells us what it's like working in a city of transplants, the problem with '90s architecture and how her process is informed by an understanding that for clients, design is "emotional, expensive and hard."
How did you land on design as a career?
I was always really creative, but because I wasn't a natural-born illustrator, I thought I wasn't a creative person. I had tons of friends who could draw—they would draw your portrait, and it was just amazing even though they had no training at all. That wasn't a gift I was born with—I really had to learn to draw—so I just thought, "Well, I guess I'm not creative." But there are so many different facets to creativity.
I was a studio art major, but I wasn't sure where I was going to land exactly. I just knew I wanted to do something in a creative field. I worked in TV production for a minute after college, but I had this draw to interior design. My grandmother was an interior designer, but I really hadn't considered it as a career until that point. Then, while I was working at Disney, I just decided, "I'm going to do it." That's when I enrolled in the program at UCLA. I remember my parents always saying, "Just find something that you're passionate about and that you love, and you'll never work a day in your life." So I went back to school with that motto in mind.
How much of your grandmother's business did you see growing up, and what about it sparked your interest?
She lived in Colorado and I grew up in Southern California, so what I saw was more of her helping my mom with things. I remember going to showrooms to pick out wallpaper for my room. I was pretty young, so I don't think I had much of a say at the time, but I remember the process and maybe nodding my head about a wallpaper choice, and how she pulled down some of our existing light fixtures and painted them to give things a completely fresh look. She passed away when I was in high school, so I never really got to shadow her, but I think somewhere in my subconscious that stuff stuck with me.
What was going to that UCLA program like?
Initially, it was full-time. Then I got a job working for Michael S. Smith, [so my coursework] became part-time. It was a good introduction to interior design—a lot of those classes gave me the basic skills that are at the core of what we do, like drafting, computer work and things that are integral to being able to communicate your design process. But honestly, the most valuable experience was the actual job.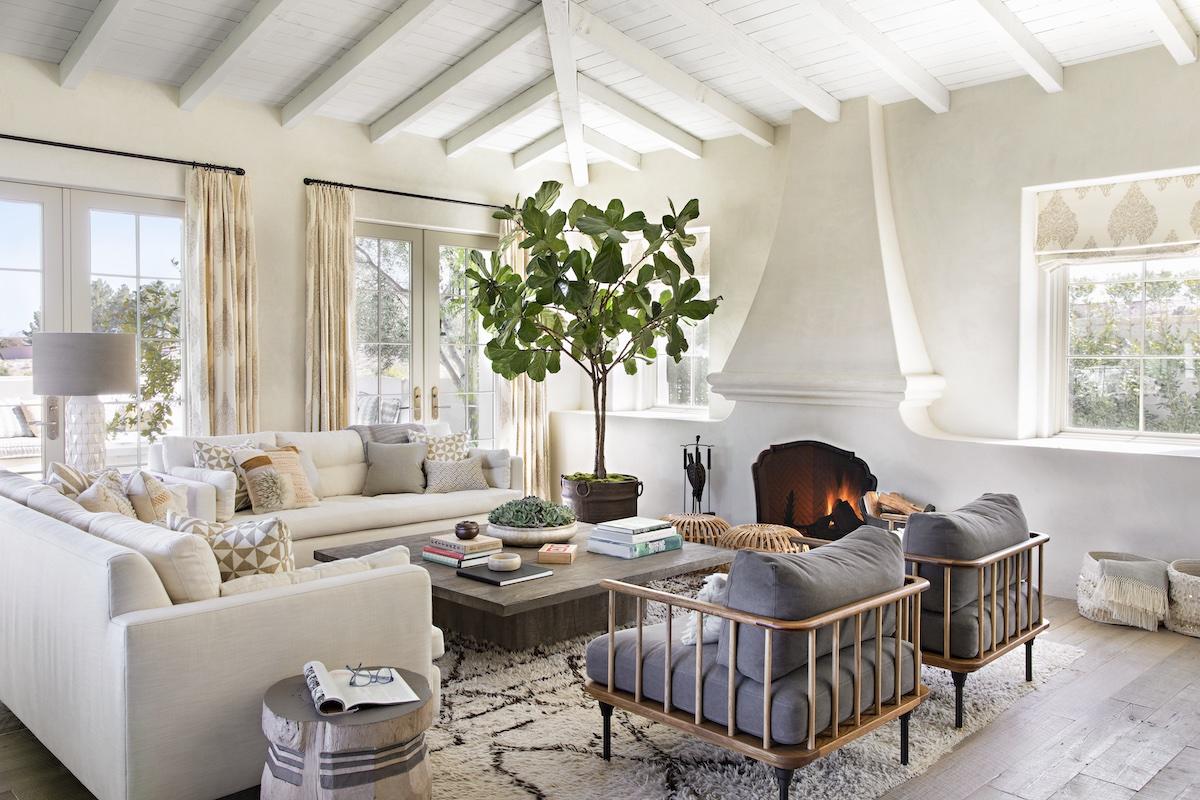 What was that job like?
It was a sink-or-swim situation: You got thrown into it and got things thrown your way, and you just figured out how to make it work. It was an amazing group of people that I had a chance to work under and work with, and Michael is obviously an incredible talent, so it was an incredible place to start in the industry. The caliber of projects that we had in that office was amazing.
This is long before the awards and the AD100 list and the White House, right?
Yes, it was 2000—he didn't even have a website. It was a totally different world. When I was applying for the job, I remember trying to figure out who he was. I was taking a course with someone who had just been hired there, and I knew the firm was looking for people. I didn't really know what to expect, but I knew I wanted to be there. When I got the offer, I was like, "Let me do the numbers and get back to you." I was really interested—I was going to call back that afternoon and accept the job—but [my response] was a bit of a surprise to Michael, I think, even though I didn't mean it to be an insult in any way.
The firm was a lot less polished than it is now. He had moved into a relatively new building when I started, so we had fluorescent lighting, a drop ceiling, concrete floors and a bunch of desks in the middle of a room, with stacks of plastic bins for fabric samples. It was very rudimentary. [Over the course of my four years] there, he built out the top floor, and we had a much more posh situation with built-in desks and skylights. But we were working on all sorts of large-scale projects from Santa Barbara to various places all over Los Angeles, and there were projects that we were working on back East. I started as a junior designer, and then moved into senior designer. By the time I left, I was managing about seven projects between Malibu and Santa Barbara.
And that was when you started your own firm?
I actually went in-house with one of the firm's clients to help manage a 10,000-square-foot addition—I was still involved with the Michael S. Smith office, but from the client side. My husband and I were ready to start a family, but I was working 80-hour weeks. It was really just an effort to slow down a little bit.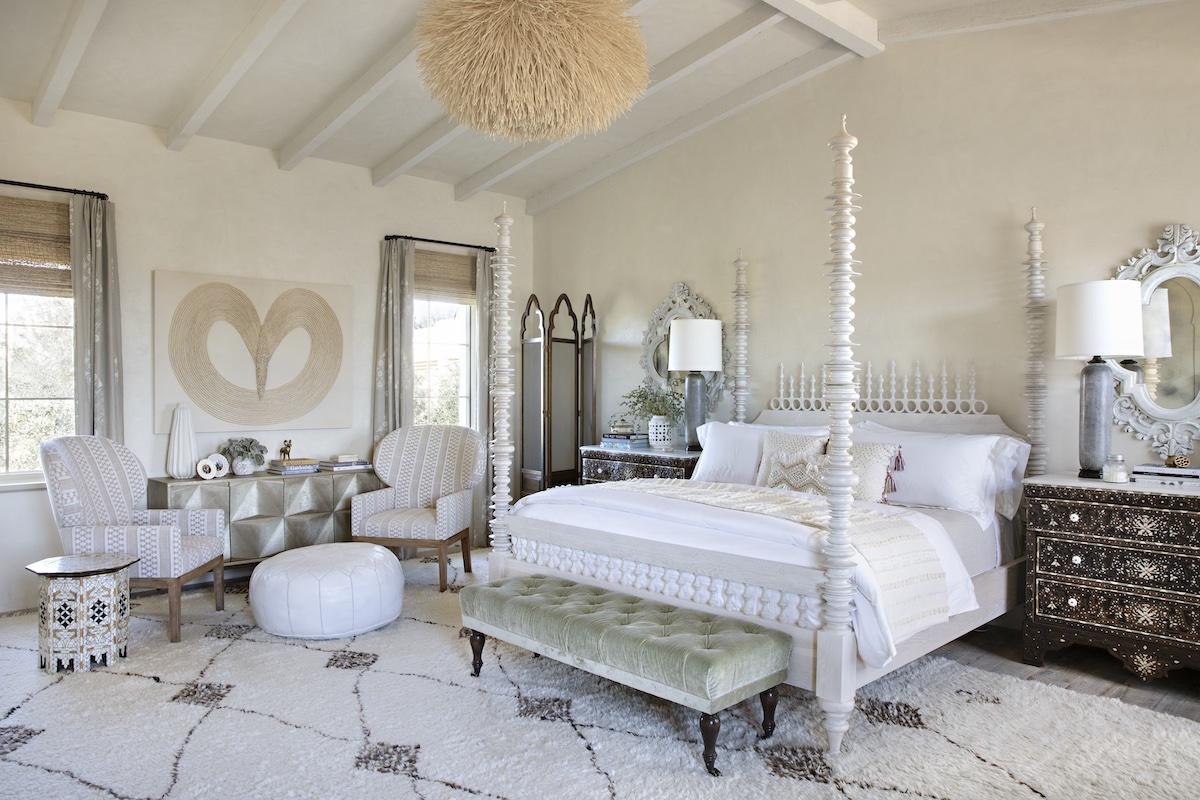 How does that experience on the client side shape the way you work with your clients now?
Gosh, probably in so many ways I don't even totally realize. For one thing, having a better idea of how to operate a large estate was really helpful. I was managing the staff, but I was also communicating between the design team and the client. I was helping document the firm's records so they were easier to reference from the client side. So I think I had a greater appreciation of how to communicate things so that the clients can identify what's what or help with their record-keeping—that was really helpful.
The biggest takeaway was managing the on-site staff and the workings of the house, and the systems needed for things to run smoothly. Often when we complete a big project, we'll work in tandem with the contractors to establish maintenance schedules and vendor schedules to help facilitate that property management side of things. That way, it's a lot easier a few years down the line—and I think a lot of that came from my experience on the household side.
Do you mean a binder of who to call and what to do, or are you taking a more active role in helping with property management?
We do help a lot. It starts as a binder, which acts like a road map. Sometimes our clients have property managers, and then we work in tandem with them. But at this point, my firm has long-standing relationships with most of our clients, and almost 50 percent of what we're doing in a given year is maintaining things—whether that's reupholstering outdoor furniture that has been beat down by the Vegas sun or doing full linen sweeps. We've got some clients for whom we're replacing towels and bed linens on a yearly basis—so there are a lot of ongoing maintenance items, which I think a lot of people don't think about.
Did you expect that would be such a significant portion of work?
Not at first. But that's one of the things that we feel really good about as part of our service. I love having long-term relationships with the people we work for—I think we're on a 12th project for one of our clients, which is just the ultimate gift. We're working on number three with another, and we love that they keep calling us. Not only are they referring us, but they're asking us to do something new for them, or we're working for their children. That's been a new thing recently: We have some clients where, when we first started working together, we were doing kids rooms. They were little kids, and now they're getting places of their own and we're doing their condos or first homes. I value and love those relationships, and the facilitation part goes hand in hand with that—they know they can call us and say, "My sheets are ragged, and our towels aren't as fresh and white and fluffy as we want them to be."
How do you bill for that sort of ongoing maintenance?
We just mark up whatever we're selling. There's no additional design fee. For me, it's not always trying to monetize everything; it is really doing the right thing by our clients. We're in a service industry, so if we can facilitate those things, we do, and hopefully it's convenient for them because they have one place to call. I don't know if that markup really covers our time, but I'm not super concerned about it. My hope is that, because it's a great working relationship, they'll continue to call us if they've bought another home, or they're moving, or they're deciding to remodel, or they want to do something new.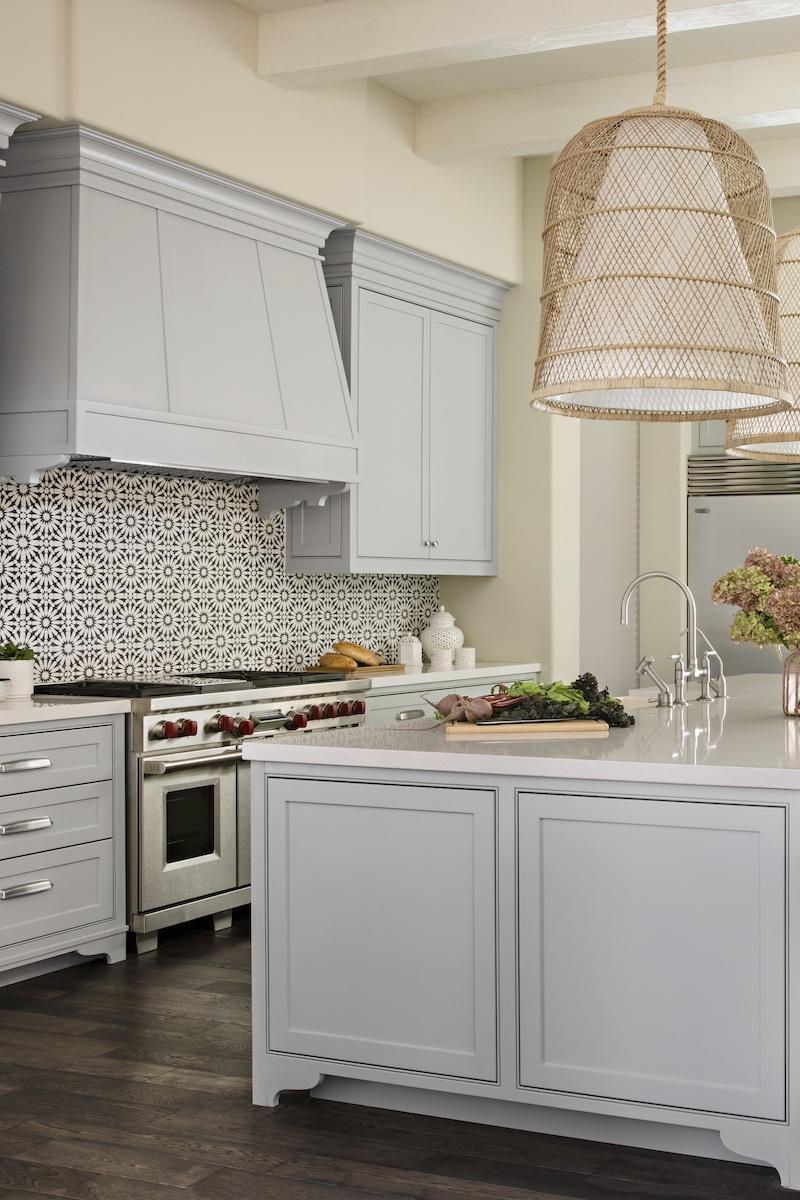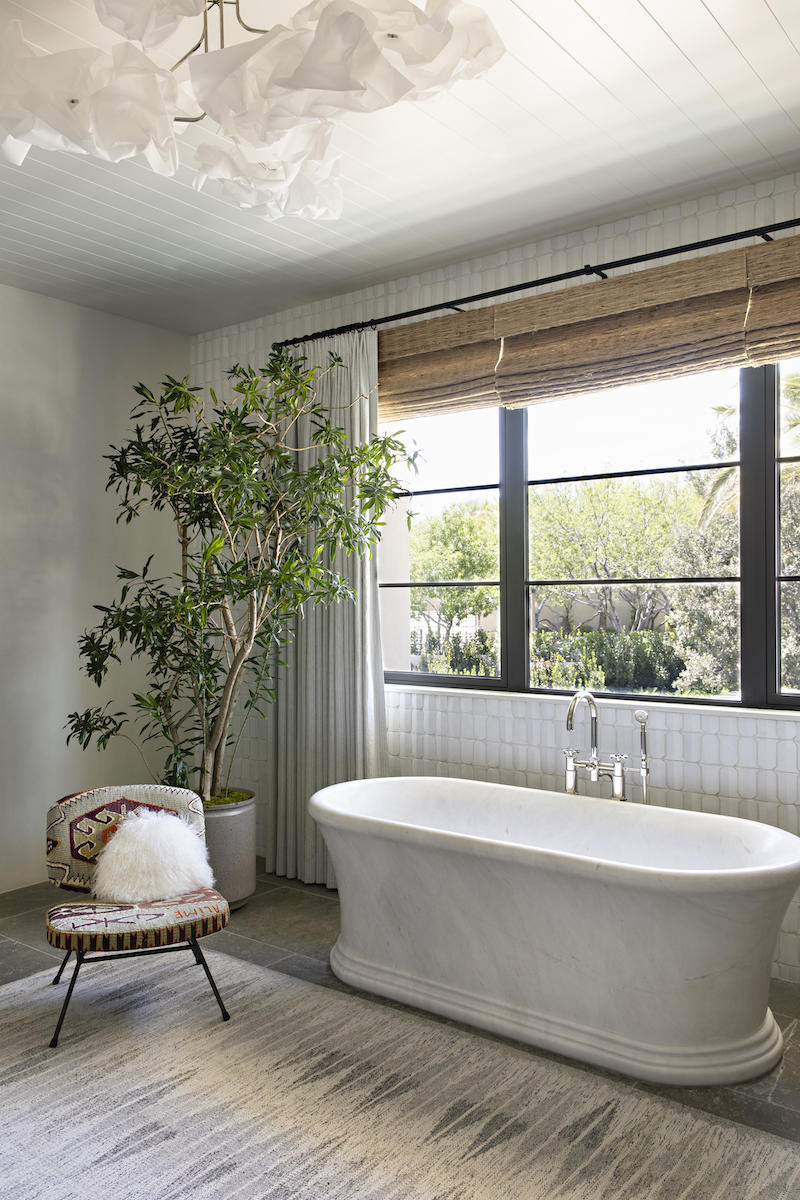 What brought you to Nevada?
My husband had a job opportunity. He worked in television, and we always thought that if we moved anywhere from L.A., it'd be to some big city—New York or something—but then he had this opportunity to come to Vegas on a five-year contract, and we thought, "Sure, let's do it. Let's give it a try while we don't have kids." He was really passionate about the job, and 17 years later, we're still here. I started my firm when we got here in 2005, and it's been a great place to establish my business, but at first I really felt like a fish out of water. When you are in L.A., there's such a robust design community and everything is at your fingertips—you can use a messenger for your samples and get them the same day. It was just easy. I really felt the strain of not having all of that when I first got here, but we've discovered some fantastic vendors here as well. And obviously, it's a different city—it caters much more to the hospitality industry, which is not what we do.
Are most of your clients based in Vegas? How did they find you at the beginning?
It's always been word of mouth. Generally speaking, Vegas has historically been the city of transplants. It's such a young city, and most people, like me, came from somewhere else. The typical conversation when you meet somebody is, "Where are you from originally?" But more and more, you're meeting people who were born and raised in Vegas, or who came to school here and then stayed. That's so cool, because the city's getting the depth that it hadn't had before—it just didn't have the time or the history yet.
Of my clients now, I've got a mix of people who were born and raised in Vegas, and then others who have moved here—and there are big tax benefits to doing so. A lot of corporations are moving, and a lot of people are moving here to establish residency as well. There are a lot of Californians moving in, and the addition of our professional sports teams has also brought a whole new influx of people—we got the Golden Knights, an expansion hockey team, in 2017, and then in football, the Raiders moved into town in 2020—and that's been a big deal too. It's evolving in such an exciting way, and there's so much growth and upward movement in the city as a whole. And by getting people from all over, it has brought different demands and different desires aesthetically.
How did you establish yourself and your aesthetic?
I don't know that Vegas had the best history of design. Often someone's benchmark is the things they once saw on the Strip, but that's definitely changing.
I just kind of did what I do, and if that resonated with people, then it was a good fit. If something they saw at the Bellagio or a different resort really resonated with them and they were asking for that, then I probably wasn't the right designer for them. I haven't personally worked on homes where I'm adding gilded columns or ornate mirrored walls—you know, the things that you would typically think of as being a little more flashy in Vegas. I've only had a few requests like that earlier in my career, and I was like, "I don't think that would be my recommendation. I don't think that I'm the best fit for you." Today, generally speaking, clients reach out because our work resonates with them and that's what they're looking for.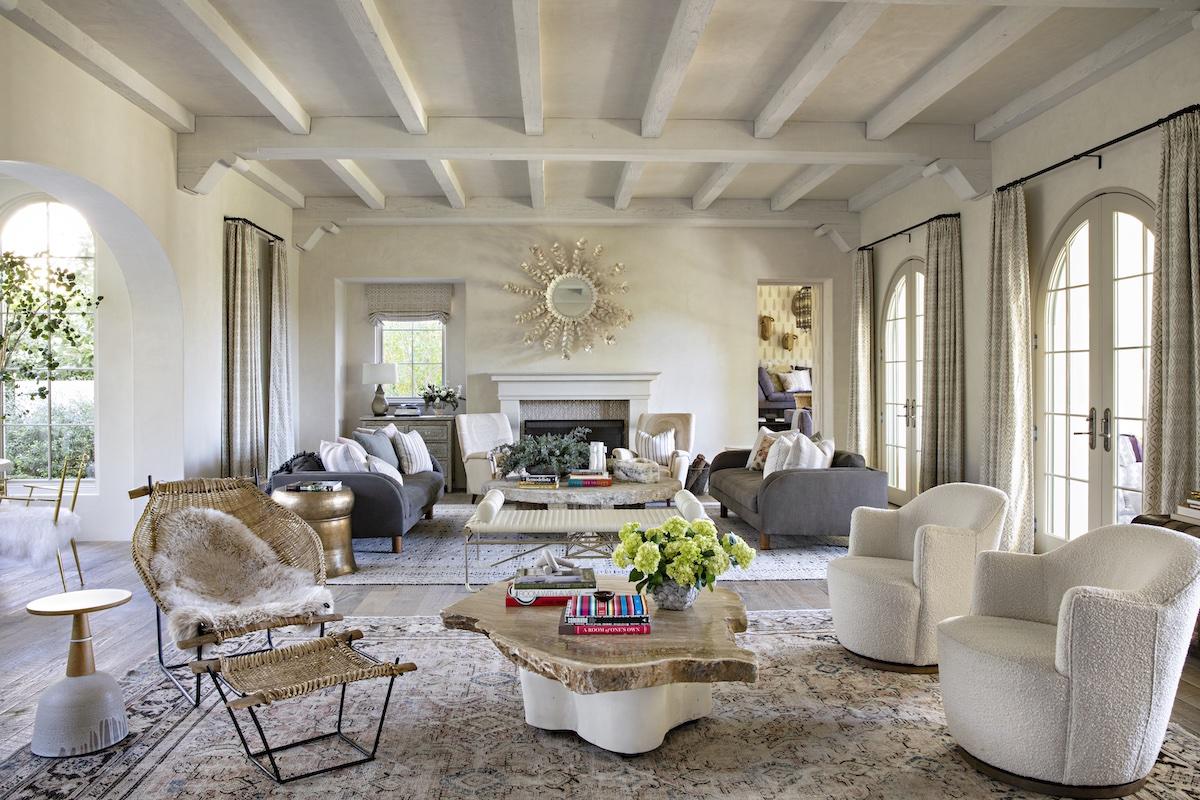 You were talking about the fact that Vegas is a young city, but a lot of the spaces you've designed feel like they've been there for a long time.
That makes me so happy. I'm always trying to get to the core of what a space wants to be, and I know it sounds weird, but sometimes the project kind of speaks to you—it dictates what needs to happen. Maybe it's something that's really sterile and clean, and it needs to get a little more authenticity and grit. I'm trying to look for the honesty in any given project. I find the common thread through all of our work is sort of an elemental textural quality, whether it's the hand of the fabric or the finish of the stone or plaster, or a mix of patterns. It changes across different projects, but there's a materiality that I think I tap into that's important. If something's a little more contemporary, that might be a little bit more buttoned-up; if we're working with something with a lot of color and pattern, that might apply itself differently. Through all of it, there's that connection to the hand of either the maker, or the product or the natural quality. And the rest of it is just so client-driven.
Are clients coming to you with renovation requests, then, or is it mostly new construction?
Because Vegas is so new, most of what we've done recently is new construction, and the stuff I've recently posted on Instagram is all new. When I did a renovation a number of years ago, it was a home built in the early 1990s, so we were trying to simplify and edit things down, and add some patina to the finishes. When we started, it was all slick steel beams that were painted red, some tricky inset glass and glass block—all sorts of fun things that people liked to play with in Vegas in the '90s. So we stripped it down to stone, simple floors, textured plaster walls and beam ceilings.
I'm always trying to add some more traditional elements to these spaces. Architecturally, most of what we inherit [is fairly recent]—I mean, an "older home" in Vegas generally means it was built in the 1970s. "Really old" would be from the '50s, depending on where you are, which isn't really that old, right? If you get one of the '50s homes, there may be some fun architecture to play with, but a lot of what you see was built in the '90s, so it's got weird drywall soffits and cove lighting and double-height ceilings and no real architectural detail. So it's the challenge of bringing it home so that it feels a little more rooted in tradition.
It takes 50 years for a home to be considered historically significant—and it's crazy to me that we're not far away from all of those 1990s builds being considered in some way historic.
They lack integrity. It's such a mishmash of so many different styles rather than being rooted in any one, and I think that that's why it's so easy to brush over them—they're an amalgamation of so many different things. It's a jack-of-all-trades, master-of-none kind of thing, right? It didn't really hit the right note on any element. They were all just a little off.
On one project like that, we systematically deconstructed it room by room and piece by piece, and it's a really fun, bold project. The client was really brave, which made it very fun. But when we got there, it actually looked like a mausoleum. It was white marble, double-height ceilings, carpet in the bathrooms and blue toilets—it was crazy.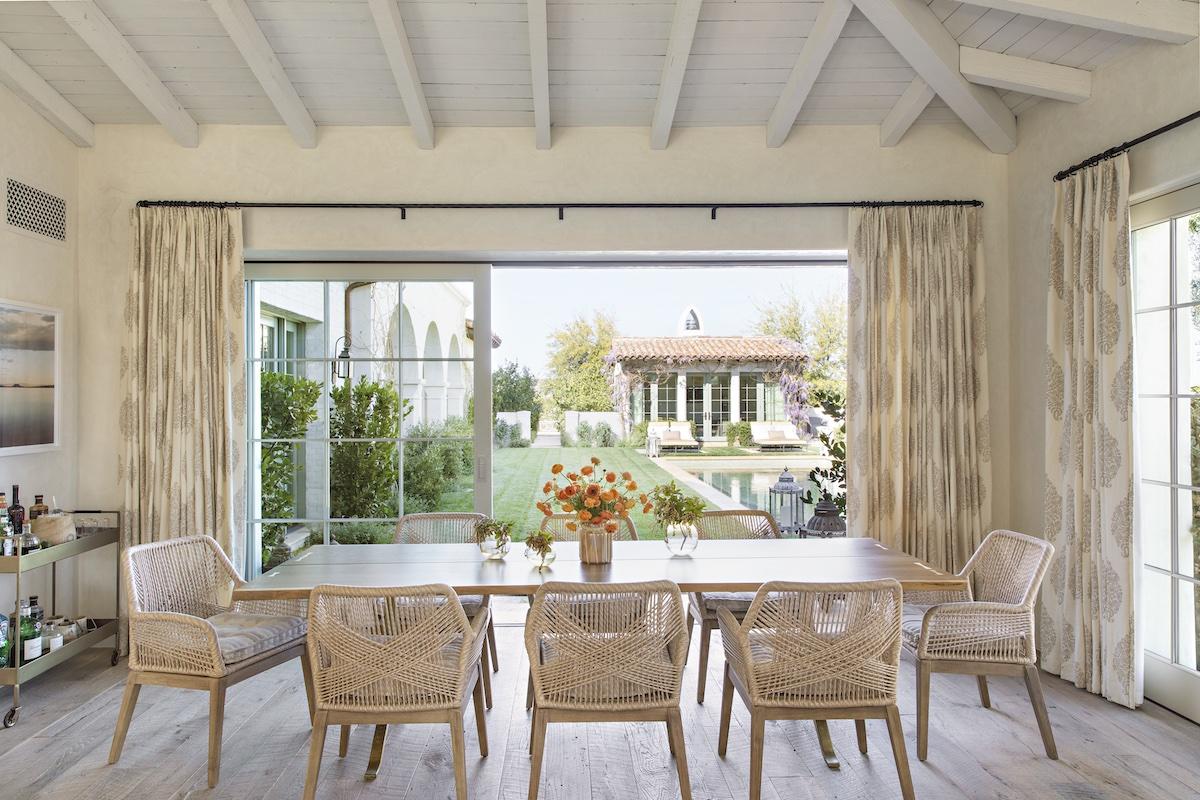 What did the early days of your firm look like, and when did you start growing?
It's been gradual. Shortly after moving to Vegas, I got a call from a friend of a friend, who said, "I just moved to Vegas. I heard you used to work for Michael Smith. Are you doing design work?" They were my very first client in Vegas, and I have since done three projects with them.
Was it just you, or did you start with a team?
I think I started with one assistant. I worked that way for three or four years, and then brought on another assistant and operated that way for another couple of years.
Fast forward to today, what does your team look like now?
We've got a staff of five: three designers, an office manager and an intern.
Is that the right number of people?
This is where I struggle, because I really like to be involved. Being so small, you're limited on what work you can take—and because our relationships with our clients are so intimate and involved, they're time-consuming projects. You only have so much bandwidth unless you have more people, but the more people and projects you have, the less you can really be involved in all of it.
You get further and further away from the doing.
You do—and I really like to have my hand in everything. That's what's driven the business model more than anything. It's not based on growth. It's based on being able to deliver the best product to our clients, so I've orchestrated the business in that way.
What kinds of choices does that push you to make?
In 2018, we completed a crazy project—a 34,000-square-foot house. It was a two-year build, because we did what would have taken five years in two years. It was really remarkable. The contractors, the team—I mean, it was incredible what they pulled off. At that point, I did have to pull in some extra help, so I had three interns. But it worked, because we only had two other projects happening at the same time.
I want to know everything about this project.
It started with an original house, and the client was looking to expand. Then there was a house for sale behind him. We had been working on plans to remodel his existing house, and I casually said, "What you should really do is just buy the house behind you, make that a pool house and do a pool connecting the two." It was a casual Sunday morning conversation—and the next week, he bought it. Then, when we were looking at the plans with the architects, we were like, "Gosh, it'd really be amazing if he owned the house next door, too, so that we could really expand the yard to make it feel more connected." So then he bought that. And then, strangely enough, another neighbor dropped a letter in the mail that was like, "I'm not sure if there's any interest, but I'm thinking of putting my property on the market. If you're interested, we could talk about something off market." So he ended up buying that as well, and we merged four lots. His original house ended up becoming the pool house, and we added 10,000 square feet and a basement to the second house he bought. They built a whole new garage, and then that fourth property became a gym building. It's a very complete, never-have-to-go-anywhere kind of estate, and it was a really incredible project to be a part of.
Is that where you want to be with most of your projects?
I mean, the scale of that was really ginormous, but I'm generally pretty undaunted by the size of homes. One of the homes I was working on with Michael before I left was 22,000 square feet, and there were a lot of houses that were more than 10,000 square feet, so I was really comfortable working in that space—that's just where I started, and I didn't know anything different. But this one—four lots put together, three buildings and then all of the connecting features—is a massive amount of space to program. We had almost as much outdoor furniture as we did inside.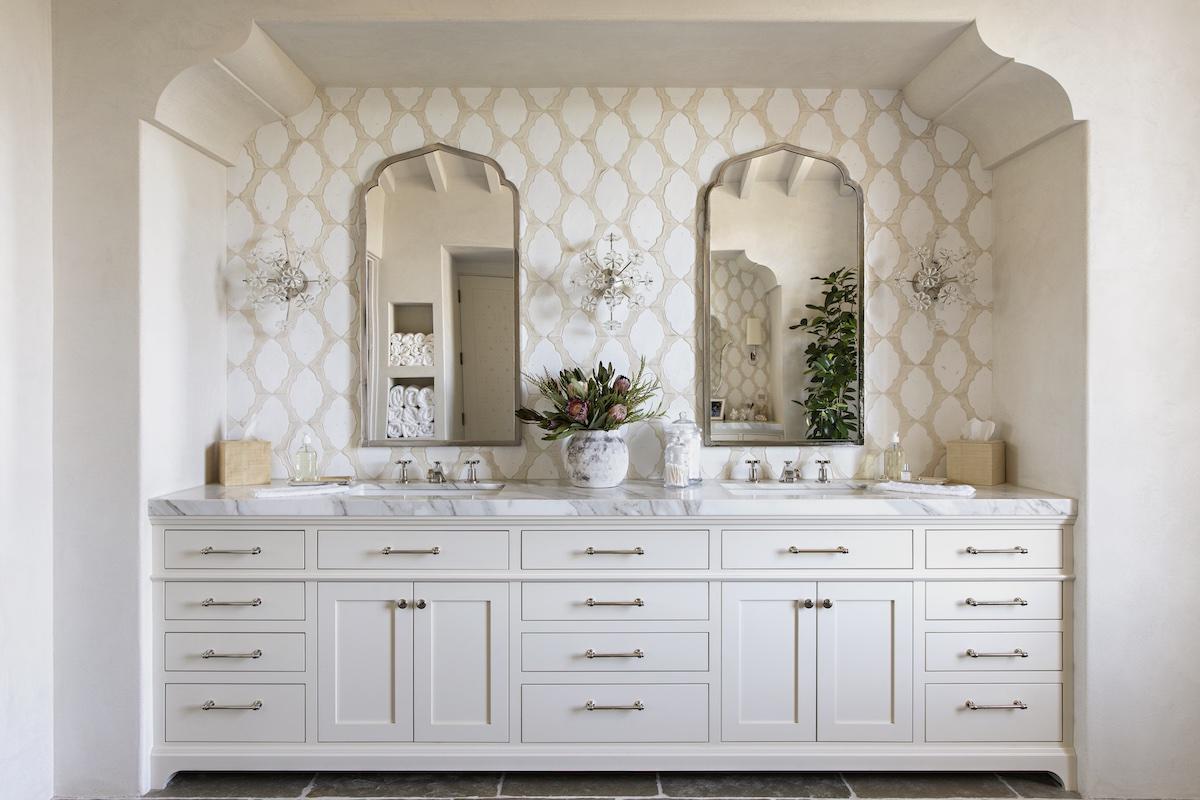 What is a full project load for you and your team right now? How many active design projects are on your books?
I was counting recently, and right now it's 12, but that's a lot for us. Four or five of those are just taking a lot longer than expected because of COVID, and they're almost wrapped, but we should have been done with them a year ago. I'm really happy when I'm around six.
One thing I think about a lot is how every project is different. You try to establish a system—something that you can use as a framework—but projects are kind of like having a baby. You have your first child, and you're like, "OK, now I've got this mom thing down." And then you have a second baby and you're like, "Wait a minute, this is totally different. It wants different things. It requires different things. It doesn't like the same food." I find that's how projects are—it's not a one-size-fits-all kind of thing. The processes, the way you interact with clients, the way contractors work—it's always different. So it's tricky to fit things into a mold. I mean, it's as much a part of our job to make sure that our clients are comfortable through the process and understand that these decisions aren't made lightly as it is to do great design work. That may mean certain clients need more of an explanation, while others are comfortable making decisions quickly.
How do you build that trust and rapport with the client initially?
I don't know, honestly. Just the way that you build a friendship, I think: being authentic and honest and straightforward. [It's about] trying to understand where your client is and meeting them where they need to be to make the process productive. There's so much psychology in this to make sure that they're feeling comfortable along the way, and that their needs are being met both mentally and emotionally, but also aesthetically and designwise. Because it's emotional. It's emotional, it's expensive, and it's hard.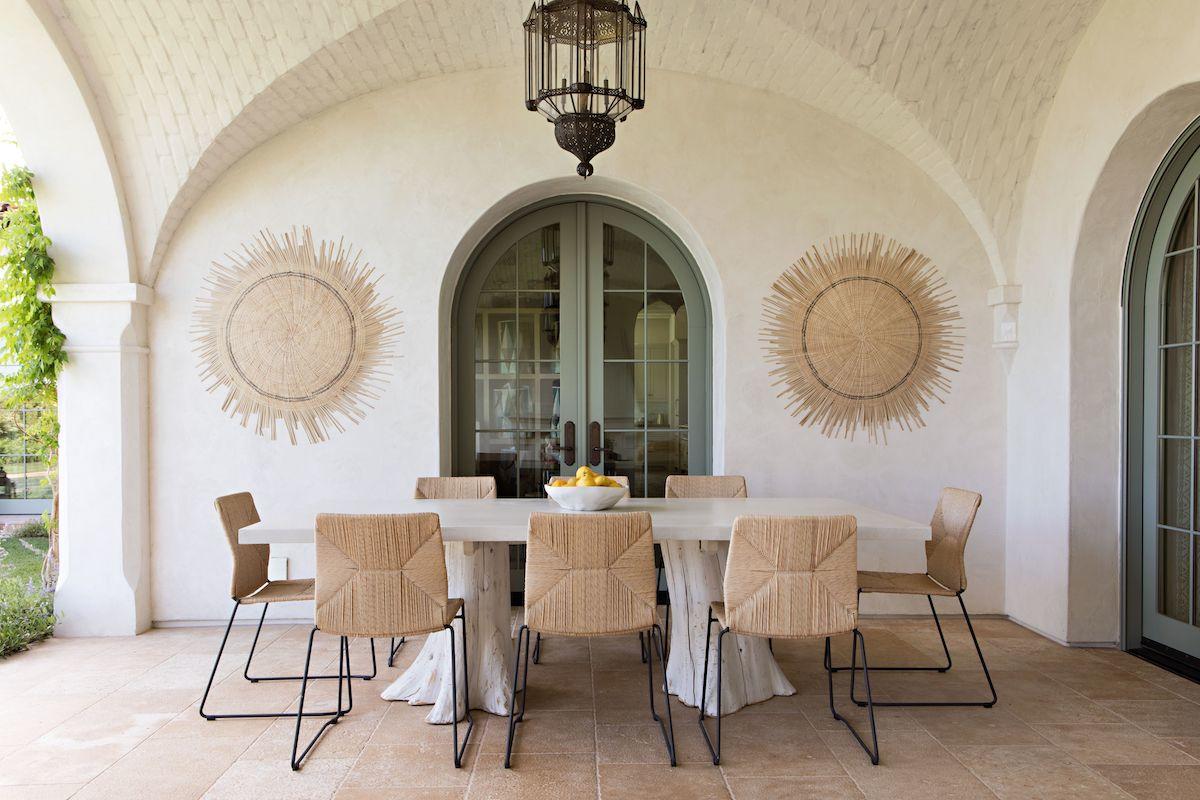 How have you approached billing?
I feel like design doesn't happen on an hourly basis—I've never liked working on an hourly basis, so I just don't do it. There were certain times when I've taken smaller, piecemeal projects and tried that, but it just didn't work for me—I don't like feeling like I'm on the clock—so now I always work with a design fee and a markup. I think it's honestly in everybody's best interest, because it allows the process to be a little bit more organic. I think it's better for the way we work, too. I always think, "Oh, we can knock this out fast," and then you look and you're like, "Oh, we just spent five hours on what seemed like such a simple task." But maybe you couldn't find the right fabric, or the wallpaper we wanted wasn't in stock, and we needed something that's available right away, so we're having to find alternatives and none of them were sitting right. Sometimes, when you're really pushing to get something right, it takes time. There's all of those little hurdles that you don't always know you're going to face. And billing for that time has never felt good to me.
And in situations where I'm the client and have been billed hourly for things, I'm always like, "Really, it took that much time?" Or, "Wait, you're charging me for photocopies?" It just feels weird. So I kind of tried to make it as complete as possible, so that everyone can know, "OK, they're working for us, and we're going to push toward the best design, whatever it takes." We're profitable, I can say that. Whether it's the smartest business model or not, I don't know, but I feel good.
What does success look like for you?
Seeing a client's eyes light up when they walk into a space, knowing that you've totally hit it on the mark. Like, that's it. I think that truly is my measure of success. It's not something bigger or monetarily driven. It's really just knowing that you've delivered that project to the best of your abilities and brought your client's vision to life.
I think it all really stems from just being passionate about design, and I can speak for my team as well—we all just really love it. We're driven by, like, that kind of crazy upward battle, against all odds getting something to actually come together and work, despite the damages and the lost fabric and the thing that wasn't made per our spec. It's just constant problem-solving, which can be really defeating. But there's also kind of this crazy, sick satisfaction when you're able to wrangle it and tackle it, and work toward that install, and get it all in there and be like, "Oh, my gosh—OK, we did it." There's just no better feeling.
To learn more about Taylor Borsari, visit her website or find her on Instagram.