The 50 States Project is a series of candid conversations with interior designers across the country about how they've built their businesses. This week, Mission Hills, Kansas–based designer Annie Anderson tells us how being a top salesperson at Ralph Lauren translated into a design career, why she wrestles with how big she wants her career to be, and why she's never needed a website.
What are your early memories of being drawn to design?
My mother had an exquisite taste, and we always had a beautiful table set—flowers and linens—and my father was always ahead of his time. He was the guy wearing stonewashed jeans saying, "These are going to be so cool." When I was young, I either wanted to work as an interior decorator or work for Ralph Lauren. I was a clotheshorse at a very young age, and those were my goals.
You did ultimately get that job you were dreaming of at Ralph Lauren.
I started working in the store in Vail one summer because I saw a wallet in the window and I wanted it. I went in, asked how much it was, and they told me that if you got a job there, you could get a discount. So I applied, and I got it. At the time, I thought it would be a fun job that would lead me to something else. Then there was an article in The Wall Street Journal that they were opening up a store in Chicago, so I flew out and interviewed, and I worked there for years. When my husband was transferred to Michigan, I helped open the Somerset store there. I just moved around and opened stores with them and continued to sell a lot.

What made it such a good fit?
My dad had a store for years, and I just feel like retail is in my blood. You either like it or you don't—and I love it, you know? I also grew up living the Ralph Lauren lifestyle: I'd been to Europe and I grew up going to Colorado, so I wasn't faking it. It just came natural to me. I always thought I would move to New York and try to get a job in the corporate office. But I was in my 20s, and I was selling so many clothes that I was making so much money—more than any of my friends who had these more glamorous jobs.

What inspired your pivot into interiors?
I was the top seller in Chicago for years, with clients like Oprah. And the more you sold, the more clothes you had to walk up to the fourth floor, where the tailor shop was, because everything was getting altered. So I would carry massive amounts of clothes up there every day—and to get to the tailor shop, you had to walk through the home department. I would always take my time moseying through, figuring out what I was going to buy with my next paycheck. The home section was set up in rooms—the modern penthouse, the classic navy-and-white windowpane check look—and I feel like a lot of people have been inspired by that. A lot of great decorators have worked for Ralph at one point or another, too.
When I moved to Michigan to be with my husband, I brought all of my nice sheets and all of the things I had bought at Ralph. We bought our first console, and some blue and white lamps, and I thought I'd really nailed it. I'd get roses and we would decorate it, and I thought it looked so good. Then we moved to Kansas City in 2006, and I did our first house here. People would come in and be like, "Did you do this? Can you help me?"
How do clients find you?
It was all word of mouth from there. I started helping friends, and then someone would move back to Kansas City and get my name, and then I would help them. I've gone room to room with some people; for others, I've done lake houses or full builds from the ground up. But it's just through other people—I don't even have a website, which is the next thing for me. I've been staying busy without having to put myself out there very much. But also, when you're new and green, you're taking things just to take them on. Now I feel like I can pick and choose a little bit, and I'm trying to take on quality versus quantity—it's got to be the right thing.

What does that look like for you now?
I'm still trying to figure that out, especially in the past year. We moved to Mission Hills, Kansas, and I took three years off to do our house. People called to ask, "Are you working?" and the answer was no. But then a client called last summer and said, "Annie we bought this house. Can you do it?" And I couldn't say no—it was an amazing opportunity—and from there, all of a sudden I have five or six projects in the works right now, and I'm in the weeds. Suddenly, I could use an assistant—I need more hands on deck. Right now, I've bitten off more than I can chew—with lead times and the frustrations around that, I mean, that alone can make you not want to do this job right now.

You said you took three years off to do your own house. What prompted that?
We bought this house and it was a full-time job to get it done, honestly. And it was a time when I was trying to figure out if I wanted to be a mom or if I wanted to work, so it gave me that window to stay creative, work on this house full-time and figure that out. When I was done, I was like, "Well, what's next?" Obviously there's always something to be done—you could work on your own home forever—but I missed the chase. I missed having projects and putting it all together. I missed sitting down and working on a room. And so when I got this opportunity last summer with an old client who was buying their forever home, I had a quick moment where I was like, "Do I want to do this? Do I not want to do this? But if I don't do it, somebody else is going to do it—and I really don't want them to do it. So I'm going to do it."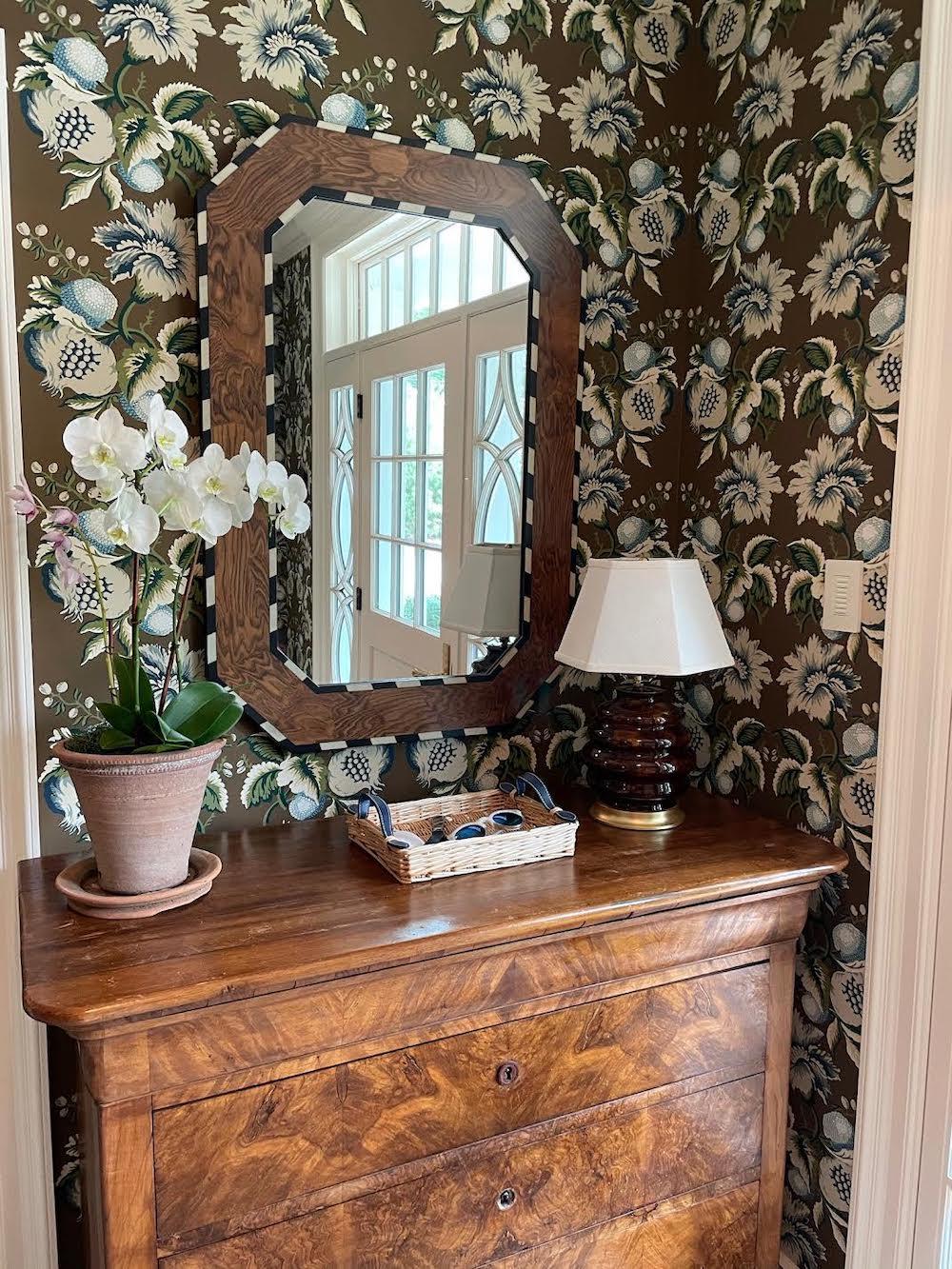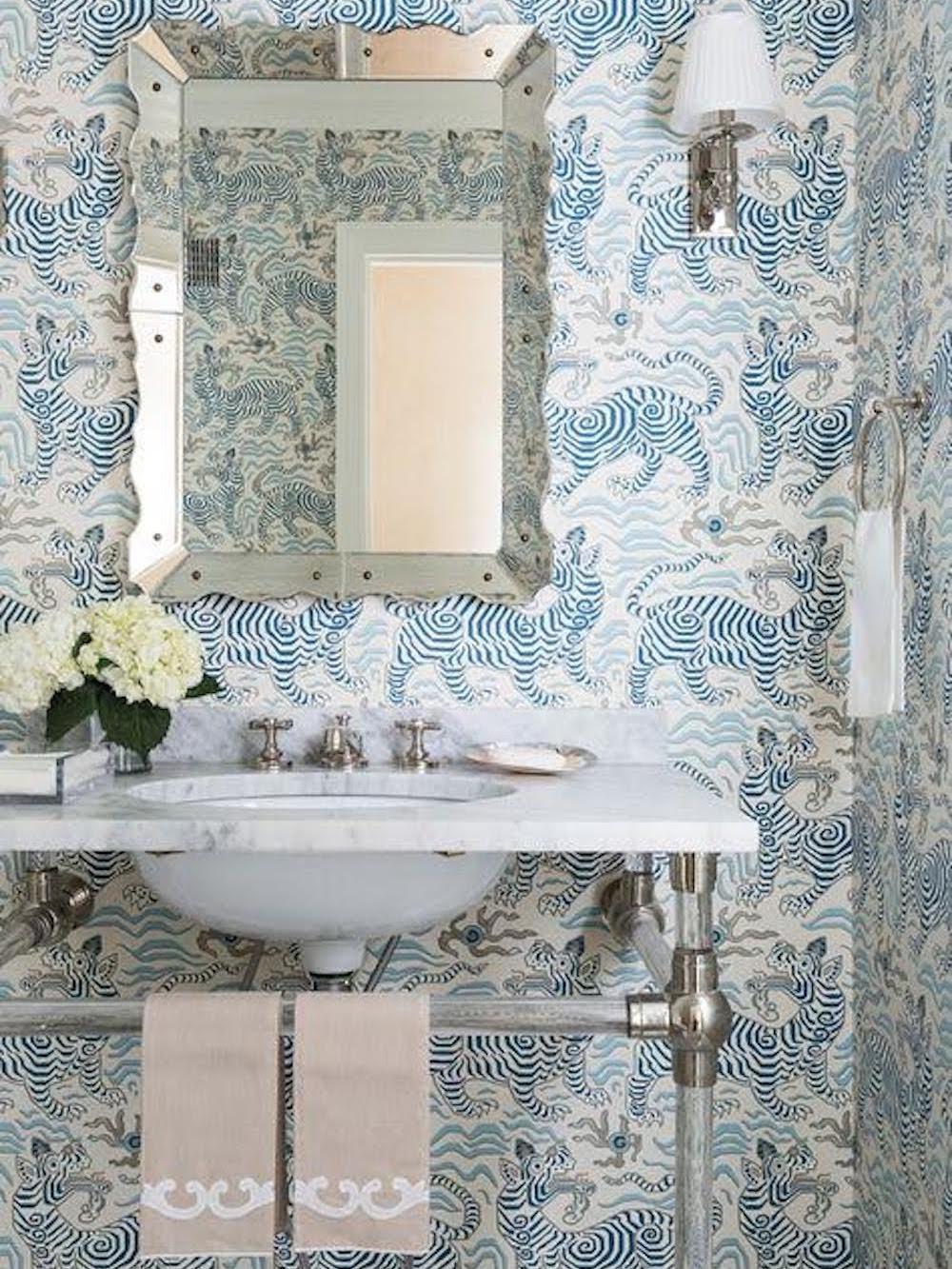 How has the way you charge for your work evolved?
I've always charged hourly plus a percentage of goods—it's just that the rates have gone up a little bit. That's always been a bit tough, only because at the beginning, you're like, "Am I worth this?" Now I have more confidence.

It's gotten easier to say, "I'm worth it," and mean it?
It has. My husband has always been on me about that. He'll say, "This is a business. This isn't just doing things for your friends to be nice." My best friend sells real estate. If she sells us a house, we're not getting a deal. It's got to be the same as that.
I think it's also about feeling like you have the credibility to say, "If people want me, this is what it costs." I don't feel bad about that anymore. I'm self-taught, I didn't go to school for this, I don't do CAD and I don't draw—sometimes, to be completely honest with you, I don't even measure. But people are hiring me for my taste because they've seen my work in someone else's home, or because they've come into our home when we've had parties, and I've gained respect that way. I think that's just with anybody in any business—it's gaining the confidence through time to really treat it like a business.
I don't think you're alone in that feeling at all.
Maybe this is another conversation, but there are a million of us that do really great work that are not noticed. Do you know what I mean? I love all the big designers, but it's the same people over and over again.

I get that. There is a pool of people who get talked about, and there's a ton of great work happening that's kind of beyond that sphere.
But that gets at the other thing, which is, "How much publicity do you want? How much do you want to put yourself out there? How is your business scalable to do it?" That's where I am right now. Could I be the next so-and-so? Maybe, sure. But am I ready is the question.

And do you want it?
Some of my old Ralph Lauren clients have asked me to come to Chicago to work for them, and I've always said, "I don't know if I'm ready for that. I don't know if I have the time for it. Call Mark Sikes." So who happens to be in town for another project and shows up at her house next week? Mark Sikes!
That's where I am right now: I am getting great jobs, but it's the struggle of, "Do I push this? Do I not? Am I happy with what I'm doing right now, or do I want more? Do I want to be recognized?" And I think that's just what I said—there's a talent pool that hasn't been recognized, but I think I'm getting to a place where I'm like, "OK, maybe it's my time to shine a little bit."
If you're looking at your business, what investment or shifts would be required from you to sort of step into that limelight a little bit more?
Well, first and foremost, I need to shoot my jobs. That's slowly happening. A photographer is coming out next week to scout and we're shooting in June. And I obviously need a website, and maybe even to hire somebody so I'm not running to showrooms constantly to pick things up. To take it to the next level, you have to put some time and effort into it financially, and I just haven't had to do it yet. So now I'm kind of like, "What am I waiting for? Why don't I have a website?"

I'll ask you that question: Why don't you have a website? You were hard to track down for this story!
I don't know. Every January I'm like, "OK, I'm going to do this." And then you start living your life and it doesn't happen. You're inspiring me actually—I will have a website. I'm getting my project shot. I mean, I just need to get going.
Honestly, when someone on your team reached out to me, I texted back, "Maybe I'm not your person." I was trying to pass the buck because I wasn't sure I was ready. That's why I'm not growing—because I'm constantly like, "Oh, maybe someone else should shine." But going forward, I'm going to step it up.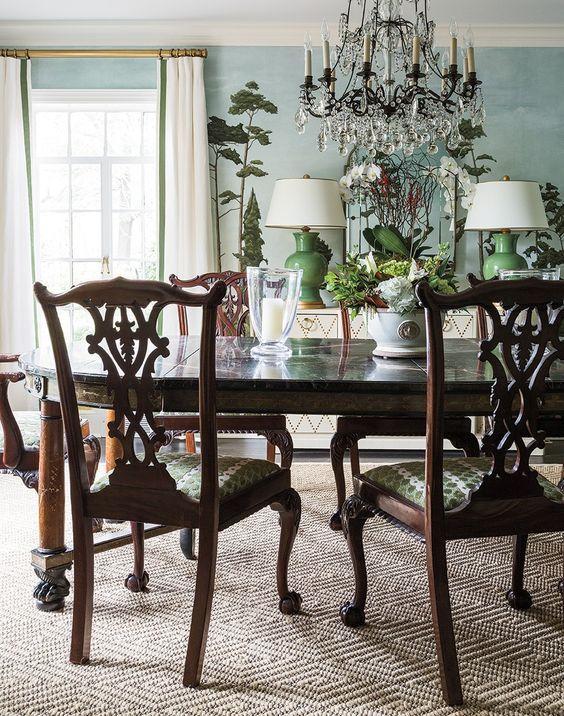 What does your workload look like right now?
I have five right now. Two are smaller, some refreshes on room-to-room on projects I'd already done. And then one is soup to nuts—it's a house that was left in great shape, and we're just bringing it to life again. Another is an old, beautiful house that is getting a new kitchen and a refresh. And then the last one is for another young family that bought a beautiful Tudor and we're doing soup-to-nuts over there too, but in time, so it's not like everything's happening at once. This is the busiest I've ever been. I still make time to play tennis and pick my daughter up from school every day, but I'm working all day every day again.

Does that shift feel good?
I think it does. I sit at a game table in my family room and I have monogrammed L.L.Bean tote bags for each of my projects, all arranged around me with my clients' things in them. I work out of the bags, basically. I used to work in my bed. In fact, my daughter just wrote a thing about me at school and said, "My mom does her work in her bed." It was so embarrassing. But then I put it on Instagram and all these people were like, "Who doesn't work from their bed?"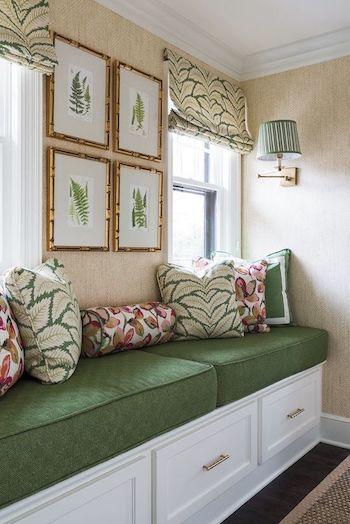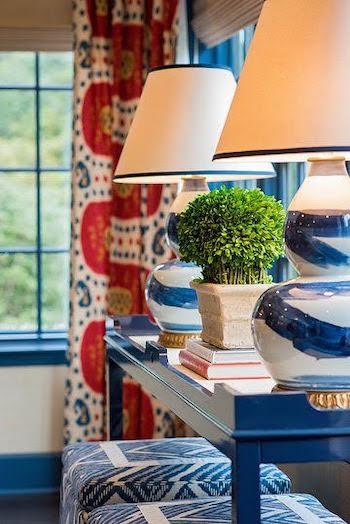 Tell me a little bit about the market in Kansas right now.
The housing market is just like everywhere else: exploding, with no inventory. You're lucky if you know a real estate agent who's in the loop and can find you things that aren't on the market. Right now, my clients are repeat clients who are either refreshing old homes that they've lived in for a while, or families making that next step into buying a bigger—maybe forever—home.

Where are you typically sourcing?
I buy a lot from showrooms here. There are two great showrooms, Design & Detail and KDR, that carry all the main fabric, furniture and lighting lines. And then I love shopping in Dallas just because it's easy to get to—I do a lot of work with the showroom James down there, and Wells Abbott, which has beautiful fabrics and wallpapers. I also source the internet constantly. I buy a lot from Chairish. I like having old stuff, and I've never shied away from brown furniture. I don't think everything needs to be from a showroom, so I'll buy old chairs, chests, consoles and lamps. I also love KRB in New York—I think she does beautiful things, and that's the fun stuff to layer in when you get some of these bigger projects and you get to use something like Christopher Spitzmiller lamps in someone's house.

Do your clients already want the best, or do you have to steer them in the right direction?
Yesterday, for example, I was like, "Hey, here's a sconce for your daughter's bathroom that is $650. Here's one that's $279, which I actually have in my bathroom with a custom shade." And even though they could spend the $650, I think they trust me saying, "Well, why would I have you spend that when I could get this one that looks the same?" I try to show everybody, "Here's what I think is the best, and here are some other options that I like also." But that often shifts to, "Well, what would you do?"
I focus a lot on quality versus quantity. But I also know my audience, so I'm not going to show the most expensive thing every time. I don't think that's the right thing to do, anyway—the goal is not to make money off of these people, it's to show who I am and ultimately to build a space for them.
What does your presentation look like?
I've worked with a lot of my clients before, so I know how they operate and they know how I operated in the past. Back then, it was a little more loosey-goosey, where I just showed up with a bag, presented options, and said, "This, this, this or this." Sometimes we're reupholstering things, so we'd start with one thing in the room and go from there.
Lately, though, it's been more of the whole thing—I've been doing boards where I present the whole room: furniture options, antique options, fabrics, rugs, lighting, lamp shades, paint, wallpaper. I'm presenting room to room, and even though it may not all go together, it flows. It might start with a beautiful Gracie paper in the dining room in an olive green, and that translates to the butler's pantry with a marbled paper next to the kitchen, which, in the project I'm working on now, already has a really beautiful baby blue La Cornue stove. That will be the focal point there, and then we're mixing in some yellow with Urban Electric lighting with shades in their Curry finish above the kitchen table. I focus on finding those wow factors but still making it classic, and that's how I present it.
In the past, it was a little hodgepodge. Now, the client is getting the whole picture at the beginning. I don't do CAD, though, so they're not seeing how the room is going to look, which I actually love, because it allows the room to evolve. Nothing is ever set in stone until it is, if you know what I mean. Like this job I'm doing now, I'm constantly changing the rug in the great room. I'll be like, "Oh, I found something better. Let's add this fabric. Do you like this better than that?" I show the whole picture, but then it's a surprise for me at the end, too. You can have it in your mind, but then sometimes you move something around, or these slipper chairs look better over here, so we move them upstairs.
How do you account for those musical chairs during the installation?
In the past, there might have been a "true" install. Now, clients are getting two chairs, but not the sofas. Or they're getting the sofa table and we have the lamps. We're constantly updating lead times so they know what's going to be where when, explaining how it's going to look, and reminding them that the space might not fully look how it's going to look until next October. I've always framed design as the process of layering anyway, so it's like, "Hey, we're going to start with this—let's get everything in there, then we'll see what else we need to add on to really make it finished."
It's hard if you want to do the big reveal now, because you can't really put it all together unless they're willing to wait two or three years and have everything in storage. And I don't see it going back, either. I don't know what you're hearing, but I don't really see it going back to the way it was anytime soon, or maybe ever.
Do you miss that big reveal install? Or is this working well for you?
I think it's working. A house is always evolving, so why not have that be part of the process? I think some clients wanted a big reveal, but most people are fine with going piece by piece at this point. I mean, it's the best we can do.
When you look back, what are some of the biggest changes you've made to your business?
I've had to be more firm. I have clients who have great taste and don't want to run purchases through me, so I've had to say, "No, you're not buying it from L.A. Design Concepts because that cuts me out." Or when clients are like, "Hey, do you take Square?" No, I only take a check, and it needs to be made to me. I don't take credit cards. I don't take Visa gift cards.
I did get paid once with a Visa gift card—that wasn't a joke. I was like, "Excuse me?" But I took it, even though I didn't really know how to use it, and I went to Target with it, then got my hair highlighted and gave it to my guy there. He called me three weeks later and was like, "Annie, I had a charge-back on a Visa for your hair," and that was the end of that. This is how I work, and if you don't like it, then go find somebody else. Sometimes you've got to do that—to just say it as it is. But it takes maturity and confidence to say, "No, take it or leave it. This is what it is and I'm worth this."
What are you most excited about that comes next?
I think polishing my business a little bit would be good. But I've been really fortunate. I mean, I worked with wonderful people, and I think that's just kind of it. I'm proud of what I've built, and I think people trusting me to make their house beautiful is really a compliment.
To learn more about Annie Anderson, find her on Instagram.