When you have to move a family—one that includes two young children and two geriatric dogs—across the country, most people would hire a moving company and book a plane ticket. Sarah Sherman Samuel is not most people: She piled her brood into a car and drove 11 days from Los Angeles to Grand Rapids, Michigan. The interior and product designer is someone who very much likes to do things herself, efficiency be damned. The same self-described "passion first, business second" logic applies to her own firm. "You can be formulaic in some ways, but you can still let passion lead and that will set you apart," Samuel tells host Dennis Scully on the latest episode of The Business of Home Podcast. "In the cooking industry, when you taste something that's made with love, it's supposed to taste better, right? Well, when you are in a space that's designed with love, I think it [makes] a project stand out—that's what gets you new and better clients."
Samuel found her way into the industry in a roundabout fashion. After graduating college with a degree in graphic design, she worked at a furniture showroom in Miami before moving to Los Angeles, where she served as the creative director for stationery company Clementine Paper, which is sold at Target. By 2014, Samuel was ready to start her own firm, SSS Design, and her California-cool aesthetic eventually attracted high-profile clients like actress Mandy Moore and French street-style photographer and author Garance Doré. SSS Design continued to grow, launching successful collaborations with West Elm, home furnishings brand Lulu and Georgia, and custom cabinet company Semihandmade.
In 2018, Samuel moved to Michigan and took her business with her, building an office in her backyard and continuing to take on clients across the country. Her relocation served as the basis for the Magnolia Network show Inspired Interiors, which launched in 2022 and focused on how Samuel balanced work and family while designing homes and furniture. Last fall, she launched her own e-commerce platform, SSS Atelier, a curated line of art, furniture and vintage finds. "A lot of these pieces are quite large-scale and made of really special materials and amazing craftsmanship," says Samuel, whose collection will be featured at New York–based gallery Colony, which showcases independent designers and makers. "You really don't get to see the scale or the feeling of the piece until you see them in person, so it was important for us to find a brick-and-mortar home somewhere."
Elsewhere on the podcast, Samuel talks about balancing design projects with product collaborations, the shifting winds of social media and the complicated relationship between creative passion and commercial success.
Listen to the show below. If you like what you hear, subscribe on Apple Podcasts or Spotify. This episode was sponsored by Loloi Rugs and Four Hands.
The Thursday Show
Meanwhile, on the debut episode of The Thursday Show, Scully and BOH executive editor Fred Nicolaus broke down the latest news in the design industry, including the takeaways from RH's latest earnings call, why consignment platform The Local Vault is winding down operations, and what an influx of new luxury apartment rentals in New York could mean for interior designers. Later, wunderkind stylist Colin King joined the show to talk about working with Athena Calderone and design studio Roman and Williams, his new book Arranging Things, and whether he's over white boucle (spoiler alert: He is).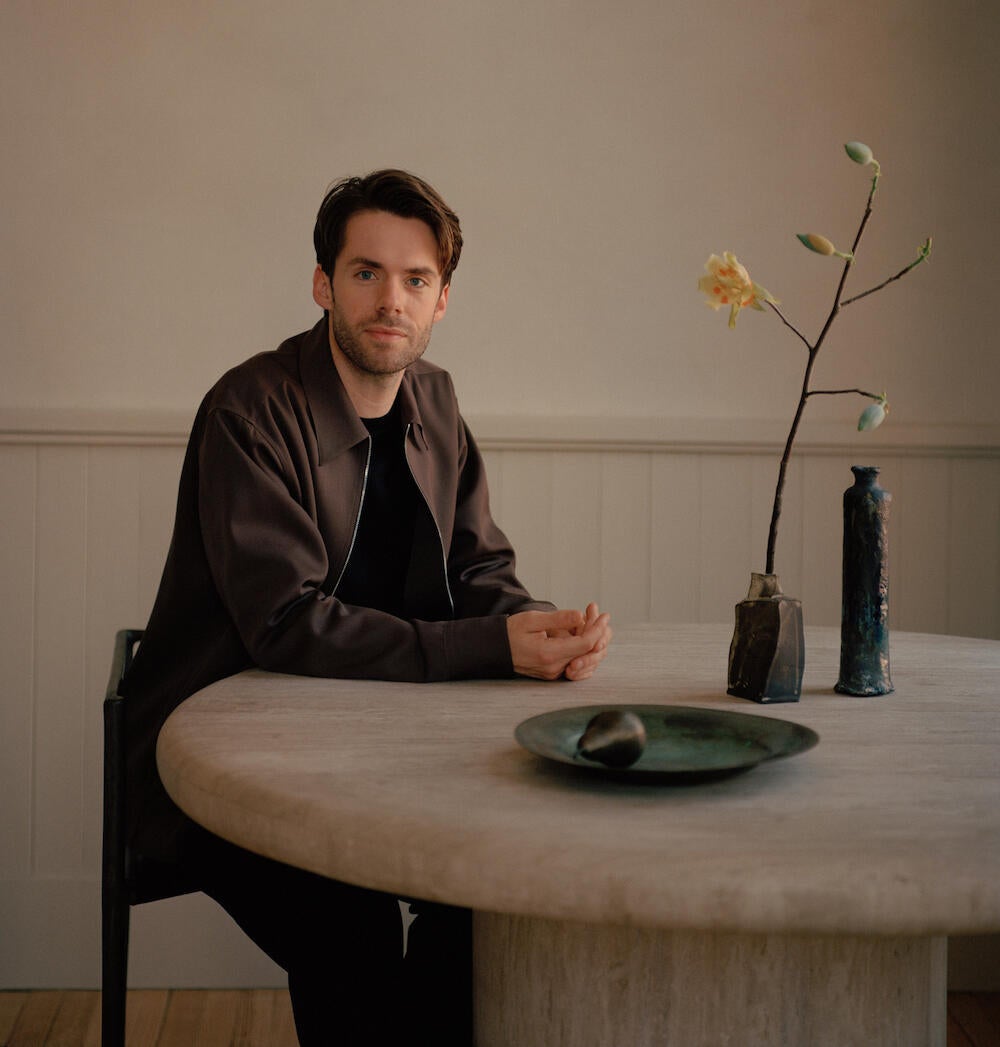 Listen below. If you like what you hear, subscribe on Apple Podcasts or Spotify. This episode was sponsored by Crypton.
Homepage image: Sarah Sherman Samuel | Courtesy of SSS Atelier