The 50 States Project is a series of candid conversations with interior designers across the country about how they've built their businesses. This week, Portland, Maine–based designer Tyler Karu tells us how flipping homes got her business going while the economy was in a slump, why she added an art advisor to her team and how hiring a project manager changed her firm's trajectory.
Did you always know you wanted to be a designer?
I always knew I'd enjoy being in the real estate industry in some capacity, but my journey into design wasn't linear at all. My father was a real estate developer—he built spec homes all over the East Coast, as well as our homes, and my mother helped design the homes that he built. We lived in Washington, D.C., and Florida for a time, but I primarily grew up here in Maine.
After high school, I went to George Washington University and studied English, but I had very little direction. I was an English major because I loved reading books and writing, and I was good at that, but I hadn't really thought about the actual "career" part until I was like, "Wait, I need to get a job." I moved to New York and worked for a real estate company, where I realized that while I don't enjoy selling real estate, I do enjoy houses. That's when I went back to school—I went to New York School of Interior Design for a two-year associate degree.
How did NYSID set you up for success?
They do an incredible job with the fundamentals of design. It was so exciting to me, because I was learning both the why and the how—why we practice the way we do today because of our history, and how to practice based on their pragmatic curriculum. Whenever anyone asks me for advice on how to get into design or how to be a designer, the first thing I tell them is to go to school or an online program to get a design education. Unfortunately, this is a career where a lot of people think they can be a designer because they have good taste or they love Pinterest, but that's just not how it works when it comes to construction, scale, proportion—things that you realize are rooted in mathematical fundamentals from the 17th century.
At the end of the day, I think interior design is a trade, and my choice was to get a trade school education. I'm a huge advocate of trade schools and community colleges now because they're so imperative in my work and it puts you on a path that is expedited and more focused than a liberal arts degree. I'm grateful for my liberal arts degree, but at the end of the day, I didn't really need it for my career.
What was that first job out of school?
Actually, it wasn't a job. The economy had tanked by the time I got out of design school, so I pivoted back into real estate, but this time I went into real estate development and construction. I was back in Maine and I wanted to start my design career, but I saw an opportunity and purchased a very inexpensive home here—it was $40,000, and I got a first-time home buyer tax credit—and I flipped it.
What made you decide to go that route?
I was young, 26 or 27, and I knew that my friends were the ones that would be applying for the first-time home buyer tax credit. So I bought the cheapest house on the market, thinking I could sell it to someone I knew who would be getting a $10,000 credit to buy it. And that's exactly what happened. I knew enough about construction and it required very little design, but my design background elevated the aesthetic even though it was a very tight budget. The house sold before it hit the market. After that, I just flipped houses for four years—I had a real estate agent, but I did the whole process in terms of project management and contracting.
When did you start to pivot away from that business?
By 2012, the market had improved enough that I had started to get more design clients. Interestingly, my return on investment with my flips was getting lower at the same time because I had to buy houses at higher prices as the market rebounded. I always have a flip that I'm doing, but now I do one a year alongside the design work instead of four or five.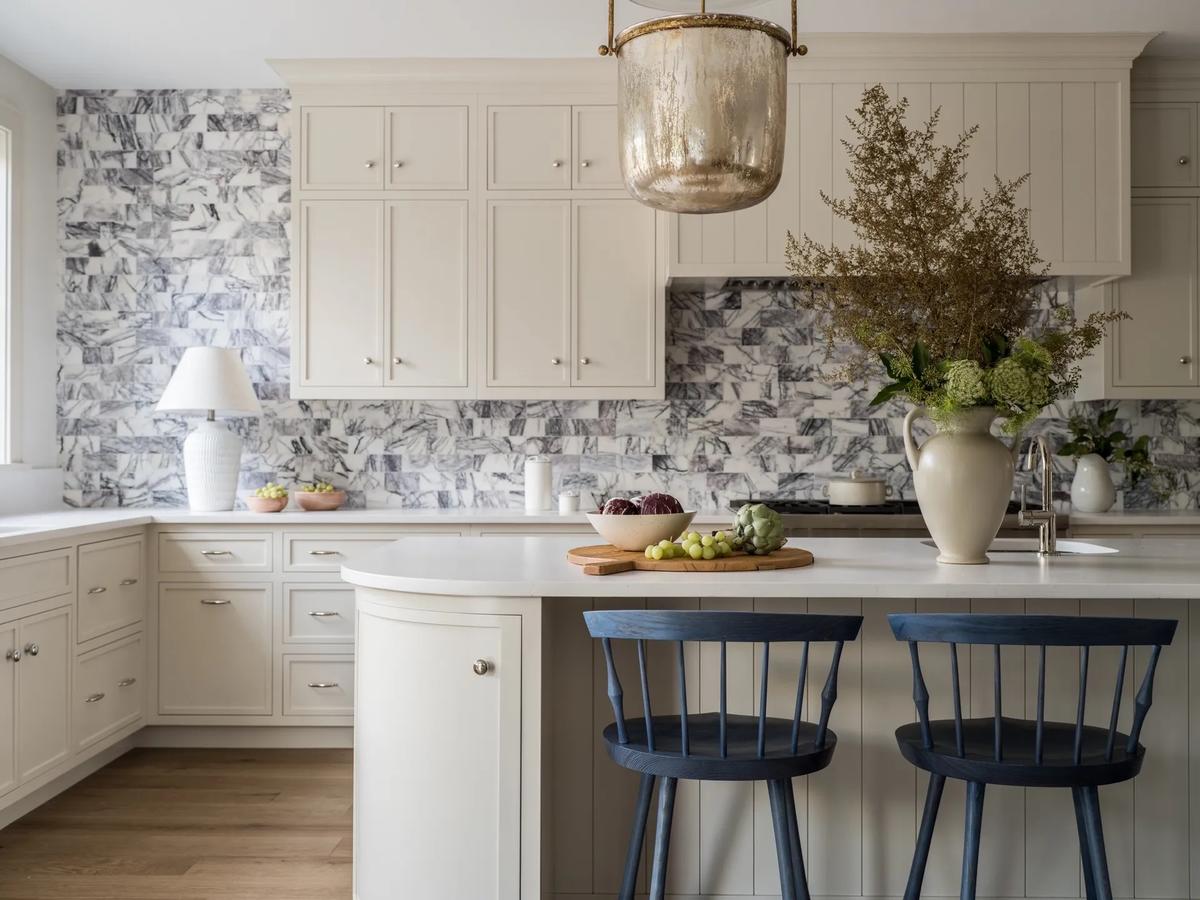 Where did clients start coming from or how did people find you?
It was mostly word of mouth. I grew up here, and Maine is a small place, so you know everyone enough that they can help you get started. It's not like trying to start a business in New York.
What does the design community look like in Maine?
It's not a huge market, and we're not dealing with wide ranges of architecture. You're either remodeling smaller homes because everything is so old—homes from the 18th and 19th centuries, where we're remodeling while trying to preserve historic character—or we're doing new construction. There's not much of a middle ground. I've expanded my business throughout New England, so we now do a lot of work in New Hampshire and in Boston, which offers us a little bit more variety in the projects we get to take.
Who are your clients and what is their touch point to Maine?
Right now, we're working on a lot of second homes—though sometimes those properties become primary homes. We definitely saw that over COVID. I'm always excited when I get to work on someone's primary home, because I think there's maybe a little bit more attachment to it.
What feels different when you're working with a client in their main residence?
We consider pieces with a little more intent. In a vacation home, there's often this sense of, "We're not going to be here that much," so the utility and the durability can be different. I wouldn't even say one's actually better or worse, but the gratification when you finish someone's primary home seems to be more deeply rooted. Maybe the process isn't all that different, but the sense of, "Oh, my gosh, I get to live here all the time," feels great when you've nailed it for that client.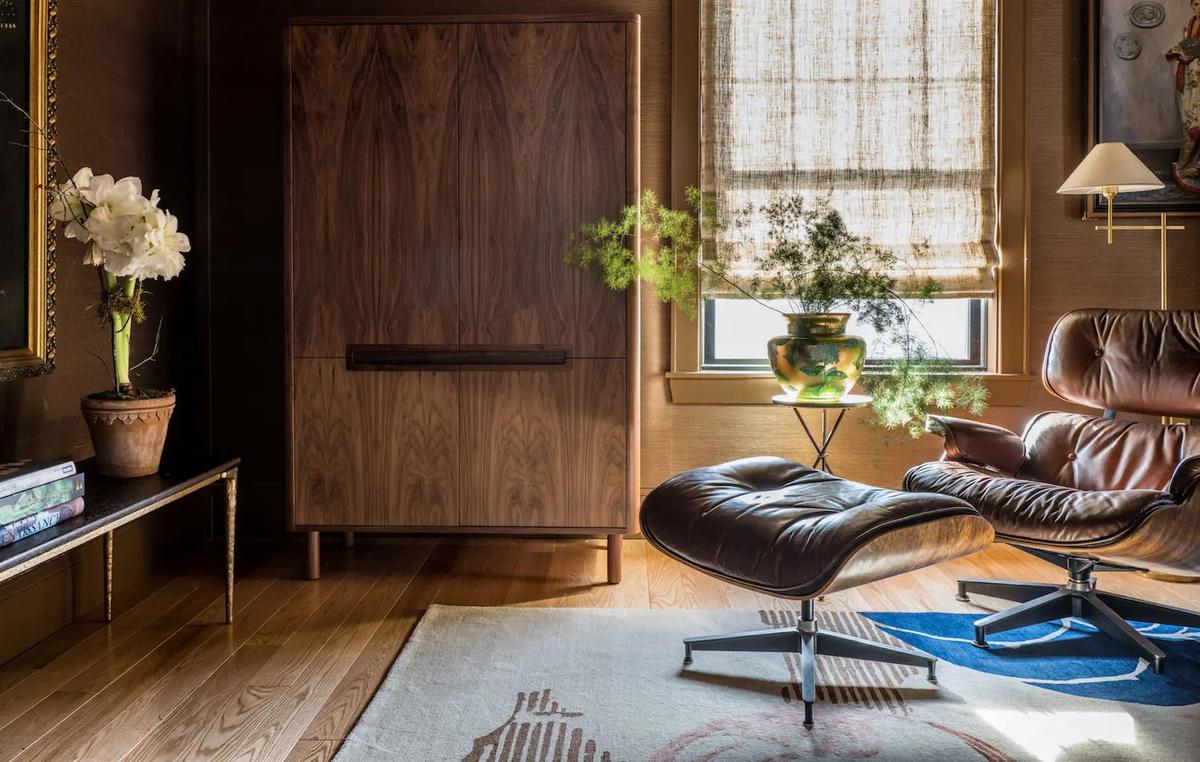 What does a full project load look like for you right now?
We have 11 on the board right now, which are a mix of commercial and residential projects. We're typically somewhere between 10 and 15, though 10 feels much more manageable than 15. It's usually about 30 percent commercial, which are restaurants, hospitality and retail; and 70 percent residential, which are a mixed bag of new construction and remodels.
When did you start hiring, and what does your team look like today?
I'm not a designer that needs to have more people in the office to feel better about my business—that's not how I work at all. I like maintaining a small team: it's me as principal designer, plus a project manager, a senior designer, and an art advisor. It's very small, but it works for us. I'm always on the verge of maybe expanding, and then we'll have a team meeting and say, "We don't want to do that right now."
How hands-on are you with each job?
The point person for client communication is usually me, but both my project manager and my senior designer interface with the clients as well. The project manager renders, maintains all of our real estate projects, and keeps the team going. If we're doing a flip, we're often subbing the whole thing out, so he acts as the contractor for those, as well. And then our senior designer is also working on renderings, and she does a lot of design work with me.
How did you decide to add an art advisor to your team?
She happens to be my best friend, so it was something that we always talked about. It became super clear early on in my work how much art meant, and how much it impacted my spaces, and it's been so nice to have someone put another set of eyes on a project and come up with pieces that worked. She's not a salaried employee—she works on commission, but we also use a lot of art. She has great relationships with artists, which is not something I always have time for, and I totally trust her taste and her eye. She can work with the clients to curate a collection, or source one or two pieces that we need for a project. Some of them don't care as much, and don't even know that she's the one looking for their pieces behind the scenes, but some of them are really excited about it.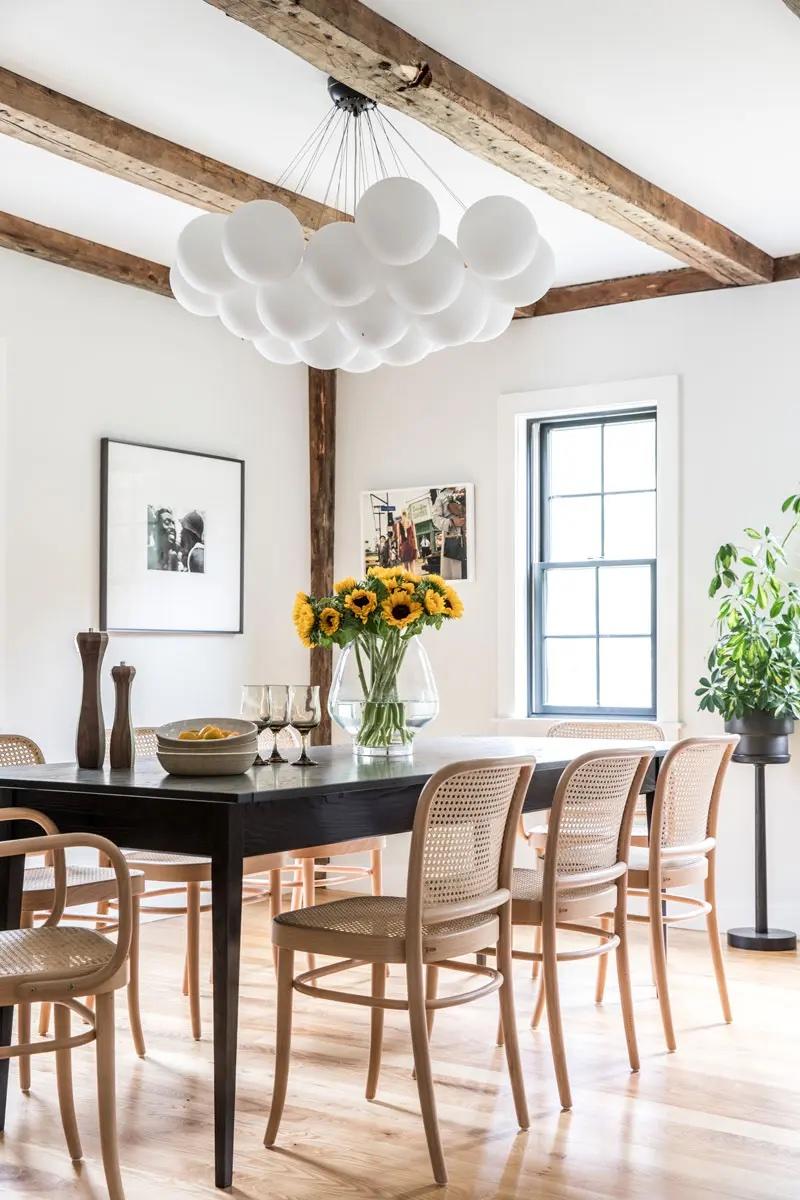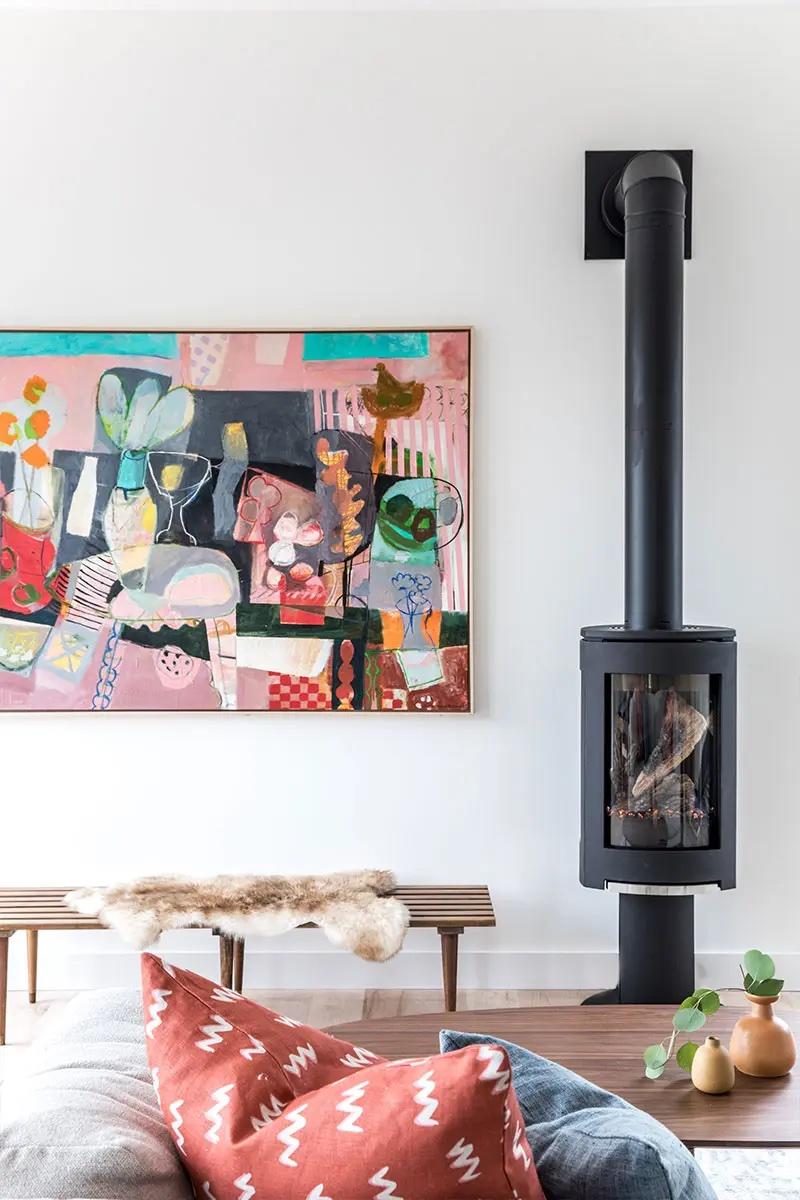 How do you approach billing for your work?
We do a retainer for 50 percent of our fees upfront, then bill the rest upon completion. In between those two fees, we also make money from our markup on furniture.
When we're explaining our fees to clients, we break it down into categories—design planning, rendering, procurement, project management and installation—and then we give a range of hours within those categories. At a minimum, you're going to have, say, 60 hours for rendering, but it'll take 100 hours maximum. We calculate our hours so that we're covered no matter what. But for the client, I think seeing a range is better than us saying, "I'm just going to bill you for my time every two weeks." That doesn't offer a lot of transparency, in my opinion. I like to have the ability for the client to be able to roll our fees into their overall project budget from the get-go, and it creates a better relationship with the client from the start if they know what the project will cost.
How do you talk about what those fees represent?
We have a detailed proposal that spells out what we're doing in every category that we're billing for. After that, clients don't have too many questions about what exactly we're doing. When they receive a set of renderings, they can tell that we've put a lot of time and effort into them. When we're sourcing their furniture and giving them multiple options per item that we're looking for, they can tell that we're putting the time into procurement. When we're giving them a materials presentation, they know that we've put time into the design planning phase. If you're doing your job, there are tangible things to show clients—a design plan, renderings and the reception of their furniture and fixtures, so we've never really had a client come back and say, "I don't think you worked the hours that you worked."
I think it's worth noting that you've structured your process so that there's a deliverable for the client at the end of each phase. I think that's so smart.
I know everyone is doing this very differently, but we don't get a lot of clients saying, "I don't understand" after reading our proposals. It's very clear and very spelled out, and I think that helps the client understand what they're getting into.
You mentioned rendering as a specific part of the process. Does every client and every room get a rendering when they work with you?
Every client does, though every room does not. We tend to focus on specific rooms—definitely rooms like kitchens and bathrooms where there's millwork, and spaces like living rooms and primary bedrooms where the floor plan is so important. But for kids' bedrooms and guest rooms, we often do a floor plan and a materials presentation and call it a day. Actually, though, we've been doing a lot of built-in Murphy beds lately—for those spaces, we'll do a shop drawing. We use SketchUp if we want to show clients what their room is going to look like. For everything else, we use AutoCAD, which is good for floor planning and millwork.
How does that change the client experience?
For people who can't envision the space, it's so helpful. We haven't had anyone be like, "I hate it" or "I don't like it" when we show them a 3D rendering—they all get more excited about it. It brings it to life for them.
We used to do all these in-person presentations with materials and PDFs, and clients would get to see everything together. We're doing all of the same things now, but we'll often mail all of that, especially for out-of-state clients. A lot of the time, we're labeling everything and putting these large presentations into the mail and following up with a Zoom so we can explain it all. As long as there's a follow-up to articulate our vision that you're seeing within these PDF and materials, we've been able to work through it.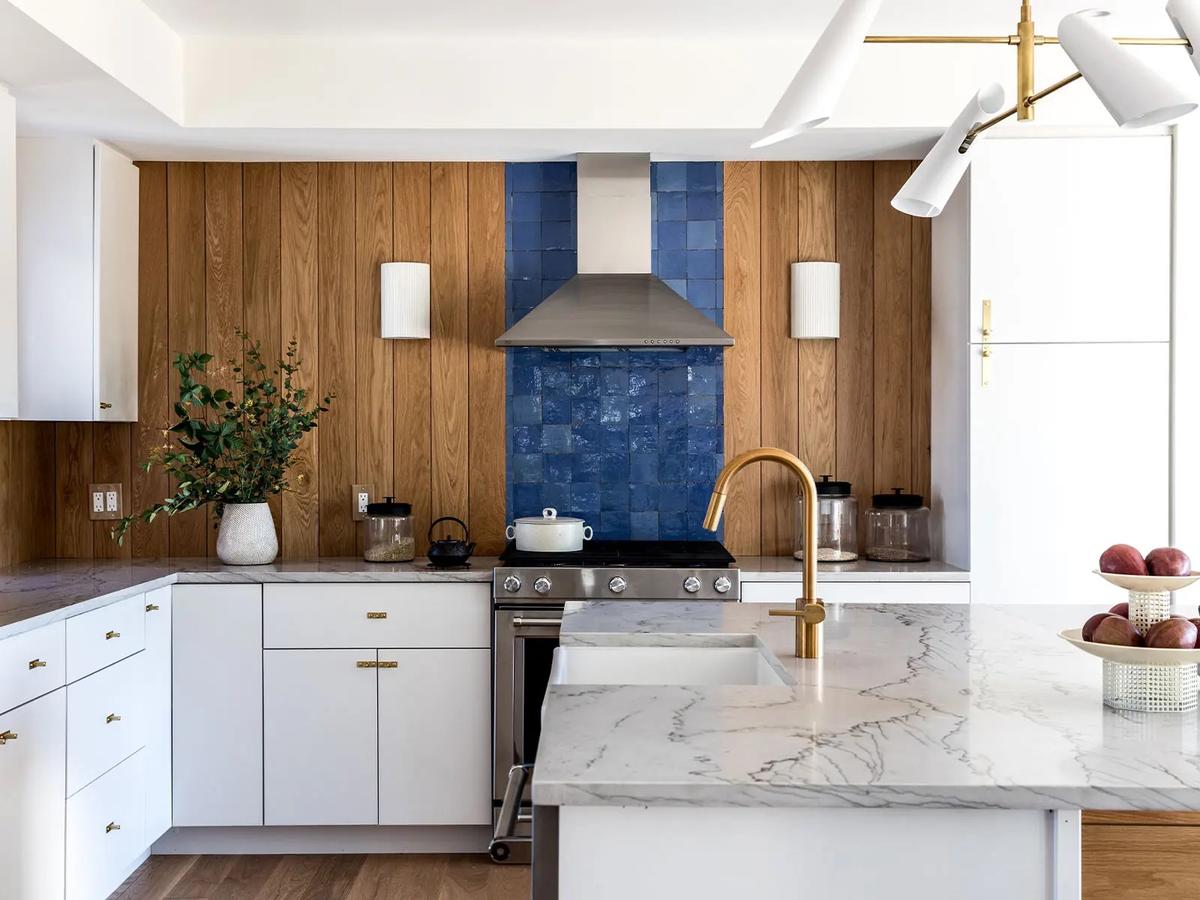 How are you deciding what you say yes to right now?
We're working with clients for anywhere from eight months to two or more years, so we need the scope of work to be significant enough for our business model, which is a large-scale remodel, new construction or a large commercial project. If you fit those parameters, then we do try to gauge whether a client can get on board with the trust component. We say, "We're your designer, and we're here to make your home beautiful—and if you see yourself intervening a lot in that process, then we might not be the right firm for you." Getting a sense of whether or not the clients can trust us to do our job is really important from the jump.
When you look back, what is the biggest thing you have learned that you know now that you wish you knew when you were starting your firm?
How intense the business side was going to be. It's mostly not design when you're working on substantial projects—and looking back, I could have done things differently to be more prepared for the business side of things. I think I've caught up at this point, but I could only say that very recently. I've started to understand it after 10-plus years.
What was the turning point for you?
Hiring a project manager helped a lot, which I just did within the last year. I had another senior designer before, and for a long time, it was just the two of us working so hard. When she left to have a baby, I moved our junior designer up to senior designer and hired a project manager, and it really changed everything for me and made me realize how much I can delegate. We have a tax accountant, but we're still doing the billing and the bookkeeping on our end. So I think our next hire is probably a bookkeeper, which will help even more.
To learn more about Tyler Karu, visit her website or find her on Instagram.