If there's one thing Courtney McLeod is celebrated for, it's color. The New York–based founder and principal of Right Meets Left Interior Design is not the type to shy away from cherry red or cobalt blue. But she also knows that well-balanced interiors are about more than first impressions: Those eye-catching hues have to last—through sun exposure, the occasional tomato sauce spill and whatever other minor mishaps might occur during a day in the life of a home. Looking good is great, but real design should also be dependable. That's why, for upholstery, McLeod relies on Ultrasuede.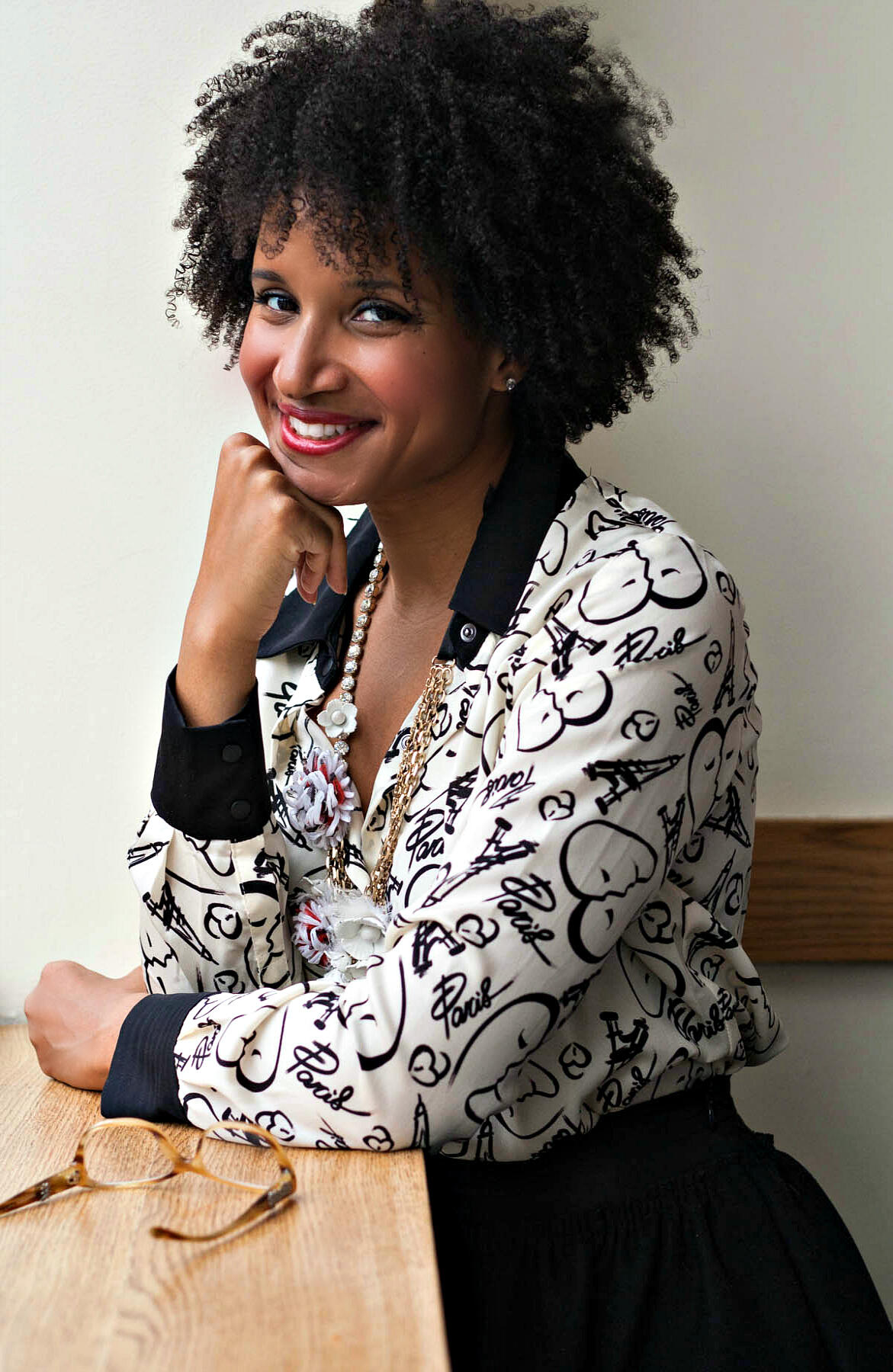 "For every single project, the Ultrasuede color books come out in my studio," says McLeod. "So often, clients want something beautiful, but they're like, 'Oh, my dogs, my kids.' They need a fabric that's going to survive. And Ultrasuede checks all the boxes." Yarn-dyed, the brand's 97 colors don't fade, even when confronted with direct UV light. And stains as notorious as grape juice—or cab sauv sloshed by a clumsy grown-up—lift off quickly when blotted with a damp cloth. A couple of gentle brushstrokes is all it takes to revive the suedelike nap once it has air-dried. "There can be a perception that performance materials will feel scratchy and plastic, but Ultrasuede is luxurious and so soft to the touch," she notes.
McLeod's passionate Ultrasuede color relationship started with a suite of 10 SMO-style chairs for a Washington, D.C., dining room. She upholstered the seats and interior backs in warm Orange, then accented the exteriors with a decorative Hunt Slonem print—sourcing both fabrics through Kravet. "It's such a perfect pairing, the pattern plus this rich pumpkiny color," she says. "And the space has a southern exposure, so there's a good deal of harsh light, making Ultrasuede the practical choice too." For a different dining room, the designer opted for Wine & Roses, an on-trend hot pink, against the cerused oak frame of reproduction French antiques. "The quite traditional feel of the muted, pale brown finish of the wood against this bright, bold fuchsia is a wonderful combination," she adds.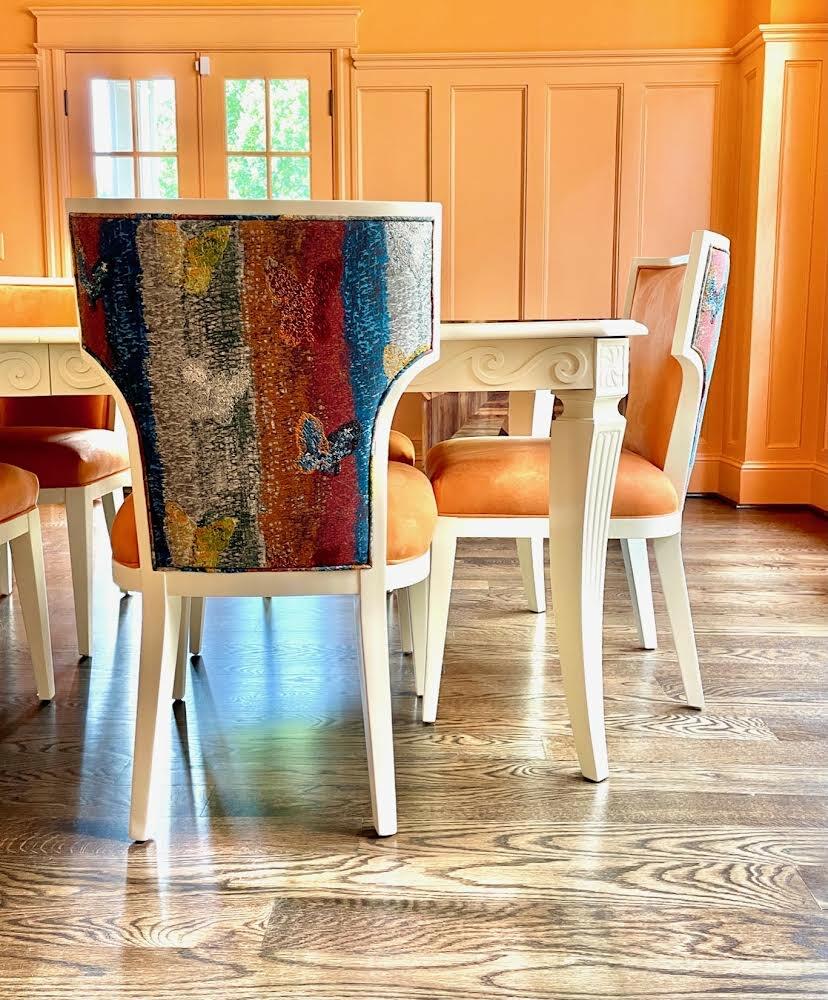 Considering the demands placed on them, dining room chairs are obvious candidates for Ultrasuede upholstery, but McLeod may have reached the apex of her color bravery (at least to date) with a tête-à-tête she recently selected as a statement piece for the living area of an open-plan downtown Manhattan loft. "The clients requested furniture that was elegant and somewhat formal, but they also wanted their kids to be able to jump up and down on it," she says. "When I saw this particular shade of Ultrasuede yellow, it completely invigorated the scheme." Serving the designer's flexible furnishing plan, the compact, striking sofa can easily be moved from a casual viewing spot by the windows to a more central location, bridging two disparate sections of the rectangular-shaped apartment. "You don't see tête-à-têtes too often, but I think they're charming, and the vibrant yellow upholstery is unexpected. It brings a cool factor to a classic piece." The fabric holds its own against clambering children, and the whole family adores it. "It's a dose of Sunshine in the space," she says, referring to both the vibe and the shade's actual name.
While Ultrasuede's performance and depth of color make it the ultimate modern material, it actually dates back to 1970. Highly coveted vintage pieces designed by midcentury masters Vladimir Kagan and Milo Baughman featuring their original Ultrasuede covers are proof positive that the nonwoven fabric won't tear, stretch or pill. "Ultrasuede works well for contemporary forms but also gives older designs pizzazz," says McLeod. The designer's predilection for dynamic yellow, pumpkin and pink represents just three hues in the brand's extensive palette, which also encompasses plenty of subdued neutrals as well as a 14-color collection including Berry Rose, Clove, Lilac, Ice Blue and Sunflower introduced earlier this year. Adding to the spectrum, the company now offers two patterns, Melange and Twill, in five shades each.
Photography by John Neitzel
With so many options to choose from, part of McLeod's role as a color authority is to listen to her clients from the beginning of a project and guide them toward what resonates best. "It's funny. Some are like, 'Yes, more color, more color, more color!' And others just want a pop here, a pop there," she says. For those who are timid but color-curious, the fact that wear won't be a worry with Ultrasuede makes the leap to more whimsical shades feel a lot less risky. And clients concerned about sustainability can find assurance in the fabric's 30 percent plant-based polyester composition. (Committed to reducing dependence on petroleum-dominant ingredients, parent company Toray Industries is striving for 100 percent plant-based fiber by the end of the decade.) Together, the fabric's performance qualities and color possibilities—as showcased by McLeod's dazzling portfolio—help her convince the hesitant to try that intense hue they've always dreamed of: "Encouraging people to get past their fears when it comes to color may be my favorite part of the job. Often they'll contact me later to say, 'We feel so good in the space. It just makes us happy.'"
On the horizon for the designer is a luxury residence near the base of the Brooklyn Bridge in a new high-rise that's notable enough in the city's changing skyline to have earned itself a nickname among New Yorkers. "It's one of those wraparound glass boxes with incredible river views but way too much direct sunlight," McLeod says. Tapping into Ultrasuede's supple texture and lightfastness, she's planning to add a "huge" sectional sofa upholstered in sleek, urbane Slate Blue as the project's focal piece of furniture. Plus, she's currently refreshing her own place in Harlem—coincidentally inspired in part by Halston, the iconic American couturier from the 1970s who swathed the likes of Jacqueline Kennedy Onassis in his signature Ultrasuede shirtdresses. "He's on the mood board for my bedroom!" she says.
Confident in the peace of mind that Ultrasuede provides, the designer envisions using the fabric in a "sexier" deep mauve, Rosewood, as a "fabulous" headboard in her bedroom. She intends to use the material for a corner dining banquette as well, where the cheerful Sunshine shade she championed for the unconventional tête-à-tête just might make a triumphant return. "I really fell in love with that yellow," she says.
Photography by John Neitzel
This story is a paid promotion and was created in partnership with Ultrasuede.