In our series, What I Love, we're asking designers to build us a mood board of what's inspiring them right now.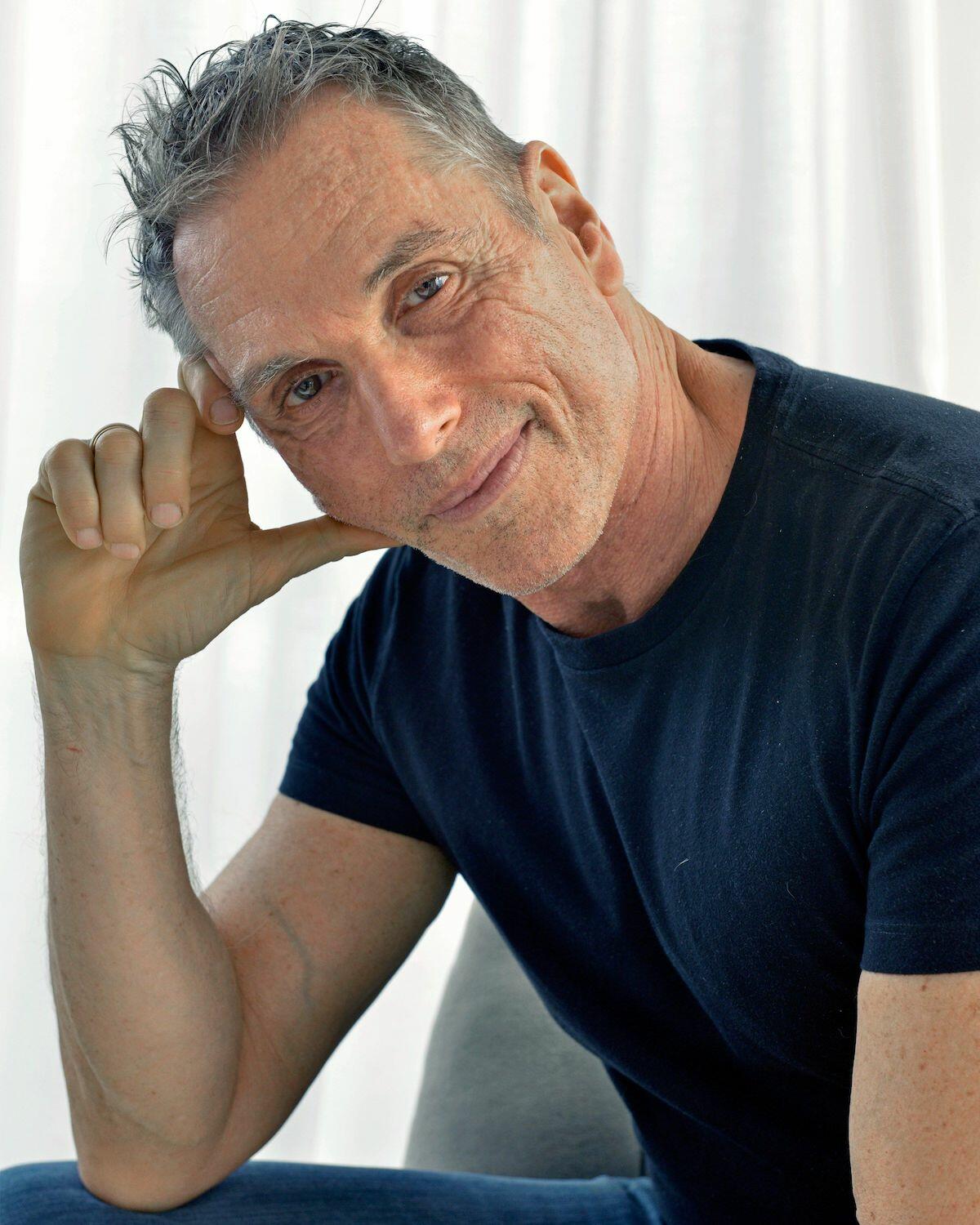 Vicente Wolf looks to the past for inspiration. The New York designer seeks out pieces with historical roots that are built for today's environments. "To me, that's part of the recipe for designing timeless interiors," he tells Business of Home.
For his current flat lay, Wolf—who is celebrating the debut of his latest book, Creative Interior Solutions, at High Point Market this fall—sought to create a subdued and sophisticated scheme. "You want spaces that don't shout their presence at you; the effect should be more subtle," he says. "Rooms where all the elements blend together, and offer a hint as to the [clients'] point of view and personality."
A range of organic materials in rich neutral tones ultimately draws the palette together, while the occasional zip of an untamed natural texture or a bold biophilic pattern helps energize the design. "References to nature always add a soothing quality to a space," he says.
Here, he breaks down the details—from nubby wool-and-sisal rugs to plaster-finished linen wallcoverings.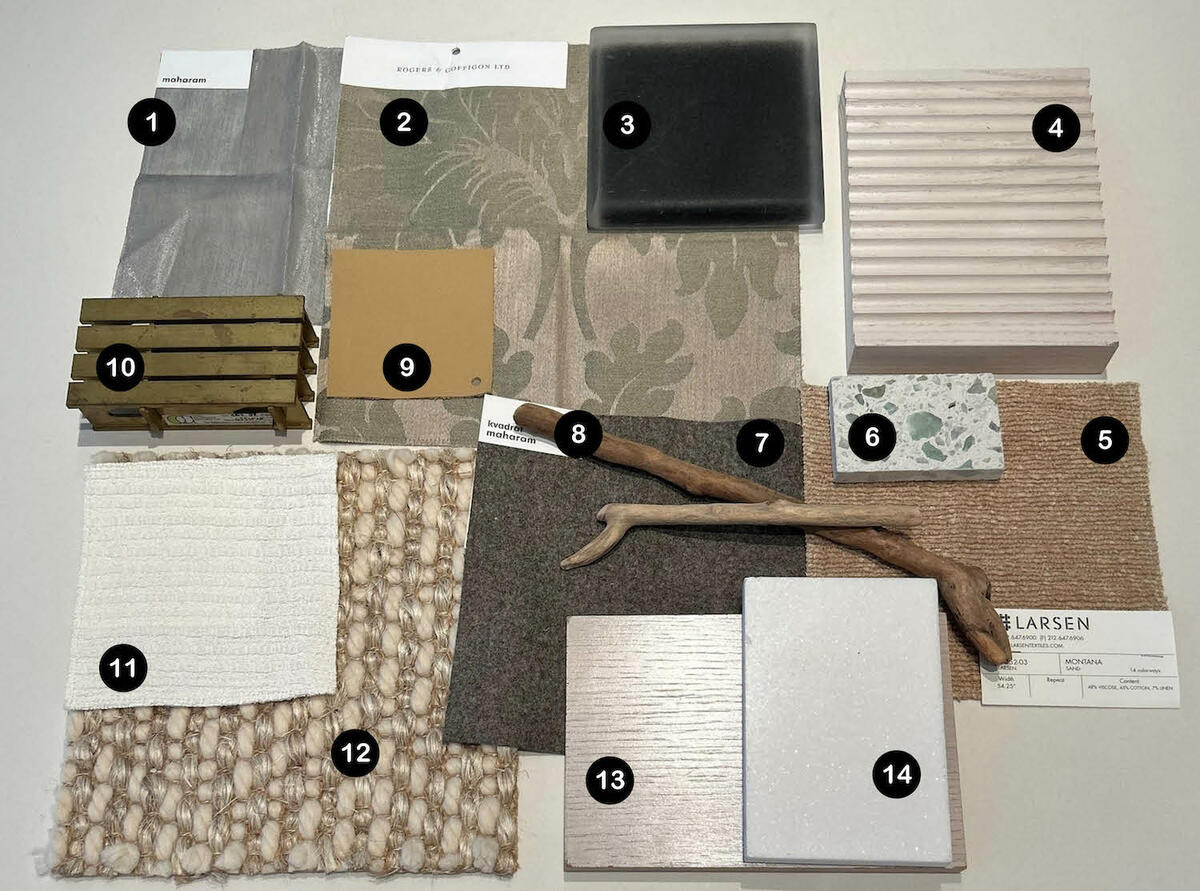 Courtesy of Vicente Wolf Associates
1. LULL FABRIC IN 283790-010 SOLSTICE BY MAHARAM
"I love metallic sheers on windows. They bring life and shimmer, especially at night."
2. KINGSTON LACY FABRIC IN ACACIA BY ROGERS & GOFFIGON LTD
"I find damask to be a perfect transition between contemporary and traditional, especially when it's tone on tone like this one."
3. ACRYLIC FINISH SAMPLE IN BLACK BY LIGHTBLOCKS
"There's something alluring about resin as a material. It's practical and always a cool element in a room in tabletops, counters or any surface."
4. CUSTOM CORRUGATED OAK SAMPLE
"Textured wood works perfectly in a bathroom or a bar, or as a piece of furniture."
5. MONTANA FABRIC IN SAND BY LARSEN AT COWTAN & TOUT
"I like a room with different levels of texture. This particular fabric works very well when combined with larger woven weaves."
6. TERRAZZO CUSTOM COLOR TILE IN JASPER BY WAUSAU TILE
"What better to bring different tonalities to a space than terrazzo, whether in a contemporary space or a Venetian palazzo."
7. DIVINA FABRIC IN 343 BY FINN SKÖDT FOR KVADRAT
"I love the nubbiness of boucle fabric, especially wool ones. It's practical, wears like iron—especially in this gunmetal color—and always looks rich."
8. VINTAGE DRIFTWOOD PIECES
"These pieces of wood have warmth and an earthy quality, bringing a sense of nature to a space."
9. AVION LEATHER IN BLONDE BY GARRETT LEATHER
"This color works in every room and is the perfect warm neutral with a natural quality."
10. LINEAR BAR GRILLE DIFFUSER IN BRONZE BY ARDEN ARCHITECTURAL SPECIALTIES
"Bronze makes a space earthy but is also warm. This diffuser from Arden Architectural Specialities brings a sharp, contemporary feel to a room."
11. RAW PLASTER TEXTURED LINEN FABRIC IN WHITE BY FABRIC AND STEEL
"I especially like using materials like this on upholstered walls, as they bring a linear quality to a room and add depth when the light hits it."
12. CATALINA RUG IN LAREDO BY ADARA LIMITED
"I think the combination of wool and sisal works so well in interiors. It gives a relaxed quality to a room while still remaining elegant."
13. CUSTOM BLEACHED WHITE OAK SAMPLE WITH DRIFTWOOD COLORING
"Driftwood is a popular color right now—it's a great color alternative and substitute for bleached or dark stained woods."
14. POLISHED THASSOS FINISH SAMPLE BY BAS STONE
"White shiny surfaces are so attractive and practical. They reflect the light and bring a crispness to any space."
Homepage photo: A flat lay by Vicente Wolf | Courtesy of Vicente Wolf Associates