In Business of Home's series Shop Talk, we chat with owners of home furnishings stores across the country to hear about their hard-won lessons and their challenges, big and small—and to ask what they see for the future of small industry businesses like theirs.
This week, Shannon Maldonado of the Philadelphia shop Yowie discusses how she transitioned from fashion design—working at brands like American Eagle, Urban Outfitters and Polo Ralph Lauren—to retail. Yowie is a bright, modern space offering an eclectic mix of textiles, ceramics and art prints, as well as fancy peanut butter, artisanal vinegars and Filipino snack packs.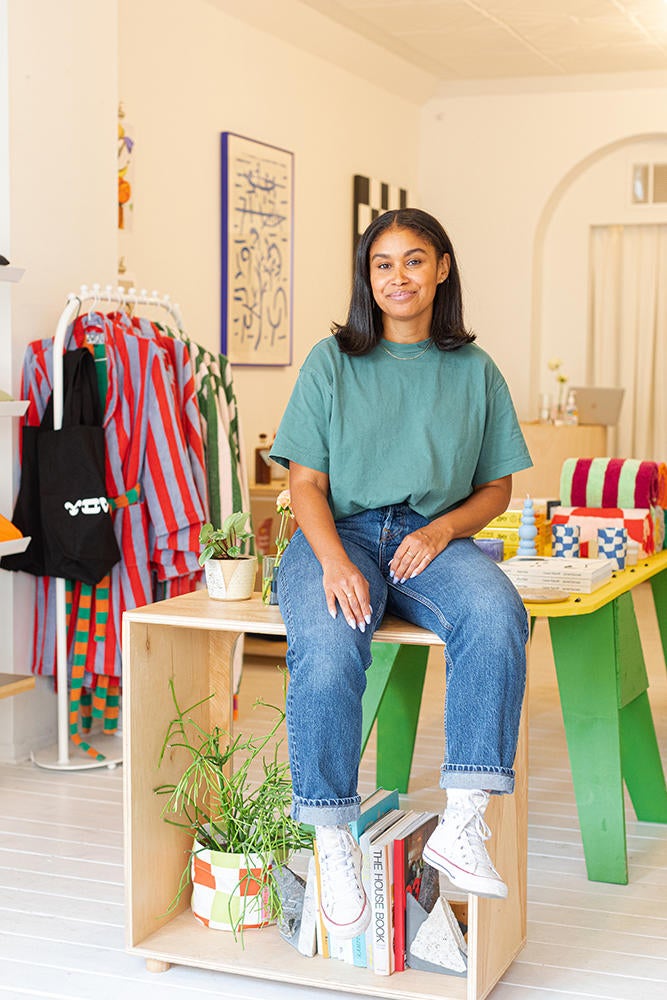 Maldonado says this blend may have confused Philly residents when she first opened in 2016, but it has been successful enough that the shop owner just announced she's expanding to a combined retail/studio/cafe/hotel space in 2022. Ahead, she explains why such multiuse offerings are the future of retail.
What is your professional background?
I have a degree in fashion design from FIT, and I was at American Eagle for a really long time as a designer. I bounced around there—I did kids when they had a kids' line, I did wovens, and I did denim and outerwear as my final position there.
Did you always have the idea of a retail store in mind?
No. In 2014, I started ideating Yowie as a nights-and-weekends project. I had a notebook of ideas, but it was very abstract. I wasn't sure if it was going to be a web shop or a physical space, but I knew that I wanted to do something that was my own, and more based on emotion and artists versus sales and numbers and comps. I really homed in on it in 2015.
How difficult was it to get and pay for a space for that?
I'd worked at American Eagle for almost a decade, so I had been saving money and had stock options with them. I had a little nest egg and funded it all myself until about a year ago, just starting really small. I think that's the biggest thing—I started very small with not a ton of products online, not a ton of inventory. Because our storefront is in Philadelphia, it's more affordable. We took on a smaller space and did as much as we could there. I didn't seek outside capital. I had to make some sacrifices and save money to get it off the ground.
How would you describe the vibe of the store?
Yowie is modern playful. It's very colorful. We have a great high-low mix of products. We like to work with artists that are at every stage of their career, and it's just meant to be fun. I think there's a through line of joy and discovery in our brand that we try to really set forth with the storefront.
How do you figure out which products and categories to stock?
We don't have a set list of rules. I think the number-one thing—as cheesy as it sounds—is that I have to feel something: either connection to the product or the maker. The brand is very much based on emotion. Is it something that I think is beautiful or interesting? Or, since we've gotten into pantry recently, is it something I think is delicious? I have a tiny team, and we taste test stuff. It's a mix of Instagram sourcing, people submitting, and I still go to trade shows. I'm very tapped into what's happening in the market.
You've described the brand as based around community. What do you mean by that?
Working in a bigger design space for such a long time, it felt very isolating. You have co-workers that you connect with, but for whatever reason, I didn't feel like there was a larger community there. It's been very grassroots from the beginning. The quickest example I can give is when we had our first pop-up in Philly. I'm from Philly, but I hadn't lived here for 12 years, so I didn't come back with this huge network of friends to invite. So I cold-emailed 150 people that I found on Instagram and invited them to the event. Leading with vulnerability—"Hey, I'm new here. Please come to this thing. I think it's cool. I think you'll think it's cool"—is how we've always operated the brand.
I'm very transparent about my experience as an entrepreneur. I think there's a lot of BS and noise about entrepreneurship online, so I'm very honest about the tough parts. Pre-COVID, we had a ton of free events in our shop. I'm very connected to the community where our store is, so we really try to present just as much as a neighbor and friend [as] a store. We have a little group that meets with our senator. I see us, over time, becoming a bigger part of the fiber of Philadelphia and what's happening here.
Who is your typical customer?
We have an amazing group of art schools in Philly, so we have a lot of art students who come in for inspiration, advice. There are the neighborhood people that come in biweekly to see what's new. We've had a lot of transplants in the last two years, people that are new homeowners and curious about design. The third [group] is amazing older customers who have seen the area change. They're really intrigued by a shop like ours that has such a diverse assortment of goods. They want to know what's happening with younger designers. It does feel cross-generational; I like that.
Do you have a favorite vendor, or just someone you want to tell people about?
I'll highlight Whitney Simpkins of Personal Best ceramics. She's someone I found on a blog years ago. Her work is really fun. We make these planters with her that we love and we keep restocking—they have this beautiful tactile beaded quality in the glaze and these really rich tones mixed with the clay body. Her work feels both hopeful and elevated.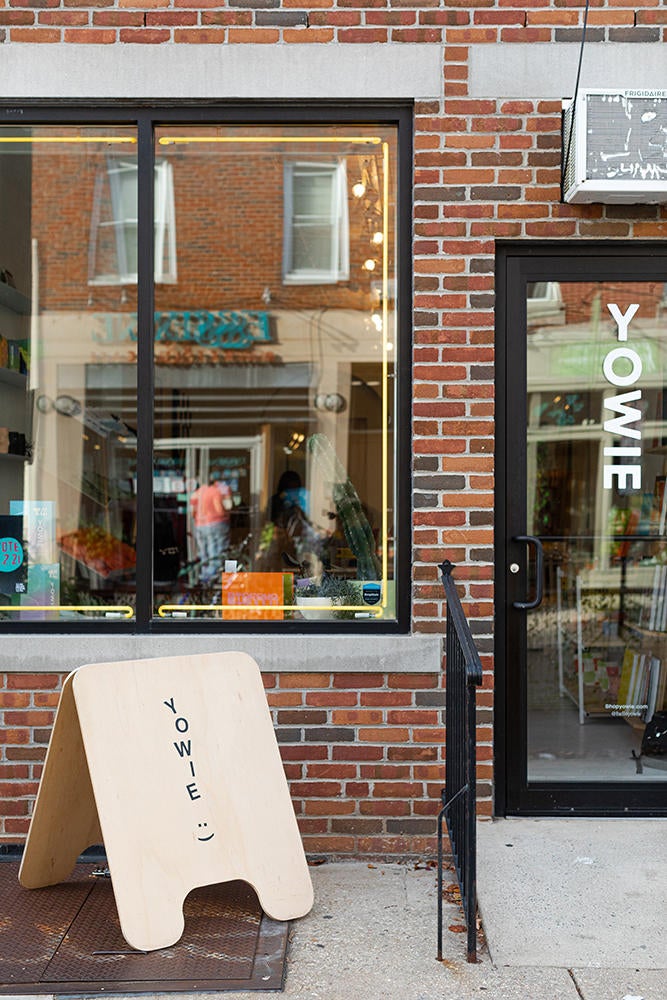 Is there an item in the store that makes you smile every time you see it?
I'm not a big chocolate person, but we just brought on these really cute chocolate bars called Kyoot from the U.K. I think the packaging is so playful and fun. It just feels so "us." Their logo is almost like a 1980s bubble letter that you'd write in your notebook. And then we have a lot of ceramics from Studio Arhoj right now. [They're] based in Denmark, and all of their glazes are punchy mixes of color. We have them in the front window bay.
Is there a certain product that always sells out quickly?
The number-one thing right now is the tart vinegar made by this brand Yesfolk, who make small-batch vinegars in New York. We sell through them in 18 hours. It's vinegar! It's not a cute ceramic, it's not a candle—they're just very delicious vinegars. That's been a surprising treat for us.
What advice would you give yourself if you could go back to opening day?
I would have a little more stuff. I do believe in starting small, but it's funny—in the beginning, people were like, "OK, what is this?" We didn't really have much in here. I would give myself a little more room. I would also say to myself, "Be open to where it takes you," because our brand has evolved so much in the past five years, and we're growing into a whole new concept next year.
What's your biggest everyday challenge, and your biggest existential challenge?
Our biggest everyday challenge right now is supply chain and making sure we have enough stuff. I've never tracked our inventory more. It's my least favorite thing to do, but I think we're all dealing with the pains of that. It can be our small artists waiting for glazes that are back-ordered, to our medium-size brands that make stuff overseas and are waiting on packages to show up. Inventory leading up to holiday is very stressful for all of us.
Existentially, I'd say the challenge is remaining true to myself, to our vision. Every year, I get more suggestions of what we should do and where we should go and who we should be. I [tell] other people that ask for advice about getting kind of invisible earmuffs, because everyone has an opinion on what you should do. Just staying the course, knowing our values as a brand, my values as a person, what I want my impact to be and our impact to be through Yowie. I only learned in the past year how to say no to things that don't feel right for us. I think when someone reaches out to you, you think you have to say yes or you're never going to get another opportunity again. I'm very comfortable now—respectfully, of course—saying no to things that don't align with our brand values.
Are there challenges that are unique to Philly?
I'm proud to say [the community has] come around to us, but in the beginning, we felt like a very weird alien spaceship for Philly. Our store is very bright. We have white floors—which is something people asked me about every day for the first six months.
White floors, really?
Yeah. A lot of stuff here has more of a darker wood, vintage vibe, so for us to come through with birch white walls, white floors, colorful objects, a curated selection—people were like, "There's nothing in here." These are the things that we like. We're not trying to oversell you anything. Five years later, I can say we've convinced them that this is a different vision that needs to be understood and supported, and we have an amazing community here that gets it now.
What's a good day as a shop owner?
Last Saturday was a really good day where we had a constant flow of really sweet people come to the space. I get to talk to people firsthand about what we're working on or new products and artists we're working with. We get a ton of people traveling from New York and D.C. on the weekend, so I love writing lists for them of, "What are you looking for? Vintage? OK, here are my three favorite shops. Here's my favorite slice of pizza." They light up when we do that, and it's so simple. It costs us nothing.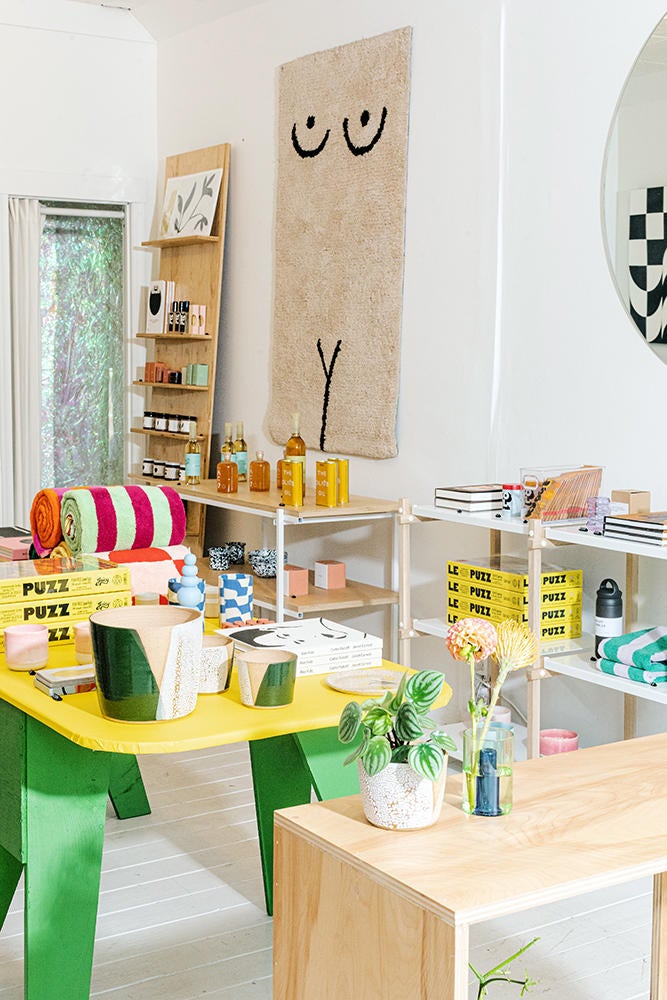 And I secretly love packing orders, because I'm very meticulous, but I need to get over it because it's not a great use of my time. I love when an artist pops in to drop off their work, and we get to see what we've been emailing or FaceTiming about for months. And I'm not old, but [I enjoy seeing] younger people in the space who are looking to start a business and getting to share some of the things I've learned. To see a person of color with a store that looks like this. I still feel very privileged that I get to do what I love every day—sell people mugs. That's an honor!
What has it been like to get extra media attention after you papered your windows last summer, and as a Black-owned business? Now you're on those lists of Black-owned businesses that people love to promote.
It didn't feel good, totally, if I'm being honest. It felt very complicated based on the context of why we were getting amplification. I never want too much of the attention of Yowie to be on me, because Yowie is a collective of people that make these things and create the space. The second we started getting that attention and started to get bigger sales, I was like, "We've got to donate some of this money." We started immediately sending the money back out to local organizations that are doing the real work. Yes, I love having a storefront, but I'm not an activist on the ground every day, working with people to make significant change in that way. We try to deflect away from us.
In the past year, that's been a big focus of mine: How can we continue to bring more artists of color into the space and share their stories? How can we give opportunities to others? I feel like I've been blessed with lots of opportunities, so how can I use my platform to shine light on others? That was part of what I mentioned earlier—with me finally understanding the value of my brand and when I can say no. Not feeling like, Oh, my God, I'm so small, and these brands are so big, and I need their validation, when I built something very special that I'm very proud of, that people love. I don't owe that to any brand that I don't think is working with us for the right reasons.
What's the future of small businesses like yours? You're expanding!
The future is that lines are going to continue to blur. For a decade ... we've been hearing about how retail is dead. I don't think it's going anywhere. I think it's just going to continue to evolve—I don't think any of us can just be one type of space. Part of our transition is adding hospitality to our space through a boutique hotel. We're adding a food and beverage concept and a studio to become this dynamic brand that is sustainable from different financial channels. I see so many shops now—they're part-time and a wine bar, or part-time and a coffee shop or a bookshop. I think that's going to continue, and I think it's great. They become neighborhood amenities, in addition to being thoughtful spaces that people love to visit.
Does it feel like an exciting time, even with the pandemic and the general horror of the world?
It does. We had to go into hibernation for a year and a half and close our store, and in that time, I learned a ton about myself as the founder I want to be. I learned a ton about my brand, that I forever just treated as a project. I really looked at the numbers and thought of a future for us after this. Cheesy as it sounds, it was purely chrysalis. Now we're opening this new space and expanding. So, I'm very, very, very grateful and excited about where we're going.
I feel like every business I talk to, we're all like, OK, now we are ready for anything. We stared death in the face and survived. Yes, let's make this a bigger space. Why not? The time is now. I feel encouraged and excited and proud that we built a community that did everything they could to keep us here. Everybody was rooting for us.
Homepage photo: The interior of Yowie | Photo by Heidi's Bridge