Whether it's the surge of mushroom-inspired motifs or the free-flowing silhouettes inspired by the season finale of Daisy Jones & The Six, the colorful psychedelia of the 1960s and '70s is everywhere lately. As for Los Angeles–based stained-glass artist Rachel Burnstein, she has been riding that wave since founding Bad Glass Shop in 2020.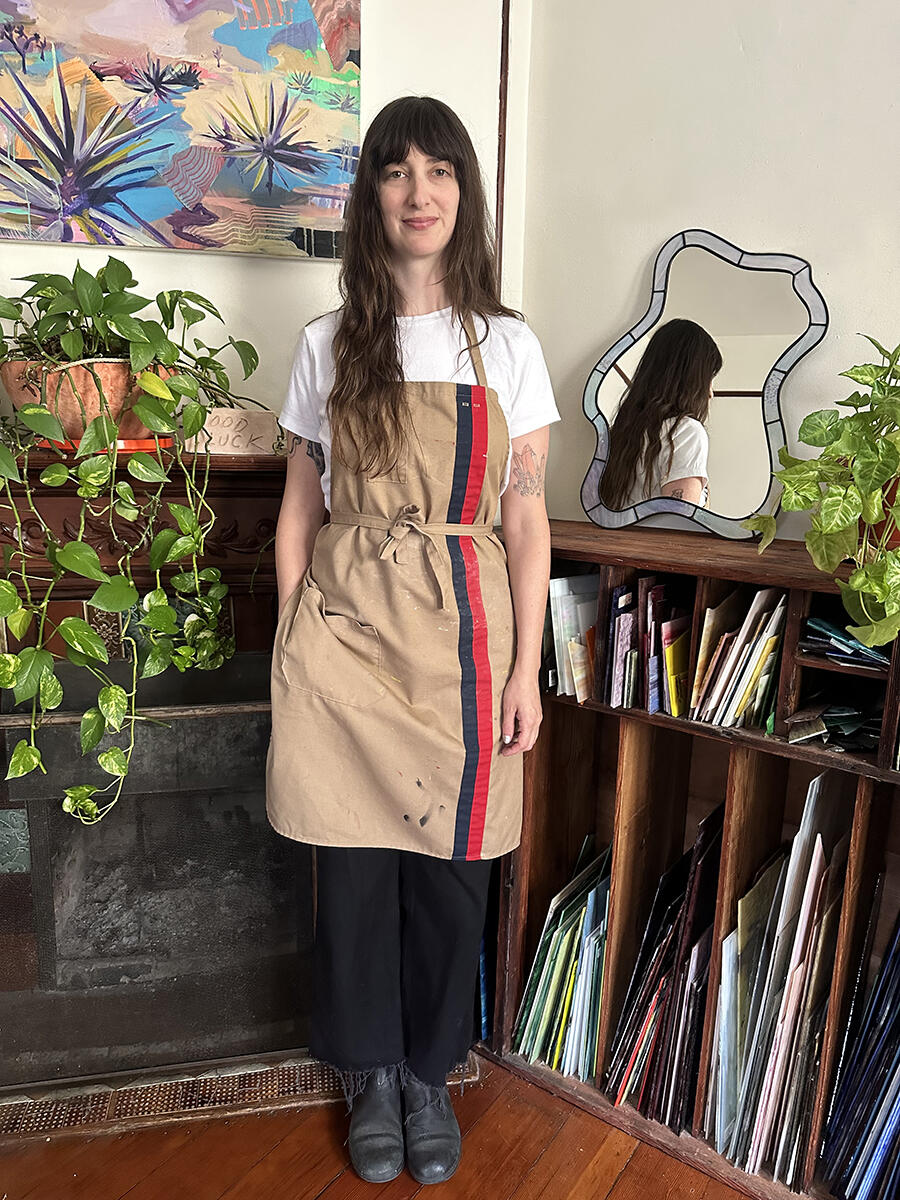 Courtesy of Bad Glass Shop
Burnstein's art career originally started in weaving and sculpture, two crafts she studied at the California College of the Arts in Oakland. Leading up to the founding of Bad Glass Shop, Burnstein had actually never worked with stained glass before—but in 2019, she decided to take a break from the loom and explore new forms of material expression. In between her three-job rotation managing a comedy club, bartending and working as a receptionist, Burnstein enrolled in a series of classes at Barnsdall Art Center in Los Feliz, including glass- and jewelry-making.
"Day one was rough—the piece [of stained glass] I made is the funniest thing," she tells Business of Home. "I now teach classes twice a year, and I always bring what I made on my first day, which looks like a little kid did it. It's just horrible." The name of the studio she founded a year later is a nod to that steep learning curve, as well as the artist's self-deprecating sense of humor. And while glass was a much harder medium than Burnstein expected, pandemic lockdowns granted her time to refine her technique. "I was making something every day and just getting better and better," she says.
With a better grip on the process, it was only a matter of time before inspiration struck and stuck. "I have this amazing vintage clock that I got from a flea market," says Burnstein. "It's shiny, wavy—very Dalí-esque. One day, I was looking at it and thought, 'You know what, I would love a mirror like that.'" It didn't take long for her to design and fabricate the piece, which set the tone for the mirrors that are now the bread and butter of Bad Glass Shop, a studio based out of Burnstein's L.A. home.
Burnstein's artful mirrors strike an aesthetic that lands somewhere between a Tiffany lamp and a lava lamp—the centuries-old stained-glass tradition gets an energetic, irreverent update via kaleidoscopic borders and free-form shapes. "I draw everything, and I'm definitely inspired by psychedelia and forms found in nature," she says. After drawing on paper, cutting out those shapes and tracing them on to glass, the individual pieces are cut, assembled, foiled and soldered, with cleaning in between each phase. Then the mirror is ready to be hung.
Bad Glass Shop's product output currently stands at about 60 percent custom work for designers and savvy homeowners, including buyers ranging from downtown L.A. to Dubai, thanks to the reach of Instagram. The average price of a Bad Glass Shop mirror hovers around $600, with a lead time of two to four weeks depending on workload and order complexity. "[My customers] are collectors, interior designers, people from Instagram—everyone has the same opportunity to purchase something," she says. "I usually release small-batch collections, and you can [browse and order] through there, [allowing] everyone equal opportunity to reach out and create a custom piece—[which] I like."
Up next for Bad Glass Shop is an installation at The Other Art Fair in Los Angeles from March 30 to April 2, and for those in New York, Burnstein's Angel mirror is currently on view at Snow Gallery on the Lower East Side. And to think that just a few years ago, Burnstein was focused on a loom. "It's definitely uncomfortable trying something new and truly being terrible at something—it's so humbling," says Burnstein. "I explored a lot of different careers and industries, but I didn't want to do any of them more than making what I'm making. With glass, it's just fun."
If you want to learn more about Rachel Burnstein, visit Bad Glass Shop's website or Instagram.