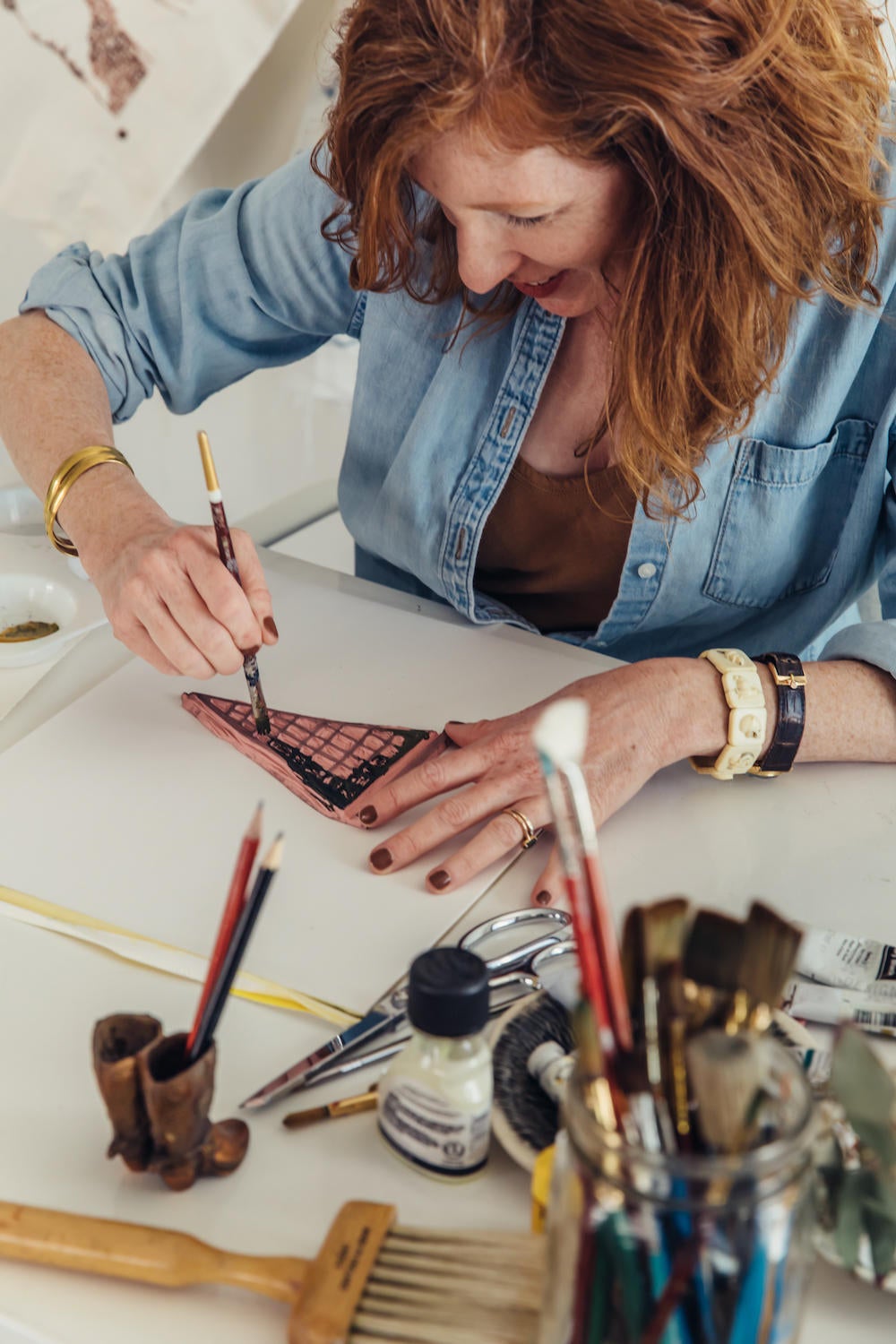 Brook Perdigon is a problem solver. Instead of focusing solely on beautiful designs that inspire her, the Los Angeles founder of Brook Perdigon Textiles is on a mission to create fabrics that also fill a void in the marketplace. "My goal is to constantly be putting something new on the market," she tells Business of Home. "I am constantly asking myself: How do I design something new, highly usable, different from what is out there, true to my interests and have it be marketable, sellable and interesting to a variety of designer's styles?"
Growing up in Tampa, Florida, Perdigon was immersed in art. She took her first drawing class at the tender age of nine and remained enamored with the practice throughout her youth—so much so that she earned a painting and printmaking fine arts degree from Washington University in St. Louis. "Creating art has always been my solace," she says.
After graduating, she moved to San Francisco and began taking classes in textiles at the California College of the Arts in Berkeley, where she learned how to hand-dye yarn and weave on a loom. "I decided to enroll in the surface design program at the Fashion Institute of Design & Merchandising in Los Angeles," she says. "I realized that design was a way for me to be creative every day and have financial stability."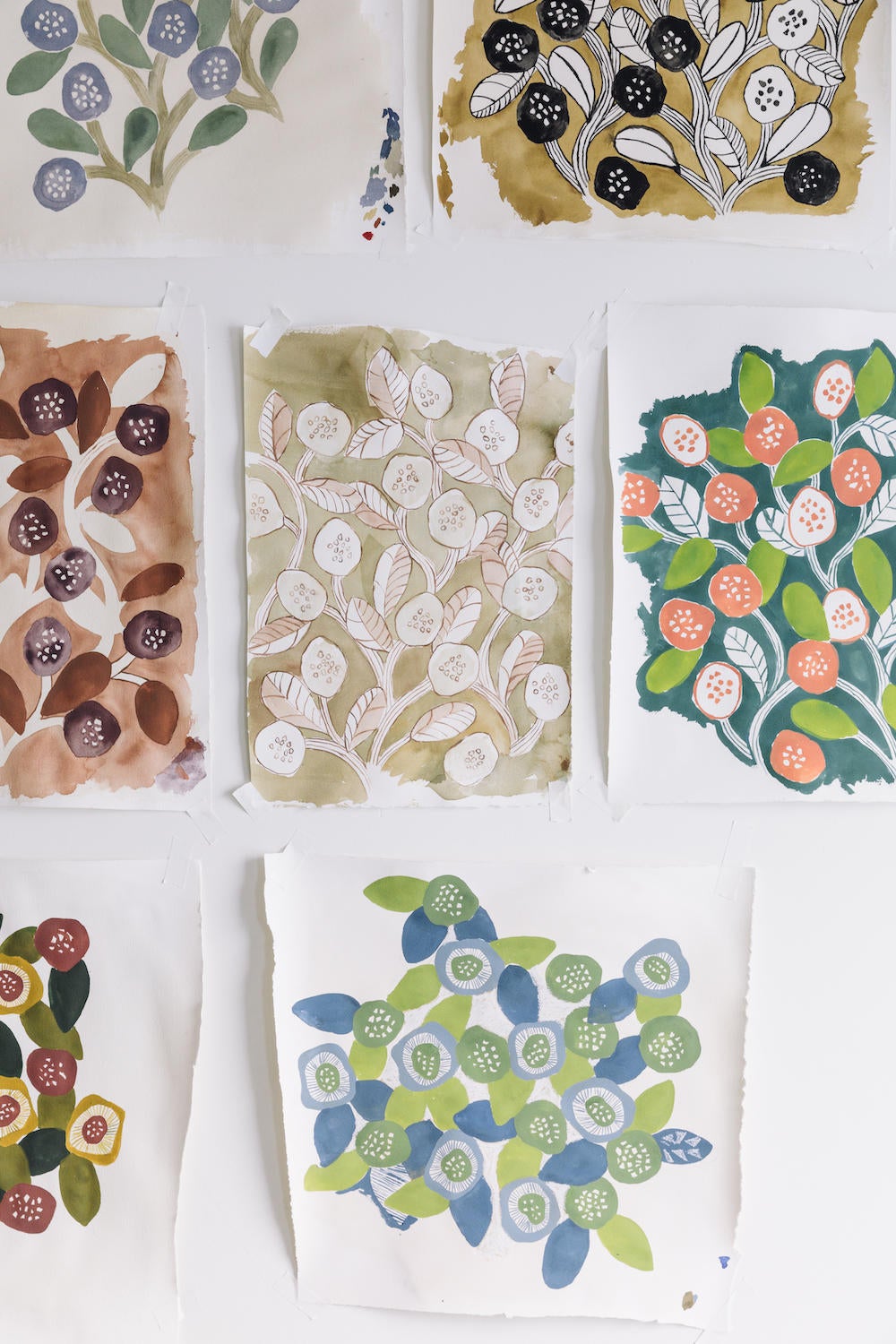 Perdigon spent the next decade crafting bespoke fabric collections for interior designers as well as brands including Tai Ping Carpets. "I had been executing others' design visions for so long and was eager to see what I would create from my own ideas," she says. "I was exhausted by the monotony of creating patterns digitally and wanted to find my way back to my art practice."
In 2015, she launched her eponymous Los Angeles studio with Mountains of the Moon, a line of stencil-patterned fabrics inspired by 1920s African bark cloth paintings. "The collection consisted of strong geometric shapes with rhythmic layouts, and I only printed them in black on natural fabric," says Perdigon. "To print such graphic designs in only black was very, very new to what was being printed on fabric at the time, and the market responded quite well."
All of Perdigon's designs begin with an inspiration image, which she translates into hand-illustrated artwork—including sketches, paintings and collages—before scanning that into a computer and turning into a repeat pattern. "I work out my ideas the old-fashioned way of tracing and transferring motifs to find the best layout and placement," she says. "Once I've settled on a repeat, the pattern is hand-screened and digitally printed in Los Angeles on both Irish and Belgian linen."
Along with an array of hand-made fabrics, Perdigon also offers an assortment of artisanal wallcoverings based on her upholstery patterns. "We print our wallpapers to order on a variety of grounds: grass cloth, paper weave, nonwoven vellum and a paper-backed linen," she says. "My intent with the wallpapers is to create a textured backdrop for a room and not a bold statement. I want them to be a foundation to layer one's art, collectibles, furniture and life upon."
Her latest collection, Impressions, was born out of homesickness for her family and childhood home during the pandemic. "I had not seen my family in over a year at that point, and the only thing I felt like painting was flowers—which were what I would paint when I was taking art lessons as a teenager," she says. "So, I dug up an image of a lotus pod on an antique textile and used it to create a watercolor floral motif for the Bloom design."
Currently at work on her first line of performance textiles, Perdigon has plans to expand her product offerings in the future. "Within the next five years, I hope to launch a series of carpets," she says. "Like so many home design businesses, the past two years have been exceptional for my little company. We have been working hard to meet and manage the demand—I look forward to being able to step away from the logistical side and fully focus on creative direction and design."
If you want to learn more about Brook Perdigon, visit her website or follow her on Instagram.