In Business of Home's new series Shop Talk, we chat with owners of home furnishings stores across the country to hear about their hard-won lessons and their challenges, big and small—and to ask what they see for the future of small industry businesses like theirs.
This week, self-described "huntress" Ariene Bethea discusses her shop and design business, Dressing Rooms Interiors Studio in Charlotte, North Carolina. Bethea first got into retail by reselling vintage furniture on Etsy, then Chairish, then within a multi-merchant space, before finally opening her own brick-and-mortar store in 2013. Her wares include a mix of vintage and antique finds alongside select candles, books and other contemporary accessories, and it's through the space that Bethea offers interior design services, as well.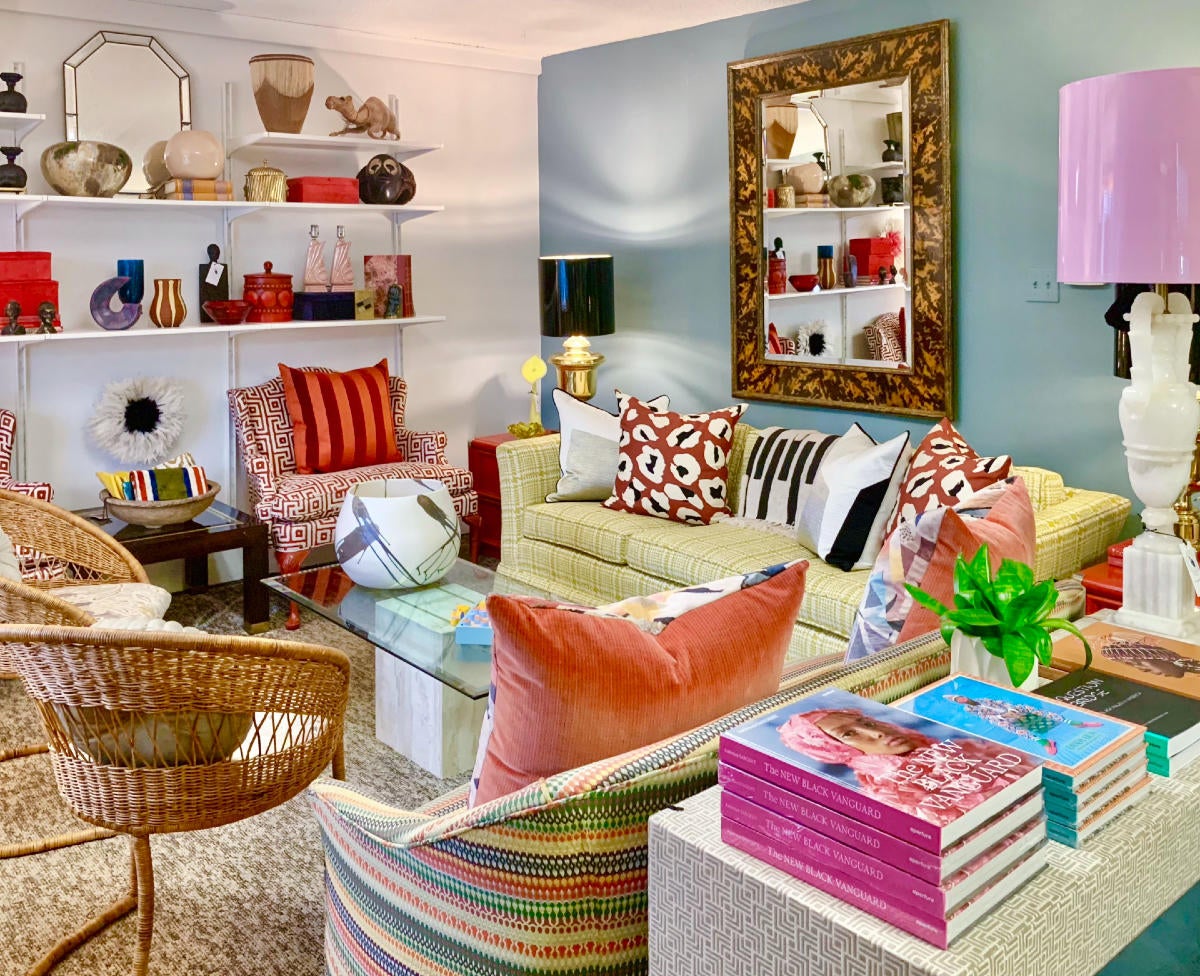 How would you describe the vibe of your store?
I set up my shop like a home. I wanted people to feel like they were coming into their friend's home, and they could just buy the things that they liked. It shows people ways to use different pieces in your home—how to use the products, and how to mix pattern and color.
How does the product come in? Is it working with vendors, going to estate sales?
I do estate sales and online auctions, and then [check out] antique markets and flea markets, but I also have upholsterers and vendors I work with for custom pillows. So I have a mix of pillows, and then coffee table books and candles. I have a mix of old and new, but it's mostly old.
Who's your typical customer? What's the ratio of industry folks versus regular consumers?
I think it's 50-50. It might be a little heavier on the designer part. It just depends on the piece, because they're [mostly] vintage items, so sometimes it's a designer looking for a client, and then it also might be a customer who's like, "Oooh, I love this piece." Depending on the collection, it varies.
Who is one of your favorite vendors?
I like Faire, which is a marketplace of handmade and small items sourced from all over the country, and they market toward small boutiques or retail shops. I love to browse through there to see what's new, what's handmade, what's woman-owned, minority-owned. You can shuffle through all the options, and I've found some great products that way.
What's a product that always sells quickly?
Coffee table books have been a big hit recently, specifically Black designer coffee table books. I didn't think there was a huge market for it, because people can buy things on Amazon—but customers love to come in and search my coffee table books.
What's your favorite item in the store right now?
I have an 1980s Henredon Folio modular sofa in here right now. It's five pieces, in a cream color, and you can rearrange it in any kind of configuration you want. That was my best find.
What advice would you give yourself if you could go back to your opening day?
Buy what you love. I've tried to carry that through. When I was in a multi-merchant space, they wanted you to stick to neutral colors, so I made sure I stayed away from that and stayed true to what I really loved. So, I would tell myself to stick to the course and buy the things you love.
What's the biggest everyday challenge for your business?
The everyday challenge has been that I've been doing interior design as well, and trying to source product for a shop and service clients. I have a different eye for the shop than for clients, so I have to put on a hat, because the clients that I've been working with lately aren't necessarily vintage. Sometimes the client is like, "Oh, my God, I love that item in the shop—can we use that somewhere in the house?" And then, "Oh yeah, OK! I didn't think you liked that." But I look at different sources, not the same manufacturers for clients as for my shop, because I try to stay true to the vintage. If I am looking for something for the shop, it's more handmade, one-offs, one-of-a-kind pieces, small-batch things. I'm not searching the same spots.
What's the biggest existential challenge?
I like to bring in something new every week, something new-vintage, or just some new product every week so the store feels fresh. That's a lot of pressure, to find new things every week. Can that sustain itself? That's the issue I need to work through. I'm searching whenever I have a moment. On my way to a client, I'll stop here and stop there, or I'm looking at estate sales—it's constant. That is exhausting, and I need to find a better way.
Do clients interact with your store at all?
Oh yeah, absolutely. I've gotten clients that way. That was kind of my original idea—I don't want to have to market for clients, but if they come in the store and love my vibe, then they may want to work with me.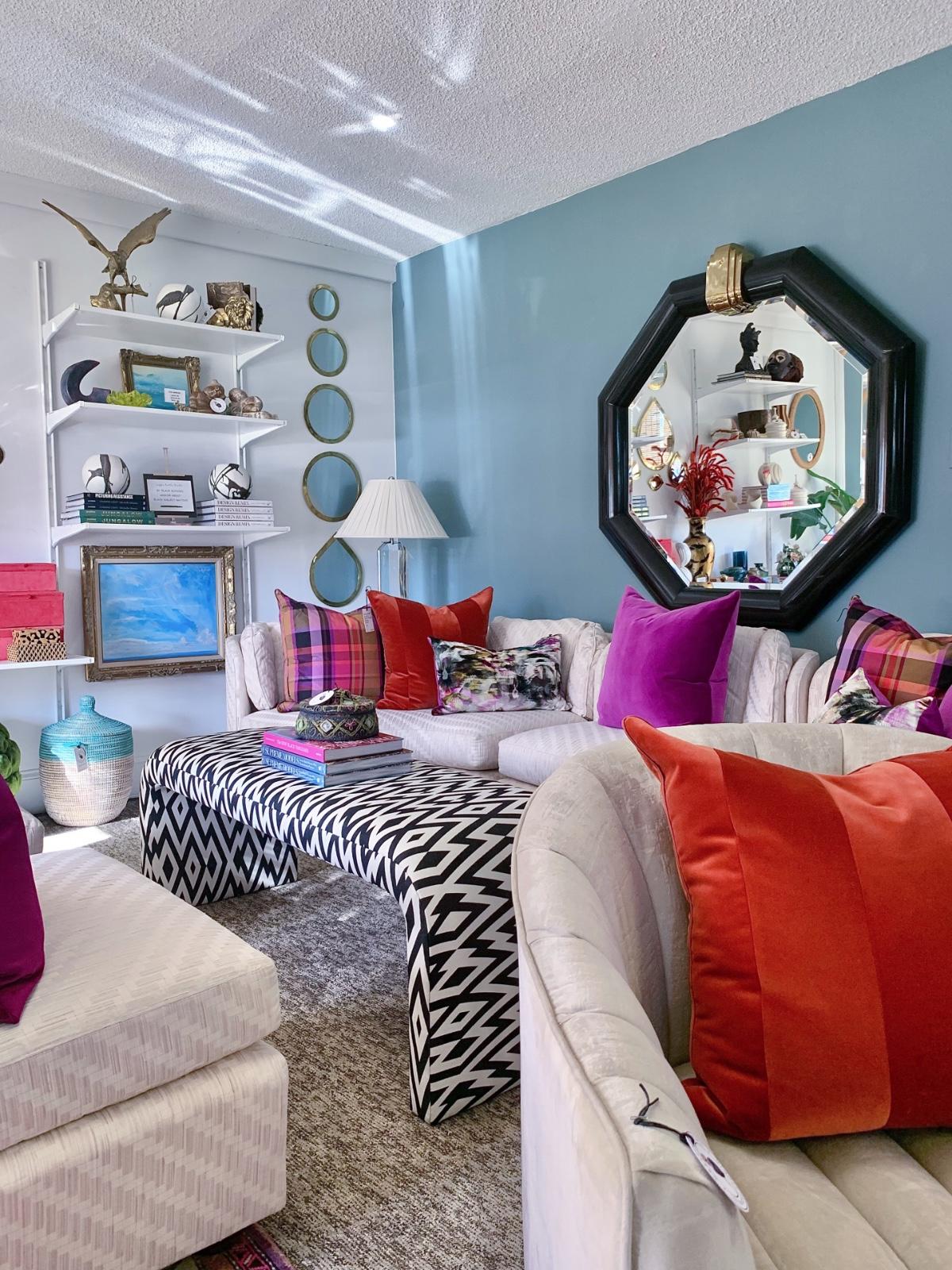 Is there something that you wish more customers understood?
I wish they understood cost and effort. Moving these things in and out, finding them, hauling them, cleaning them and recovering them, in a lot of cases—that's what the price includes. A lot of times, the price doesn't include my labor; it's really materials, the upholstery. I wish they had a greater appreciation for vintage and how hard it is to find it, especially if it's in excellent condition, because I try to find pieces that are in very good or excellent condition so I'm not recovering so much. I do enjoy recovering pieces, because I get to design it how I want, but I just wish they had that kind of appreciation.
Also, to use color more in their spaces, and not feel like it has to be gray or navy. It was like a gray-beige kind of phase, and then navy became really comfortable. Navy is fine, but let's add some fun throw pillows with some color and pattern, you know?
How do you convince customers that your carefully chosen, well-made products are worth more than cheap stuff on the internet?
People who follow me and come into the shop have [often] already been following me for years, so they know my aesthetic and that I only pick things I love that are of quality. But if somebody is new to the shop, when they come in, I can explain, "Oh, that is handmade. That's from the '60s." And then they're like, "Oh, my God. Wow." You can look at a lot of the pieces and [see] how much better they are made than some of the newer stuff on the market. You can see the details, and I don't have any problems showing them that. I don't think people understand the quality difference in pillows particularly. What you get at a big-box store like Target—no shade to Target; love Target—than what you get in a specialty design shop, it's hands-down a whole different quality.
It's just hard when a pillow is $20 versus $200.
But you're replacing that $20 pillow, because it's not going to last. The filling is going to get flat. You can see the quality difference if you stack it against something that's down-filled.
What are some of the challenges in Charlotte?
I do a lot of shipping across the U.S., so my pieces end up in other places: Tennessee, Georgia, California, everywhere. And it's interesting that the Charlotte folks aren't so keen on color. Some of my vendor friends stay in the neutrals, the grays, the creams and the navies, and I've just kind of refused to do that. I've been able to find my own tribe of people that appreciate color and patterns, but those pieces go to other places. My really fun, pattern-filled stuff really goes somewhere else.
What do you think the future is for small businesses like yours?
During this pandemic, people have recognized the importance that small business plays in their community, particularly because of how restaurants and specialty shops suffered. To me, small business is the heart of every area. When you go visit a place, you go to see what local spots they have. You're not going to the Gap. The reason why people travel and come to different cities is because they want to eat something local that's special to the area, or purchase something from this shop to take back and give as a gift. I don't think [small businesses] are going anywhere. I just think they will get more support from the cities that they're in, and from local communities.
Homepage image: Ariene Bethea | Courtesy of Ariene Bethea