Treasure hunting just got easier. Targeting antique shop owners, interior designers, stylists and artists, Fleamapket has been helping European antique lovers source wares since last year, and this week, the interactive flea market guide launches its U.S. version. The web-based tool provides maps for 100 markets in the country and 300 throughout the world, with a focus on Europe.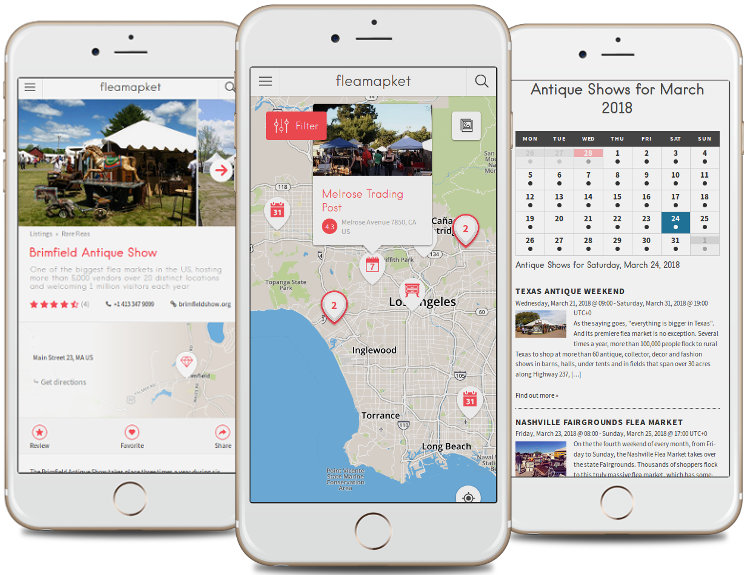 The interactive guide helps users find and rate markets in their area, as well as seek out markets by season, size or certain topics, such as "particularly scenic markets" or "foodie flea markets." Among the features are a thoughtful editorial description, location, opening hours, images of the flea market, and useful terms for negotiating in the local language. Fleamapket also provides itineraries, like a three-day Brussels market tour that guides visitors from the Place du Jeu de Balle to the Place du Grand Sablon and beyond.
"Our users trust that we pick only the best venues, so they do not have to scour long lists of markets anymore, and focus on what really matters: finding hidden gems while having fun," says Nicolas Martin, creator of Fleamapket and founder of Flea Market Insiders, an online platform he founded in 2011. "Flea market shopping is one of the most authentic ways to experience local culture—and you can be sure to bring home unique souvenirs," says Martin of the tool's appeal for travelers in addition to the designers he is targeting.
The site's basic functions, such as its calendar with iCal syncing, are free and upgraded membership costs $59 yearly.