The annual Charleston Antiques Show returns this weekend (March 16 to 18), with six first-time dealers and a host of intimate designer events. The city's Old and Historic District, a National Historic Landmark, is a fitting backdrop for antiques dealers to showcase their wares, including decorative and fine art, architectural elements, garden furniture, vintage jewelry, silver, and 17th- to 20th-century English, European and American furniture. The show is organized by the Antiques Council and the Historic Charleston Foundation.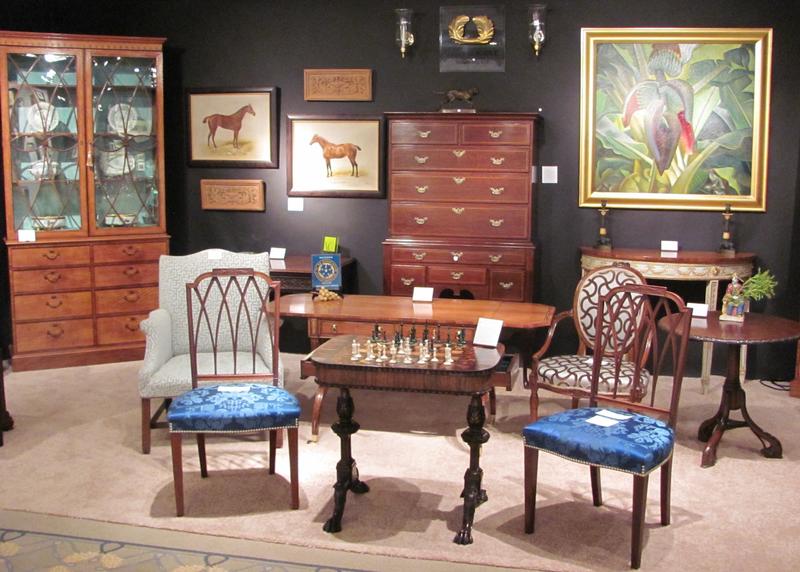 "It think what makes [the] Charleston [show] stand out is the diversity and quality of the dealers in a smaller show; it is a 30- to 33-dealer show," says Finnegan Gallery's Kaye Gregg, the director of shows at the Antiques Council. "We bring in dealers from overseas; we have several English dealers who are participating this year and have in the past."
New dealers this year include Sherwood Antiques, Caledonian Inc., Callaghans of Shrewsbury, Santos–London, Yew Tree House Antiques, and Lotus Gallery. Sherwood Antiques, which is based in Georgia, will have a 19th-century ebonized desk, a rare 18th-century Dutch oysterwood linen press, and a variety of English and continental furniture and accessories. Owner Steve Sherwood says they want to attend the show because it is one of the best antiques events hosted in the South, in one of the most beautiful cities in the United States. Gregg agrees: "It is a city that is very invested in its history and that is translated into their interest in antiques."
For the event, Historic Charleston Foundation planned the Design in Mind speaker series, featuring Thomas Jayne, Gil Schafer, Beth Webb and Marshall Watson, who will discuss how to incorporate antiques into personal design styles. Tickets for each of the talks go for $75.
The show takes place at the Charleston Gaillard Center and is open 10 a.m. to 6 p.m. on Friday, and 11 a.m. to 5 p.m. on Saturday and Sunday.