In our series, What I Love, we're asking designers to build us a mood board of what's inspiring them right now.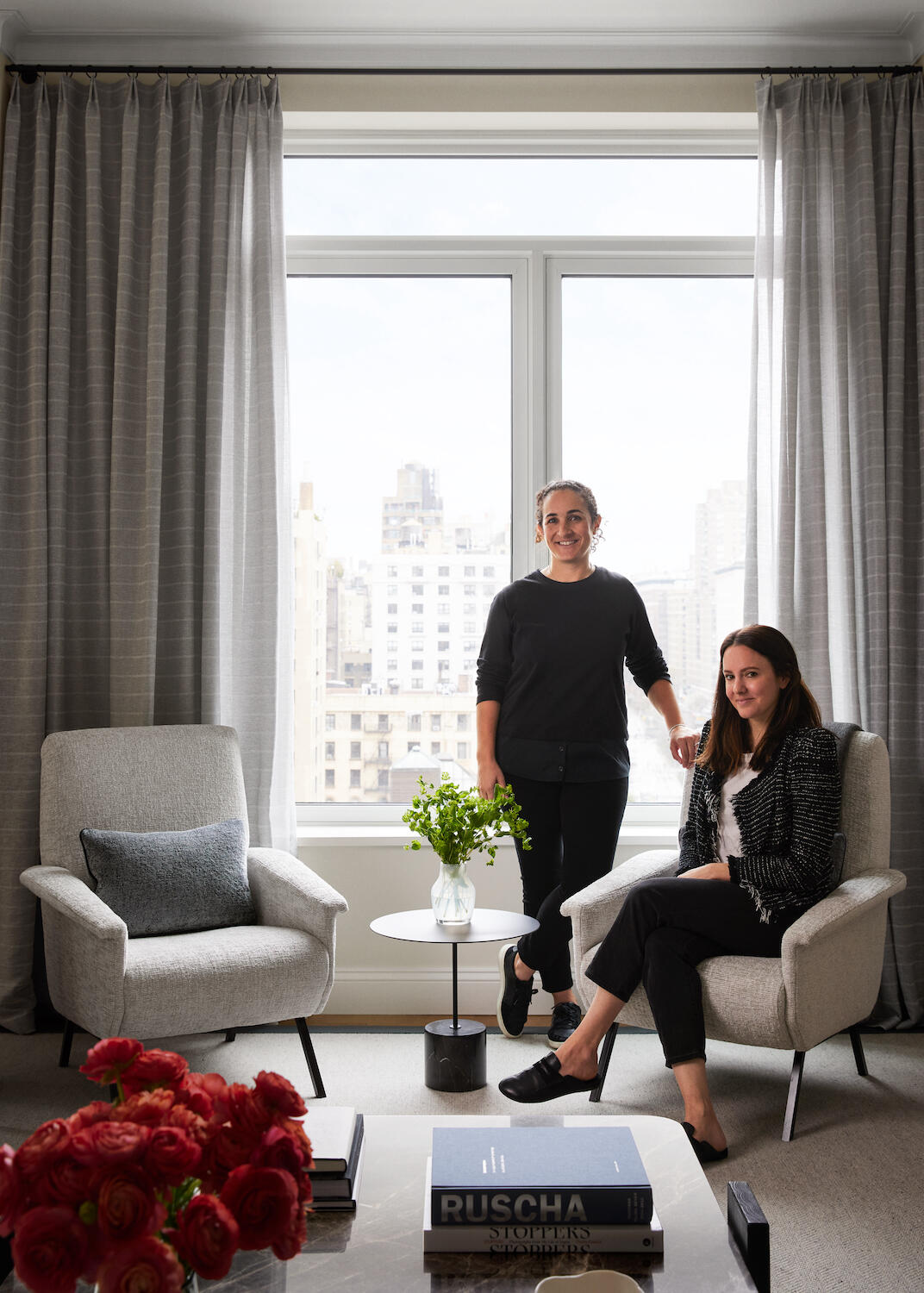 Anna Baraness and Kristin Tarsi take a nuanced approach to textiles. The co-founders of New York–based Studio AK gravitate toward subtle patterns and tactile textures that allow the materials to do the talking.
The pair's current flat lay provides a superb case in point. Inspired by "the rich textural contrast" in Marc Phillips's Lennon rug, the duo used the design as the jumping-off point for the palette. "We pulled cues from the juxtaposition of its soft silk and woven leather into different elements of the scheme," Baraness tells Business of Home. "We balanced out the dark blue of the rug with lighter fabrics and plaster, and added a botanical mural for scale."
The end result is a comforting mix of organic lines and warm neutral hues grounded by palatable pops of deep earth tones. "The final look is luxurious and sophisticated," Tarsi says. "We can see it being employed in a posh New York City den or dining room."
Here, the duo break down the details—from oakwood finishes to penny mosaic tiles.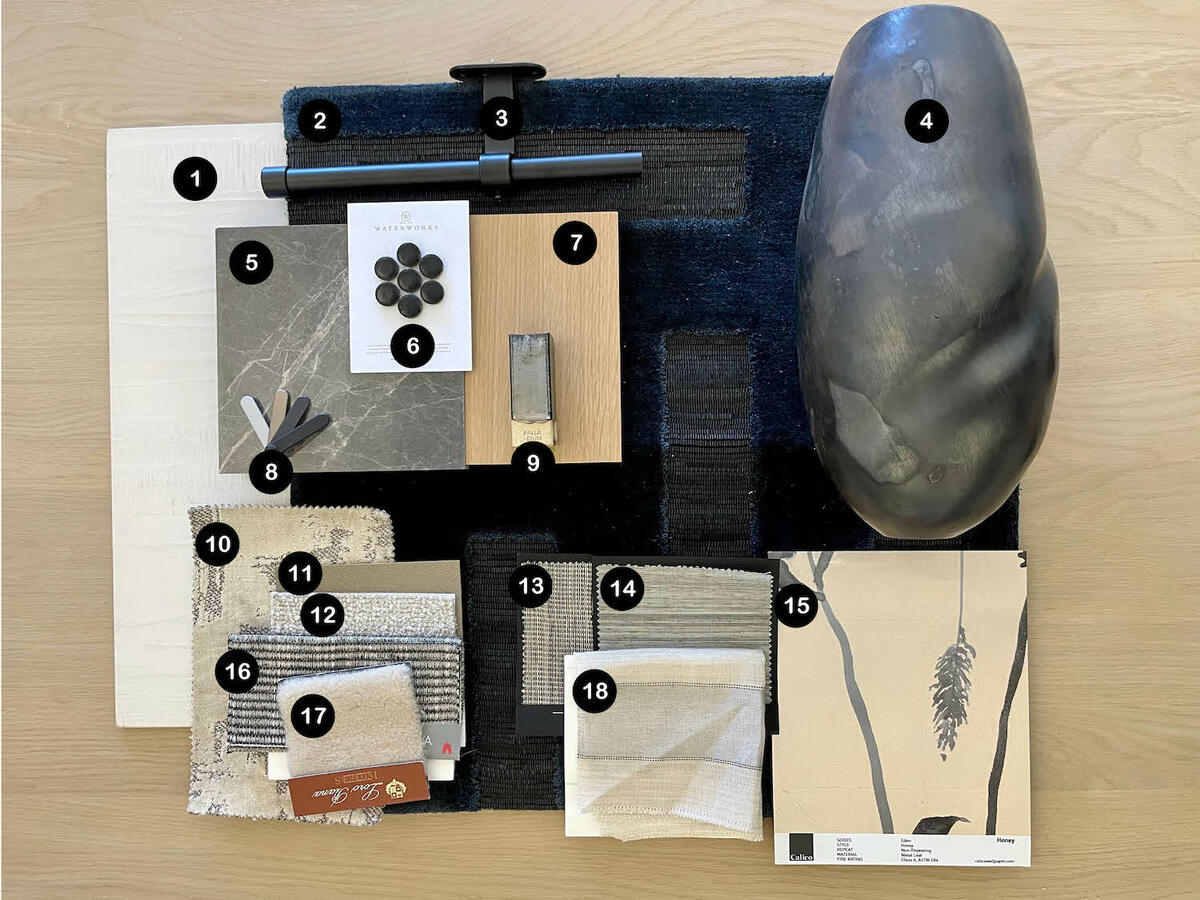 1. CUSTOM PLASTER SAMPLE BY FRESCO DECORATIVE ARTS
"The addition of this plaster by Fresco Decorative Arts adds depth and movement," says Baraness. "We chose this tone because it greatly softened and refreshed the scheme."
2. LENNON RUG IN BROWN BY MARC PHILLIPS
"We love the mix of textures created by the change in materials here. The rich navy tones help ground any room."
3. IRON CURTAIN ROD SAMPLE IN BLACK BY FRAIOLI DRAPERY & INTERIORS
"We love to use dark curtain hardware to create contrast against walls. This one by Fraioli Drapery & Interiors is our go-to because it's simple, clean and slim."
4. WATER VESSEL BY SOLEDAD CHRISTIE AT STUDIO TASHTEGO
"This piece has a unique shape and material that really draws the eye. We love finding makers who are at the top of their craft. As seen here, it really makes all the difference."
5. POLISHED MARBLE SAMPLE IN ELEGANT GREY BY ETAMORPH
"We used this beautiful marble by Etamorph on a custom coffee table and loved how its veining added interest to the space. Here, the sample brings the different tones in the scheme together."
6. DISC PENNY MOSAIC TILE IN JET GLOSSY BY WATERWORKS
"You can never go wrong with a classic penny tile. The deep color and gloss finish balance nicely, and its shape helps create interest."
7. OAK FINISH SAMPLE BY AMUNEAL
"Oak has such amazing depth of color and grain. This finish by Amuneal is one of our favorite samples that helps bridge the gap between refined materials and more natural ones."
8. METAL FINISH SAMPLES BY FYRN
"Fyrn has interesting furniture pieces that uniquely mix metal, wood and leather materials," says Tarsi. "They are utilitarian yet chic."
9. TWISTED CASTLE SIDE TABLE IN PALLADIUM FINISH SAMPLE BY BZIPPY
"We discovered BZippy at ICFF and fell in love with the range of finish samples and interesting side table. This particular sample has great depth and a lovely metallic finish."
10. VELVET FABRIC SAMPLE IN LODGE 02 BY FAMEED KHALIQUE
"This sample from Fameed Khalique has everything going for it—the luxurious feel of the velvet, shifts in texture and rich tones," says Baraness. "The high-low organic pattern also helps complement the material change in the rug."
11. NEW BUFFALO FAUX LEATHER SAMPLE IN KHAKI BY HOLLY HUNT
"This one from Holly Hunt has a nice neutral tone and the midvalue bridges the light and dark values within the scheme," says Tarsi.
12. PEBBLE BEACH FABRIC SAMPLE IN NATURAL BY HOLLY HUNT
"This sample has an elegant softness and chunkiness to it, perfect for a club chair or ottoman."
13. ABACA OPTICAL NATUREL FABRIC SAMPLE IN NOIR BY CMO PARIS
"We love how the combination of dark and light in this weave helps complement the greater scheme," says Baraness.
14. SPARKLING NATUREL FABRIC SAMPLE IN NOIR BY CMO PARIS
"This is a finer weave than the other CMO sample that adds a level of refinement. We also like how the thread colors tie into each other, and find that the contrast of the finer and thicker weaves create an interesting juxtaposition."
15. EDEN WALLPAPER SAMPLE IN HONEY BY LINDSEY ADELMAN FOR CALICO WALLPAPER
"We loved this pattern and colorway from the moment we laid eyes on it," says Tarsi. "This colorway is particularly complementary with its metallic ground and monochrome flowers."
16. SAREK SMOKE FABRIC SAMPLE BY VILLA NOVA
"The layered monochrome and textural stripe in this fabric pairs well with other varied textures and patterns, yet it does not steal the show."
17. CASHFUR KASHA FABRIC SAMPLE BY LORO PIANA INTERIORS
"Loro Piana is known for their rich fabrics, and we just could not resist this super luxe and plush cashmere."
18. SATURN FABRIC SAMPLE IN LIMESTONE BY HOLLY HUNT
"The broader stripe in this curtain fabric nicely accents the smaller-scale patterns in the scheme, while also relating to the scale in the Eden wallpaper."
Homepage photo: A flat lay by Anna Baraness and Kristin Tarsi | Courtesy of Studio AK