With spring just around the corner, design brands prepare for the end of winter hibernation by sprucing up existing showrooms and debuting new spaces. In our monthly roundup, BOH gathers all the expansions and openings to have on your radar.
Showroom Spotlight: Stellar Works debuts a new Los Angeles outpost
Just a few months after opening a New York flagship, Shanghai-based design brand Stellar Works staked its claim on the country's sunnier coast—in mid-February, the company debuted a new showroom in Los Angeles located at 1701 West Pico Boulevard. Situated between the city's Koreatown and Downtown neighborhoods, the former 1920s-era warehouse building was reimagined by Jagar Architecture, the firm now sharing the space with Stellar Works.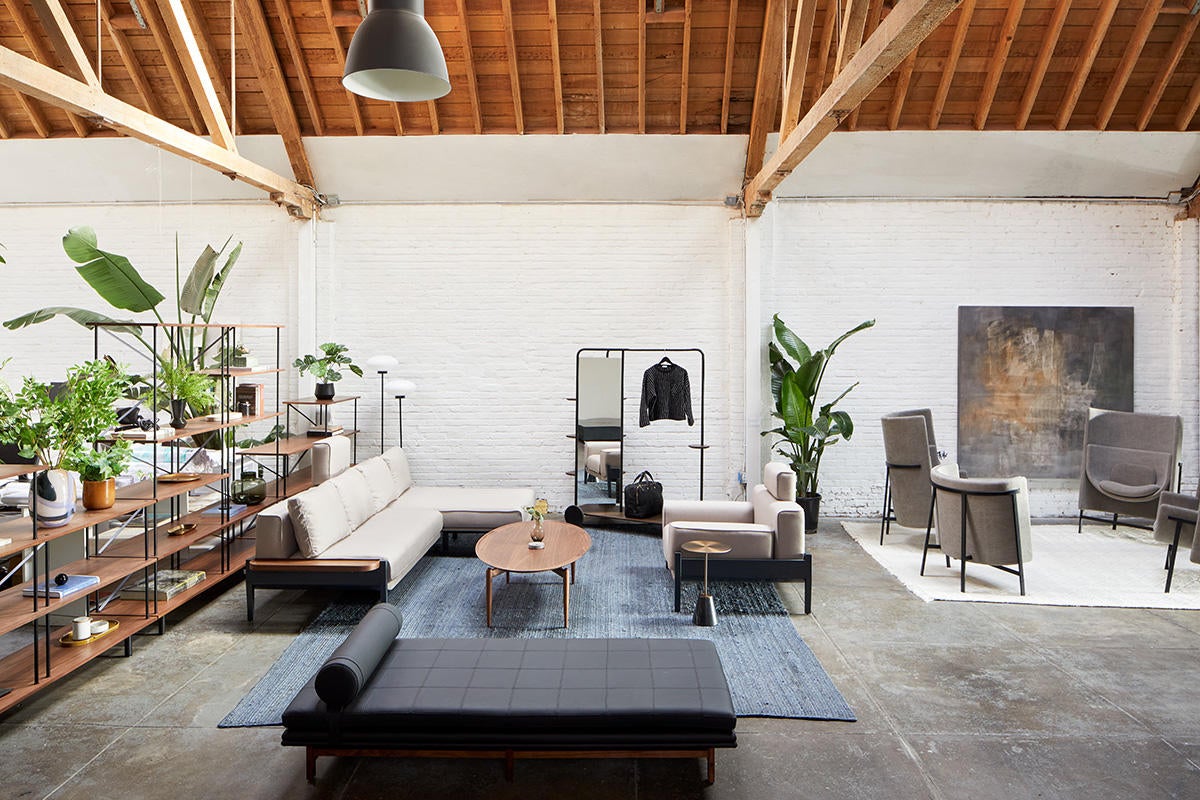 Courtesy of Stellar Works
The idea to make the spot a joint venture between the two brands began when Jagar Architectures's principal and founder (and Stellar Works collaborator) Jose Antonio Gonzalez approached Stellar Works to collaborate after purchasing the 7,000-square-foot gutted industrial space. For Stellar Works, the offer provided the ideal opportunity to seize another major design hub within the U.S., one of the fastest growing markets for the brand globally. Inside, the space includes high ceilings with wide beams and front windows that roll open for an expanded entryway—a feature the brand hopes to utilize when hosting open-air parties and events. Along with showcasing Stellar Works's core collections, the showroom hosts a variety of recently launched furniture and lighting by Nendo, OEO Studio, Neri & Hu and Space Copenhagen, along with the U.S. debut of Michele De Lucchi's new Float sofa system and Sebastian Herkner's Host wardrobe.
"As with all showrooms in New York, we don't have the ability to show a comprehensive selection of our Stellar Works collection, but in Los Angeles, we definitely have the opportunity to have a very wide range of pieces—everything from sofas, lounge chairs, to bar chairs, tables. It's really showing off the breadth of the Stellar Works range," says Andrew Yang, Stellar Works's U.S. managing director. "It's been a really great fit for both companies to be in one space—and a space that was just so painstakingly renovated by [Gonzalez]."
California
Southern California–based modern lighting design studio Cerno opened its first showroom in Aliso Viejo, California. Located in the same facility as the company's 20,000-square-foot factory, the new space showcases the latest designs, classic items and new ideas out of Cerno, along with serving as a place for the brand to host events for interior designers, architects and sales reps.
Britt-Marie Alm, founder of yard and fiber goods brand Love Fest Fibers, opened a new studio space and retail store in San Francisco. The Britt-Marie Alm Design Studio exhibits an array of handcrafted yarn products made in knit, crochet and suspension styles through a weaving technique Alm learned from Tibetan artisans.
Florida
Luxury lifestyle brand Aerin opened its fourth storefront location in the Miami Design District. With interiors crafted by French designer Jacques Grange and Florida–based architect Jeff Smith, the space was inspired by the 1960s and '70s Mediterranean, with wood accents and a pale color scheme providing a bright and airy backdrop for a vibrant selection of home decor and lifestyle items. In addition to Aerin's classic collection, the new store features curated offerings from Alix of Bohemia, Lisa Marie Fernandez and Johanna Ortiz—highlights include a vibrant green linen Jacques Grange sofa and a vintage Portuguese console topped with blue and white tiles by José Canudo.
New York
Sustainably sourced hardwood furniture company The Source debuted its new 4,500-square-foot flagship showroom in New York's Flatiron district. Outfitted with 18-foot-high ceilings and handcrafted lighting fixtures from Bali–based designer Ong Cen Kuang, the new space is home to a design center and build-your-own-table area accompanied by a display wall of live-edge slab tabletops, along with a wide array of products made from reclaimed materials and a selection of soft goods from Toronto–based brand Gus Modern.
Residential architecture and design firm Studio SFW, co-founded by Erin Fearins, Ward Welch and Rachael Stollar, opened a design shop in Rhinebeck. The newly debuted House SFW retail store features a curated selection of handcrafted furniture, tabletop items and home linens sourced from around the world, in addition to a selection of art, lighting, collectibles, books and curiosities.
North Carolina
Zuo Modern moved into a new expanded showroom in the International Home Furnishings Center in High Point, North Carolina. At 30,000 square feet, the updated space is nearly 30 percent larger than Zuo's previous showroom and opens directly into a brightly colored candy store designed to look like an old-school speakeasy, where visitors can pick up sweets like cotton candy. Beyond that, the brand displays a wide range of products, highlighting upholstered seating and accent pieces in a mix of midcentury modern, contemporary and industrial chic styles.
Upholstery and accents resource Spectra Home expanded its High Point location in the 200 N. Hamilton building, adding a 6,500-square-foot space to its existing 9,500-square-foot showroom. With the extra room, the brand will showcase a wider assortment of products, including introductions from Christina @ Home, created in collaboration with HGTV star Christina Haack, and new designs from Spectra USA, Spectra Leather and Spectra Upholstery.
Texas
Room & Board unveiled its newest showroom location in Austin, where a 12,000-square-foot space houses the brand's range of home decor items, along with room settings and a design center. Visitors can also partake in free design services at the new center, including virtual video design appointments.
Homepage photo: Inside Stellar Works's new LA showroom | Courtesy of Stellar Works