The issues with to-the-trade shopping that Lindy and Jordan Williams faced in their Boulder, Colorado–based interior firm Westward Foundry will come as no surprise to most designers. For starters, a completely insecure account setup process (anyone ever emailed a PDF with credit card info all over it?); a total lack of communication about order arrival timing (could be three weeks, could be three months!); and a bare-bones set of online tools (if any) to communicate with a client about what to expect from their pricey order.
Jordan, who joined Lindy from the corporate world (the two are partners in life as well as work) to help streamline her long-running design firm, describes a frequent occurrence around the office whenever he questioned these long-running industry practices. "I was the person from outside of the space who got to ask the impolite question, 'Wait a minute, why does it work that way?'" he tells host Dennis Scully on the latest episode of the Business of Home podcast. "There were certainly moments when Lindy or someone else on the team would say, 'Well, that's the way it's always worked,' and oftentimes that would float awkwardly in the air and we would all go, 'Huh, interesting!'"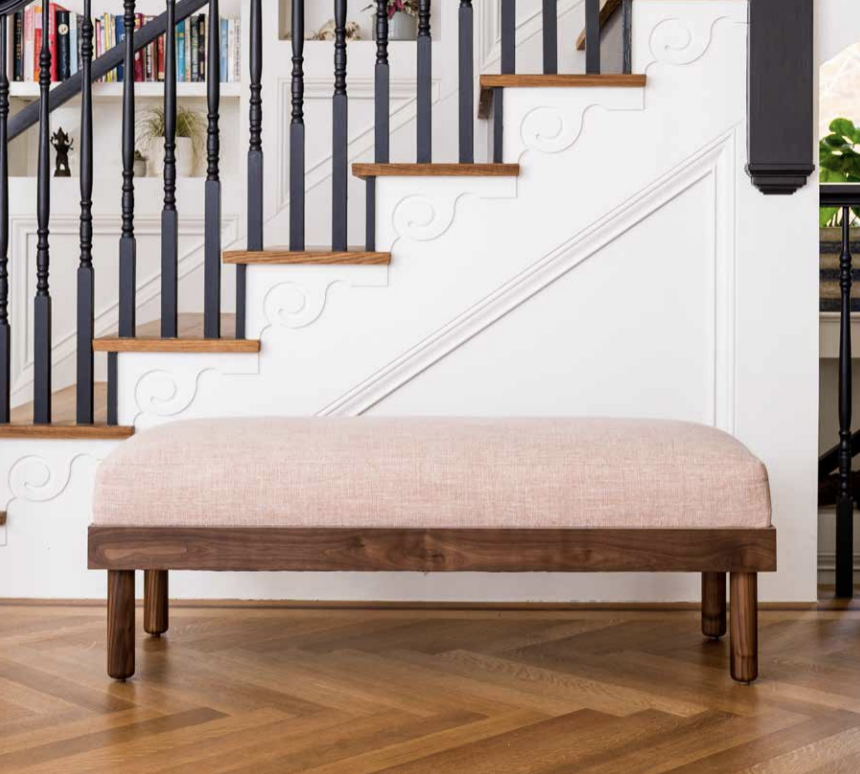 All of that is familiar. What's more surprising is that the couple decided to do something about it—namely, launching a digitally native, to-the-trade only upholstered furniture company, Saltwolf. The company offers North Carolina–made pieces with a four-week turnaround time, all available through an online portal that designers (and only designers) can use, even in the middle of the night if they so desire.
"There are a lot of other industries where this has been solved," says Jordan. "The problems that we were facing as a design firm working with these vendors aren't problems elsewhere."
Listen to the episode and check out some takeaways below. If you like what you hear, subscribe to the podcast here. This episode was sponsored by Moore & Giles Leather and the Ask This Old House podcast.
Timing is everything
There are all kinds of headaches when shopping to-the-trade resources, say the Williamses. But none is more potent for a designer than stretched-out lead times. "I've struggled with selling a beautiful living room to a client on a time crunch—they're up for all of it. They're up for paying a premium for luxury goods, especially if they're made responsibly in the U.S. They're up for beautiful high-end fabric and willing to trust me on buying a custom sofa they've never sat in. Those pieces were easy to sell," says Lindy. "But when I said it would take me three months or 14 weeks, they'd stop me and say, 'What? I'm not waiting that long." I had so many clients who said, 'I'll pay a rush charge,' and I had to say, 'That doesn't exist.'" The clients, she says, would often end up buying a piece from a retail source instead.
The human element
The central premise of Saltwolf is to provide a trade audience with the convenience of online shopping. However, the duo are mindful that designers are a unique audience, distinct from the average consumer—their goal is to deliver online convenience, not eliminate any human interaction whatsoever. Jordan draws a comparison to Apple, in that customers can chat with a store employee if they need help with a technical problem, but use digital tools if they want to make a simple purchase. "I hope the goal isn't: How do I never have to talk to a human? But [rather]: How do you focus that interaction?" he explains. "How do you have a great personal connection to establish a relationship, and once that's established, how do we get out of the way?"
A break with convention
Saltwolf launched earlier this summer, so it's fairly early in the brand's story. However, Lindy has noticed that the concept can draw polarized reactions from an industry used to doing things the old-fashioned way. Many designers love the convenience, she says. Others expect the norm: "'Can you please send me a catalog? Who's my rep, and how do we get pricing? How can I have my client buy a sofa if they can't sit in it first? Where are you represented in design centers?'" shares Lindy. "We were a little fearful that was going to be a lot of the feedback we'd get. And it's been much more the first camp, for sure."