For the last two years, direct-to-consumer brand Revival Rugs has made a name for itself by providing customers with unique, beautiful rugs hand-sourced in Turkey and delivered straight to their doorstep with a few simple clicks.
The idea for the company was sparked when husband-and-wife co-founders Ben and Amber Hyman were struggling to find affordable quality rugs for their new home in the Bay Area. ("The rugs that we liked at retail shops and online were out of reach and we didn't want to settle for a machine-made re-creation from a big-box retailer," Ben Hyman told BOH shortly after the company's launch. "In the end, we purchased a vintage rug on Craigslist. When we got it home, we realized we didn't like it that much and ultimately sold it away a few months later. The whole experience was frustrating.")
During their honeymoon, the couple traveled through Turkey, meeting up with friends and future Revival co-founders, Kurt Korkmaz and Joyce Kong. Korkmaz was designing the interiors of apartments in Istanbul; Kong had built a network of artisans to supply beautiful, one-of-a-kind vintage rugs for each project. The couple showed the Hymans the stunning rugs available locally—and proposed a partnership to sell them in the United States. With Ben's background as a co-founder of the popular direct-to-consumer textiles brand Brooklinen, it made a great fit; Revival Rugs was born in October 2017.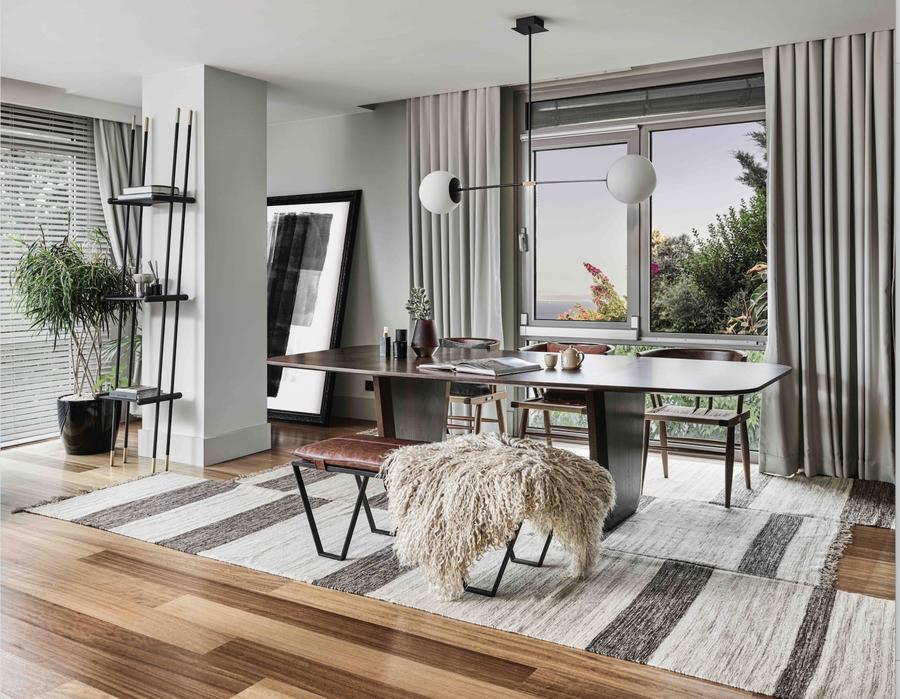 There was just one problem: Each of the vintage rugs is inherently one-of-a kind. Once someone purchases an item, there's no stock left and no way for another identical rug to be created. While that's amazing for the owner purchasing the item, it meant that many customers felt like they were missing out.
Ben Hyman found that customers were constantly reaching out to the company after missing their chance. "We've seen a lot of rugs that we've sold where people are frustrated that they didn't get it," he says. "Or we do an email blast where we feature a few rugs, those rugs get purchased quickly and people are like, 'I wanted that,' but that was the only one."
In this case, where there's a problem, there's also a solution—a creative one at that. On July 15, Revival Rugs will launch the Panel collection, a private-label offering that features four custom designs in three colorways, ranging from $199 to $969. Though only 500 rugs will initially be produced, the collection goes a long way toward ensuring availability.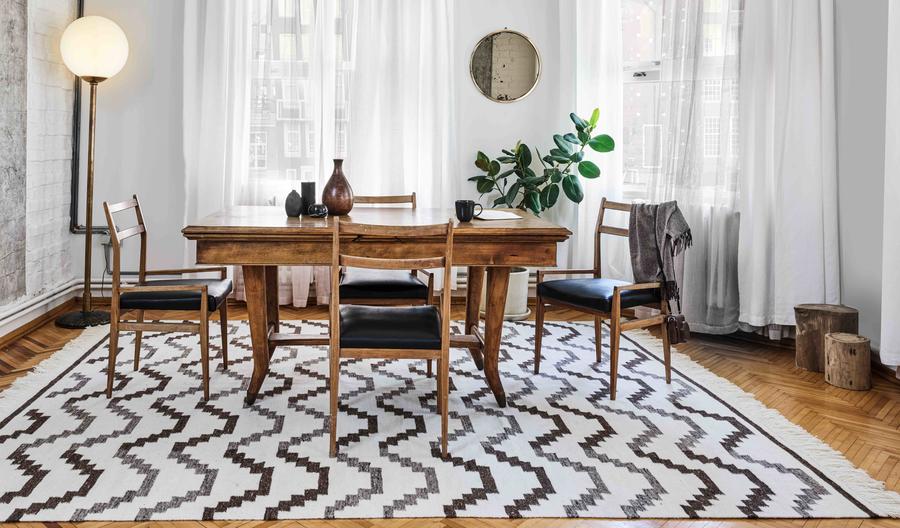 Those who fell in love with Revival Rugs for its vintage selection needn't worry—the Panel collection will be sold alongside the continually restocked secondhand options. "We're not abandoning the vintage business in any way," says Hyman. "It's always going to be a big part of what we do, but we thought this could complement it nicely. We wanted to create products that are really special and that multiple people could have as well and sell them to customers on the same site."
Revival's team in Turkey already had great success creating traditional multi-panel kilims, combining the salvageable pieces of unusable rugs into one-of-a-kind creations. The four new Panel designs are inspired by these styles and constructed with high-quality, handspun yarns in neutral palettes (many of the rugs are dye-free). While the company sources all of their vintage rugs in Turkey, its search for a manufacturer who could produce quality, handmade rugs led to India. The company has partnered with local artisans there, works with organizations that ensure fair wages and working conditions, and formed a team on the ground to oversee production. The company plans to release additional collections on a monthly or bimonthly basis for the rest of 2019.
When it comes to financing this new venture, Revival is turning profit into—hopefully—more profit. "We're pretty much a bootstrap business," says Hyman, though he says the company is in the early stages of another round of fundraising. "We raised a very small amount of money early on to start. We've reinvested into the various lines of rugs we're launching. So it's been a challenge, but we think it's going to be great. It's all just been done by our labor and a few really talented people on our team working really hard. That's how we've pulled it off."