In our series, What I Love, we're asking designers to build us a mood board of what's inspiring them right now.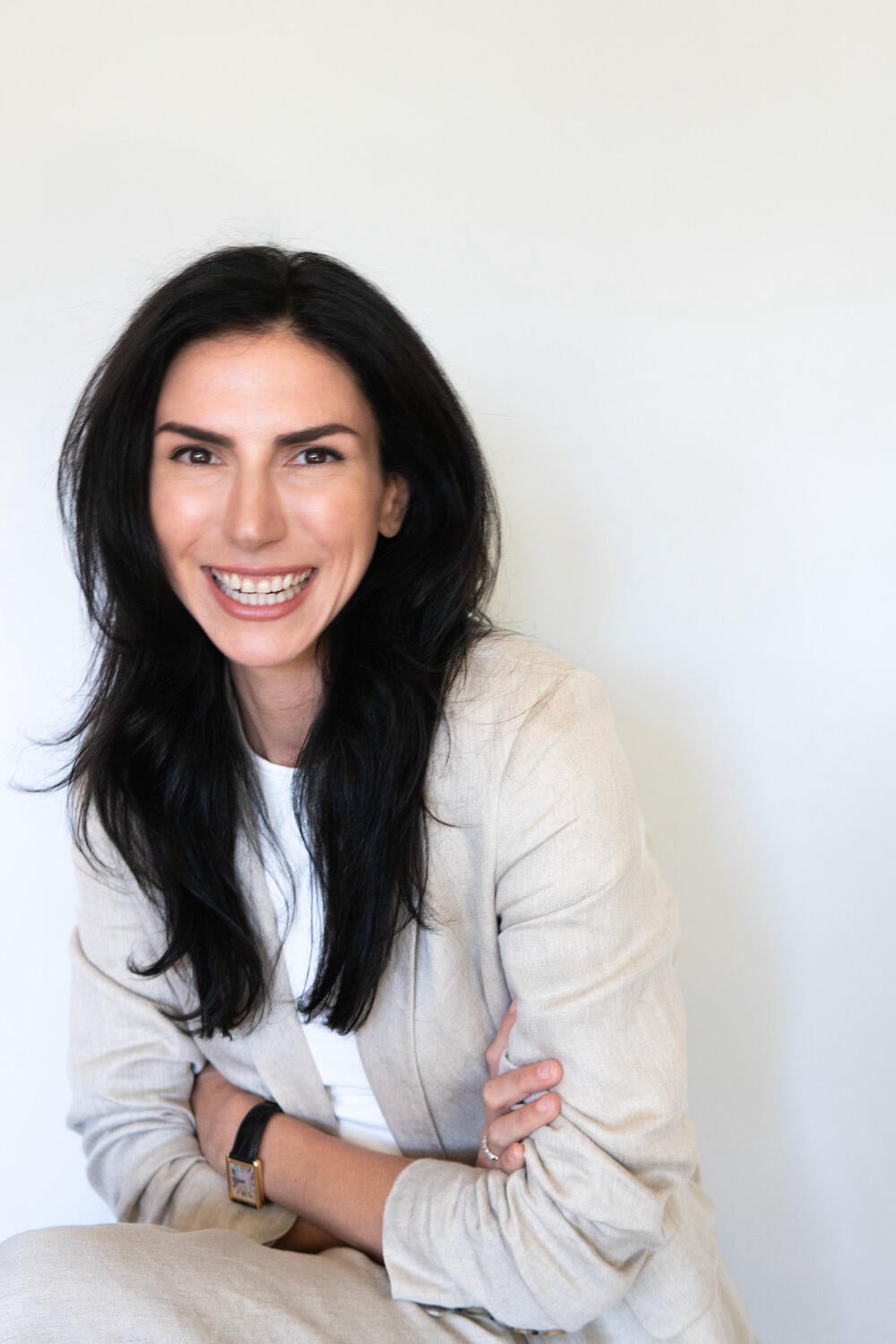 Courtesy of Studio Montemayor
When it comes to neutrals, Regina Perez Montemayor likes to think outside the box. The San Francisco designer and founder of Studio Montemayor seeks out tactile textiles in eye-catching earthy hues that bring warmth and character to a monochromatic interior. "You don't want to create a space that feels sterile or boring," she tells Business of Home.
When a recent client requested an all-white interior, Montemayor got creative about how to energize the subdued palette. "We wanted to explore how a neutral space could still be dramatic and proposed shifting the focus to tonal textures grounded in warmer shades of white and sculptural furnishings," she says.
While an enviable range of natural hues and organic materials ultimately unifies her current mood board, Montemayor took care to sprinkle in some surprising splashes of bright red color. "The pops of vermillion are unexpected and refreshing," she says. "The scheme as a whole evokes a breezy lightness that exudes sophistication through its restraint."
Here, she breaks down the details—from nubby boucle fabrics to white oakwood finish samples.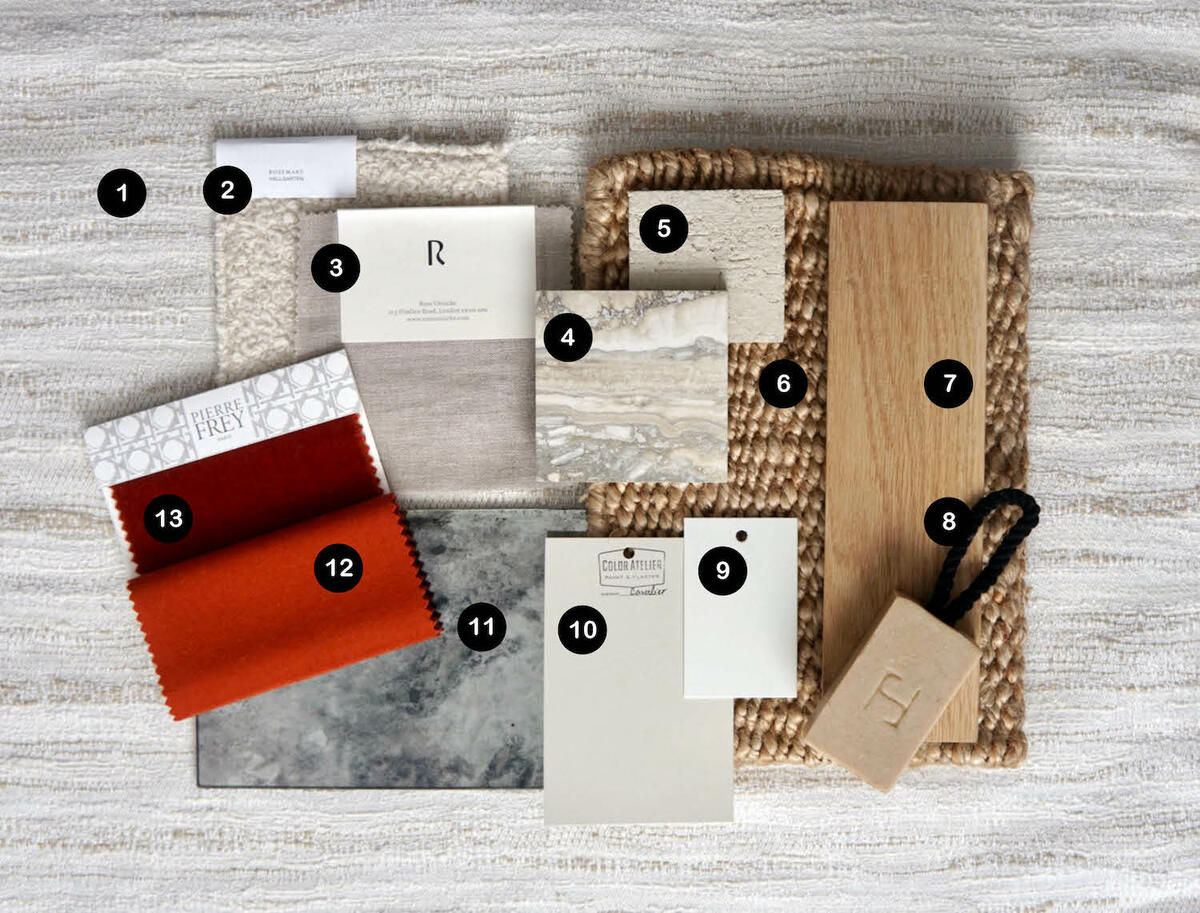 Courtesy of Studio Montemayor
1. BIARRITZ FABRIC IN SABLE BY MÉTAPHORES
"We were searching for a stripe for the main sofa in the living room, wanting to add a subtle pattern that from afar would blend away into a texture. We landed on this Métaphores fabric, which feels refined but relaxed."
2. PEBBLE BOUCLÉ FABRIC IN WHITE BY ROSEMARY HALLGARTEN
"A pair of vintage Italian lounge chairs will be reupholstered in this boucle fabric, the softness and texture of which is a great contrast to the structure of the chairs."
3. LIGHT WEIGHT LINEN FABRIC IN WREN BY ROSE UNIACKE
"This Rose Uniacke linen for the drapery adds an effortless lived-in note to the space. The weight is perfect—it will slightly billow when the windows are open."
4. CUSTOM TABLE SAMPLE IN TRAVERTINE
"The travertine table continues to add material variety to the scheme while still complementing the overall palette, and we love how it mimics the pattern of the Métaphores sofa fabric."
5. PLANTER SAMPLE IN NORDIC WHITE BY ATELIER VIERKANT
"We chose a sculptural Atelier Vierkant planter for the large indoor tree. The rough finish is a perfect contrast to the refinement of the space."
6. KAI JUTE RUG IN NATURAL BY RH
"The jute rug adds a laid-back layer and keeps the collection of furnishings from feeling too formal."
7. CUSTOM WHITE OAKWOOD FLOORING SAMPLE
"Oak flooring has an unfinished quality and was the perfect material to ground the space."
8. BY TIDE SOAP ON A ROPE AT HUNT
"This hand-made soap on a rope by [soapmaker] By Tide for Hunt in Carmel, California, served as an unexpected inspiration for the scheme due to its elegant simplicity. We are big fans of this shop in general."
9. CUSTOM CREAMY WHITE METAL FINISH SAMPLE
"We are introducing a brighter white color in the form of accents in a powder-coated metal. The contrast of this bright white against the muted white walls adds depth to the room."
10. CAVALIER LIME PAINT BY COLOR ATELIER
"The walls, ceilings and wood trim will all be swathed in the same limewash color, Cavalier by Color Atelier. We love how using a single color on every surface envelops you in the space."
11. CUSTOM MIRROR SAMPLE WITH HEAVY ANTIQUE FINISH
"In addition to reflecting the light coming in through the windows, the antiqued mirror brings an aged element to the space."
12. WOOL FABRIC IN CAYENNE BY ROSE UNIACKE
"We chose to introduce [the vermillion accent color] through pillows, and turned to mohair and wool for variation in material."
13. DUKE MOHAIR VELVET FABRIC IN SAFRAN BY PIERRE FREY
"We selected vermillion as the accent color, taking inspiration from one of the client's art pieces."
Homepage photo: A flat lay by Regina Perez Montemayor | Courtesy of Studio Montemayor