Necessity being the mother of invention, Plank Hardware began with a DIY renovation. Tom Revill couldn't quite find the precise kind of cabinet pull he desired for his London kitchen. The son of two interior designers, he grew up knowing that every last detail mattered, and the standard styles in stores just did not meet the mark. Long story short, Revill—entrepreneurial by nature, with a background in product engineering and a couple of startup businesses, including a fudge company, already under his belt—and his wife and co-founder, Annie Aveyard, decided to handle the handles themselves. After all, they thought, how hard could making hardware be?
That was 2019. Today, motivated by an inherently millennial, social-first approach to e-commerce—just witness the brand's YouTube how-tos and whimsical influencer unboxing videos on Instagram—Plank Hardware has staked a claim not just in its native England but throughout Europe and the United States with its straightforward yet stylish knobs, pulls and hooks. Now, three new collections are poised to make the brand even more popular on both sides of the pond.
"Heritage hardware lines that have been around for decades are more traditional, but the modern consumer wants something sleeker and pristine," says Plank Hardware's head of brand Ross Ferguson, speaking with Business of Home from the company's headquarters in London's semi-industrial Leyton neighborhood. "There was a gap in the market for a brand that could provide contemporary design, impeccable customer service and top-quality products at a great price point." Plank Hardware satisfies that sweet spot with smooth, grooved and knurled pieces that accessorize both glossy colored laminate and authentic wood grain cabinets and closets. "It's functional, impactful hardware with a clean, crisp look and feel," says Ferguson.
Courtesy of Plank Hardware
Plank Hardware's earliest pieces—including the bestselling Fold collection of front-mounted pulls and the Kepler series of knurled, super long T-bar handles—are manufactured predominantly from hefty brass-based metal, then either coated in clear lacquer to prolong wear and prevent oxidation or electroplated to create particular finishes. But for its latest offerings, in alignment with both its B Corp Certification bestowed earlier this year and its customers' increasing commitment to greener consumption, the company turned to more sustainable substances.
"Understanding that the electroplating process is energy intensive, and taking into account our carbon emissions, we were interested to see if there were alternative methods or materials we could use to achieve different finishes," says Ferguson. The company began by making its black products from aluminum, based on research that, in terms of hardiness and corrosion resistance, it performed better than brass. Similarly, rather than electroplating brass-based metal to give it the silvery appearance of nickel, Plank Hardware switched to stainless steel. "It doesn't require any finishing processes whatsoever, so why wouldn't we?" he says.
The result of these experiments is Plank Hardware's new Aluminum collection, which features the element at its finest—and is the company's most carbon-efficient line so far. "To diversify our portfolio of materials, this is our first offering to optimize the aesthetics of aluminum," says Ferguson. With either a raw mottled gray or matte black finish, the designs, ranging from the Scandinavian-inspired Bruno D bar handle and corresponding flat round knob to the ergonomic Scoop pull, introduce an industrial yet organic influence that contrasts intriguingly against natural surfaces like wood and cork, as well as leafy green houseplant accents. "Being an infinitely recyclable material, aluminum is definitely a more eco-conscious choice for hardware," Ferguson explains. "And because there are minimal manufacturing processes involved—we're not coating it, electroplating it or otherwise applying a finish—its carbon offset is reduced by 60 percent." Aluminum's lighter weight means it generates fewer emissions in transportation too—a bonus on top of Plank Hardware's plastic-free, equally recyclable packaging.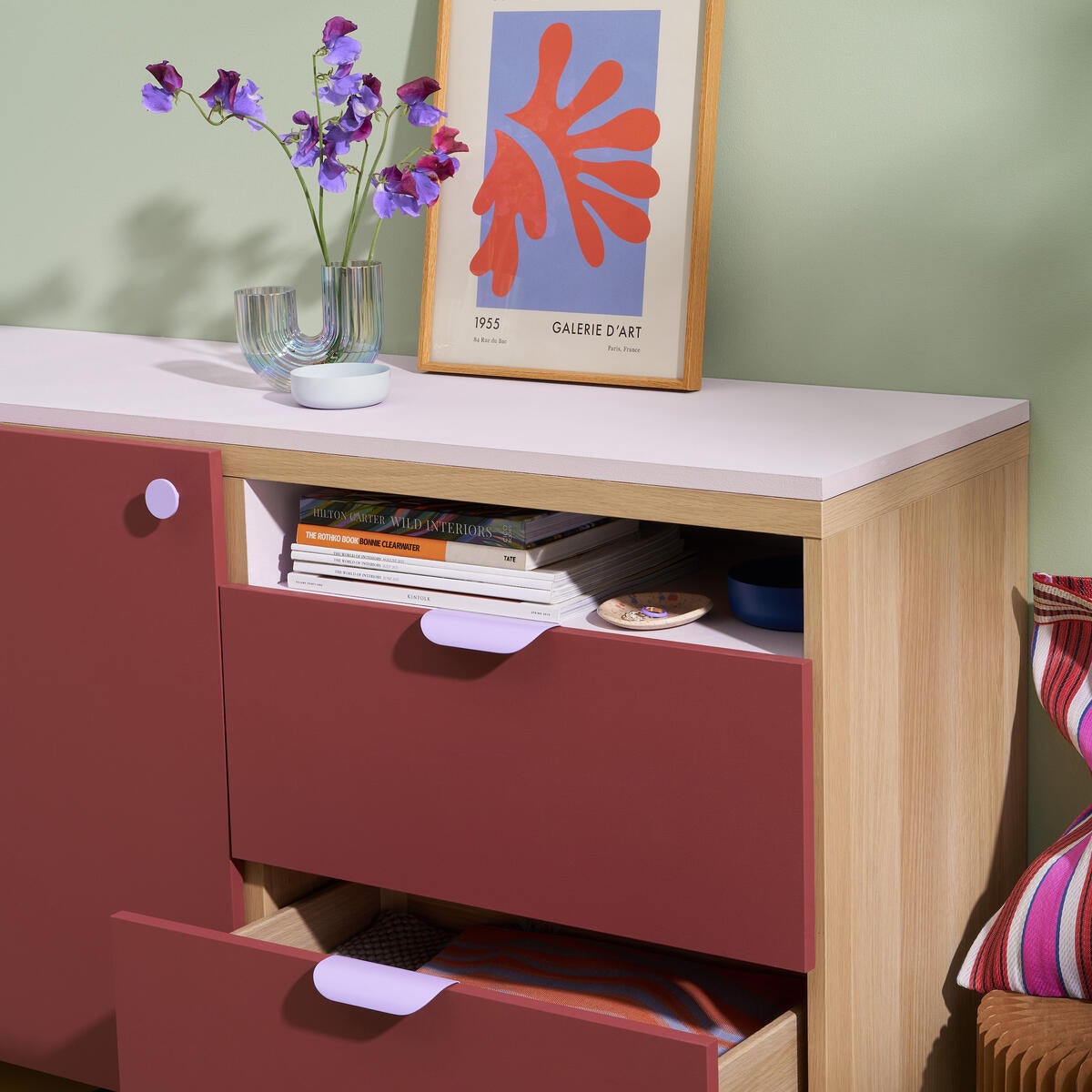 Courtesy of Plank Hardware
Having established its minimalist bona fides with classic metallic finishes, the company is also ready to raid the crayon box, as evidenced by its second sustainable aluminum assortment, the Colorful collection, launching later this month. It showcases hardware in four of-the-moment hues: Lemon Yellow, Sage Green, Cobalt Blue and Soft Lilac. As rendered in Plank Hardware's streamlined silhouettes, the candy-coated pieces inject a jolt of energy into nurseries, rec rooms, even furniture hacks. "The Colorful collection gives designers an opportunity to be a bit more expressive, a bit more adventurous, in certain spaces," says Ferguson. And its affordable pricing empowers designers to make such bold statements at a bargain. "Working with aluminum as a base allows us to keep the cost modest," he adds.
Sustainable materials, sleek shapes, a rainbow palette—what more could a designer hope for in contemporary cabinet hardware? Well, how about bobbins! Echoing the craftsmanship that has made the motif a folksy favorite for table legs and bed frames, Plank Hardware's Bobbin collection brings the beguilingly beaded treatment to drawer pulls. In classic solid brass or finished in black, the style adds a delightfully vintage vibe and discreet embellishment to flat-front cabinets. "The Bobbin collection demonstrates that, hey, we do things a little bit differently at Plank Hardware," says Ferguson. "The pieces are machine milled, super weighty, but really playful. Paired with trending colors like powder blue or clay brown, they look so cool."
Plank Hardware's independent and innovative spirit syncs seamlessly with that of American designers in search of fresh brands that effortlessly deliver the complete shopping experience: style, sustainability, convenience and cost. (Often one of the very last details to be installed, fixtures and fittings can otherwise come with some sticker shock.) Adding to the affordability factor, trade members enjoy a 20 percent base discount, with the potential to qualify for more depending on the size of the buy. Forecasting beyond the launch of the Aluminum, Colorful and Bobbin collections, Plank Hardware anticipates scaling its brand by refining its product narratives while greening its growing footprint even more. "One ambition is to evolve the material palette further: We're looking to move into ceramics and woods," says Ferguson. Hospitality projects are on the Plank Hardware vision board too, and—having weathered the pandemic and all its shipping delays—the company dreams of localizing at least some of its manufacturing from the Far East to England. "We're at the stage now where we can be more strategic," says Ferguson, "to stay at the forefront of hardware."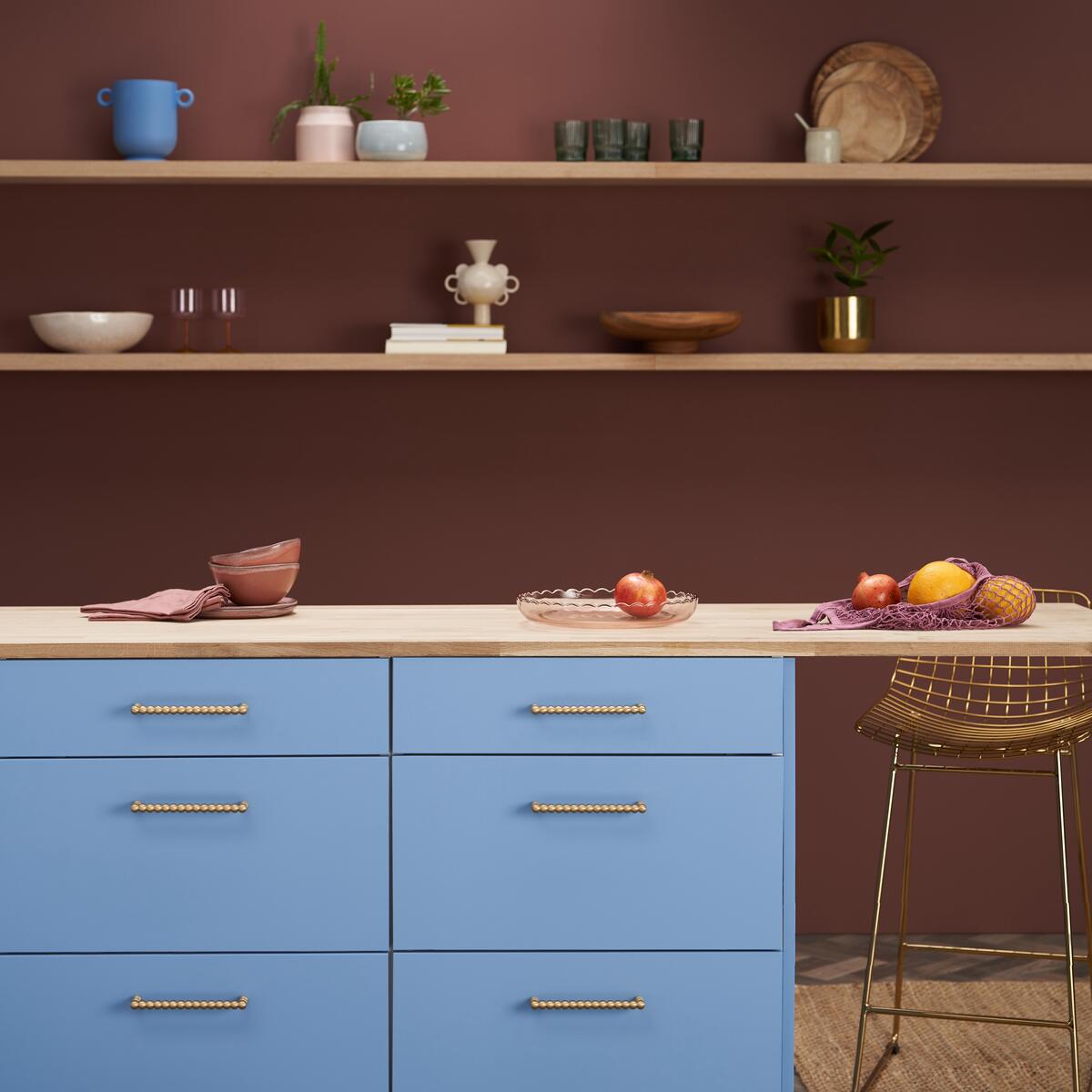 Courtesy of Plank Hardware
This story is a paid promotion and was created in partnership with Plank Hardware.
Homepage image: Plank Hardware's Colorful collection empowers designers to incorporate surprising hues into their designs | Courtesy of Plank Hardware