In our series, What I Love, we're asking designers to build us a mood board of what's inspiring them right now.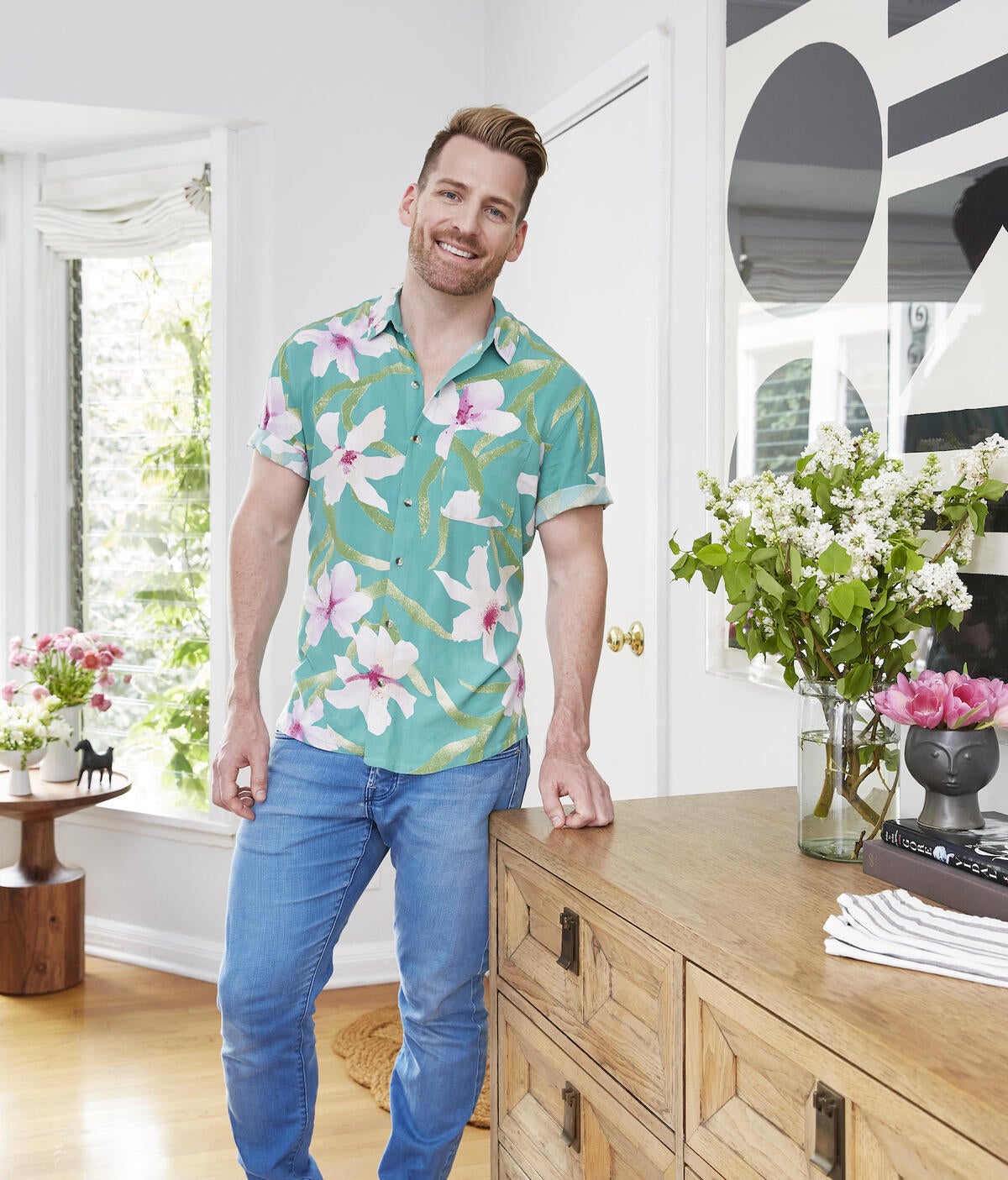 Orlando Soria is having a moment with neutrals. Though he's a self-proclaimed "'90s kid" that grew up "terrified of beige," lately, the Los Angeles designer has been turning his attention to natural hues to infuse his spaces with warmth and character. "They're a lot more powerful than they look," he tells Business of Home.
His current mood is a superlative example. Inspired by the cabin he's renovating for himself in Fish Camp, California (near Yosemite National Park), Soria employs a symphony of interesting earth tones and organic finishes to craft a soothing palette with plenty of personality. "It feels light, bright and airy," he says. "The warm woods are balanced out by earthy pastels such as sage green and robin's egg blue."
The final scheme is equal parts practical and conceptual, teeming with color, texture and personal touches, including Soria's own artwork as well as his favorite keepsakes and photographs. "Good design is eclectic," he says. "It's warm and soft, but also crisp and edgy."
Here, Soria breaks down the details, from glazed brick tiles to tiny table lamps.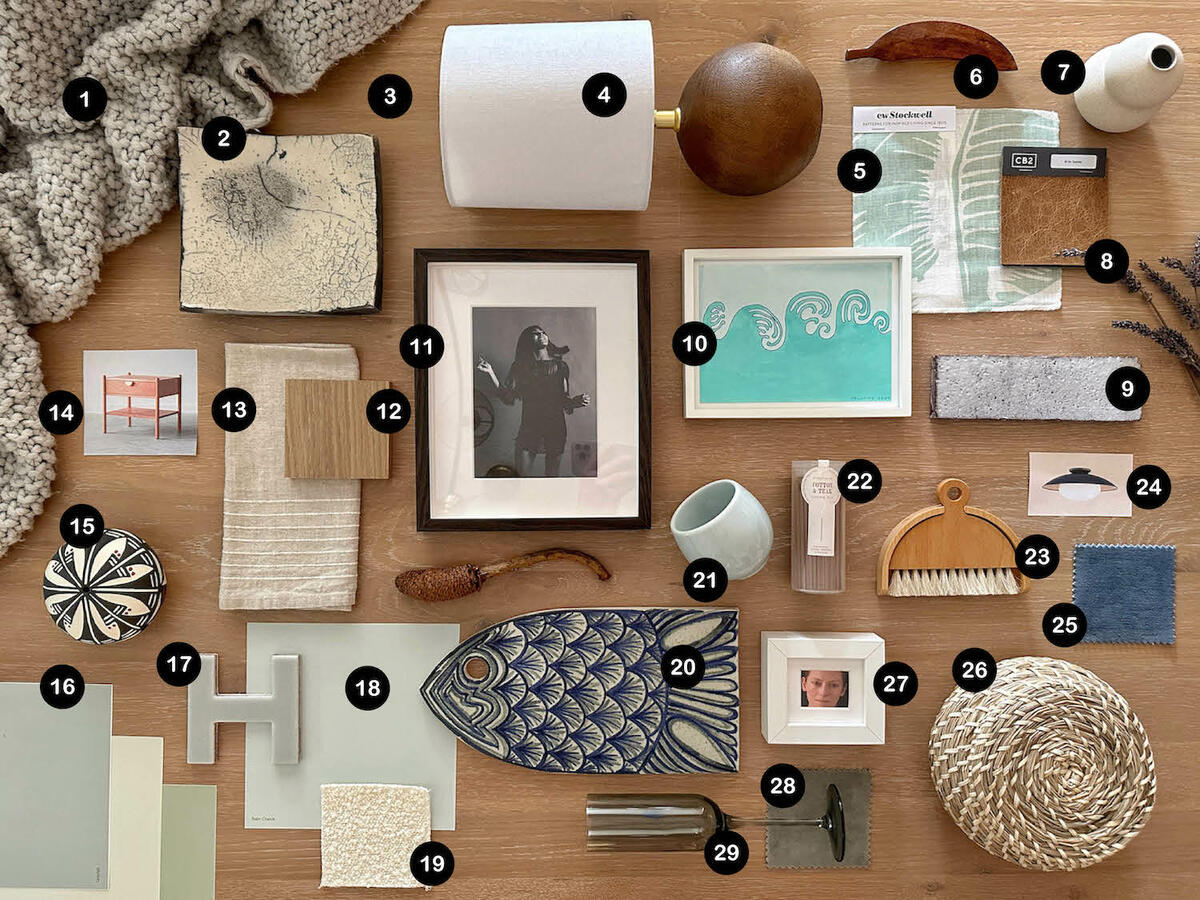 Courtesy of Orlando Soria
1. CHUNKY KNIT BED BLANKET IN MARLED GRAY BY CASALUNA AT TARGET
"I have several of these blankets. They're affordable, machine-washable, and look great just about anywhere you throw one."
2. VINTAGE HAND-MADE RAKU CATCHALL DISH
"I made this in high school and still use it today. Raku is a low-fire pottery technique that creates a textured finish with lots of character."
3. LUDO DINING TABLE BY ALLMODERN
"All the items are laid on the Ludo dining table by AllModern, which I chose for its pretty wood tone. I'm obsessed with white oak and other light woods lately because they're nice and bright."
4. POLYRESIN MINI TABLE LAMP WITH CIRCLE BASE BY THRESHOLD AT TARGET
"I'm obsessed with tiny lamps. You can put them on shelves, mantels and dressers to add warmth and light to a space where you can't fit a full-sized lamp."
5. MARTINIQUE ENCORE BELGIAN LINEN IN SEADRIFT BY CW STOCKWELL
"A tropical vibe in an unexpected colorway."
6. VINTAGE WOODEN BANANA
"I like fun, quirky pieces that add an element of levity to a space."
7. STONEWARE MINI VASE BY H&M
"Tiny bud vases look great on top of a stack of books. It's always good to have small pieces that are in conversation with larger items."
8. BELLO LEATHER IN SADDLE BY CB2
"This warm, caramelly leather is my go-to for a worn-in look."
9. WHITE MOUNTAINS BRICK TILE BY FIRECLAY TILE
"This will serve as the kitchen floor of my cabin. I'm drawn to its texture and depth."
10. WAVE PAINTING BY ORLANDO SORIA
"I'm obsessed with robin's egg blue—and this painting supplies a vibrant pop of color."
11. FRAMED PHOTOGRAPH OF TINA TURNER BY JACK ROBINSON
"I look to empowering artists and creatives for inspiration. Tina Turner is beautiful, interesting and strong—and this photo captures both her strength and lightness."
12. SAND SHADOW OAK FLOORING SAMPLE BY RIVA SPAIN
"This warm wood by Riva Spain plays up the mood and color vibe of the palette."
13. SANGEET LINEN NAPKINS IN FLAX BY THE CITIZENRY
"I love flax-colored linen, be it a bedspread or napkin. I've come to understand the power of neutrals—they're warm and comforting."
14. SAWYER NIGHTSTAND BY HEDGE HOUSE FURNITURE
"It's hard to find interesting nightstands, but this one feels classic yet modern thanks to its cylindrical legs and half-moon hardware."
15. VINTAGE ACOMA POTTERY
"I bought this at the Ahwahnee Hotel in Yosemite National Park, close to where I grew up. I love the graphic patterns of Indigenous American design. These are sophisticated motifs that have been passed on for generations and that serve as an important precursor to contemporary textile designs."
16. GRAYISH, GREENISH AND ALL THE SAGE PAINT SAMPLES BY CLARE
"I've been gravitating toward greens lately, and all three of these hues are soft, light and atmospheric."
17. CHAINE HOMME TILE IN MIST BY FIRECLAY TILE
"The bluish green-gray hue of this tile is soft and atmospheric without banging you over the head with color."
18. RAIN CHECK PAINT SAMPLE BY CLARE
"This new color by Clare offers a more soothing, sophisticated alternative to gray and beige."
19. BLOCE FABRIC IN CREAM BY CB2
"Boucle is sticking around for a while. It speaks to our collective need for warmth and comfort."
20. VINTAGE SERVING PLATTER
"I found this at a vintage store in Palm Springs. I don't use it—it just makes me happy."
21. VINTAGE SAKE CUP
"The pale green hue of this vintage sake cup complements the quiet, ethereal color palette."
22. HAZE INCENSE IN COTTON + TEAK BY PADDYWAX
"Smell is such a powerful and evocative part of how you experience a space. A friend gifted this incense to me, and I fell in love—it has a romantic smoky smell that makes the space feel more experiential."
23. TABLE BRUSH SET BY IRIS HANTVERK AT GOODEE
"A beautiful, everyday object."
24. CADENCE SEMI FLUSH LIGHT BY MITZI
"Beautiful, interesting flush mounts are hard to come by. This is my go-to for something unique and practical."
25. COMO FABRIC IN HARBOR BY CB2
"This velvet adds both crispness and coolness to the warm palette."
26. FRYKEN BOX BY IKEA
"When designing a room or styling a shelf, adding a woven element is a good way to warm things up with texture."
27. FRAMED MOVIE STILL OF TILDA SWINTON IN ORLANDO
"I'm named after the Virginia Woolf novel this film is based on. Tilda Swinton is such a great person to derive inspiration from."
28. LUCA FABRIC IN STORM BY CB2
"This deep neutral velvet is like a good backup singer—it strengthens all of the other colors in the space."
29. FUUM CRYSTAL FLUTE GLASS IN SMOKE BY BLOMUS AT ALLMODERN
"A practical object that reads moody and sexy."
Homepage photo: A flat lay by Orlando Soria | Courtesy of Orlando Soria