In the BOH series What I Love, we're asking designers to build us a mood board of what's inspiring them right now.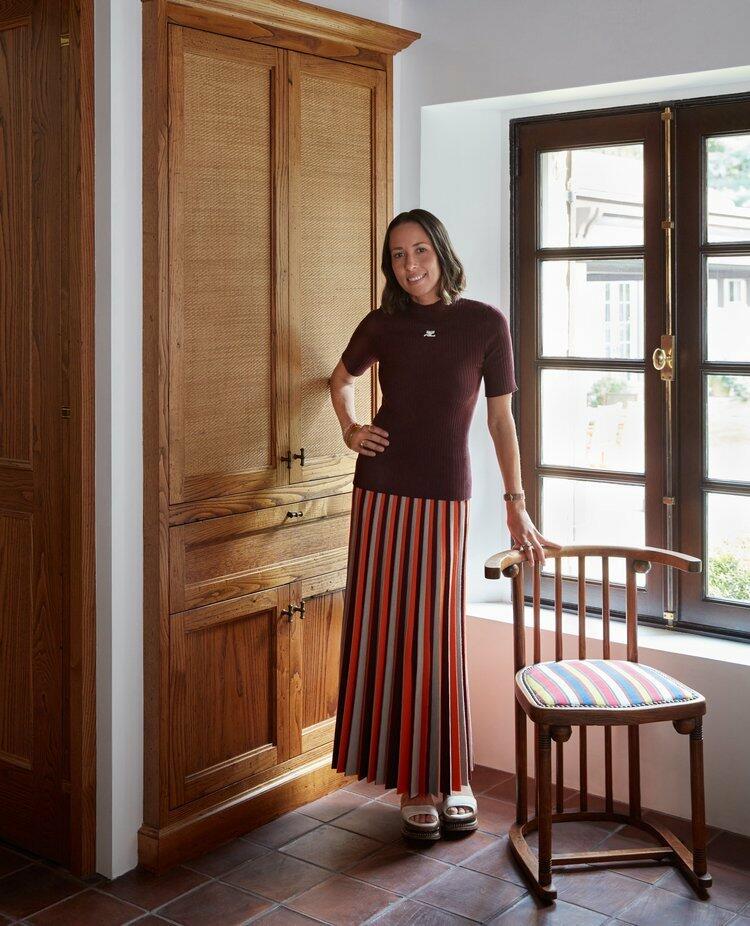 Nina Farmer has a keen eye for craftsmanship. The Boston designer gravitates toward hand-made items that can infuse a room with history and character. "I love small-batch-crafted products that have and will continue to stand the test of time," she tells Business of Home.
Consider her current mood board—brimming with heirloom-worthy pieces—a superlative case in point. Designed with some of Farmer's favorite makers in mind, the flat lay is filled with artisanal accents made using centuries-old techniques. "The hand-painted Fromental wallcovering that anchors the scheme, for instance, utilizes an ancient method of painting and threading," she says.
The final design features a soulful mix of warm, earthy tones and organic materials that showcase natural textures and proof of the human touch. "I frequently use colors like rich green, deep burgundy and terra cotta to help ground my interiors," Farmer says.
Here, the designer breaks down the details—from rattan sofa samples to rust-hued cotton velvets.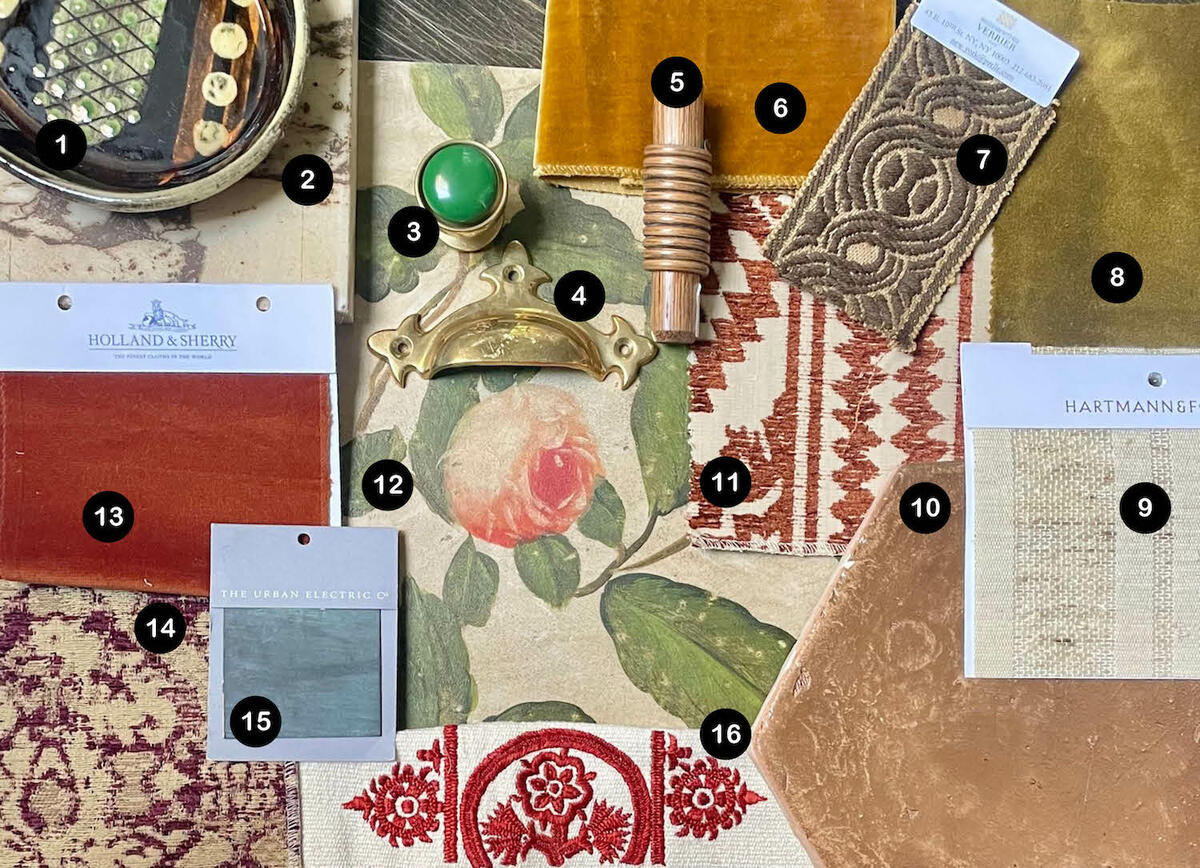 Courtesy of Nina Farmer Interiors
1. VINTAGE HAND-PAINTED CERAMIC DISH BY CUTTER BROOKS
"This dish by Cutter Brooks is richly hued and feels textural."
2. ANTIQUE BRECCIA CAPRAIA MARBLE SAMPLE
"The dramatic veining in this marble gives character and a feeling of history."
3. ​​NO. 8042 KNOB IN BURNISHED BRASS WITH RAL 6002 CENTER BY NANZ
"Fine hardware made in New York."
4. POINTED BIN PULL IN POLISHED BRASS BY URBAN ARCHAEOLOGY
"The patina on this hardware makes all the difference on a piece of furniture or a kitchen drawer—details matter!"
5. RATTAN OSIRIS SOFA SAMPLE BY SOANE BRITAIN
"I love incorporating rattan; it lends lightness and form."
6. VINTAGE OPERA FABRIC IN ANTIQUE GOLD BY HOLLAND & SHERRY
"Silk velvet is really luxurious and looks beautiful in every type of lighting."
7. CUSTOM TRIM BY PASSEMENTERIE VERRIER
"Small details can be very impactful in a space. That's why I love adding trim, like this custom design from Passementerie Verrier Paris."
8. MEDIUM FABRIC IN ARMY BY PIERRE FREY
"This is one of my favorite greens to work with. The texture of this velvet is spot-on as well."
9. LE1310 RAILAY WINDOW FABRIC BY HARTMANN & FORBES
"Woven window fabrics are great for creating a warm ambiance that allows light to filter through."
10. HEXAGON HAND-PAINTED TERRA COTTA TILE IN YATIR BY TABARKA
"This terra cotta is wonderful because it looks reclaimed but it's consistent—so you won't run into the issues that can arise with reclaimed material."
11. NO. 69405 TOILE FAÇONNÉE OUCHAK FABRIC BY PRELLE
"I like to balance geometric fabrics with floral wallpaper."
12. CUSTOM FLORAL WALLPAPER BY FROMENTAL
"This vibrant wallpaper by Fromental is featured on the cover of my book, Timeless by Design."
13. CONCIERTO FABRIC IN RUST BY HOLLAND & SHERRY
"This color beautifully toes the line between brick red and vermilion."
14. NO. 69318 BARGELLO FABRIC BY PRELLE
"I am drawn to fabrics that have a patina to them from the start."
15. METAL FINISH SAMPLE IN VINTAGE BY THE URBAN ELECTRIC CO.
"This finish is perfect for imparting an old-world feeling."
16. RHODES EMBROIDERED FABRIC IN FLAME BY NAMAY SAMAY
"I take any chance I get to add hand embroidery into a design. A little goes a long way."
Homepage photo: A flat lay by Nina Farmer | Courtesy of Nina Farmer Interiors