This week in design, Airbnb is doubling down on film-inspired home listings on the heels of its Barbie Dreamhouse debut, this time with quite a different dwelling—Shrek's Swamp, situated authentically underneath a tree in the Scottish Highlands and available for two nights only.
Business News
Online real estate brokerage Redfin announced that it would require most of its 1,800 brokers and agents to cancel their memberships with the National Association of Realtors—a decision that comes after The New York Times uncovered allegations of sexual harassment, discrimination and retribution dating back years. As the NYT reports, the association has an outsize influence on the industry, with more than $1 billion in assets and a database of home listings that many agents rely on. Plus, with a trademark on the word "Realtor," the NAR controls an agent's ability to use the job title, which is contingent upon their dues payment in many parts of the country. Within the real estate industry, the NAR has faced discontent for years predating the recent NYT investigation, drawing multiple lawsuits claiming its policies violated antitrust laws. As Redfin's workforce begins to pull its membership starting in markets such as Seattle, Boston and New York, the NAR will face an immediate loss of about $1 million annually.
VPC Group Inc., a foam and fiber material producer headquartered out of Toronto, sought court approval to purchase Prestige Fabricators Inc.—a subsidiary of Klaussner Home Furniture Industries Inc. and fellow foam producer that closed abruptly in early August, Home News Now reports. Through the proposed $7 million sale, VPC plans to continue Prestige's Asheboro, North Carolina–based operations and extend job offers to some former employees. VPC's bid won out among seven different parties that expressed interest in buying Prestige, and if approved by the court, will see VPC acquire all of the company's assets, including machinery and equipment, technology, intellectual property and more.
Shopify completed an investment in Faire, making it the recommended wholesale platform for the e-commerce giant's merchants, Reuters reports. The terms of the deal were not disclosed. Through the investment, Shopify will become a shareholder in Faire, whose sellers will also gain access to Shopify's point-of-sale system. For Shopify, the deal marks the latest in a string of investments, most recently with U.S. marketing automation company Klaviyo, and before that with Dutch payments firm Adyen.
There's a building boom underway in the U.S., though the majority of new construction will only be available to affluent occupants, The New York Times reports. More than 1.2 million new rental apartments will have been built in the U.S. between 2020 and the end of this year, with nearly a million more projected to be built in the next two years, according to a new report from RentCafe. The availability of new units might otherwise seem like a solution to the country's ongoing renter crisis, except for the fact that 60 percent of all new rentals are located within 20 metro areas (including New York, Dallas and Miami) where only 41 percent of U.S. renters live—plus, nearly 90 percent of these new rentals are high-end units. The study also predicts that development of new units will slow in the years following the boom, thanks to high interest rates, and inflated labor and material costs.
Largo, Florida–based Wendover Art Group acquired the 120-year-old decorative mirror and furniture accessories company Friedman Brothers, Home Accents Today reports. The terms of the deal were not disclosed. Established in 1903, the Miami-based Friedman Brothers quickly became known for the skilled production of wood carving and finishing, with a special focus on gold leafing. Today, the company's products can be found in museums; hotels like The Ritz-Carlton, Four Seasons and Waldorf Astoria; as well as in the Vatican. For Wendover, the deal marks the group's second acquisition in three months, following the June purchase of textile maker Kevin O'Brien Studio.
NASA announced plans to build residential homes on the moon, The New York Times reports, with the goal of establishing the first subdivision in space by 2040. To achieve the mission, they've partnered with Austin-based construction technology company Icon, which has received funding from the organization in the past for a space-based construction system that can be used to 3D-print equipment like rocket landing pads, habitats and more. So far, the organizations have only come up with exploratory renderings, but they've enlisted the help of architects at Bjarke Ingels Group and Space Exploration Architecture to aid in developing design plans.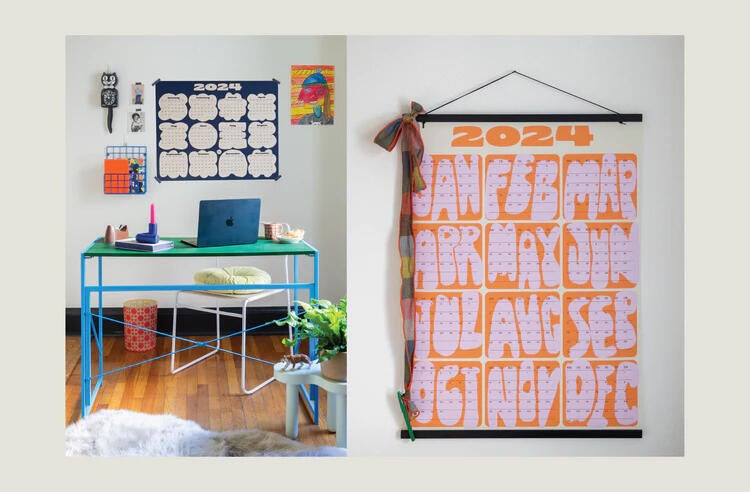 Courtesy of Studio Tigress
Launches & Collaborations
Sara Fritsch, former longtime president of lighting and furnishings brand Schoolhouse, debuted the first product launch under her new venture, Portland, Oregon–based consulting agency and design shop Studio Tigress, Domino reports. The introduction includes four unique large format calendars that contain the entire year on one sheet and are designed to be covered with personalizations via markers, stickers and highlighters. A portion of the sales from the rollout will benefit The One Percent Project, a collaboration to end homelessness.
Williams-Sonoma has partnered with Sheila Bridges on a collection of new pieces celebrating the designer's love of timeless design and her trademark Harlem Toile de Jouy pattern. The resulting product assortment finds Bridges' creation on embroidered pillows, throws, fireplace accessories, mirrors and trays, as well as tabletop items such as glassware, cocktail napkins, bar towels and more.
Ikea's newest kids collection, called Aftonsparv, was also designed by kids. Through a series of workshops with young space enthusiasts between the ages of 3 and 7, the retailer developed an assortment of products that are designed to support creativity and imagination, and includes a cardboard rocket play tent, glow-in-the-dark curtains, finger puppets, bed textiles, lamps and more.
Recommended Reading
As climate change threatens to raise sea levels globally in the coming years, some architects and developers are thinking two steps ahead and exploring the growing feasibility of floating homes. As Ronda Kaysen writes for The New York Times, such efforts are already underway in the Netherlands (where a third of land is below sea level), home to floating offices, a floating dairy farm, and a place called Schoonschip—a community of 30 floating homes situated on a canal, where residents share a floating garden.
When British designer Lulu Lytle, co-founder of Soane Britain, signed on to oversee the refurbishment of former Prime Minister Boris Johnson's official residence, she never imagined she would find herself implicated in the political turmoil that would lead to Johnson's removal from office. For The Wall Street Journal, Helen Chislett shares Lytle's side of the scandal now known as "Wallpapergate," which quickly made her the target of sudden media intrusion, cost her a tony job refinishing the British Embassy in Washington, D.C., and prompted a number of design industry colleagues to leap to her defense. Nearly two years on, she's turning over a new leaf on the other side of the pond, with the debut of a Soane flagship store in New York.
Cue the Applause
High Point, North Carolina–based interior design studio Barbour Spangle Design has received the International Furnishings and Design Association's Luminary Award, granted annually to one home furnishings industry icon or company. Firm leaders Christi Barbour and Christi Spangle will accept the award on behalf of their team at the Night of Luminaries and Rising Stars event in early November, where 17 to 20 senior-level undergraduates across North and South Carolina will also be recognized for their outstanding performance as students of furniture, industrial and interior design.
Online gallery Saatchi Art released its annual "Rising Stars" report, sharing its selection for top emerging artists around the globe. The group of 28 finalists includes early-career artists whose work represents a diverse range of styles, spanning photorealist depictions, expressionist pieces, portraits and experimental works. For the full list of honorees, click here.
Homepage image: Williams Sonoma tapped Sheila Bridges to bring her Harlem Toile style to home accessories | Courtesy of Williams Sonoma