After making a name for herself in 2-D and 3-D design, Los Angeles–based product designer Carly Jo Morgan has begun experimenting with the fourth dimension. Her calling card may be designing and selling product (think: sculptural terrazzo and surrealist, whimsical furniture, and Rihanna's set at the most recent Grammy Awards), but Morgan is, in fact, deeply troubled by the age of consumerism.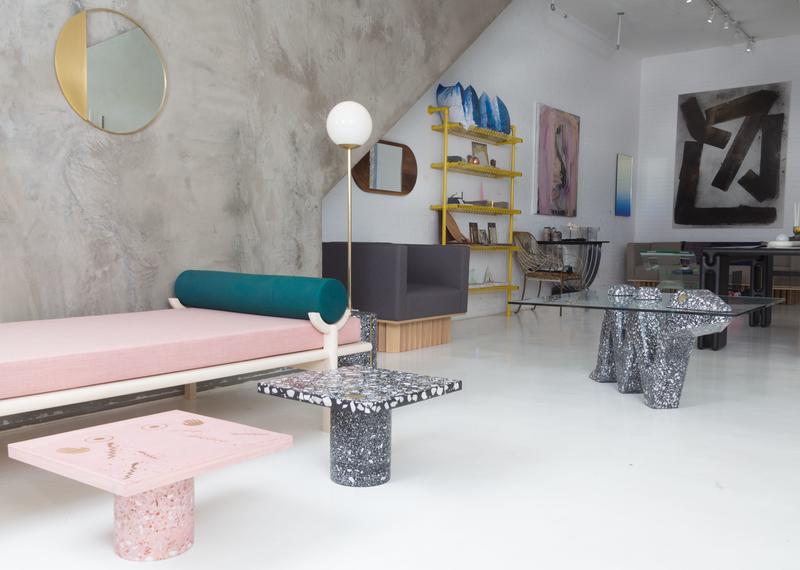 Courtesy of Carly Jo Morgan
Morgan has always considered herself an artist, whether the medium was painting, graphic design or jewelry. She started a wallpaper design firm in college after taking a silk-screening workshop; then in 2004, The New York Times referenced her website in an article about wallpaper as an upcoming trend. As a result, she sold out immediately—despite having no product or samples. With her now-ex-husband, a woodworker, Morgan started a furniture line called Only Love Is Real in 2012, an outlet "where we express our gratitude for our lives and hope to inspire others to feel deeply connected."
Three years ago, after creating a moonscape design for San Francisco's Dream Cafe, which ultimately never opened, she collaborated with a lighting designer named Entler to develop a sculptural line of terrazzo furniture that has appeared everywhere from inside private homes to Santa Monica tech firm GumGum and, most recently, the buzzy New York women's workspace The Wing.
Not one to limit her creative ambitions, Morgan has also dabbled in writing. The project she's most proud of, a children's book titled The Sacred Door, was initially considered a flop when she published it four years ago. (After shopping the project to publishers with no success, she self-published.) But times have changed, Morgan says, and so has the book's reception. (It has now sold out at El Cosmico in Marfa.) Of the book's newfound audience and resulting success, Morgan tells Business of Home, "People are looking for connection, community and experience." The story is about "a mystical journey of two soulmates who are separated and come together. When they ultimately find and jump through the sacred door, they find that it's all the same on the other side—it's about realizing the beautiful around you and living in the moment."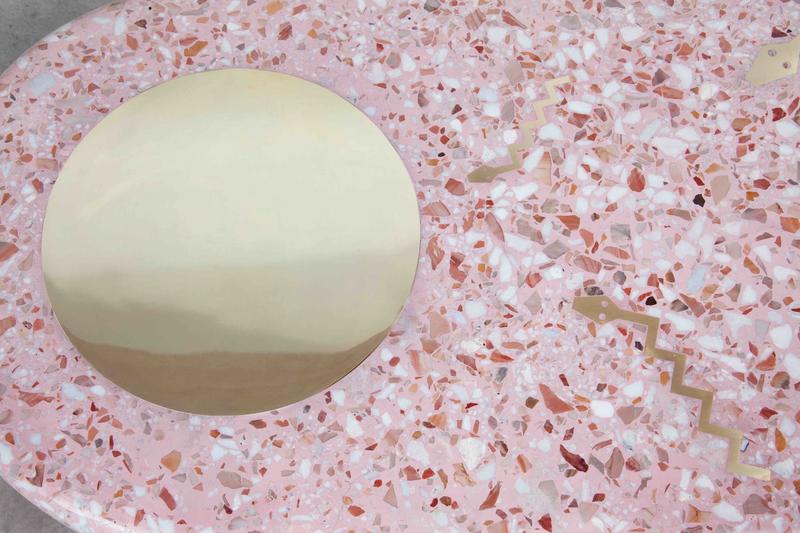 Courtesy of Carly Jo Morgan
For Morgan, not drawing hard boundaries between projects is a boon to her process, as one always ends up influencing the next. The snake motif seen in her jewelry, lighting and furniture is about transmutation and shedding skins of the past, while the hands in her collection are symbolic of giving and receiving. ("Because I'm a maker, I've always had a fascination with hands—they represent creating, giving, receiving, holding, helping and connecting," Morgan told Domino in 2017.)
Healing and therapy have long been passions for Morgan, who in 2014 founded Malibu's famous Mercado Sagrado, a festival of art, music, food and wellness. Recently, she has begun hosting Breathwork workshops in private and group sessions that also incorporates indigenous music, prayers and Shaman chants. "The deep breathing can get you unstuck and within a half hour you can have a full emotional release," she explains.
The workshops are inspired by the oeuvre of psychiatrist and author Stanislav Grof, a consciousness researcher who found that a combination of deep breathing and a sonic journey can help people "find their passion and spirit, and harness their inner healer."
In turn, Morgan's work in 4-D inspires themes of her work in "the visual realm," she explains. "I believe there's a much deeper meaning to a lot of what we experience in life. In our culture, we've disconnected from the ways of nature, where everything is in perfect balance. Breathwork taps you into your soul and its needs. It's a concept that you may have a hard time believing, if you don't connect with that idea."
In the two months since Morgan launched Breathwork, the 50-plus people who've participated have called the experience therapeutic and emotional. During the 45-minute sessions, attendees wear eye masks and listen to music Morgan recorded with Paul Butler. They describe often visualizing past traumas or things they've repressed, allowing them to gain closure on old wounds.
Though Morgan doesn't rule out furniture and objet projects in the future, she considers the current workshops her spiritual calling: "With all the design work I've done, I've felt tapped in and connected, but this is much more fulfilling." It is simply, she explains, what the world needs right now. Whatever the dimension, Morgan is focused on designing a journey and creating surreal spaces for events, homes—and the mind. "People ask me what I do, and I guess I'm a serious Gemini in that way," she says of her parallel professions. "It's hard for me to compartmentalize."