For its new traveling exhibition "L'Artesanía de Vivir," Roche Bobois asked 23 traditional Mexican craftspeople to reinvigorate four of the brand's iconic chairs. Artisans from the states of Jalisco, Oaxaca, Puebla, Hidalgo and Chiapas redesigned the chairs using techniques specific to their region, including the nearly extinct technique panos de carrerante from the community of Venustiano Carranza, where currently only five artisans practice it.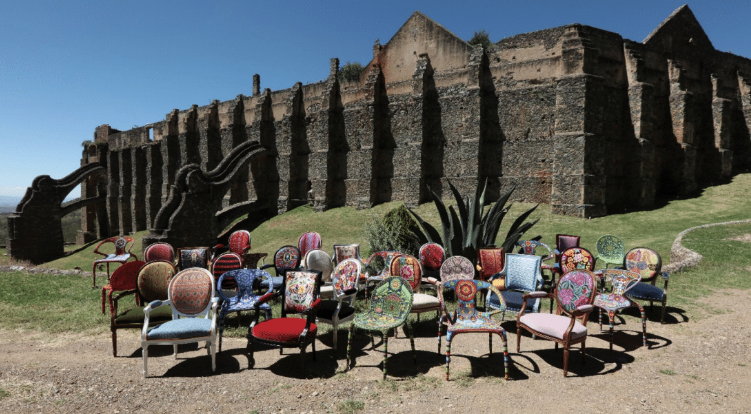 First unveiled at Alcazar del Castillo Chapultepec in Mexico City, the exhibition then traveled through Mexico, with stops at museums in Chiapas, Zacatecas and Oaxaca. Earlier this week, it came to the U.S., to Houston's Buffalo Bayou Park Cistern. It will be open today, November 9, from 4 p.m. to 6 p.m., and tomorrow, November 10, from 11 a.m. to 3 p.m.
Paris-founded Roche Bobois offered fair-trade payment to the participants. The company also worked with the foundation Sólo por Ayudar to donate and deliver 50 stoves to indigenous artisan communities in Puebla, Oaxaca and Chiapas, where people have been suffering from high rates of lung cancer due to wood smoke inhalation.