In our series, What I Love, we're asking designers to build us a mood board of what's inspiring them right now.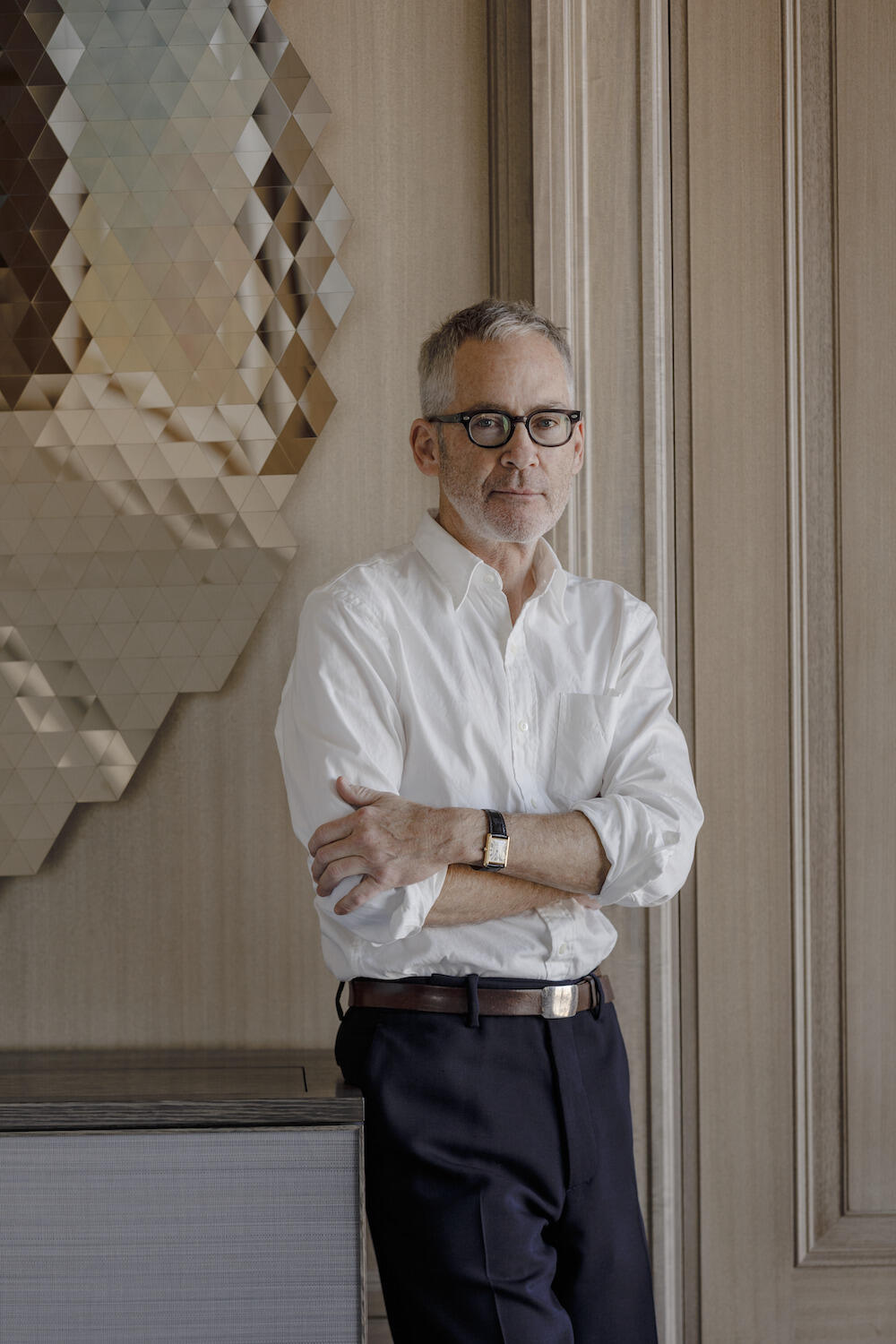 Mark Cunningham has an affinity for craftsmanship. The New York–based designer gravitates toward artisanally made pieces outfitted with natural materials and organic motifs. "I'm inspired by the idea of craft," he tells Business of Home, a concept that infuses his eponymous firm's work as well as his furniture line, Marked.
Cunningham's mood board—brimming with raw texture and heirloom-worthy vintage finds—is a perfect example. Designed with some of his favorite makers in mind, the scheme showcases a symphony of hand-crafted accents that display proof of the human touch. "Many of these items were fabricated or designed with intention by artists whom I consider masters," he says. "You can see their hand in them."
The final flat lay features an airy mix of natural hues and woven textiles grounded by a sumptuous—and sustainable—sprinkling of knotted wood, patinated metal and organic stone. "It feels casual, but in a heightened way," he says of the palette. "This world feels very inhabitable, but it's punctuated by moments of real artistry."
Here, Cunningham breaks down the details, from custom plaster finishes to two-tone outdoor fabrics.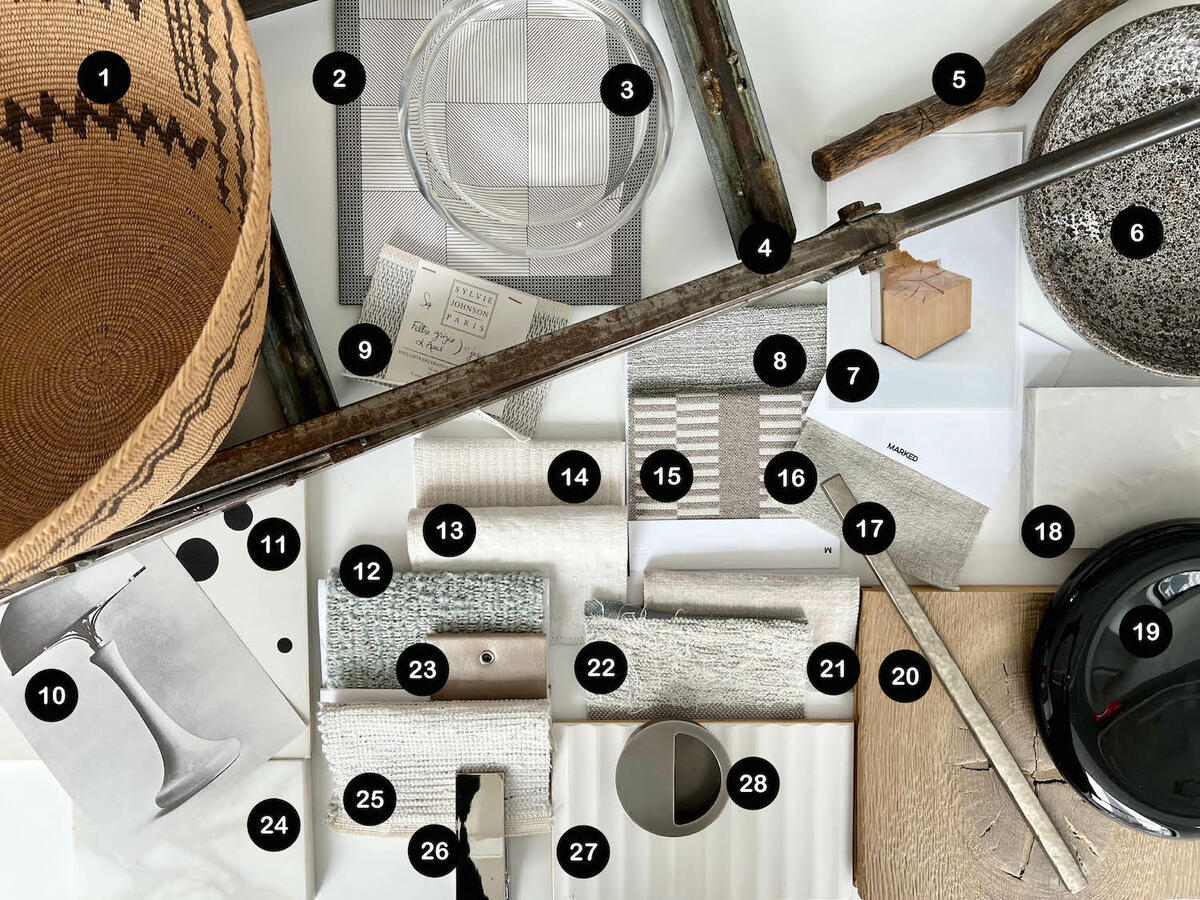 Courtesy of Mark Cunningham
1. VINTAGE 1920s BASKET FROM MARK SUBLETTE MEDICINE MAN GALLERY
"I grew up in Arizona and have always admired Indigenous American design and craftsmanship."
2. SOL BY ALEXIS BEAUCLAIR AT PRINTED MATTER
"I'm always drawn to simple, graphic prints. I like the contrast they offer when mixed with softer forms."
3. VINTAGE 1970s GLASS DISH WITH KNIFE EDGE BY WARD BENNETT FOR VIDE-POCHE
"I collect glass catchalls, and this is one of my favorites. I used it as inspiration for one of the Marked tables, called Bennett."
4. ANTIQUE INDUSTRIAL LADDER
"Collecting ladders is a bit of a quirk of mine. I'm always drawn to their shape and simplicity."
5. VINTAGE FOLK ART WALKING STICK
"This natural found stick was gently smoothed down and had a small primitive bird carved into the handle by the [unknown] artist."
6. VINTAGE 1960s PIGEON FORGE CRATER BOWL BY DOUGLAS FERGUSON
"I use ceramics any chance I get. I try to find pieces that are completely unique, with textures and colors that add an extra layer to the room."
7. POUF COLONNE/COLUMN SEAT BY MARIA PERGAY AT DEMISCH DANANT
"I like the way Maria Pergay juxtaposes natural solid wood with her signature material, stainless steel."
8. LOOM OUTDOOR FABRIC IN GRAVEL BY MARKED BY MARK CUNNINGHAM
"The two-tone weave of this fabric makes it especially forgiving of stains."
9. FELTO GRIGIO JASPE FABRIC BY SYLVIE JOHNSON
"Sylvie Johnson is a masterful textile designer. She epitomizes the concept of understated luxury."
10. VINTAGE 1971 TABLE LAMP BY JOHN DICKINSON
"I've always admired John Dickinson, and this lamp is one of his more unusual pieces. It was featured in a room I love: the living room of his San Francisco [home, a former] firehouse [built in 1893]."
11. BRIDGET RILEY: WORKS, 1960–1966 BY BRIDGET RILEY
"I like the bold and graphic nature of Bridget Riley's work."
12. FE KAROO CENT TROIS FABRIC IN FK.103.02.22.23 BY TOYINE SELLERS
"Toyine's textiles are unrivaled in terms of colorways and texture."
13. VINTAGE FABRIC IN CANVAS VIN1 BY DE LA CUONA
"This is a linen with a painted finish. It feels like an artist's canvas, but soft enough for upholstery."
14. SILO OUTDOOR FABRIC IN BATTER BY MARKED BY MARK CUNNINGHAM
"Silo is one of the designs from my textile collection that we've recently replicated for the new outdoor line."
15. PICKET REVERSIBLE OUTDOOR FABRIC IN DUNE BY MARKED BY MARK CUNNINGHAM
"This fabric has quickly become one of our client favorites."
16. HOPSACK SHEER FABRIC IN GRAVEL BY MARKED BY MARK CUNNINGHAM
"This is a medium-weight sheer—it's soft and gauzy."
17. VINTAGE TEXTURED BRONZE OBJECT
"You can see from the flat lay what incorporating a bit of textured metal does to a composition—it adds warmth and contrast."
18. HONED ARMANI QUARTZITE FINISH SAMPLE BY BAS STONE
"This light gray quartzite [by BAS Stone] with pearly veining looks luxurious but is versatile and very durable."
19. VINTAGE 1970s MURANO GLASS BOWL BY SALVIATI FOR CHARLES PFISTER
"This catchall has a very simple design, but the shape and depth of color give it substantial weight in a composition."
20. CAMPAGNE COGNAC LIGHT WOOD FINISH SAMPLE BY EXQUISITE SURFACES
"This is a beautiful wood flooring sample. I love how the knot in the grain is fully expressed."
21. PRIMITIVE LINEN IN GARLIC PRIM2 BY DE LA CUONA
"This linen is slubby, but delicately so. It maintains an elegance."
22. PERLE COTTON+BEIGE FABRIC IN DIVINO BY SYLVIE JOHNSON
"I admire the unique artistry and craftsmanship of Sylvie's textile collection."
23. GELATO ITALIANO LEATHER IN BISCOTTI DELLA NONNA BY KELEEN LEATHERS
"I love the versatility of this color—it has brown and gray undertones. In this flat lay, I like the taupe that's coming forward."
24. HONED CALACATTA VAGLI FINISH SAMPLE BY BAS STONE
"Calacatta Vagli is a timeless choice."
25. KATARINA COMO CAMENZINO FABRIC BY SYLVIE JOHNSON
"Another masterful textile design by Sylvie Johnson."
26. VINTAGE 1960s POLISHED STAINLESS STEEL PAPER CLIP DESK OBJECT
"The exaggerated scale and polished stainless steel finish of this paper clip make it a perfect desk accessory."
27. CUSTOM PIERRE DE JONC IN WHITE WALL FINISH BY ATELIER PREMIERE
"Plaster wall finishes are one of the best ways to add texture to a room."
28. NO. 6048 FLUSH PULL IN PEWTER BY THE NANZ COMPANY
"Nanz's hardware is designed and fabricated here in New York."
Homepage photo: A flat lay by Mark Cunningham | Courtesy of Mark Cunningham