In our series, What I Love, we're asking designers to build us a mood board of what's inspiring them right now.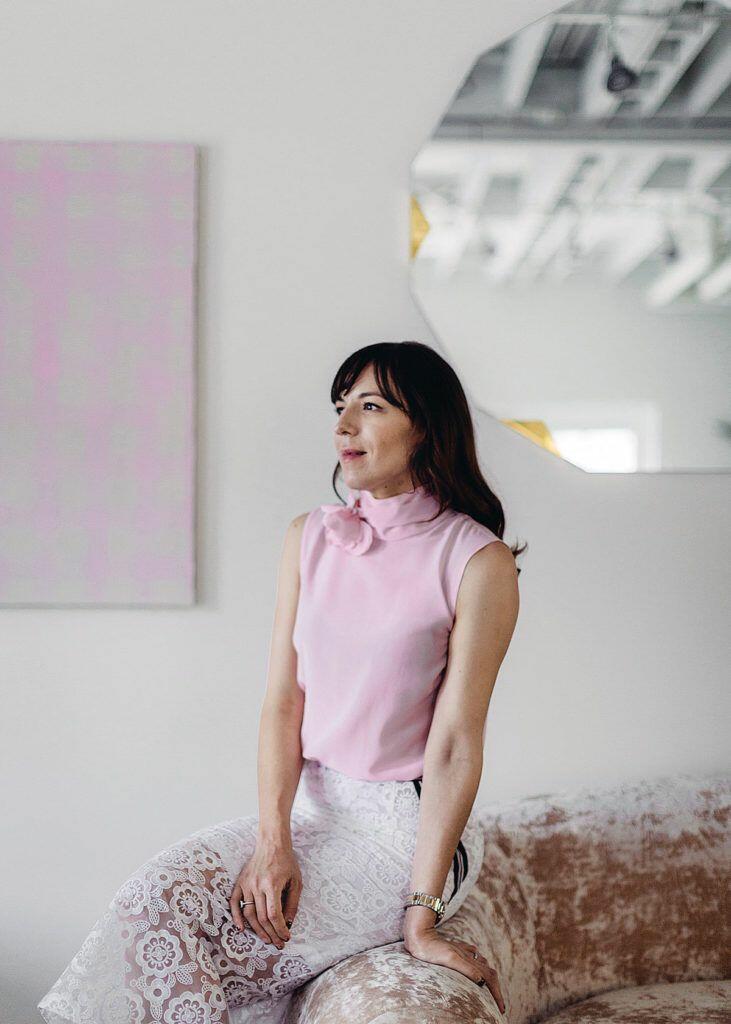 Margaret Naeve Parker gravitates toward warm palettes. The Houston-based designer has a penchant for pairing rich earth tones with plush natural textures to create spaces that feel elegant yet livable.
Her present flat lay offers a wonderful case in point. Though a deep plum-hued Carol Piper rug serves as the cornerstone of the design, Parker used a medley of touchable materials and organic motifs to ground the scheme. "The rug gives weight to the room, while acting as a neutral," she tells Business of Home. "It's a nice balance of softness with a bit of edge."
The result is a comforting combination of saturated colors and tactile finishes, with the occasional pop of a high-contrast graphic pattern to keep things interesting. "The tension keeps your eye moving through the room," she says. "That creates a feeling that is equally appropriate for snuggling up with a book or hosting a cocktail hour."
Here, Parker breaks down the details—from antique brass hardware to floral print fabrics.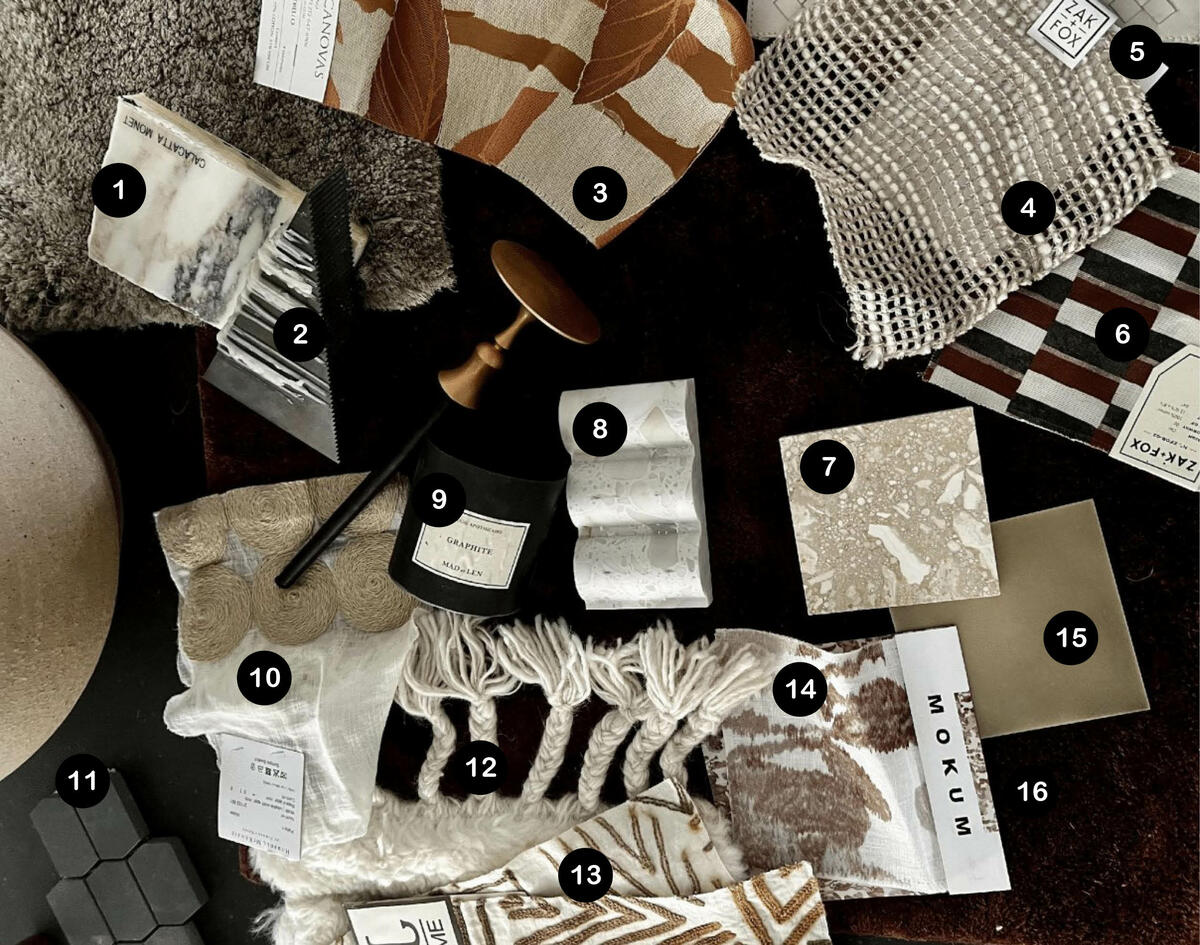 1. Calacatta Monet Marble by Pomogranit Stones
"This adds some excitement to a classic marble look and can work with a variety of other accent colors in tile. I'm drawn to the burgundy colors in the vein."
2. Candle Block by Apparatus
"These are architectural, and we especially love when they get a nice patina from the candle wax."
3. Montebello Fabric in Rouille by Manuel Canovas
"We love the 1970s Palm Beach vibe. This fabric could work really well with a terrazzo moment."
4. Bamako Fabric in 03 by Zak+Fox
"A good layering pattern with a masculine touch."
5. Watercolor Woven Leather in Natural by Lance Woven Leather
"This company started in fashion, so this leather has a chicness that feels like a luxury handbag."
6. Obi Fabric in 02 by Zak+Fox
"This fabric is being debated for kitchen cafe curtains. We find it more interesting and textural than linen."
7. Dei Beige Field Tile by Ann Sacks
"A consistent quality choice for flooring."
8. Terrazzo Renata Field Tile in Brûlée by Ann Sacks
"This material has become one of our favorites. We've been including it in a lot of our midcentury projects, and it's also great in furniture as an alternative to marble. We like how it comes from a different era and creates a vintage vibe. The columned look works for a fireplace facade."
9. Graphite Candle by Mad et Len
"This scent smells divine, but it's also all about the packaging—even when this candle is done you have a beautiful metal vessel."
10. Alister Sheer Fabric by Hodsoll McKenzie at Zimmer + Rohde
"This ultrafeminine sheer is playful and happy. We envision it in a breakfast room or an area where drapery isn't needed for privacy."
11. Savoy Classic Mosaic Hive Tile in Driftwood by Ann Sacks
"A hive-pattern mosaic that is ideal for small surface area applications like shower floors or perhaps a high-end bar backsplash. The concrete color tone suggests a down-to-earth yet sophisticated tone."
12. Shaula Rug in Ivory by Woven
"This rug is so soft and luxurious, and even though the pattern is tonal, the fringe adds a playful moment, making it more versatile."
13. Frenzy Fabric in Natural on Cream by Jed Johnson Home
"This fabric adds a bohemian touch that keeps things whimsical. We think this would be great for a drapery or some accent pillows."
14. Shalimar Fabric in Terracotta by Mokum
"Luxurious, artful and not too feminine. This sophisticated floral pattern can be paired with a leather club chair or something more masculine, and it would make sense."
15. Antique Brass Sample by Anna Karlin
"We like this in hardware and lighting—it's a great material to mix with other metals, especially oil-rubbed bronze or polished nickel. My rule of thumb is not to mix brass with chrome."
16. Hand-Tufted Plum Rug by Carol Piper Rugs
"This fabric is the epitome of luxury, yet it feels livable because of its durability. We put one in a client's living room."
Homepage photo: A flat lay by Margaret Naeve Parker | Courtesy of M.Naeve