In our series, What I Love, we're asking designers to build us a mood board of what's inspiring them right now.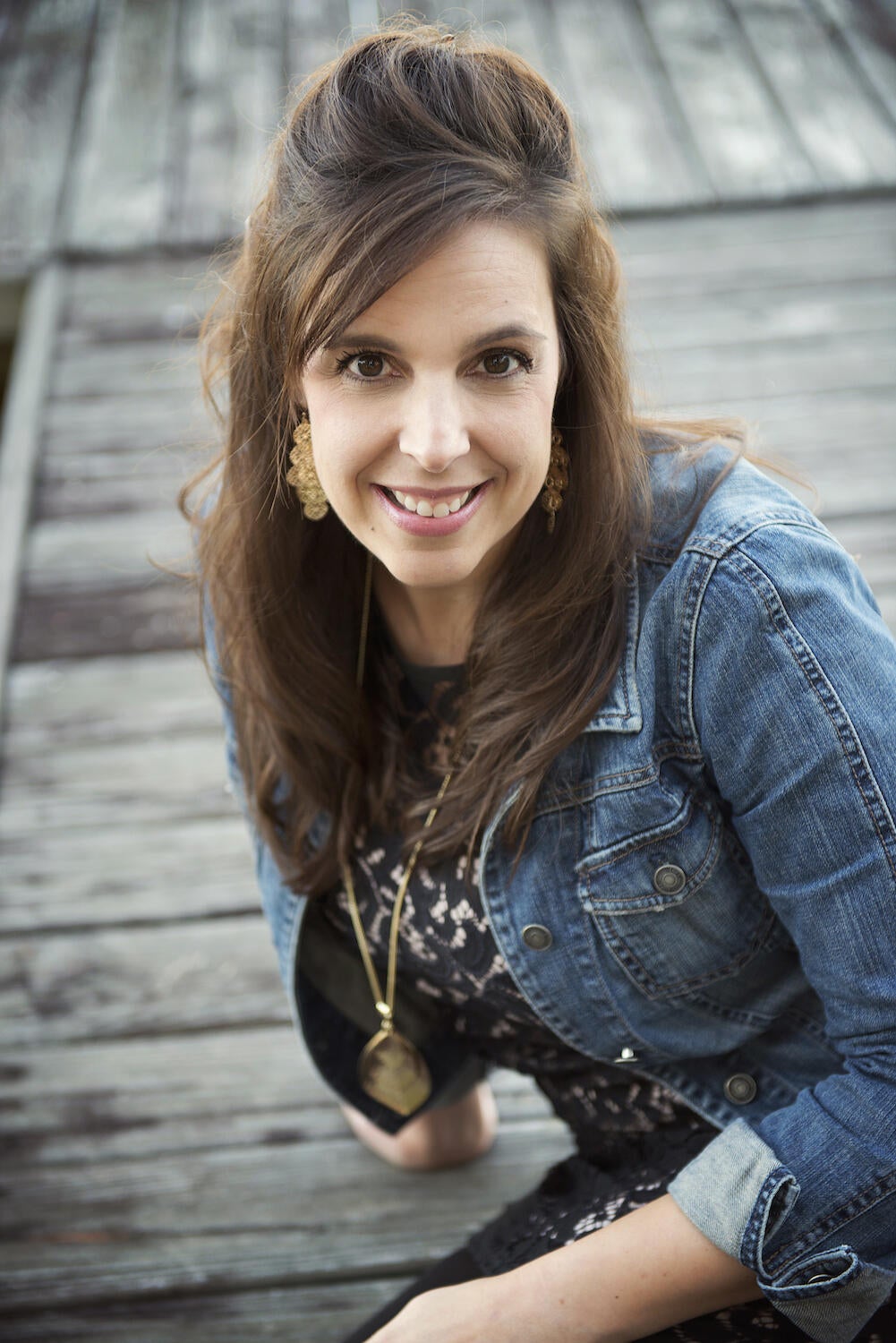 Courtesy of LK Architecture
Lisa Haude finds inspiration in her surroundings. The Wichita, Kansas, designer at LK Architecture employs a time-tested blend of colorful graphic patterns and touchable organic finishes to create warm yet curated spaces that draw from the great outdoors.
Designed after a recent trip to Napa Valley, Haude's current flat lay is crafted with "rolling hills, stunning sunsets and endless miles of vineyards" in mind. "One of our favorite clients asked to refresh their hotel lobby to reflect modern wine country," she tells Business of Home. "I envisioned a space full of plush textures juxtaposed against natural elements and neutral tones."
The end result is an earthy mix of intrinsically tactile materials—including bronze, linen and leather—and deep jewel-toned hues that evoke the Northern California landscape. "Much like the countryside, the mood board feels rich, lush and full of authentic charm," she says.
Here, Haude breaks down the details, from beaded necklaces to fuzzy wools.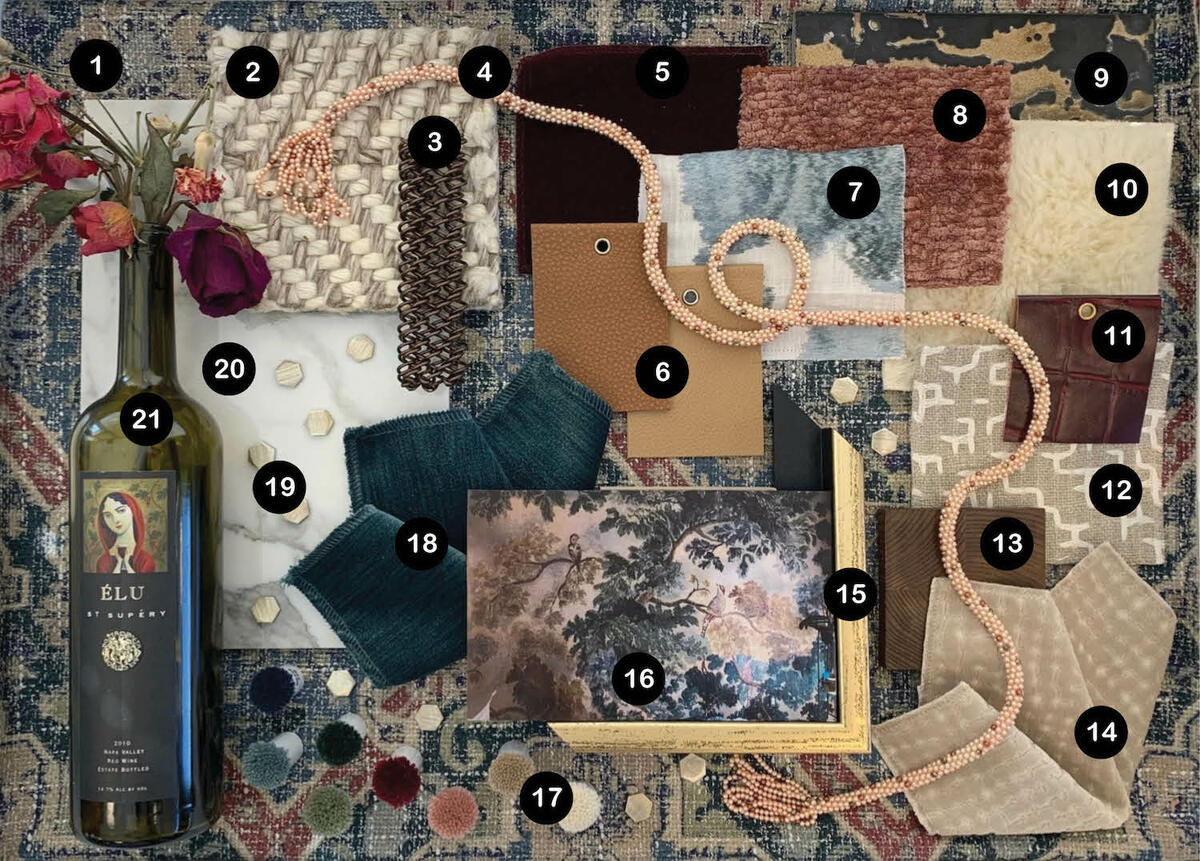 Courtesy of LK Architecture
1. MULLIGAN FABRIC IN INDIGO BY PINDLER
"The rustic texture juxtaposed by the elegant, ornamental design makes bygone opulence modern."
2. FORWARD RUG IN MOCHA BY ENDLESS KNOT
"I love using a chunky wool rug to delineate spaces and add a soft texture underfoot."
3. FABRICOIL IN ANTIQUE BRONZE BY CASCADE ARCHITECTURAL
"Integrating a bronze finish into any project brings a sophisticated warmth to the space that will stand the test of time."
4. VINTAGE LARIAT NECKLACE
"Endless inspiration can be found in the past, and this lariat is the perfect complement."
5. DOMESTIC AFFAIR FABRIC IN JUNEBERRY BY S. HARRIS
"This deliciously plush material features a deep, rich burgundy color—similar to a full-bodied wine—that adds so much depth to this design."
6. RUSTLER LEATHER IN SADDLE AND SEVILLA LEATHER IN ESPANA BY HOLLY HUNT
"Our favorite go-to leathers that will stand the test of time."
7. SHALIMAR FABRIC IN PETROL BY MOKUM
"This delicate linen blend with a blue watercolor design is reminiscent of fine china and further adds to the feel of modern opulence."
8. FREDDO FABRIC IN PESCA BY PIERRE FREY
"Incorporating a chenille velvet into any space adds a plush texture, making it feel like home."
9. BOREAL FOUNDRY PORCELAIN WALL TILE IN BLACK BY TILEBAR
"Metallics are always a fun way to add an unexpected pop to any design."
10. MOSTRO FABRIC IN NO. ZFMOSVT-01 BY ZAK+FOX
"Genuine wool will never go out of style and is the perfect counterpart to the luxurious velvets and leathers."
11. JUMBO CROCODILE LEATHER IN BURGUNDY BY EDELMAN LEATHER
"Crocodile leather is my favorite way to add an unexpected texture that wears better with time."
12. SABA FABRIC IN LINEN BY MOKUM
"Linen is forever desirable—I try to include it in every project."
13. STAINED ASH WOOD FLOORING SAMPLE IN BURNISHED BARK BY JAMIE BECKWITH COLLECTION
"Wood inherently warms up a space, bringing the outside in and helping ground us back to nature."
14. PHANTASEA FABRIC IN PYLA BEACH BY ANZEA
"The texture of this fabric gives beautiful tonal movement to an otherwise neutral color."
15. FLOATER 306-20 MOULDING IN PALE GOLD BY MICHELANGELO MOULDING
"This textured gold frame adds the perfect patina that I was looking for to seamlessly blend the old with the new."
16. JUDARN MURAL BY YORK WALLCOVERINGS AT ANTHROPOLOGIE
"I absolutely love this mural for its whimsical and airy design, and perfect blending of colors."
17. ASSORTED RUG POM SAMPLES BY LOOPHOUSE
"I always love an opportunity to play in a pom box. It guarantees you get a perfectly customized rug or carpet."
18. EDWARDIAN FABRIC IN PEACOCK BY ARCHITEX
"Contrast is the lifeblood of design. What is more perfect to contrast with the deep burgundy tone than an equally rich teal?"
19. GRAVITY ALUMINIUM 3D HEXAGON GOLD TILE BY PORCELANOSA
"Delicate and beautiful as seashells, this mosaic plays with shine and shadow, forever changing throughout the day."
20. GYPSUM CALACATTA PORCELAIN SURFACE BY DALTILE
"This porcelain has elegant movement in beige and gray that provides the perfect moody backdrop to any space."
21. 2010 ESTATE ÉLU NAPA VALLEY RED WINE BY ST. SUPÉRY
"Inspired by the beauty of Napa Valley, this bottle is the perfect memento to include and highlights my love of the region."
Homepage photo: A flat lay by Lisa Haude | Courtesy of LK Architecture