During the height of the pandemic, many people fled to more scenic locales, hunkering down in their favorite vacation spots during a once-in-a-century situation. For Lily Kanter, the co-founder and erstwhile CEO of Serena & Lily, that meant relocating her family from California to the mountains of Hawaii's Big Island.
She found a house that already featured incredible interiors filled with reclaimed wood and pinch-me views. She asked her realtor about the home's designer and was introduced to Avery Solmssen, then a senior designer at the Honolulu-based firm Philpotts Interiors. "My realtor said, 'You're just going to love Avery,'" says Kanter. When they met, they clicked immediately and Solmssen started coming over almost weekly, working on small projects around the house. "We had to Lily-ify it, working in more color and patterns," says Solmssen. It wasn't long before business-minded Kanter proposed the idea of going into business together, and Averylily, their new design studio and home collection, was born.
The duo launched the interior design arm of the business last year (Solmssen estimates that they have about 25 active projects at the moment) and plan to roll out the accompanying product line in November. Unlike Kanter's previous company, which grew into a major omnichannel venture, Averylily will remain a local business on purpose. "The extreme point of differentiation for the studio is that we're honoring local talent and trying to work with local natural materials," says Kanter.
A major intention for both the design studio and the product line is to be a source of job creation on the Hawaiian Islands. "A large part of what inspired me to do this was the idea of creating an amazing place to work," says Kanter. "So many of the kids that my children went to high school with [in Hawaii] go to college in the mainland U.S. and don't plan to come back. Hawaiians leave to go to design schools like [Rhode Island School of Design or Savannah College of Art and Design], and there aren't enough opportunities to bring them back to where they're from, where they have these beautiful extended families who have lived here for generations. It's quite sad, and my sole interest became creating a design firm in Hawaii that could nurture local talent."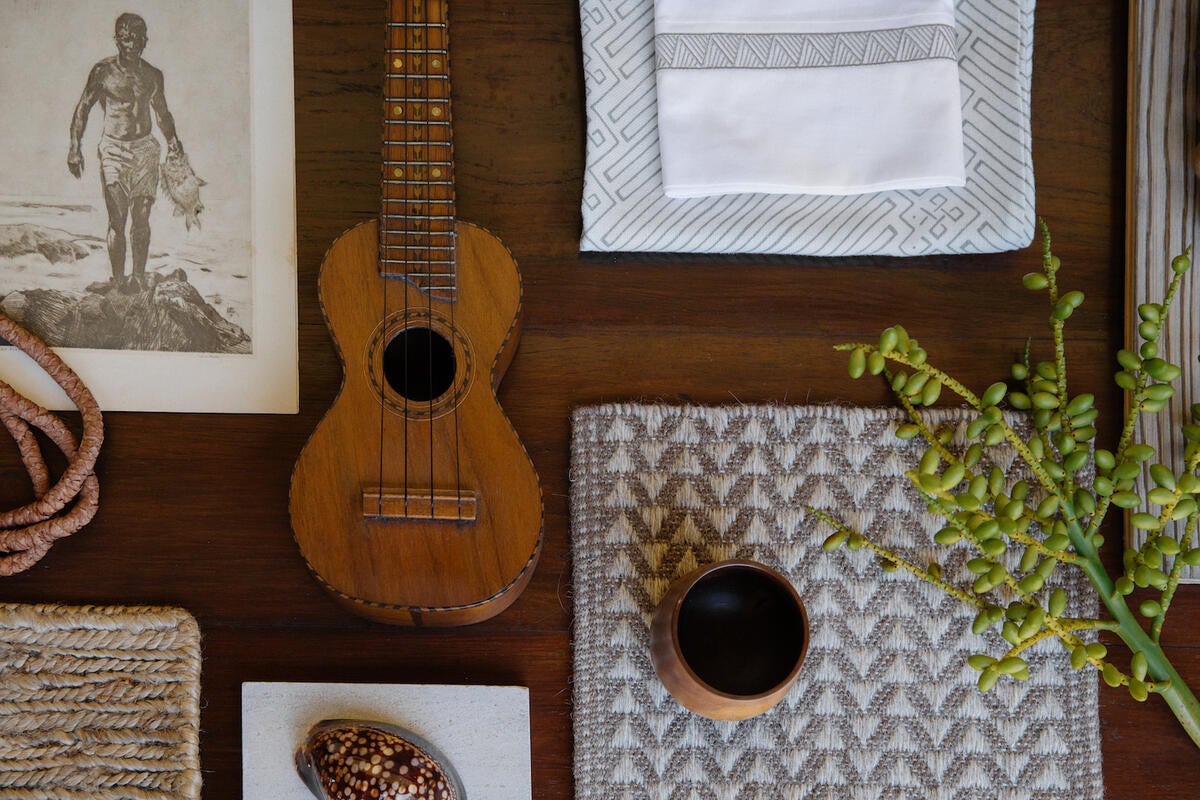 Expanding on that idea, the company has committed to donating 10 percent of its annual profits to organizations like Holomua Collective, which aims to keep locals from getting priced out by addressing issues like housing and a lack of job opportunities.
Averylily's debut home collection features what the pair call move-in basics—bedding and bath, tabletop, ceramics and decor. Kanter and Solmssen describe the line as Pacific Island-inspired. "We wanted to tell the story of Hawaii through color and texture," says Solmssen. "It was important to us not to use Hawaiian names specifically because we were very cognizant that there's a fine line between sharing the culture and taking the culture," adds Solmssen, who has native Hawaiian ancestry but was raised outside of Hawaii, living in Japan, South Korea and the U.S. throughout her childhood. "We went very simple—there's a palm collection and a sand collection, among others."
They kept the product categories simple, too. "​I've been doing design in Hawaii for about 20 years, and the majority of people who buy homes [here] want readily available sheets and towels and tabletop, and that's actually hard to come by here," says Solmssen. "We have a few local home stores, but we don't have any big-box home stores. So, we thought that focusing on these basic categories would fill a need in the community while also giving them a product that's inspired by the islands and designed locally."
The collection will be available direct to consumer as well as wholesale through select retailers, with a focus on boutiques in the Hawaiian Islands. Partnerships with mainland stockists are still in the works, though a launch is planned at Bloomingdale's in November. Kanter describes the price point as premium, though she wouldn't call it luxury. "We're looking at a higher price point than what you'd find at Serena & Lily, but it's not going to be in the range of something like Pratesi," she says.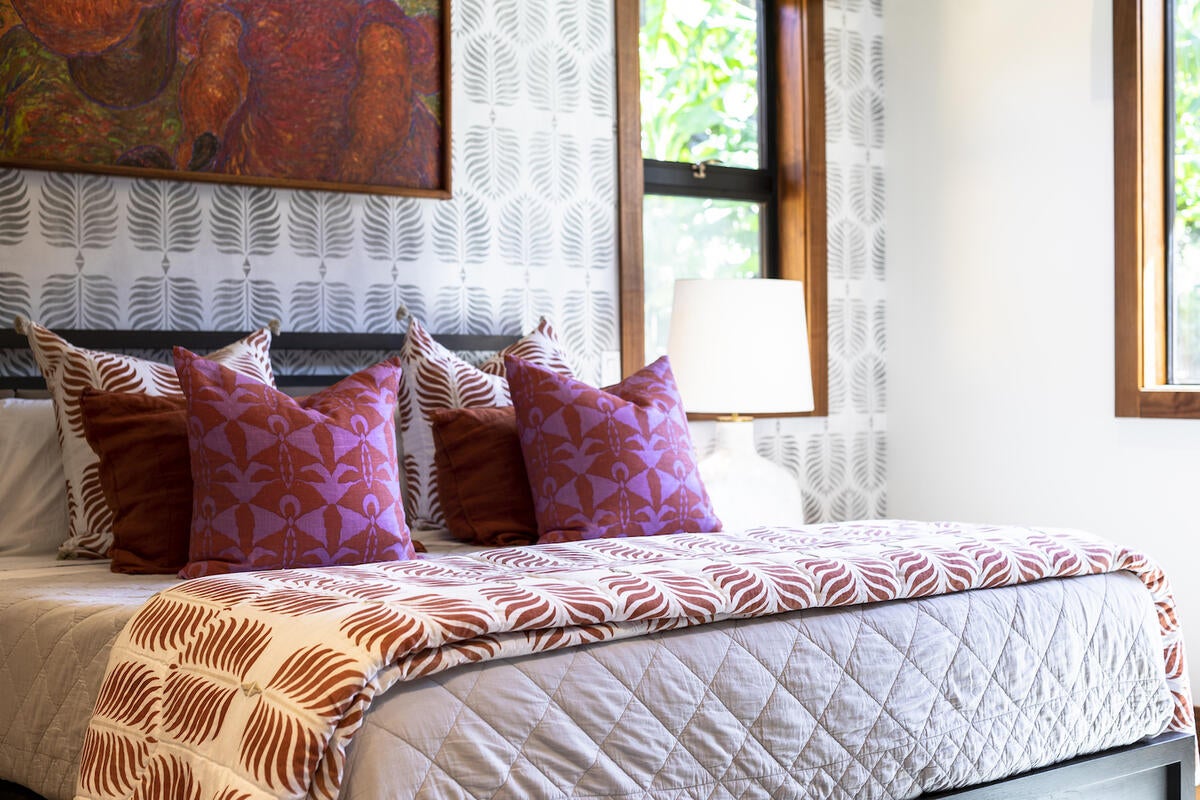 Also underway are collaborations with local artisans and makers, like Honolulu-based Andrew Mau of Mau-House, in addition to pillows in textiles from Serena & Lily co-founder Serena Dugan's eponymous line. "All of the colors in our first collection Pantone back to colors from Serena's textiles," says Kanter. "It's a true collaboration."
Growing at a pace and scale consistent with Averylily's values will be paramount moving forward, says Kanter. "We don't want to get away from our original intent of being on the islands and nurturing that local talent and honoring the spirit of Hawaii. There are a lot of home brands out there today. There's no shortage of places to find bedding. Averylily is really about creating opportunity and bringing a really high-quality product that's in stock on the islands, designed locally by people who actually live here. We want it to grow organically, but we want to do that without having to hire from the mainland."
For Solmssen, the opportunity to shine a light on the inherent talent found in the islands will always remain a goal. "A big motivating factor for me is that, living on an island, everything comes in from outside," says Solmssen. "So, to start a product that was designed and conceived here in Hawaii, and then get to send it out to the rest of the world, that's really exciting. I want to be able to show that this is not just a tourist destination. The design talent that's going on here is valuable and it's beautiful to get to showcase that."
Homepage image: Lily Kanter and Avery Solmssen collaborated on the kitchen in Kanter's Hawaii home | Henry Houghton