Foot traffic may have slowed in recent years, but that doesn't mean opportunities for showroom growth have dried up. From coast to coast, entrepreneurial brands are demonstrating how to adapt—and expand—to succeed in the current landscape. Business of Home spoke with seven promising showroom operators, both in design centers and with freestanding spaces of their own, to find out how.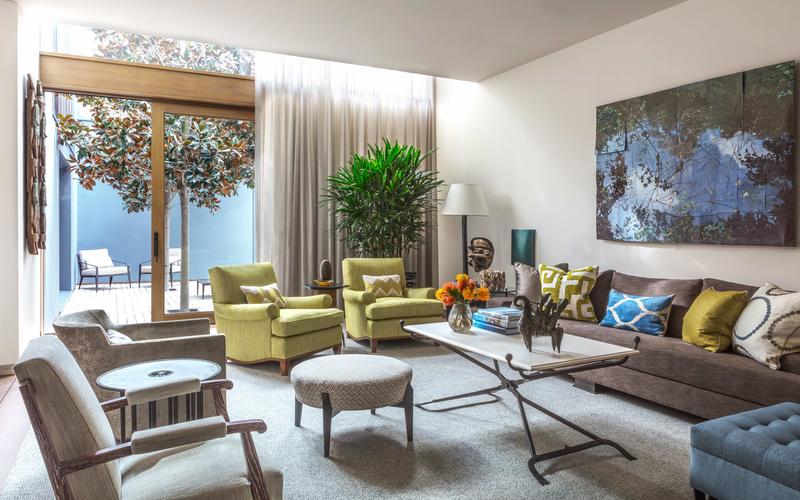 The Star On the Rise
Studio 534 recently gained 4,400 square feet when owner Josh Steinwand spotted an opportunity and seized it. The now-12,000-square-foot space is poised to be the largest multiline showroom at the Boston Design Center when construction wraps up this spring.
Steinwand joined the industry in 1997 as a sales associate for eight years at Webster and Company. In his next role, he honed his pitch—and developed deep connections with Boston-based designers like Frank Hodge, Jill Goldberg and Michael Carter—as a traveling salesman. For many of the boutique brands he represented, he was the first to carry their lines. After two years on the road, Steinwand was encouraged to open his own showroom while attending an Architectural Digest party at High Point Market—so he did.
Entrenched in the local industry, and with about a decade of running his own multiline showroom under his belt, Steinwand began considering how to expand the space more than a year ago. When neighboring showroom Webster and Company serendipitously announced plans to close in February, Steinwand took over his first employer's lease—as well as the its contracts with major brands including Liaigre, Nobilis, Elitis, Studio Zen and Peter Fasano. "Somehow, the universe was working with me," he tells BOH.
Ultimately, Steinwand had no master plan—he simply immersed himself authentically and consistently in Boston's design scene. "I loved what I did and I just did it," he says. "I am humbled by the fact that the showroom has become so successful."
The Shrewd Globe-trotter
Not every brand dives into opportunities for growth without looking back. Some spend years carefully analyzing their consumer base and forecasting market potential before leaping forward. Bocchi, a manufacturer and purveyor of fireclay sinks, is one of those brands.
Founded in 1950, the Italian brand spent years building a strong presence throughout Europe before beginning to stock product in the U.S. in 2008 from its stateside home base in Alpharetta, Georgia. But for years, Bocchi's product was only available online. The brand's brick-and-mortar entrance into the American market has been slow but steady, starting with California and then Anderson, South Carolina. Now, the brand has partnered with Seattle-based marketing firm Bailey Sales and Associates to oversee its expansion this spring into its third U.S. market: the Pacific Northwest. Bailey Sales will oversee Bocchi's regional presence at design centers, relationships with wholesalers and other retailers, and setting up displays throughout Washington and Oregon.
"The demand for fireclay sinks has risen in the U.S.," Dawn Robinson, Bocchi's director of marketing, tells BOH. "This signals a shift from utilitarian to custom showpiece." Quietly and carefully, the brand is growing to keep up.
The Lighting Luminaries
Growth isn't just about having the cash on hand to expand. It's also about the time, energy and dedication you can put into your business. Wife-and-husband duo Jamie Young Jeter and David Jeter founded Los Angeles–based lighting brand Jamie Young Company 23 years ago, and raised the company alongside their family. About a year ago, when their children graduated from school, the spouses were able to prioritize the company in a way that they simply couldn't before. "We made the decision to take it to the next level with our business—we could focus on the next tier of design," Young Jeter tells BOH.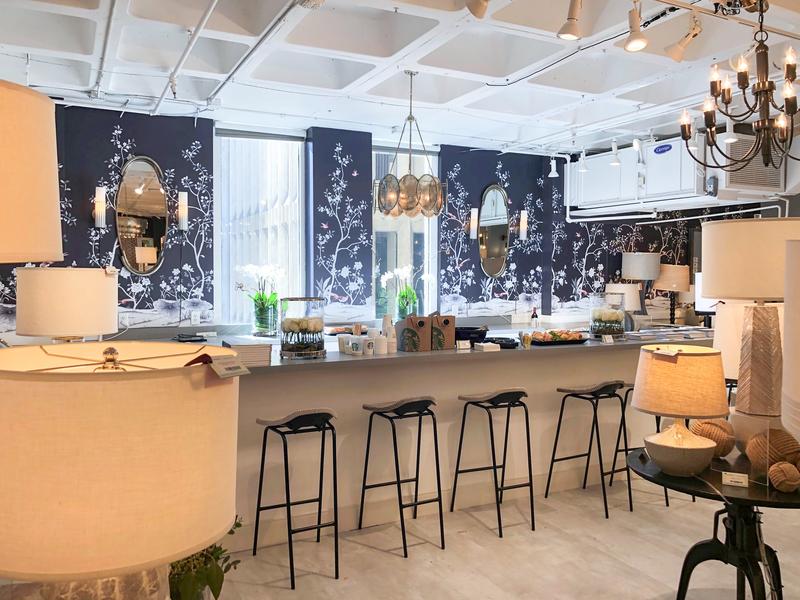 Courtesy of Jamie Young Company
It seems their heightened attention has paid off. The designers have doubled their Atlanta showroom in AmericasMart from 1,500 to 3,000 square feet; in Dallas, they debuted in the In-Detail showroom with 2,000 square feet, opening in time for Dallas Market Center's January market; and in High Point, North Carolina, the brand will open its first permanent space, a 3,500-square-foot showroom at High Point Market Center, in time for its Spring Market.
Dallas, especially, it seems, has been in the spotlight lately—literally. In addition to Young Jeter's In-Detail space, Dallas Market Center recently opened a new 20,000-square-foot venue, Light + Design. "We are thrilled to have launched our groundbreaking new lighting collection at the Dallas Market Center during Lightovation," David Gooding, co-founder of Juliska, a lighting brand in the venue, tells BOH. "The response from designers and lighting specialists was very strong."
Circa Lighting will also queue up three new showrooms this year: Its Scottsdale, Arizona, spot will open in March, followed by spaces in Austin, Texas, and Denver. "There is a high demand for beautiful design and quality craftsmanship to be celebrated in the home," founder and president Gale Singer tells BOH. "In every market, designers and homeowners share our passion for great design—we look forward to cultivating new relationships and broadening our customer presence."
At Jamie Young Company, growing in square footage is a key component of scaling the business. The extra space is crucial, giving them more room to show the product, including a suite of wall sconces and chandeliers that debuted this year, and which have became its fastest-growing categories. The couple considers showrooms one-third of their marketing strategy; the other two key elements are social media targeting and a robust network of road reps. (The company has 80 new salespeople across the country.) "In the last few years, we as a company have made a lot of changes, and we are now in serious growth mode, tripling our staff," says Young Jeter. "We grow by making the showrooms look spectacular, making sure our product is relevant and having a strong sales force."
The Loyal Homebody
Sometimes the demand for a company's product forces it to grow. Richmond, Virginia–based outdoor furniture company McKinnon and Harris recently relocated its headquarters to a building twice as large, which includes the brand's first local showroom. "We built the new showroom with the idea that we would make [the headquarters] a destination," says marketing manager Fenton Crowther. "We have clients all over the world, and we wanted to draw people here to let them see how the showroom works."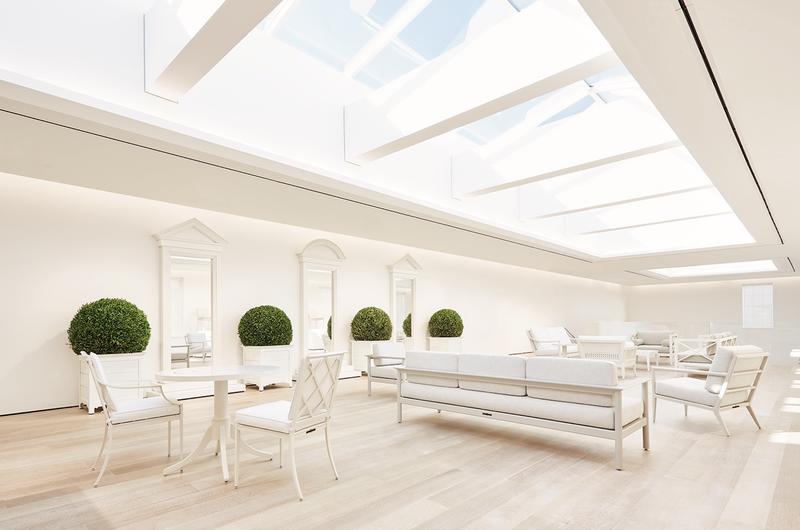 The new headquarters deepens the brand's Richmond roots, where the company was founded in 1991; the local showroom complements outposts in New York, Los Angeles and London. Five thousand of the 65,000-square-feet in the former World War II-era morgue is now dedicated to showroom and office space, all topped with a humongous skylight to shine as much natural light on the outdoor furniture as possible. The remaining space is reserved for what the brand's high-performance aluminum coating system—an attraction in its own right for the company's devotees.
The Foster Parent
The motivation to expand a showroom is often as simple as projecting that more space will improve the brand's odds of success. Adding more than 3,000 square feet to its showroom at TheMart in Chicago allows local flooring company Watson Smith to feature its latest collections and the boundless opportunities to customize its products. Watson Smith will also showcase product from partnerships with companies new to TheMart, like New York–based textiles and flooring manufacturer Chilewich Contract. "As one of the longest-running tenants at TheMart, our showroom features an extensive selection of stocked and custom products," says Watson Smith owner Nick LaCalamita. "More space means more opportunity for designers to be inspired and find what's right for their projects."