A-list celebrities issued their fair share of apology videos in recent weeks—but for some, their carefully curated residential backdrops tell the real story. Stay in the know with our weekly roundup of headlines, launches, events, recommended reading and more.
Business News
By next year, any building larger than 25,000 square feet in New York will face stiff penalties for excessive greenhouse gas emissions: $268 for every metric ton of carbon dioxide above the limit, The New York Times reports. Studies estimate the measure, part of Local Law 97, could amount to $200 million per year in penalties for some buildings, and up to $900 million by 2030 as stricter caps kick in through the tiered system. The city is not alone in enacting new guidelines to curb emissions: This year, 147 bills to cut carbon emissions from buildings were introduced in 24 states, according to the National Caucus of Environmental Legislators, signaling a broader effort to curb the nearly 40 percent of global carbon dioxide emissions produced by buildings.
Mitchell Gold + Bob Williams is asking a bankruptcy court to allow customers to retrieve the products they paid for prior to the company's Chapter 11 filing, Home News Now reports. The company estimates that about $6.5 million worth of products is being held at third-party warehouses, while $17 million in products is sitting at the company's North Carolina manufacturing and distribution facilities. According to the new filing, due to MG+BW's pre-petition cash crunch, logistics providers have refused to arrange delivery. The company's new motion requests that the court allow customers to pay to have their products returned or to pick them up at the company's facilities. The company did not respond to HNN's request for comment.
The Art Institutes system abruptly announced last week the permanent shutdown of its eight remaining colleges—in Miami; Atlanta; Austin; Dallas; Houston; San Antonio, Texas; Tampa, Florida; and Virginia Beach, Virginia—effective September 30, Higher Ed Dive reports. The news came as a shock to faculty and students, who received an email last week citing the pandemic's impact on schools with "hands-on and equipment-intensive programs" for the college chain's closure. Once a network of dozens of colleges offering curricula in fine arts, fashion and interior design, The Art Institutes system began reducing its footprint in recent years in response to low enrollment, legal issues and financial instability. Following the closure announcement, the system's site now states that it is working with partners to ease transfers for former students.
A recent study conducted by physicians from University of California Los Angeles and San Francisco underscores the grave risks posed to workers who cut and polish slabs of engineered stone, frequently incurring a deadly disease called "silicosis," the Los Angeles Times reports. Though the disease has existed for centuries, the rising prevalence of engineered-stone countertops—which have higher concentrations of silica compared to natural stone—has driven up rates of the affliction, which happens when dust from the stone builds up in the lungs and causes scarring, eventually leading to lung failure. In California's San Fernando Valley, silicosis is rising among the community of largely Latino immigrants who make up the local fabrication industry hub, with the study finding that among dozens of workers who contracted silicosis, nearly a fifth had died—at a median age of 46. Workplace safety regulators are now attempting to draft emergency rules to protect workers, while Los Angeles County is exploring a ban on the sale and installation of engineered stone entirely.
Sustainable businesses may have a leg up on the competition when it comes to the next generation of consumers, according to a new study conducted by researchers at Harvard Business Review. Surveying more than 350,000 U.S. customers aged 18 to 98, the group found that when Gen Z and millennial consumers believe a brand cares about its environmental impact, they are 27 percent more likely to purchase from it compared to older generations. In the next few years, companies could begin to feel the effects of consumers' shifting sentiments: Forecasting experts predict that the purchasing power of millennials and Gen Z will surpass boomers around the year 2030.
California Gov. Gavin Newsom signed an executive order designed to keep insurers—and by proxy, residents—from leaving the state in the wake of rising claims driven mainly by the increased occurrence of wildfires, The Center Square reports. After State Farm and Allstate announced that they would stop insuring new customers in the state, S&P Global reported that the move would increase housing costs, exacerbating the already high cost of living in the state and potentially prompt more residents to relocate. In citing their reasons for leaving, insurers say the state prevents them from raising their rates quickly enough to cover their losses from property claims, and fire insurance claims in particular; in response, Newsom's executive order instructs the California Insurance Commissioner to improve the rate approval process for insurers.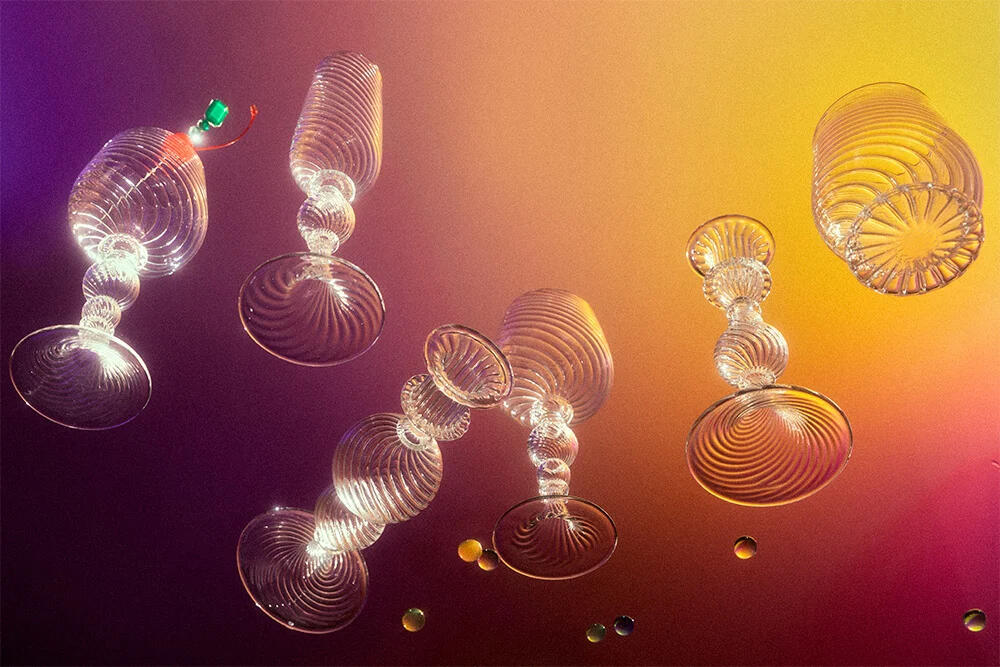 Launches & Collaborations
French tableware company Christofle debuted its first glassware collection, Tourbillon, in collaboration with Lebanese glass artist Alya Tannous. In creating the new line, Tannous incorporated swirling lines and bulbous forms blown by hand, ultimately producing an assortment of six styles: red and white stemmed wine glasses, a champagne flute, a water glass and two heights of candlesticks, which also double as bud vases.
DIY and design influencer Drew Michael Scott of Lone Fox Home teamed up with Desenio for a collection of prints inspired by Scott's Transforming Spaces video series. Spanning hand-painted still lifes, abstract painting and line art, the resulting collection includes 12 prints that Scott plans to incorporate into his own home, demonstrating how wall art has the ability to re-imagine a space.
Recommended Reading
Kelly Wearstler has long been one of the biggest names in the design industry, beloved for an aesthetic that seems to transcend traditional boundaries. For The New York Times, Jessica Testa checks in with Wearstler ahead of the debut of her upcoming book Synchronicity, attempting to define her enigmatic style—while for her part, the designer shares a glimpse of what's currently catching her eye, including the emerging uses for AI in design.
The Writers Guild of America reached a deal with studios on a new contract earlier this week following a grueling monthslong strike that forced many industry members to get creative about their sources of income. For some, the design world provided the perfect temporary solution. As Adriane Quinlan writes for Curbed, many took up design jobs during the long interim: Prop fabricators became furniture-makers, set decorators took on traditional interiors, and various painters and builders of temporary scenes also turned their attention to real-world design. Now, even after the strike's end, some are deciding to make the switch permanent.
Cue the Applause
Dallas Market Center and creative home furnishings network ART announced that Maria Mullen, chief executive officer of Hubbardton Forge, will receive the Academy of Achievement honor at the 34th annual ARTS Awards, set to take place on January 12, 2024, during the annual Dallas Total Home & Gift Market. In addition to Mullen, dozens of honorees across several categories—including retailers, manufacturers, designers and sales representatives—will also receive recognition at the upcoming event. For the full list of winners, click here.
Call for Entries
The Kitchen & Bath Industry Show is now accepting submissions for speakers at its 2024 NextStage event, which brings together industry professionals through panels, discussions, awards and competitions. Potential speakers should possess an original point of view on a subject, along with strong storytelling skills and an understanding of the industry. Themes for next year's event include wellness, sustainability, technology, and business and trends. To submit an application before the October 13 deadline, click here.
In Memoriam
Jan MacLatchie, a veteran brand strategist in the interior industry, passed away earlier this month at the age of 65. A native of Bucks County, Pennsylvania, MacLatchie got her start in the design world when she joined the team at Artistic Tile in 1999. In the years to follow, she rose through the company's ranks to eventually become chief strategy officer, before departing to launch her own brand strategy firm in 2009. For nearly 15 years, MacLatchie solidified her place as an industry leader, consulting for a variety of lauded brands such as Crypton Fabric, Holiday House, Chris Burch, Joseph Carini Carpets and Well-Designed. Friends and colleagues remember MacLatchie for her ability to see the potential in emerging designers and artisans, helping them make their vision a reality for the betterment of the industry at large. "Above all, she was an incredible light—and helped mine shine brighter," Caleb Anderson, designer and co-founder of Well-Designed, shared in a statement.
Homepage image: Drew Michael Scott and Desenio have teamed up for a wall art collection | Courtesy of Desenio