In our series, What I Love, we're asking designers to build us a mood board of what's inspiring them right now.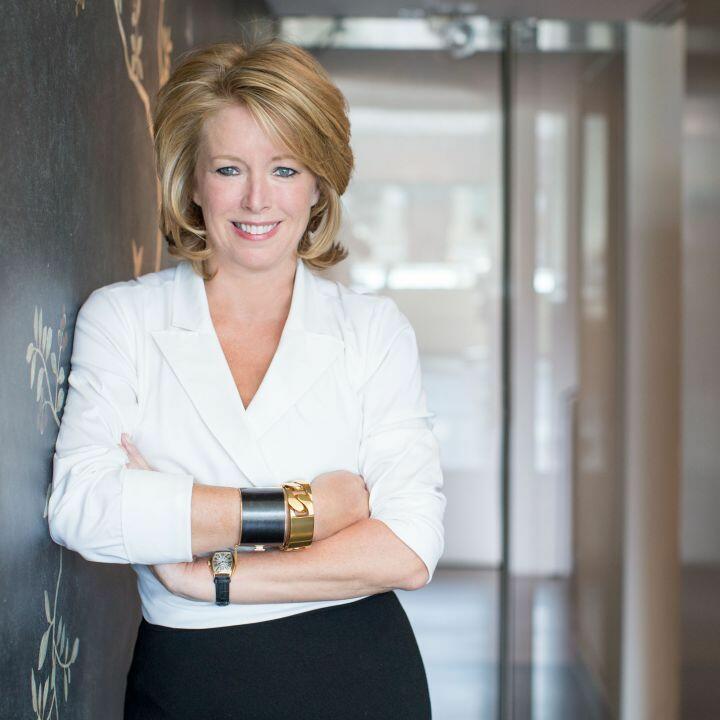 Courtesy of Jessica Lagrange Interiors
Jessica Lagrange favors simplicity over elaboration. The Chicago-based designer gravitates toward clean-lined forms in deep earth tones to create understated spaces that exude sophistication.
Her current mood board—which she describes as a "culmination of favorite things"—offers a compelling case in point. Inspired by the design of her own home, Lagrange employed a symphony of precious fibers, metals and stones to craft a "dark and sexy" scheme. "For me, luxury is all about simplistic forms with one-of-a-kind materials and finishes," she tells Business of Home. "These items tell a story with their texture, hand and unique patina."
The final design features a blend of rich neutrals and touchable surfaces, punctuated by the occasional zip of a bold—yet natural—motif. "Each item in the flat lay has a connection to nature," she says. "I find elegance in organic beauty."
Here, Lagrange breaks down the details, from olive-hued silk rugs to pink shagreen decor accents.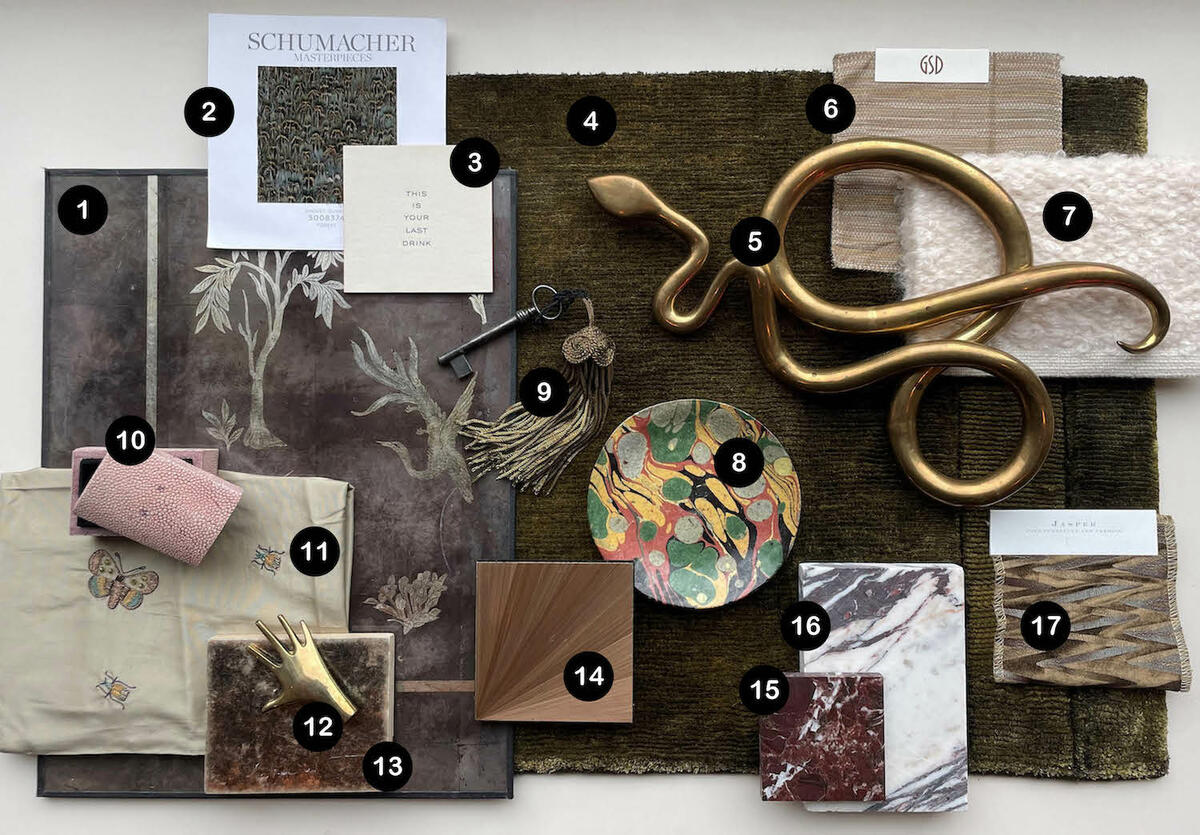 Courtesy of Jessica Lagrange Interiors
1. VERRE ÉGLOMISÉ SAMPLE BY GORMAN STUDIOS INC.
"This traditional French technique is a favorite artisanal element I love to include in all my projects, whether it be inset in paneling or atop a table."
2. SMOKY QUARTZ WALLCOVERING IN FOREST BY SCHUMACHER
"This special paper makes a statement no matter what the application."
3. VINTAGE COASTER BY MRS. JOHN L. STRONG
"A cheeky coaster is the perfect addition to your next cocktail party."
4. VINTAGE WASH SILK RUG IN OLIVE MUSK BY ROSEMARY HALLGARTEN
"The depth and richness of color, along with its luxurious hand, make this the perfect stage for any space."
5. ANTIQUED BRASS SNAKE SCULPTURE BY JAYSON HOME
"I love a serpent form, and this solid brass accessory is fun to interject on to any coffee table, or even atop a piece of art."
6. ANGELICA FABRIC IN HONEY BY GEORGE SPENCER DESIGNS
"This silky, striped fabric by George Spencer Designs is rich, warm and has just the right amount of shine."
7. ALPACA BOUCLE PILLOW IN WHITE BY CÔTE À COAST
"This pillow is the epitome of softness. There's nothing better to cozy up to."
8. GREEN YELLOW & RED MARBLE SAUCER BY JOHN DERIAN
"With its swirling pools of red and yellow and glistening shine, these marbleized plates are a chic way to spice up your tabletop."
9. DARK GOLD METALLIC BULLION METALLIC TASSEL BY TINSEL TRADING
"What can I say, I love a tassel—especially a vintage bullion metal one such as this."
10. PINK SHAGREEN BOX BY CREEL AND GOW
"With its distinctive pebbled texture and pink hue, this shagreen box by Creel and Gow brings an unpredictable luxury to any space."
11. BUGS, BUTTERFLIES & LEAVES WITH JEWELS FABRIC BY CHELSEA TEXTILES
"I love all things flora and fauna, and this gold bullion embroidered fabric from Chelsea Textiles is a great way to bring metal, silk and my favorite motifs together."
12. BRASS HAND PAPERWEIGHT BY CARL AUBÖCK AT ABASK
"We love that this whimsical paperweight is always ready to lend a hand! A perfect accessory to layer on top of a small book."
13. AMBER MICA SAMPLE FROM THE TRIBUTE MIRROR BY ALEXANDER LAMONT
"This is the perfect way to bring in a sophisticated shimmer and luminescent quality to any room."
14. STRAW MARQUETRY FINISH SAMPLE BY JALLU
"Originally known as the 'poor man's gold,' this finish is anything but lackluster. The versatility in color, pattern and form allows for limitless design possibilities."
15. ROSA LEVANTO EMERALD CUT MARBLE BOX BY CB2
"I love the hues of deep red and bold white veining in this marble box."
16. CALACATTA VIOLA MARBLE SLAB BY ARTISTIC TILE
"A dramatic aubergine and white marble with rich veining and deep texture. I love it so much that I've used it in my own kitchen."
17. ZIG ZAG STRIPE FABRIC IN NUTMEG BY JASPER FABRICS AT MICHAEL S SMITH INC
"This subtle geometric pattern is my favorite 'bridge' fabric, as all of the colorways offered have interesting combinations."
Homepage photo: A flat lay by Jessica Lagrange | Courtesy of Jessica Lagrange Interiors