In our series, What I Love, we're asking designers to build us a mood board of what's inspiring them right now.
Make no mistake: Jenny J Norris is a minimalist. The New York designer elevates earthy hues and organic finishes to an art form in her understated interiors.
The designer's nuanced approach to tactile textiles is evident throughout her current mood board, which showcases an array of artisanally crafted accents made of raw materials such as sisal, wool and paper yarn. "I'm drawn to neutral tones and subtle textures, and I believe minimalism in design can still feel warm and layered," she tells Business of Home.
The final flat lay offers an airy mix of natural colors and delicate fabrics grounded by a sumptuous sprinkling of wood and stone pieces. "Traditional Japanese interior and exterior design is a constant inspiration for me," she says. "This scheme holds the right amount of restraint and feels balanced and tranquil."
Here, Norris breaks down the details—from unglazed tiles to grayscale wall murals.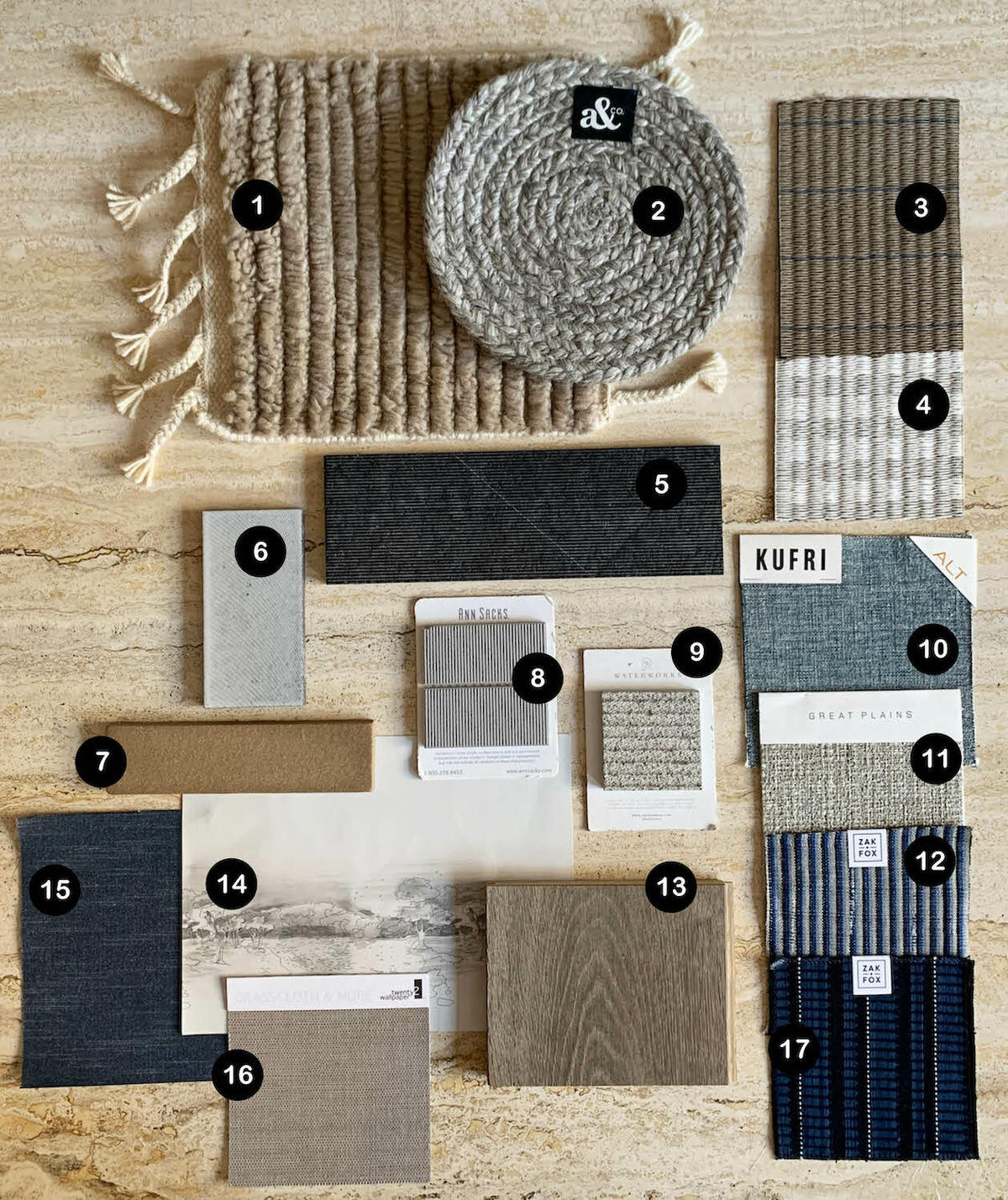 Courtesy of Jenny J Norris Interiors
1. MALAWI RUG IN OATMEAL BY ARMADILLO
"I love this rug for its simplicity. The ribbed pile offers the right amount of texture to keep things interesting. Plus, it's incredibly soft to the touch."
2. BRAID RUG IN PUMICE BY ARMADILLO
"This option from Armadillo elevates the rather traditionally laid-back braided, circular rug. I would love to see this in an entryway paired with a round stone table and some sculptural branches in a vase."
3., 4. LINE IN NUTRIA-GRAPHITE AND CITY IN STONE-WHITE PAPER YARN RUGS BY WOODNOTES
"Paper yarn rugs that don't collect dust and look perfectly minimal are meditative additions to any space."
5. MOSMOMI TILE IN MIDNIGHT BY CANCOS TILE AND STONE
"In a powder room, I like to embrace some moodiness. This honed, ribbed tile as a backsplash paired with a dark stone sink feels sleek."
6. MAGMA FIELD TILE IN ZINC CRACKLE BY WATERWORKS
"Natural lava stone created from a volcanic eruption are part of this tile's story, and I love that. Also, the irregularity of its pitted surface is subtle but visually interesting."
7. UNGLAZED HANDMOLD TILE IN GREY FLASHED BY SENECA TILES
"My designs can feel airy, so a hand-made tile in an earthy tone feels grounding."
8. RAKE MOSAICS TILE IN FOUNDRY BY ANN SACKS
"The delicacy of the ribbing and speckled surface evokes the beauty of a Japanese rock garden."
9. KEYSTONE DECORATIVE FIELD TILE IN MONTEREY FABRIC BY WATERWORKS
"Rugged and almost brutalist feeling, I love this tile when offset with warm oak wood finishes."
10. RAW SOLID FABRIC IN DENIM BY KUFRI
"A denim blue fabric acts as a neutral in my design book, so using this for just about anything doesn't feel like an unpalatable 'pop of color' in a space."
11. GRIDLOCK FABRIC IN GOLDEN GREY BY HOLLY HUNT
"I love this upholstery for a sofa. It's a lovely shade of greige, and its nubbiness creates visual variation. At 100,000 Wyzenbeek double rubs, the durability factor is covered."
12. DIAVOLO FABRIC IN NO. ZFDV-01 BY ZAK+FOX
"Historically, stripes were known as the 'devil's cloth,' and this blue stripe feels storied, not stiff. I love this for a masculine, vintage ottoman."
13. EURO OAK DELHI WOOD FLOOR SAMPLE BY LV WOOD
"Wide plank flooring feels anchoring, and LV Wood in a matte finish is a stunning choice."
14. CUSTOM WALLPAPER BY THESE WALLS
"This custom wallpaper by These Walls is ethereal and dreamy. Most recently, I used a landscape mural in a powder room, and it's just so cool."
15. SERENADE WALLCOVERING IN DENIM BY WOLF-GORDON
"While I'm a steadfast believer in the perfect shade of white paint, I do love wallcoverings. This option by Wolf-Gordon relates to my larger collection of products with its subtlety in texture."
16. SISAL GRASSCLOTH WALLCOVERING IN PALLADIUM BY TWENTY2
"My mother-in-law's grass-cloth-swathed home turned me on to the world of natural wall coverings. This sisal option in Palladium adds richness to your wall in an understated way."
17. OYO FABRIC IN NO. ZFOY-03 BY ZAK+FOX
"This Japanese-inspired textile is beautifully intricate and adds the right amount of color and pattern to this overall neutral palette. The heavy-duty upholstery makes for a handsome armchair."
Homepage photo: A flat lay by Jenny J Norris | Courtesy of Jenny J Norris Interiors