In our series, What I Love, we're asking designers to build us a mood board of what's inspiring them right now.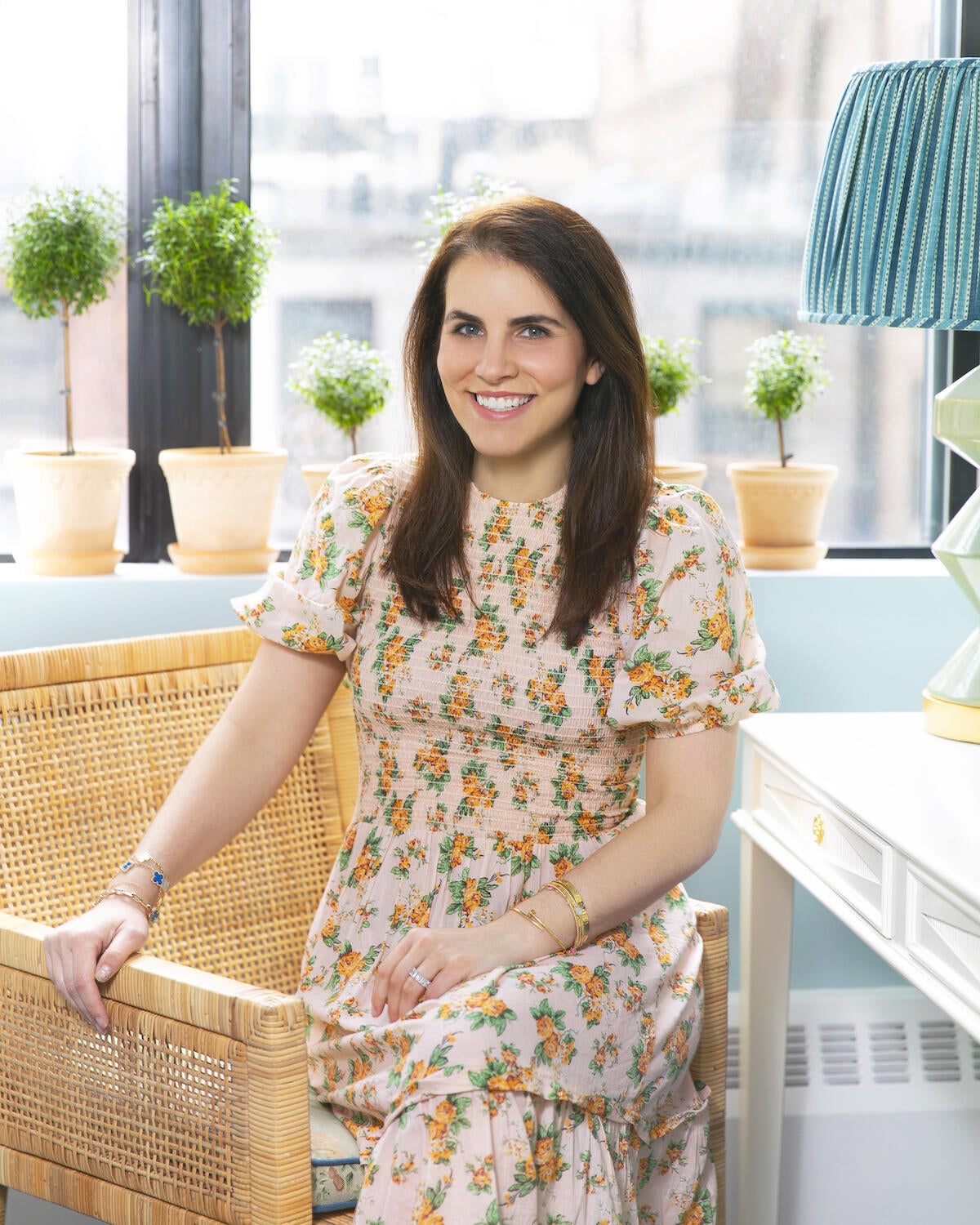 Courtesy of Jennifer Hunter Design
Jennifer Hunter prides herself on crafting sophisticated yet livable spaces. The New York–based designer (who once interned for the late Albert Hadley) strives to create warm, welcoming interiors with plenty of comfort and character.
Her current mood board—brimming with rich earth tones and energetic graphic patterns—is no exception. Designed with a client's breakfast room in mind, Hunter drew inspiration from a floral block print by Namay Samay while crafting the vibrant palette. "I picture using the fabric for airy cafe curtains," she tells Business of Home.
The final scheme offers a harmonious blend of traditional prints punctuated by antiqued finishes, organic materials and saturated hues. "The mood is playful and inviting," says Hunter. "It's the perfect room to start your day in."
Here, she breaks down the details, from Oscar de La Renta earrings to a crystal good luck charm.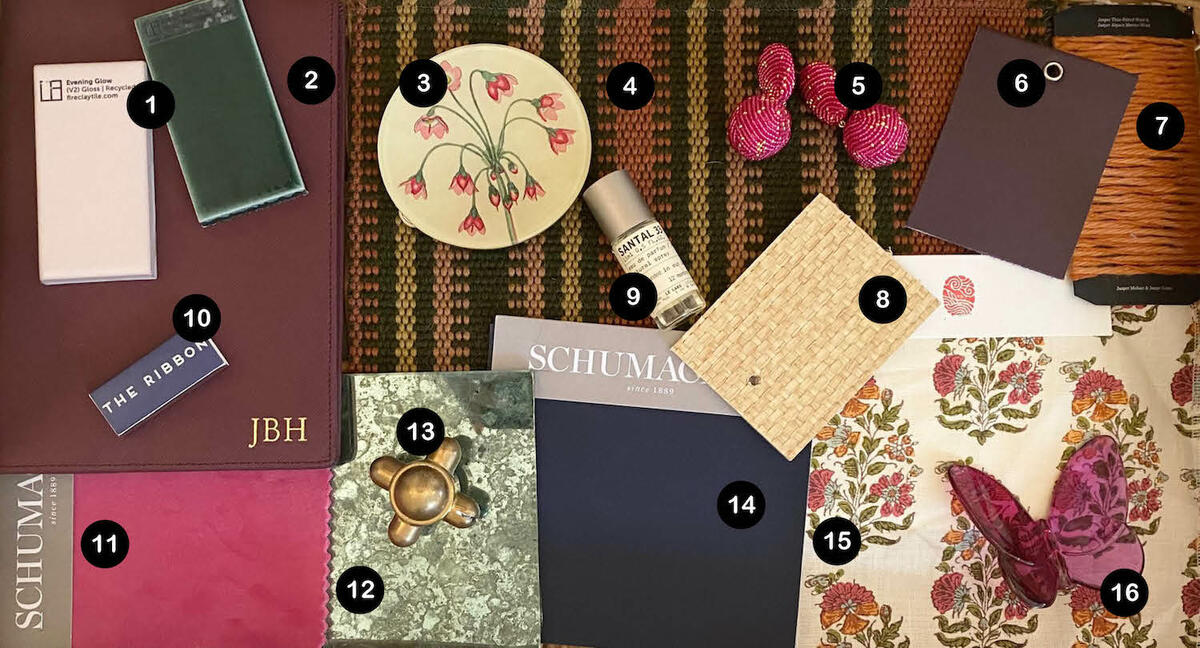 Courtesy of Jennifer Hunter Design
1. EVENING GLOW AND EVERGREEN TILES BY FIRECLAY TILE
"I love the glossy sheen of these tiles, and the dimension they add to any space."
2. A5 SAFFIANO LEATHER NOTEBOOK HOLDER BY THE DAILY EDITED
"A leather-bound notebook is always the perfect accessory. I take it everywhere with me and jot down everything from site notes to grocery lists."
3. CORTUSA MATTHIOLI ROUND PLATE BY JOHN DERIAN
"The element of craft in a space is so important as you can really feel the hand in the work."
4. NEWPORT 5 RUG BY FLEETWOOD FOX
"Every space needs a stripe, and this one has the most divine color palette."
5. VINTAGE OSCAR DE LA RENTA EARRINGS
"I find inspiration in the fact that you can dress anything up with a statement piece."
6. CALEDONIAN LEATHER IN PURPLE BY HOLLY HUNT
"I love adding one unexpected color to the mix to keep the palette fresh."
7. ARRASTRA 349 RUG IN SAFFRON BY MERIDA
"The dyed natural fibers in this rug add so much depth to the design."
8. NATURAL RAFFIA SURFACE SAMPLE BY OOMPH
"This organic material is the perfect counterpart to the luxurious velvet, and together they create the perfect balance of textures."
9. SANTAL 33 EAU DE PARFUM BY LE LABO
"This is one of my all-time favorite scents. I love the different notes of violet, cardamom, iris and sandalwood."
10. MATCHBOX BY THE RIBBON NYC
"Our favorite little neighborhood spot for dinner with the kids."
11. GAINSBOROUGH VELVET FABRIC IN RHODODENDRON BY SCHUMACHER
"A pop of color adds vibrance to the design scheme."
12. SERGE MIRROR SAMPLE BY JASPER BY MICHAEL S SMITH INC
"An antique mirror adds both a patina and reflective quality to a room."
13. BRASS APPLIANCE KNOB BY LACANCHE
"I like to think of these knobs [available for Lacanche's kitchen ranges] as jewelry for your kitchen. The beautiful aged brass and shape of the knob add so much character to the space."
14. INDOOR/OUTDOOR VEGAN LEATHER IN NAVY BY SCHUMACHER
"This is our go-to leather as it is not only highly durable, but also cruelty-free."
15. KAMALA FABRIC IN JAIPUR BY NAMAY SAMAY
"I imagined this floral block print as the hero fabric in the space. I love a stylized floral motif on everything from pillows to an armchair."
16. PAPILLON LUCKY BUTTERFLY IN PEONY BY BACCARAT
"Every space needs one good luck charm, and this is it."
Homepage photo: A flat lay by Jennifer Hunter | Courtesy of Jennifer Hunter Design