In our series, What I Love, we're asking designers to build us a mood board of what's inspiring them right now.
Jen Samson doesn't need to look far for design inspo. The designer's Laguna Beach, California–based studio sits directly across from the Pacific Ocean, providing a front row view of the seascape and all its splendor. "It supplies endless inspiration," she tells Business of Home.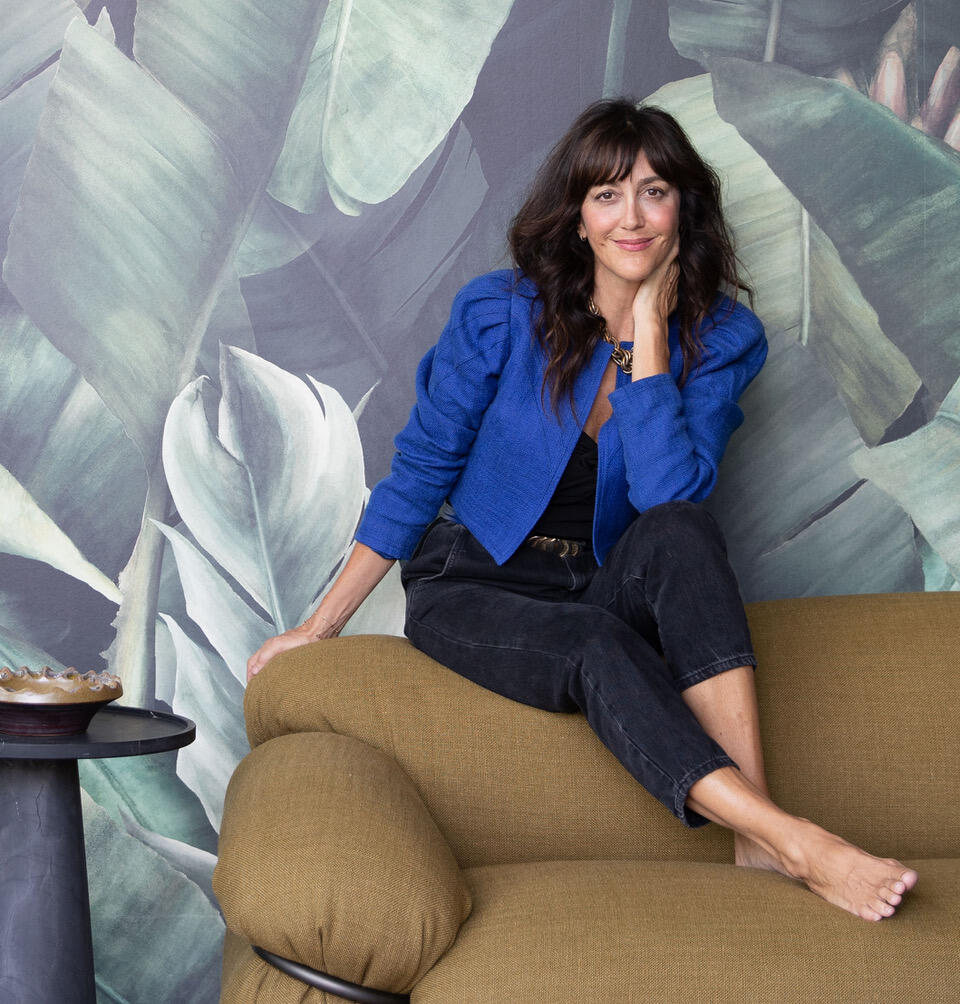 Currently hard at work on a residential project in the area, Samson's current mood board draws from the hues and textures of the landscape. "The client's home sits atop a lush hillside with spectacular ocean views and boasts the classic style of a Hamptons summer home," she says. "Pulling from both coasts, the flat lay mixes a playful blue-green and terra cotta palette, with earthy and organic elements mixed in."
The final scheme reads equal parts sophisticated and free-spirited, teeming with oceanic sprays of deep blue and seafoam green anchored by beachy neutrals. "Summer is finally here, and we are definitely feeling the utterly chic and carefree lifestyle that both Laguna Beach and the Hamptons are known for," says Samson.
Here, she breaks down the details—from painterly wallpaper patterns to solid brass pulls.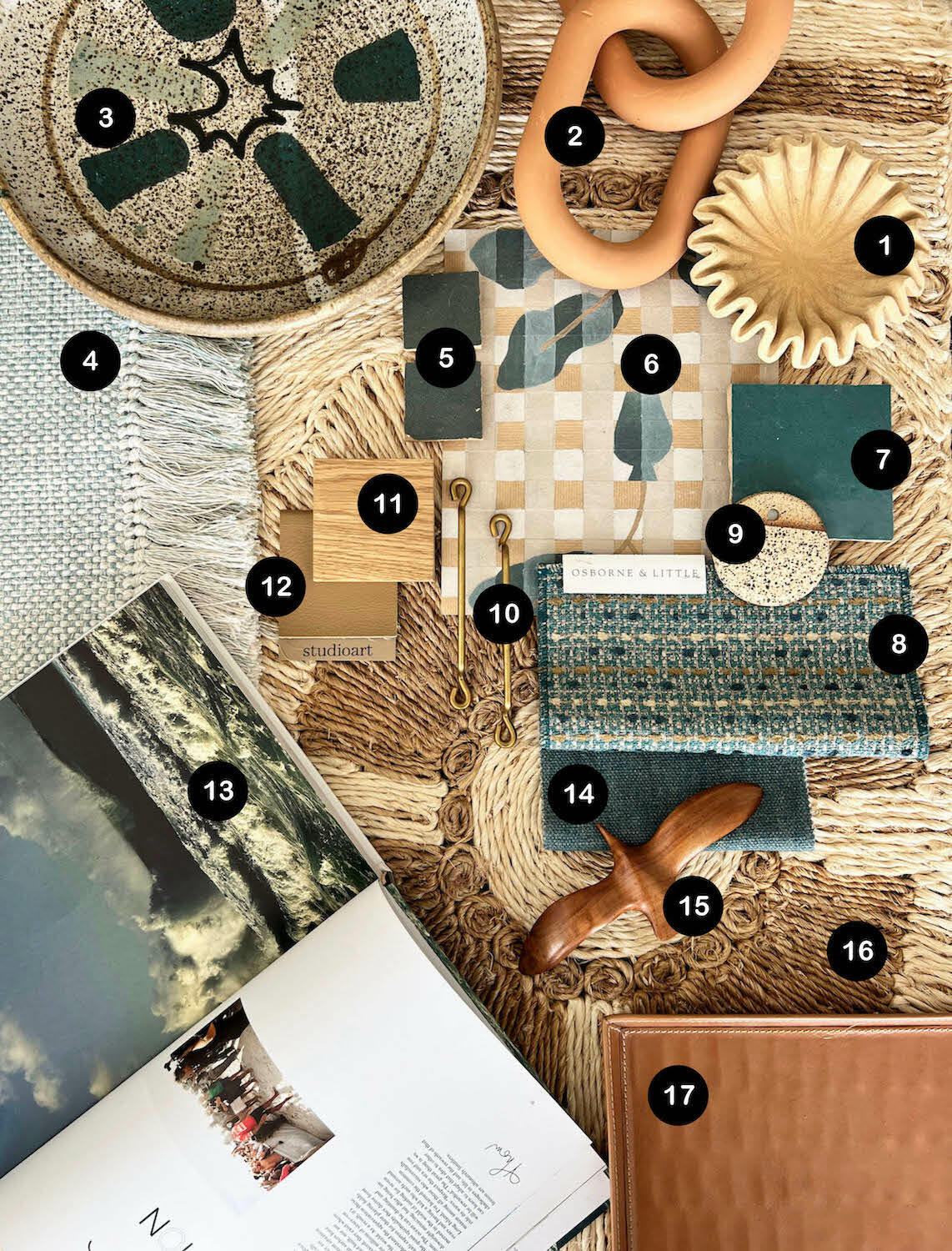 Courtesy of Jen Samson Design
1. RUFFLED MARBLE BOWL BY HANDICRAFT ARTISAN AT ETSY
"Finding and hunting for artisans on Etsy is definitely a favorite pastime. This fun dish comes all the way from India and adds a worldly element to the design."
2. TERRA COTTA CHAIN LINK BY DEAR KEATON
"A fun and playful accent, like a terra cotta or marble chain link, adds dimension to a tabletop or bookshelf."
3. VINTAGE BOWL
"The speckled finish and hand-painted pattern on this large vintage dish reminds me of the surf and the sand. Vintage and collected accessories are such a fun and easy way to bring originality to a space."
4. FADE AWAY FLATWOVEN RUG IN CERULEAN BY PERENNIALS
"I love the fringe and the indoor feel of this incredible outdoor rug—it adds great texture."
5. ZELLIGE TILE IN TEMPERED STEEL BY CLÉ TILE
"I really gravitate toward the organic feel of zellige tile. I think it adds such texture and interest in a way that keeps the space from feeling sterile or too 'new.'"
6. RUE JACOB WALLPAPER IN SEINE BY WAYNE PATE FOR STUDIO FOUR NYC
"Artist Wayne Pate is known for his playful take on traditional motifs, and in true form, his collection of wallpapers is exactly that. This particular paper is so joyful, and [I love] the painterly quality of his wallpapers and prints."
7. GLACIER BLUE ZELLIGE TILE BY ZIA TILE
"The organic feel of this zellige tile—and how they lay uneven and show the hand-made rawness along the edges—is timeless. This type of tile gives the appearance from day one that it has been there forever."
8. LAVENHAM FABRIC IN F7760-03 BY OSBORNE & LITTLE
"I adore this tweed fabric from Osborne & Little. It has many of my favorite upholstery elements—it's colorful, has a slightly nubby texture, and, most importantly, is super soft."
9. SPECKLED STONEWARE SAMPLE BY RORY POTS
"Pulling again from the beach scene that is right outside our studio window, the speckled ivory finish found on Rory Pots lighting is perfect."
10. WENDEL WIRE PULLS IN BRASS BY LOSTINE
"These solid brass wire pulls are so simple and elegant. They are the perfect way to add a touch of golden shimmer to any custom cabinetry."
11. NATURAL OAKWOOD SAMPLE BY SHOPPE AMBER INTERIORS
"I like to use oak to bring lightness and brightness to our clients' homes. There is something so warm and welcoming about this wood sample from Shoppe Amber Interiors in its near natural state. It is a go-to for easy California living."
12. CITY LEATHER IN SAND BY STUDIOART
"I love using leather for upholstery, especially on chairs, where it can age and really be worn over time, showing patina. That is the beauty of this natural material."
13. WAVES: PRO SURFERS AND THEIR WORLD, BY THOM GILBERT
"Referencing not only design books but also travel and lifestyle books of all kinds helps us visualize the vibe of any space we create."
14. TEMPERA FABRIC IN OTTANIO BY DEDAR MILANO
"Linen fabrics—especially in this gorgeous blue—add a refined yet casual element to nearly any design scheme."
15. VINTAGE WOODEN SEAGULL
"Vintage finds from anywhere and everywhere add character and charm. This beautiful little walnut seagull does just that and is so reminiscent of the coastline."
16. FOXTROT RUG IN NATURAL BY PATTERSON FLYNN
"I absolutely adore abaca fiber rugs for high-traffic areas like entries. Abaca is extremely durable and strong, softer than sisal, and Patterson Flynn weaves the material into the most elegant and fun patterns."
17. MARCEL DESK TRAY BY PIGEON AND POODLE
"Simple leather trays are easy to incorporate into almost any room as a place to collect smaller objects, keys, jewelry or just about anything."
Homepage photo: A flat lay by Jen Samson | Courtesy of Jen Samson Design