Around the country, Thanksgiving turkeys are being pre-ordered, cookbooks are getting dusted off and holiday menus are in the brainstorming phase. In other words: it's tabletop season. Just in time, this week is tabletop market at New York hub 41 Madison, and the building is welcoming new tenants Blue Pheasant, Eleven75 and Portugeuse sister companies Costa Nova and Casafina. We chatted with the newcomers to find out how they're liking their digs and what they're seeing in the market.
Blue Pheasant
The tabletop brand of the Ardmore Home family (parent company of Made Goods) is debuting its first standalone location in New York, and bringing its siblings along. Pigeon & Poodle (bath, frames and accessories) and Thucassi (candles and home fragrances) will also show in Blue Pheasant's eighth-floor location on the Madison Square Park-facing side of the building.
The showroom will be an opportunity to see how clients respond to a digitally robust brand IRL (Blue Pheasant sells extensively through Food52). "For texture, people absolutely need to come in and feel for themselves," says Pamela Burke, global sales director, pointing to some of the brand's more tactile pieces, like hair-on-hide coasters or placemats. "And for glassware and flatware, the weight of the pieces is important too."
Blue Pheasant is also hoping that a multi-brand, multi-category showroom will be a draw, and help it stand out from its neighbors—a place for designers to put all the finishing touches on a project, not just stemware. "Blue Pheasant is a young brand in the Tabletop market that isn't restricted to heritage confines, we present always what inspires us," says co-founder Chris DeWitt. What's inspiring them these days? "Warm and inviting styles without fussiness," says Burke.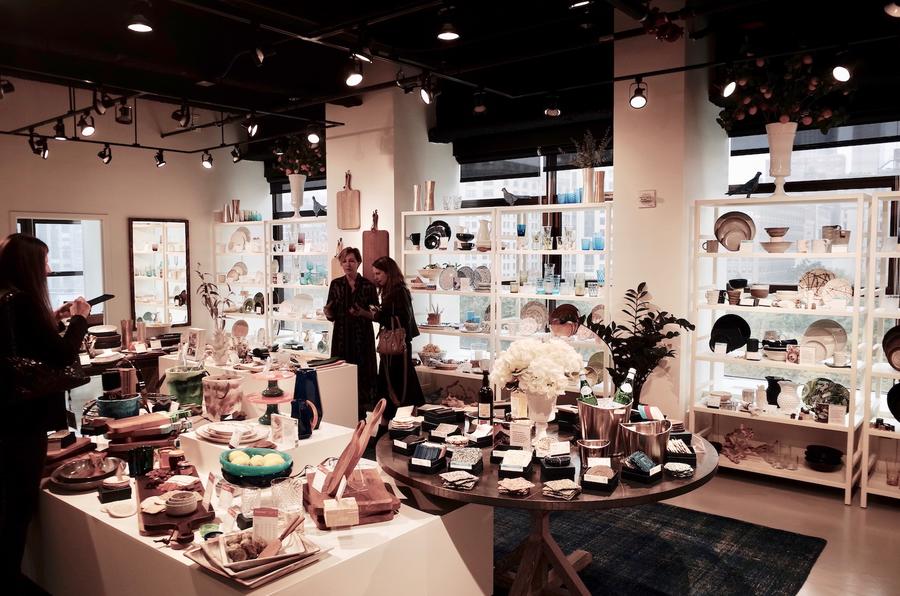 Eleven75
New home group Eleven75 is formally debuting its selection of serving and dinnerware in a new 10th-floor showroom this market. Their showpiece isn't a plate, bowl or spoon, but rather a method. "We're debuting collections featuring a new digital printing technology that is virtually limitless in its color and design capabilities," says Corrie Murphy, general manager.

As for overall trends, Murphy says pink is still the new neutral, and botanicals and globally inspired patterns are in. On its way out? "While we are still seeing a lot of reactive glazes, we feel this is a trend that is oversaturated," she says.
Costa Nova & Casafina
These Portugeuse tabletop brands have moved into 41 Madison as part of a larger play to grow their hospitality businesses in the states. For their first physical location in New York, they're rooming with Mepra, a move that that national sales manager Matt Hullfish tells BOH will allow the companies to test the viability of a showroom—without the risk of taking on a lease themselves.
Hullfish says that sustainability is in with his customers, especially the millennials and Gen Z'ers. To that end, Costa Nova has an eco-friendly stoneware collection, Plano, made from recycled materials. Also chic? Affordable price points. This market, Casafina is debuting a dinner plate that will retail for a company-low of $16.50.