For designers, brands and buyers alike, springtime is synonymous with High Point Market, the biannual trade show taking place this year from April 22 to 26. Since its founding in 1909, Market has continued to evolve, always offering compelling reasons for industry pros to make the return trip to North Carolina—or attend the event for the very first time. According to High Point Market Authority CEO Tammy Nagem, the motivation comes down to one indisputable fact: "Home furnishings have to be experienced in person. We all have a love affair with our home, and part of that is not only the touch and the feel of these items, but also the stories behind them," she says. "What High Point provides is the opportunity to get up close and personal with both the product itself and the people who created it, who can tell its story and the whys behind it, which can then be communicated to the end consumer."
A Market veteran of more than 20 years—the past 11 as COO—Nagem is newly at the helm of the event, succeeding Tom Conley, who retired at the end of 2022. Spring Market will be Nagem's first as CEO, but she has no grandiose plans to fix what isn't broken—instead, she's committed to refining the show's well-established formula for success. The Style Spotters program is taking a well-earned hiatus this April, coming back in the fall with brand-new faces and features. Separately, in partnership with the Diversity Advocacy Alliance, positive changes are underway to make Market more inclusive to the many diverse groups within the industry. But the show's primary focus remains the breadth and depth of product on display. This spring's footprint consists of 11.5 million square feet of showroom space, 2,000-plus exhibitors and a seemingly infinite list of launches. A robust agenda of seminars, tours and networking events rounds out the week.
With so much on offer and only so many hours in a day, first-time attendees may find themselves confounded by an embarrassment of riches, wondering which of the enticing options to choose. Which is why Nagem is helpfully outlining the smart way for High Point debutantes to do Market this spring, including the programming, keynotes and entertainment that will guarantee they get the most out of showing up. After all, it's in both parties' best interest: "We've found that if we can make it a frictionless experience the first time around, we'll have a guest for life," says Nagem.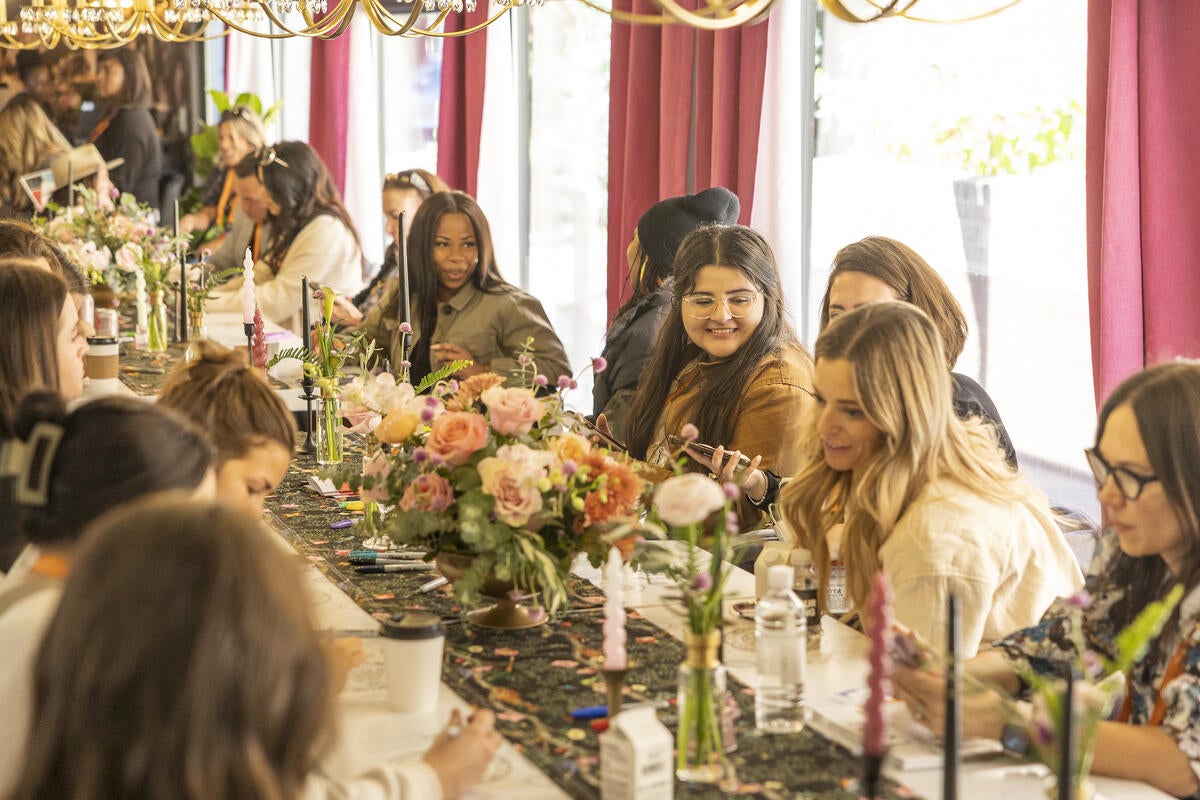 Courtesy of High Point Market
GOOD ADVICE—AND A GIFT BAG
To forge such long-term bonds, Nagem and her team have prioritized new buyer programming. During the registration cycle, every new buyer receives two phone calls from a Market advisor, ensuring they have a personal contact from the outset. These ambassadors from the show's concierge service help attendees plan their schedule and navigate the terrain. "They talk about the importance of making appointments and putting events in your calendar, but also leaving a little time for discovery," says Nagem. "New buyers often don't realize the value in just getting out and seeing what's here." To keep them from getting lost when they're wandering, the interactive MyMarket app works like a digitized pocket guide to High Point's seven districts, providing easy-to-follow maps and information about the free shuttle service.
On Friday, April 21, designer Marisa Wilson, who is celebrating her fifth anniversary as the authority behind The Cool Girl's Guide to High Point Market, is moderating a panel where she'll share what she's learned over the years. At The Point—the centrally located pop-up information center on Commerce Avenue—new buyer mixers on Friday and Monday night will give attendees a chance to chat over cocktails and hors d'oeuvres. "Market advisors will be on-site at The Point throughout the event, so if you have any doubts about your plan once you get on the ground, you can always stop by to ask for suggestions," says Nagem, adding that there's a surprise gift in store for those who do.
SUPERSTAR SPEAKERS, PLUS A FAMILIAR EMCEE
The Point is not just the place for newbies to score a mystery gift; in many ways it's the heart of Market, where sample-laden visitors can take a load off between showrooms, grab lunch and pick up a side order of insider tips. Freshly designed this spring, The Point will host daily discussions at 10 a.m. and 2 p.m. on topics ranging from antiques to textiles. "Friday afternoon through Wednesday, [there will be] roundtables led by influential voices, along with other networking opportunities," says Nagem. These include sessions on everything from wellness design to a primer on rugs and leveraging your professional photography, all of which are CEU-accredited. "Getting that education while you're here is another great benefit of Market," adds Nagem.
Moderated by Business of Home's own podcast host Dennis Scully, the keynote series in the High Point Theatre on Saturday will engage luminaries Joanna Gaines, Amber Lewis, Jean Stoffer, Julia Marcum from Chris Loves Julia, and Carrier and Company's Mara Miller and Jesse Carrier in a casual but necessary conversation about designing a business you love—and how to make sure it's also a business that lasts. "That will be an action-packed hour for sure," says Nagem. On Sunday, third-generation owners Ashley and Chad Stark of Stark Carpet and founders of Ashley Stark Home take the stage to discuss how they've balanced their family company's heritage with bold plans for the future. Anyone curious about launching a new venture while still managing their core brand should come prepared to take notes.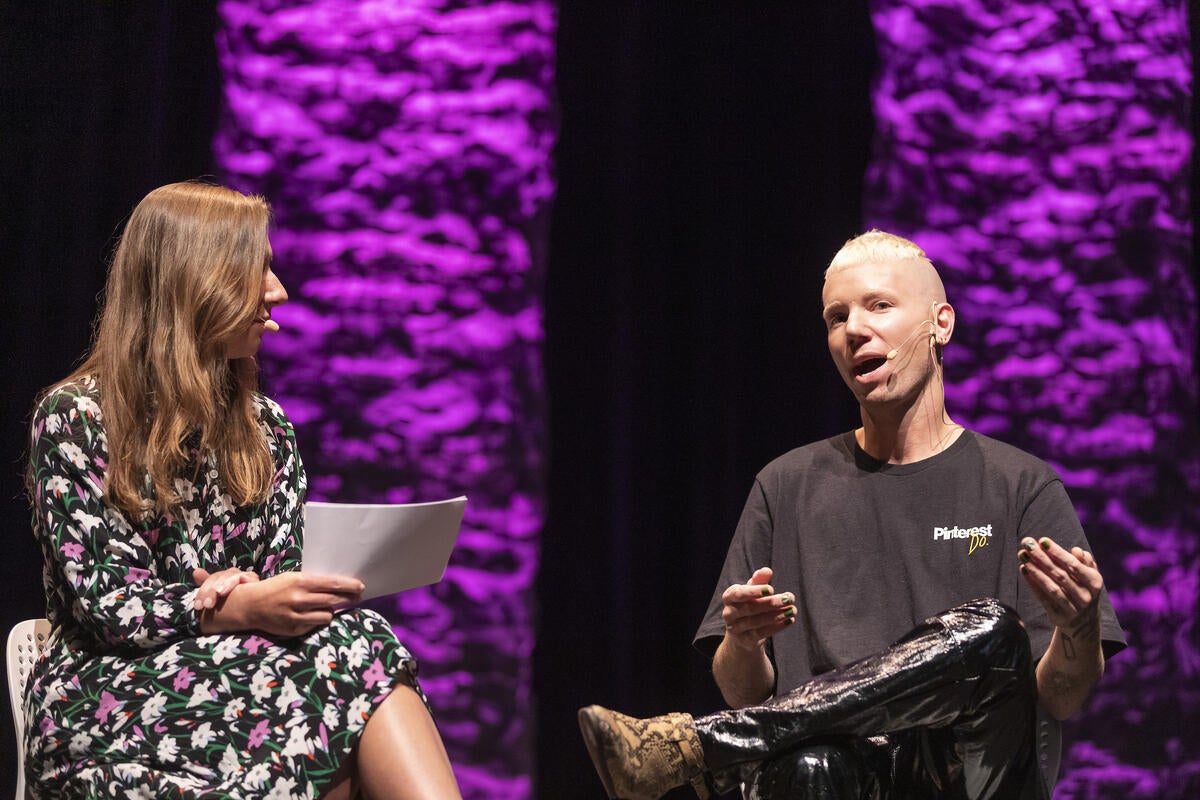 Courtesy of High Point Market
TOURS FOR EVERY TASTE
Leaving no collection or category unseen, High Point Market also offers a slew of curated tours. On Friday and Saturday, the Insiders tour will take first-time attendees through some of Market's best-known showrooms, introducing the businesses that anchor the industry. Saturday through Monday at 9:30 a.m. sharp, Hot Spot Tours led by such experts as Ariene Bethea, David Santiago and Toma Clark Haines visit showrooms in the antiques or hospitality space, including those of many Market stalwarts. For a more targeted look at the latest styles, attendees can choose from a trio of outings: Hourlong Suite Spot Tours explore of-the-moment pop-ups in Market Square; TrendWatch travels to three custom displays within IMC properties; and fast-paced Product Highlight excursions stop by classic showrooms and their collections. Ten lucky social media types (to be announced) will spend two days perusing sponsoring showrooms on the Influencers tour, then post about it afterward with a designated hashtag. Most notable, however, may be the Sunday premiere of the Diversity Advocacy Alliance tour. By centering showrooms that exemplify equity and inclusion in their business practices, this tour acknowledges brands that model how to bridge the divide between representation and acceptance industry-wide. "It will be led by DAA founding members Ashley Ross of Muse Noire Interiors and Victoria Sanchez of Victoria at Home, and it's part of the projects coming directly out of that committee," says Nagem, referring to the group formed to champion BIPOC talents within and beyond Market.
A LITTLE BIT COUNTRY, A LITTLE BIT R&B
After chockablock days of surveying showrooms, reviewing collections and placing orders, even the most indefatigable Market attendees will be ready to socialize and blow off some steam. For entertainment, Center Stage hosts R&B icons En Vogue on Saturday, followed on Sunday by contemporary country crooner Chris Janson. The concerts are a reminder that Market is always more than just meetings: It's a communal moment for the entire home design industry to pause, take stock and enjoy each other's company. "There's something here for everyone," says Nagem.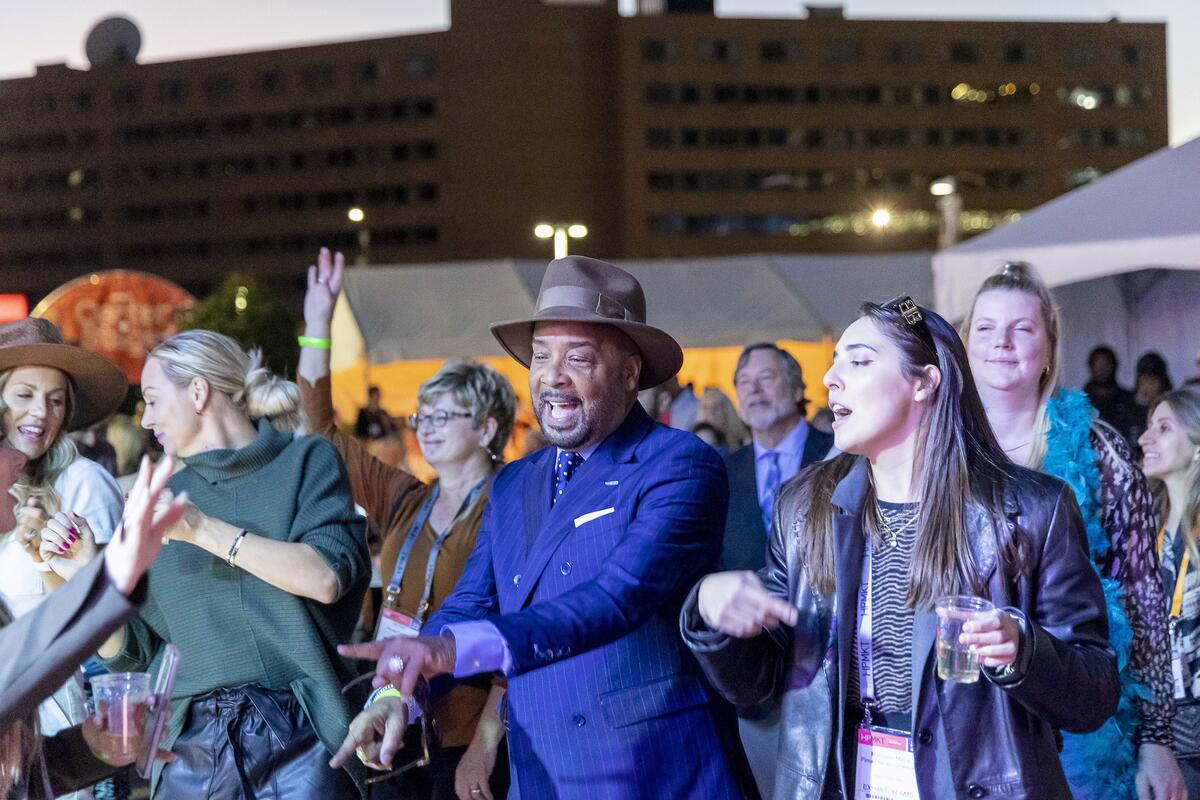 Courtesy of High Point Market
This story is a paid promotion and was created in partnership with High Point Market.
Homepage image: With more than 2,000 exhibitors in attendance, there will be product debuts aplenty at April's High Point Market | Courtesy of High Point Market