The 50 States Project is a series of candid conversations with interior designers across the country about how they've built their businesses. This week, Cincinnati-based designer Laney Reusch tells us how spelling out the scope of work gets clients comfortable with her design fees, why in-person presentations convert client leads, and why she has a strict no-texting policy with clients and vendors.
Did you always know you wanted to be a designer?
Not at all. When I was young, I remember imagining what I would want my house to look like, or redesigning things in my head, but I never really thought of it as a job. We didn't have an interior designer when I was growing up, and I didn't know any. I went to University of Cincinnati, but I was still undecided at the end of my first year, when I had to pick a major. I looked through this big book of majors and had a couple in mind when I saw interior design. I was like, "I could totally do that." Truth be told, it also had the least amount of science credits, and I don't like science. It ended up being a great decision—and I didn't know it at the time, but when I graduated in 2004, it was the number-one interior design school in the country. I was in the right place at the right time with the right major.
Did design school surprise you?
It was definitely difficult. On the first day of our studio class, the professor said, "Half of you aren't going to graduate." They were extremely tough—it was almost like they took pleasure in weeding people out. But when I heard that, I was like, "OK, challenge accepted." I knew that I was going to graduate—and you know, with a lot of studio hours and developing a thick skin to take critiques, I did.
There was not a lot of fluff. It's a five-year program, with co-op internships at different places for two years. It was a tough program, but I'm so glad that I did it, because I think I definitely wouldn't be the designer I am today without that schooling.
I didn't really know that much about interior design before I started, but my first internship was with a residential designer here in town, and I was just so in awe of the business that she built and the experience of working with clients in a relaxed atmosphere. When I worked in bigger commercial design firms, the impersonalness of it—it was just like all AutoCAD. Obviously, we still use AutoCAD to draw everything, but I realized that I loved having the personal connection with clients and I knew I couldn't sit at a desk and just churn out drawings.
Students would talk to each other about where they were going to co-op, and they were like, "Oh, you're doing residential?" At the time, it was really frowned upon. I remember thinking, "OK, if you want to go do CAD all day, go ahead." Some students were just churning out Sunglass Huts in different areas all day long [during their co-op]. That's just not my jam.
That sounds awful.
Doesn't it? So when I worked for that designer, I was like, "This is it—this is what I want to do. I want to have my own business and be able to call the shots." I realized I didn't really care if someone thought it was less than, because it's not.
I love that you knew not only, "This is my niche, I want to do residential," but also, "I want to run my own business." What was it about entrepreneurship and running your own firm that spoke to you so immediately?
Yes, exactly. I liked the idea that I'd be in control of what happens. I'm in control of how much money I make, of what projects we take on. Having a big stake in what happens is really important for me. I'm just as passionate about being an entrepreneur as I am about being a designer.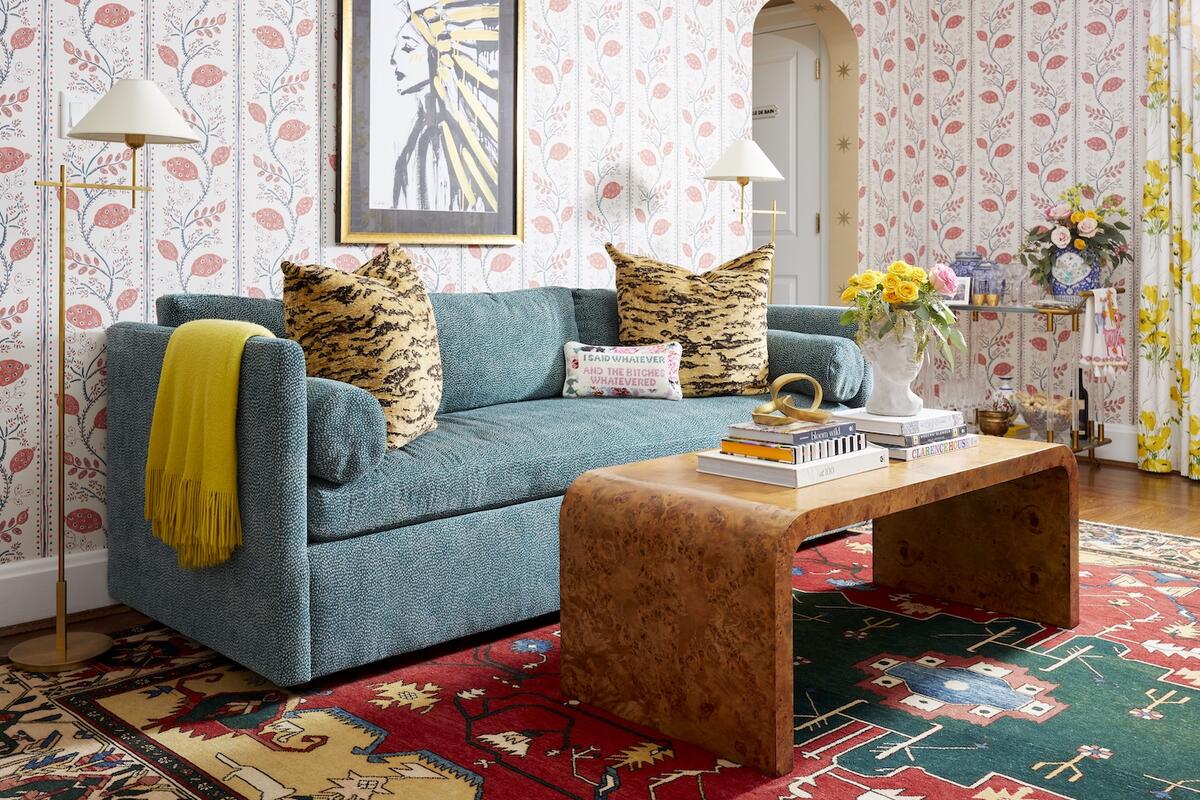 What was your path toward your own firm after graduation?
Well, I got married in college to my high school sweetheart, and I had my daughter less than a year after I graduated. I stayed home with her until she was in kindergarten. But I ended up getting a divorce and I needed to get a job in 2010. So that's when I decided to start my business. It was kind of a necessity.
Looking back, it probably would have been a lot better to work for somebody else again [first] and get my head back in the game. But at the time—and this was really dumb—I was like, "I really don't want to do a resume. I'm just going to start my business, it'll be easier." It definitely wasn't easier.
All the parents at my daughter's school hang out on the playground talking, and so a lot of my early clients have come from me talking about my business. When my first client hired me to do her living room, I remember being so nervous for the presentation that I called my friend crying and was like, "I don't think I can do this." She told me to get out of the bathtub, get dressed and go—and I did. And then every time it got a lot easier.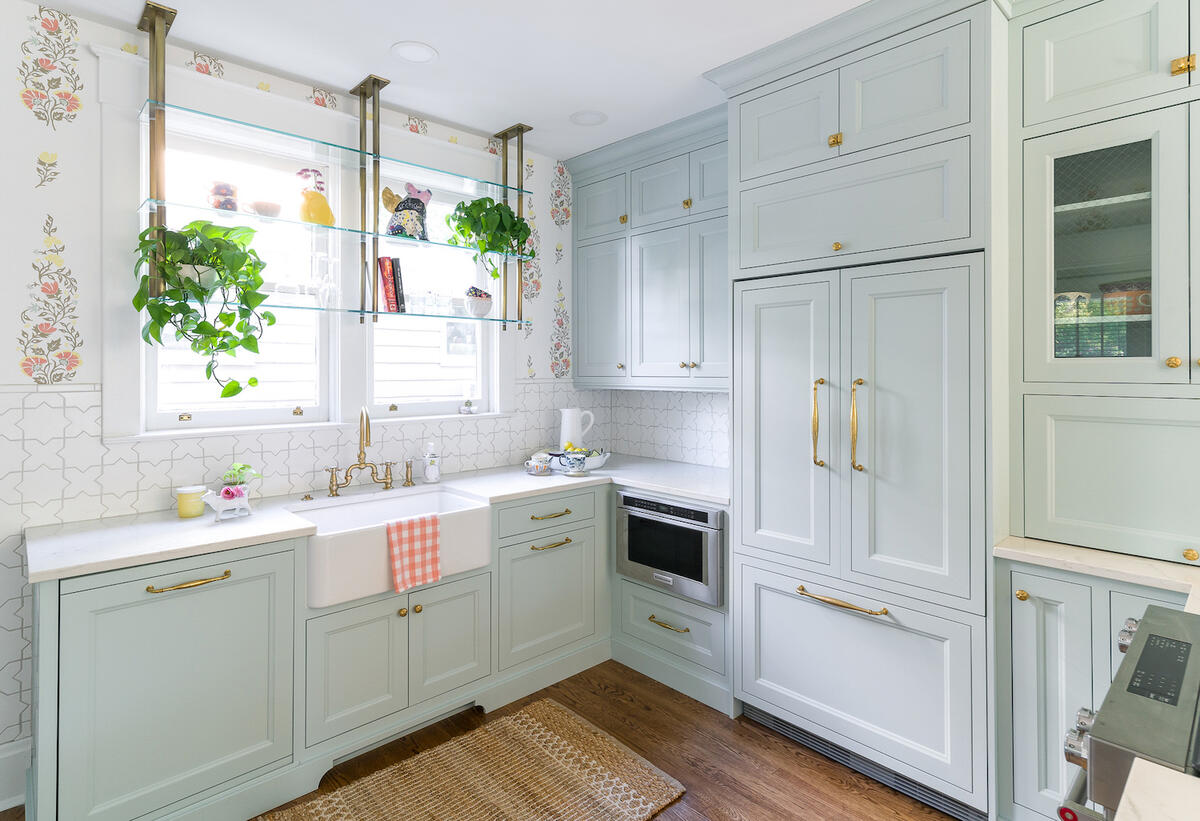 How did you grow from that first job?
I had a lot of referrals in the beginning. And then once I started to take photos, I spent a lot of time refining my website. I realized that a lot of the residential designers in the area were older and approaching retirement, and they either didn't have a website or their websites were really bad. Once I got a website up, it was really easy to be at the top—if anybody searched for an interior designer in Cincinnati, I was the first person they found.
About five years in, I stopped working at home and rented an office space, and that's when I hired my first employee. That helped me in two ways: One, she did all the ordering, which I hated doing and wasn't as on top of as I needed to be. But two, knowing I was responsible for that overhead—paying the rent on the office space, paying my employee and also making money myself. Having that responsibility instead of just doing it out of my house really pushed me to make it successful. Sometimes that meant I worked 60 hours a week, but I loved every second of it. Now there are three of us, including me. Right before the pandemic, we had our first million-dollar year, where we had sales over $1 million.
What are your team members' roles today?
Isabella [Cottone] does the ordering, as well as the bookkeeping, accounting and a lot of website stuff. She is about to graduate with her accounting degree. When you're dealing with a lot of other people's money, it's really important to make sure everything is 100 percent right, so it was key to find somebody who could do a great job with that. And then Grace [Burket] is a designer—she just graduated from design school, but she's worked here three years, and she really excels at project management. That could be calling the contractor to make sure they're doing this or that, or meeting the wallpaper installer to confirm how many rolls of wallpaper we need, or scheduling the installs. She also helps with presentations and design.
We had a great client coordinator who had to take a step back for personal reasons. She was fantastic. When people called, she would vet them—Googling to make sure they don't have an arrest record or bankruptcies, or looking up their house to make sure it's going be the right fit. She would talk to them on the phone and then set up the consultation; she would also come with me to the consultation and take all the notes, as well as come up with the estimated budget and the design fee. We don't have that [role filled] right now, so I'm doing all that, but sometimes you need somebody like that on your team to work the room for you. Hopefully, she'll come back and do that again.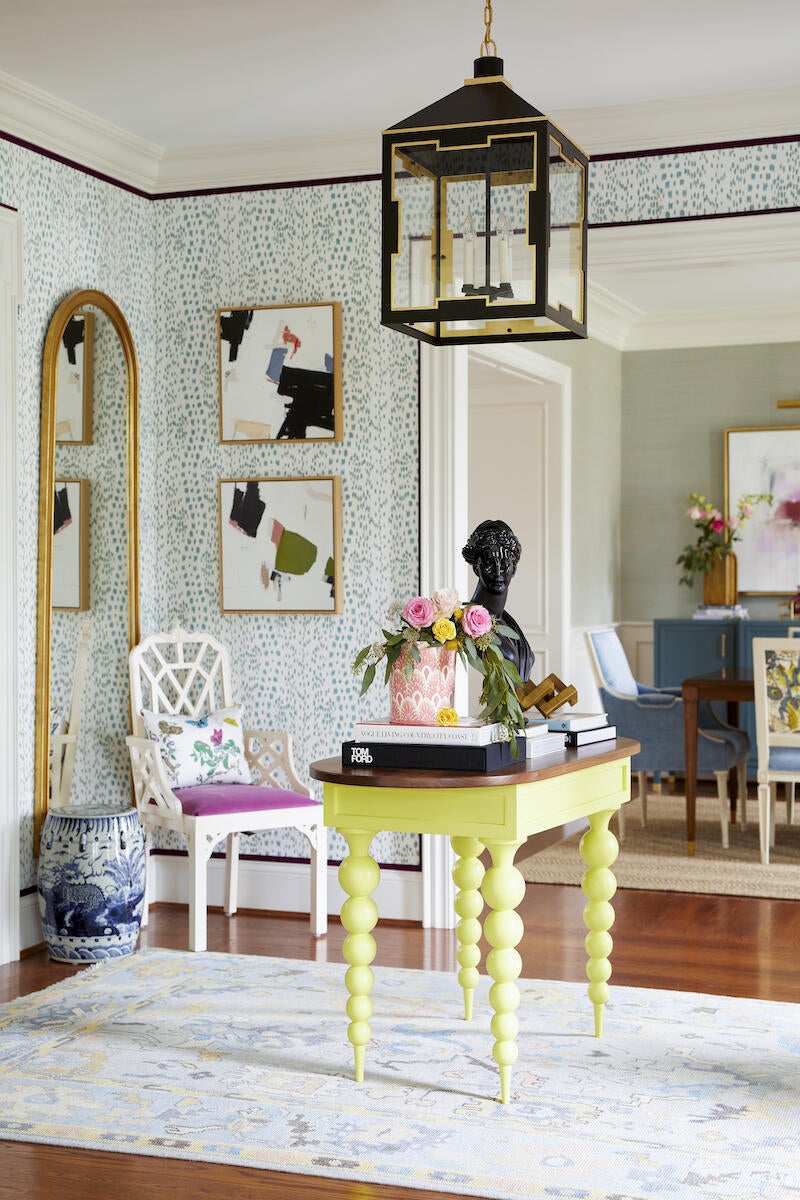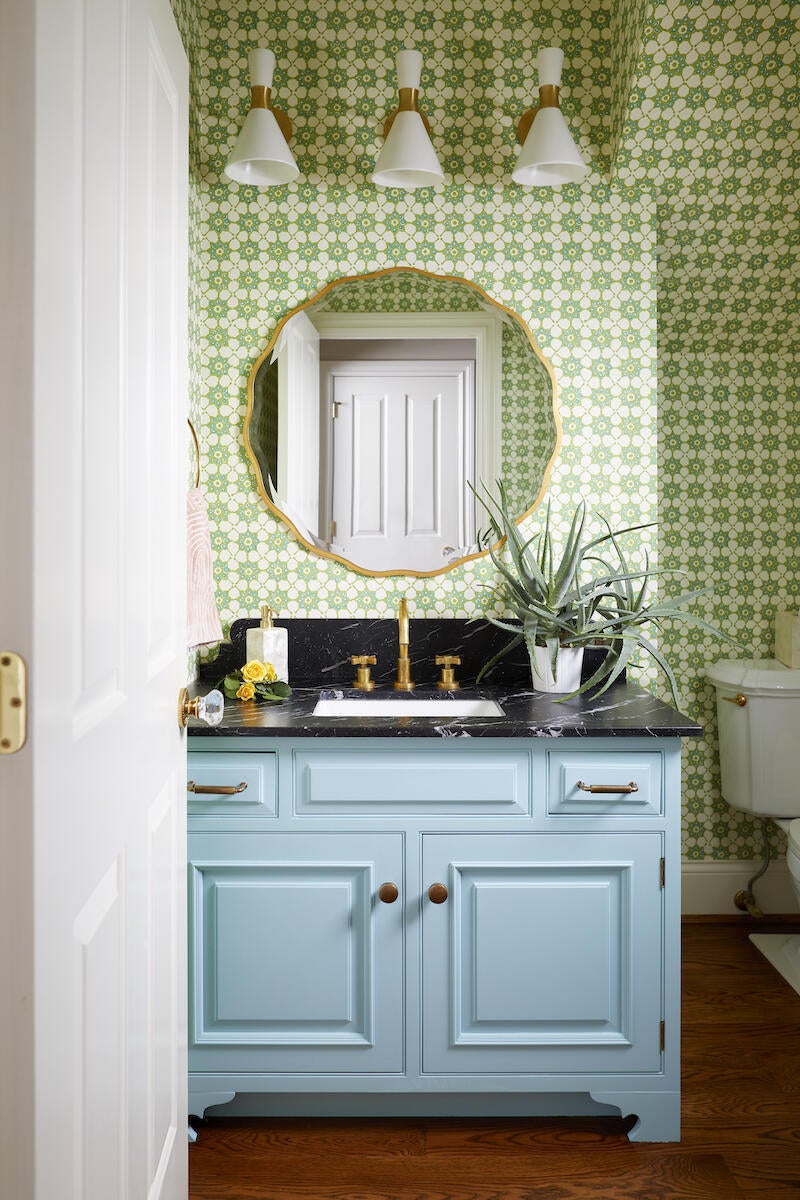 What are your clients coming to you for? And how has that shaped your work?
I got my start from the parents at my daughter's school, so most of my clients ended up being in my neighborhood, where there are a lot of houses that are over 100 years old. The interiors are really traditional, which people want, but they always need to remodel the bathrooms and do an addition.
We do a lot of different things that we don't [always] photograph, but in general our aesthetic comes from trying to have something that's traditional and in keeping with the house, but that is done in a different way. Maybe it's a traditional pattern in a funky color, or a funky pattern in a traditional colorway. We're always walking that line between fresh and what still makes sense in the home.
How are you assessing client fit?
After we have a consultation at their house, we take that information and write up a scope of work, and with that, we come up with an estimated budget—what we call "an estimated materials investment." It's a whole spreadsheet, and we spend a lot of time on it.
What does that look like?
If there's a bathroom, we write down that they wanted marble, and they have three windows, so we need three window treatments—whatever it is, we make a spreadsheet of everything the room will need and how much we think it's going to cost for every room. Then we have a number, which is their estimated investment, as well as our design fee for all the drawings we're going to do for them. Everything is included. That way, when we have them come in about a week later, we review that in the office.
We didn't used to do all that. But it's been a game changer because they know what they're getting into and we've agreed on that number. And if we are designing a bathroom, we know if the budget is going to be $50,000 or $150,000, and we can design around that. Having that face-to-face meeting where we explain everything is an important part of the process. Before, we would just email it—just kind of sending it out in the wind and saying, "This is it." Now, we can be there to answer any questions, and the conversion rate is much higher.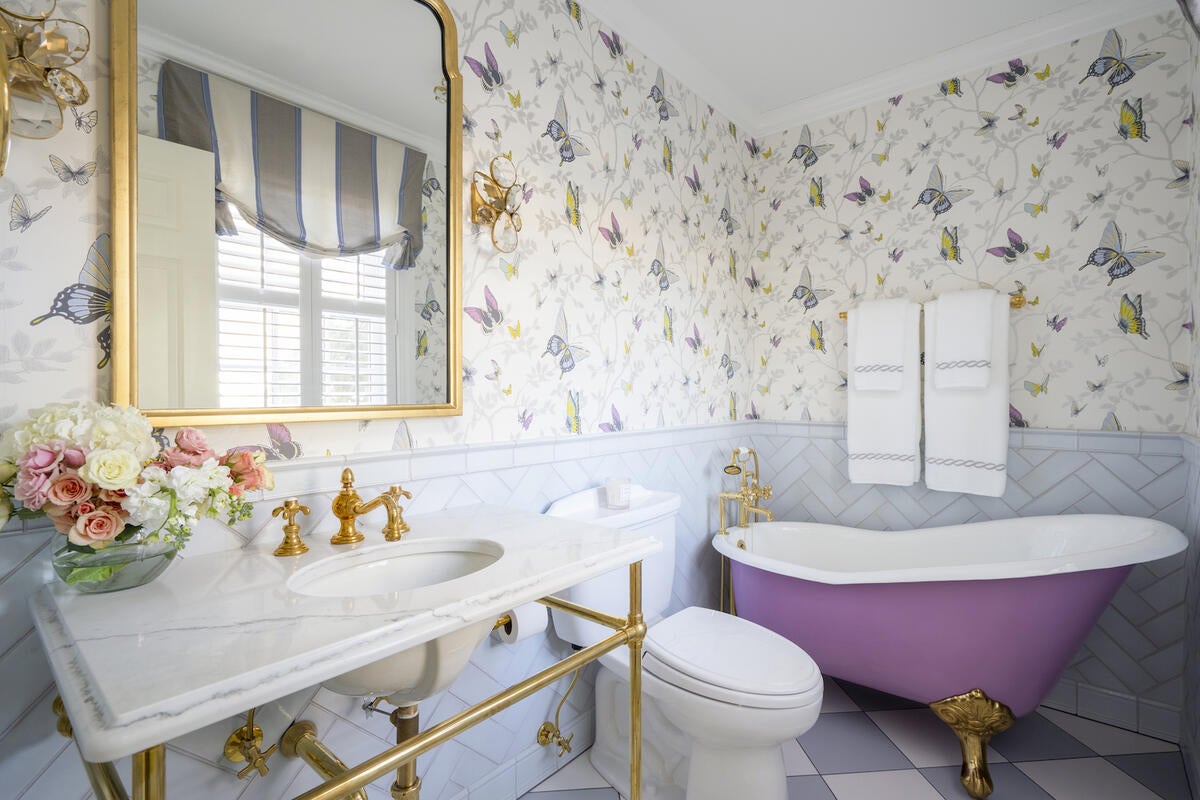 How do you talk about your fees, and what the investment with your firm is going to be?
We list everything that we're going to do—so maybe that's 10 site visits, all the cabinetry drawings for vanities, a drawing so we can get an estimate for the countertops, and we're going to select the slabs and then approve the cuts. We put all that in there so they can see, "Wow, that's a lot of work. I understand why it costs what it does." We started doing that because when our client coordinator came on board, she was like, "I had no idea all the stuff that goes into this," and I was like, "Really?" It showed me that people just don't know.
Did that kind of comprehensive list change the way clients reacted to your firm's fees?
I think so. Because they're thinking, "Man, I don't want to do all that myself. I don't have time for that."
What has your approach been to billing for your work?
We used to do hourly for everything, but most of the time now we do a flat fee. I was not good at tracking my hourly fees. I hated sending the invoices—it all just gave me anxiety. I'd rather come up with a number and be upfront about it—and that way everyone is on the same page about the amount of site visits and meetings we're going to have. In addition to our design fee, we are compensated through product sales as well.
What are the pain points of doing it that way?
It's hard for remodels sometimes, because there's not really a lot of markup in, say, tile or plumbing fixtures. We end up making less money when it's a remodel-type situation if there's no furniture involved, especially when there are so many site visits, because I also find that there's a limit to how much you can charge in design fees.
The biggest headache we've had all along has been with vendors. Now, a lot of our vendors are fantastic, don't get me wrong. But there have also been a lot of [challenging] cases. For example, right now we have a very expensive dining table that somehow got scratched, either by the vendor or at the receiver, and of course nobody is taking responsibility. That means we end up paying for it. I'm never going to leave my client hanging like that, but it's no fun being a reseller and having to deal with businesses that don't have integrity.
How do you prepare your clients for the things that might go wrong in a job?
You know, we should really do more of that. In the consultation, we do explain that part of our job is resolving any issues if there's shipping or freight damage, and everybody knows what that's like. I try to let people know that no remodel ever goes 100 percent according to plan—like, you're going to have a pipe that you didn't know was behind the wall we are moving. There's always something. If clients have remodeled before, they are very understanding. If they haven't, those challenges are like the end of the world to them, which can be difficult to deal with. When they're stressed out and upset, it really stresses me out.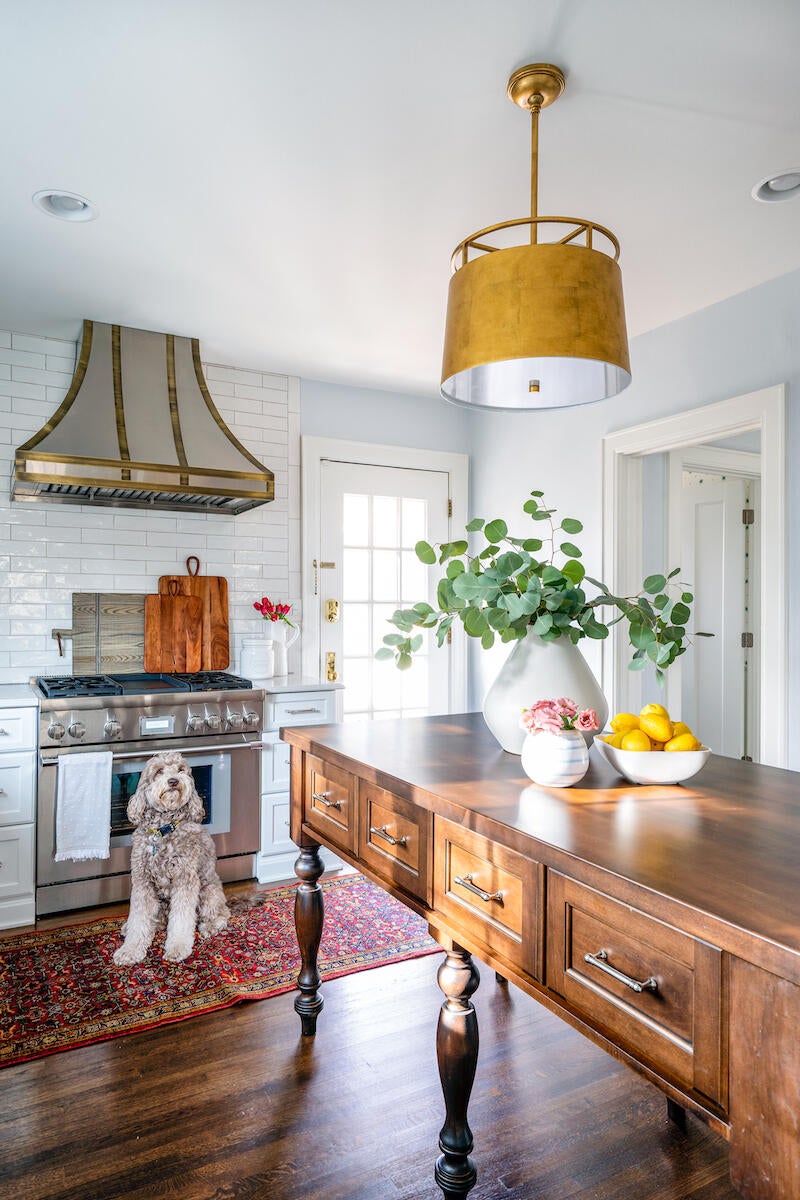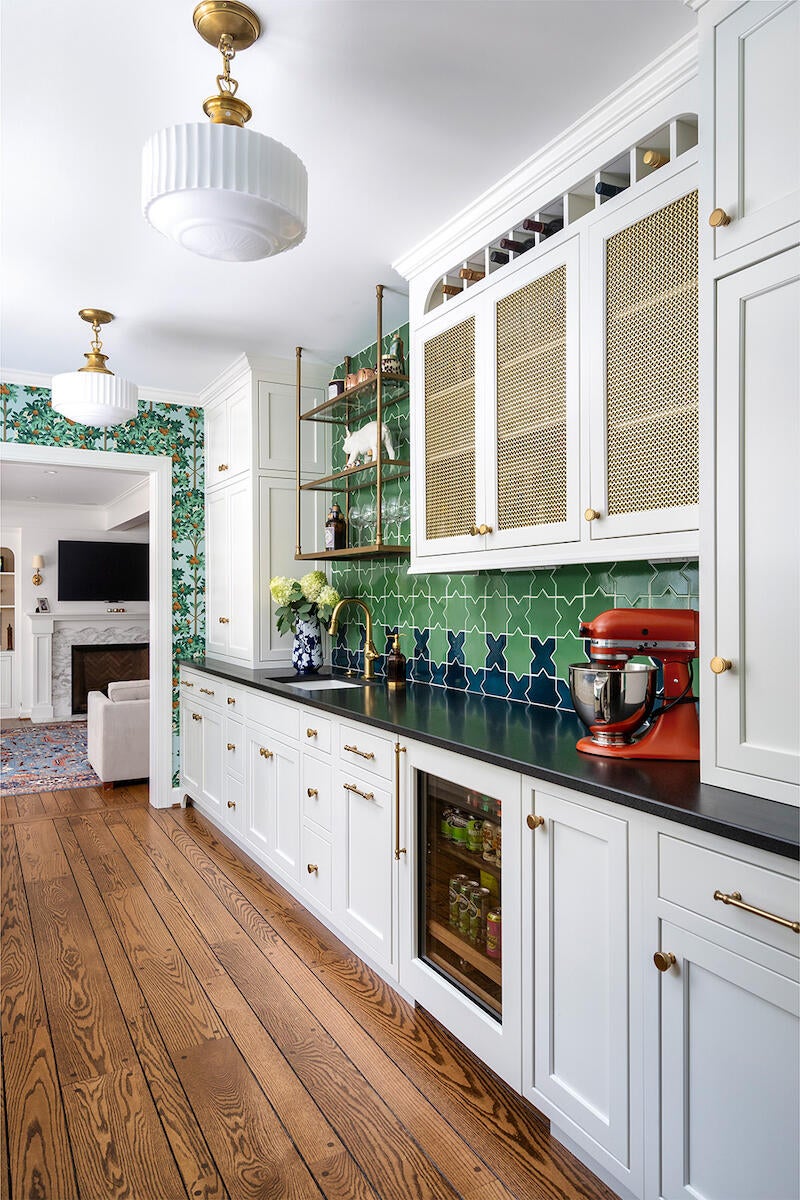 When you look back, what is the biggest thing you know now that you wish you had known when you started your business?
I wish that I had a business line from the beginning instead of giving out my cell phone.
Can you claw your way back from that?
Sort of. I have it in my contract that I won't text anybody. It also states that you cannot text, call or harass us about when your furniture is going to be here. We had clients who would call—like, every day. We would tell them the truth: "I don't know exactly when it's going to be here, but I think it's going to be this month." But they hear, "It's coming for that party I'm throwing," because that's what they want to hear. And back in the day, those calls would come in at all hours on my cell phone, and of course I would answer. I didn't have those boundaries. Now, I don't give any clients or vendors my cell phone number. It's always, "Here's the business line." I tell my employees to do that too. Yes, I know it's easier to pick up your cell phone because it's right there, but someday you will regret it.
What is the best way to set boundaries with clients today?
We have a lot of paperwork we go over with the client when we're meeting to review the scope of work—we read through all of it so that there's no miscommunication. Sometimes, I even get bored reading it, but I think it's important. It's funny, because I was just doing that today with a husband-and-wife client who are the sweetest, and when I got to the part about not calling to harass us, blah blah blah, he just goes, "Oh, my gosh, I'm so sorry for whoever led you to put that in your contract."
Here's the thing: You can't be scared to say, "This is how it's going to be if you want to work with us." Obviously, don't say it like that, but there's a way to communicate that these are the rules and this is how things are done. People respect you more when you do that instead of trying to act like their friend. That's been a big lesson for me.
Do you still end up friends with some clients?
Sometimes if I've been working with somebody for years, yes, but it is really hard for me. More often I would say friendly. But it's really hard for me to put somebody in that category once—OK, I feel like this isn't the right way to say it, but—once I've made money off of somebody. It feels awkward, you know? Maybe it's not awkward for them, but I feel like I still have to act like a professional, which is a different persona for me than relaxing with my friends.
What other boundaries did you have to put up to protect your peace and creativity?
I don't really give out my email address that much. My clients use our info inbox, our ordering email address, and they have my other designer's email address. I get so overwhelmed when I've got too many emails coming to my inbox—I think it might be an ADD thing. But I guess that's not really a boundary, it's just how we work.
Having that framework and a schedule might be the most helpful, actually. We send a schedule at the beginning of the project that outlines the days we're going to meet, even if it's three months from now. Like, "This is the time, let's get it on the calendar so that there are no surprises." There's no "popping in." And then we send a Friday email that explains what we did that week and what's coming up, so that they're up to date but we're not getting a barrage of email questions.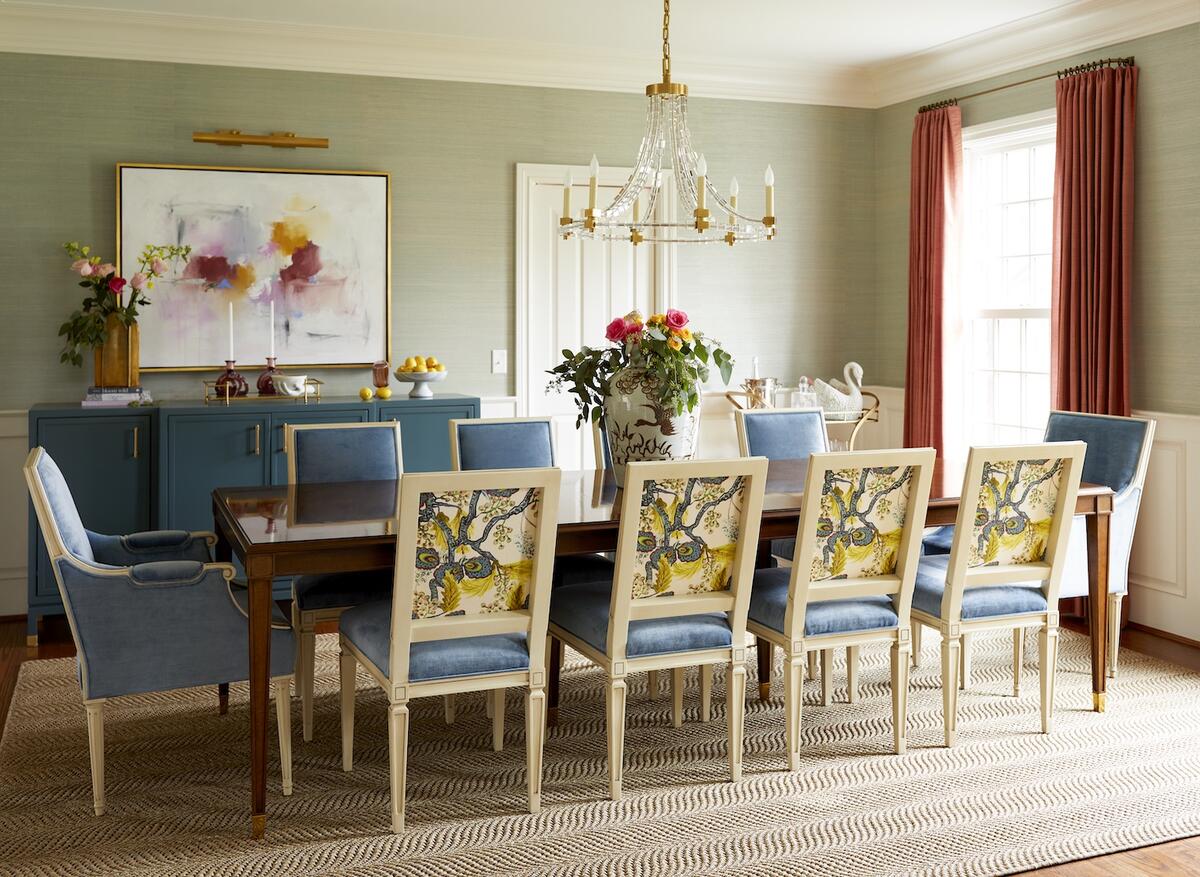 You talked about the website helping you get your business off the ground at the beginning. What about social media?
We get a lot of clients from Instagram. But getting it right is difficult, and it takes a lot of time figuring out what to post. When you have just had a photo shoot, it's like, "Oh, my gosh, I've got so much content." Then you put all those pictures up and suddenly you're like, "Wait, now I'm out of photos."
I know people say that you should go live or do videos of yourself, but I hate being on video. The other day, we did an unboxing thing where I talked about fabrics, and it got such a great response—so I know I should be doing more of it. That just means I need to be less self-conscious.
Is that something you see yourself dedicating more time to?
That's a good question. I don't want to pay somebody else to do it. I've seen other people do that, and I think it doesn't always land well. Somebody has to really understand your voice—understand what you're posting and why. I'm sure there are people who do it that way and it's fantastic, but sometimes you can really tell. I also don't know if that's ever really going to be our main thing. We have maybe 4,000 followers—to do more of it would be a full-time job, and I already have a full-time job. I'm not trying to compete with people who have 30,000 or 100,000 followers; I just try to invest where I know I'm going to get a return.
What does success look like for you?
Success is having a business I'm passionate about—that's really important to me. And above that, conducting business with integrity. Obviously, I'm not a perfect person, but I really try to make sure that we do what we say we're going to do and in a time that we say we're going to do it.
Beyond that, success is keeping my employees employed and happy. I'm not just responsible for myself, but also for their paychecks and making sure that they like coming to work as much as I do. I've never managed anyone before having my own employees. So I just tried to think, "OK, what would I want, and what's reasonable? What are the expectations?" From there, it's just making sure that they're living up to expectations—and that I'm living up to expectations too.
To learn more about Laney Reusch, visit her website or find her on Instagram.