The 50 States Project is a yearlong series of candid conversations with interior designers across the country about how they've built their businesses. This week, Santa Fe, New Mexico–based designer Heather French of French & French Interiors tells us the highest compliment she can get from a contractor, how she made the Southwest style her own, and the early advice she wishes she had internalized.
Were you always drawn to design?
I was always really into it. My mom would let me decorate my room, which always felt special to me, and I remember being really excited to decorate my dorm room, but that's not what I went to school for. Somebody said to me once: "Pay attention to what you pay attention to." I wasn't paying attention when I was younger. As I got older, I was an anthropology major in college, with a focus in medical anthropology. What I was really paying attention to was how people were living—the pottery that they were using, or how they were building their home. As I became older and more aware of my natural interests, that's what drove me in this direction.
When did you decide to make design the focus of your career?
After undergrad, I went to school to be a doctor of [Eastern] medicine, so I was an acupuncturist. I had studied in Nepal, and then I traveled quite a bit, studying around the world. When I came back, we moved out to Santa Fe, and I was in private practice here. Then my dad passed away. Death in the family can make you reevaluate your life, and I just realized that I wasn't on the path I wanted to be on. I reached out to every design firm in Santa Fe that I could and said, "I'll start at the ground level. I'll sweep the floors, I'll run errands—I'll do whatever you want." I was hired by a really great firm here in town and worked my way up fast. I was with them for three or four years, then went out on my own in 2013.
I'm always so curious about that moment. What made you feel ready to take that leap?
I had this explosive feeling inside and an aesthetic that I knew would be successful—and nobody was doing it. I was just on fire about it, so I did it.

What did the early days of running your own business look like?
Scary. I had one client—someone that's still an active client today—who hired me right off the bat. She was building her house from the ground up, and we formed a really great relationship. So I had one client, and then I took an office space at a local store, Reside Homes, which was just opening up at the same time that I was opening up my business. They're still around and also very dear friends. They let me take a desk space in their furniture store, and I was able to build up a clientele through word-of-mouth.
Your husband, Matt French, is your business partner—and your design partner, too. But was it just you when you started?
We had always planned for him to come into the business, but we thought it would probably take five years or so. In about a year, he was able to come out of the electrical field and work in the business.
What is the push-pull between the two of you? Do you each handle different parts of the business?
Matt and I remodeled and built our own home from the ground up. We had experience building together, and we knew that we worked really well together. We're one of those couples that grew closer and stronger through the building process, which is unusual. We knew it would work well, and it has. He has a bit more of a modern aesthetic than I do, so whenever there's a client that's pretty modern, we'll filter that over to him. Otherwise, I do the rest. Matt also has a lighting line, so he's working on product development. He was a general contractor and electrician for years, so he focuses on the logistics of any of the homes that have an interface with a GC, just so we can speak the same language.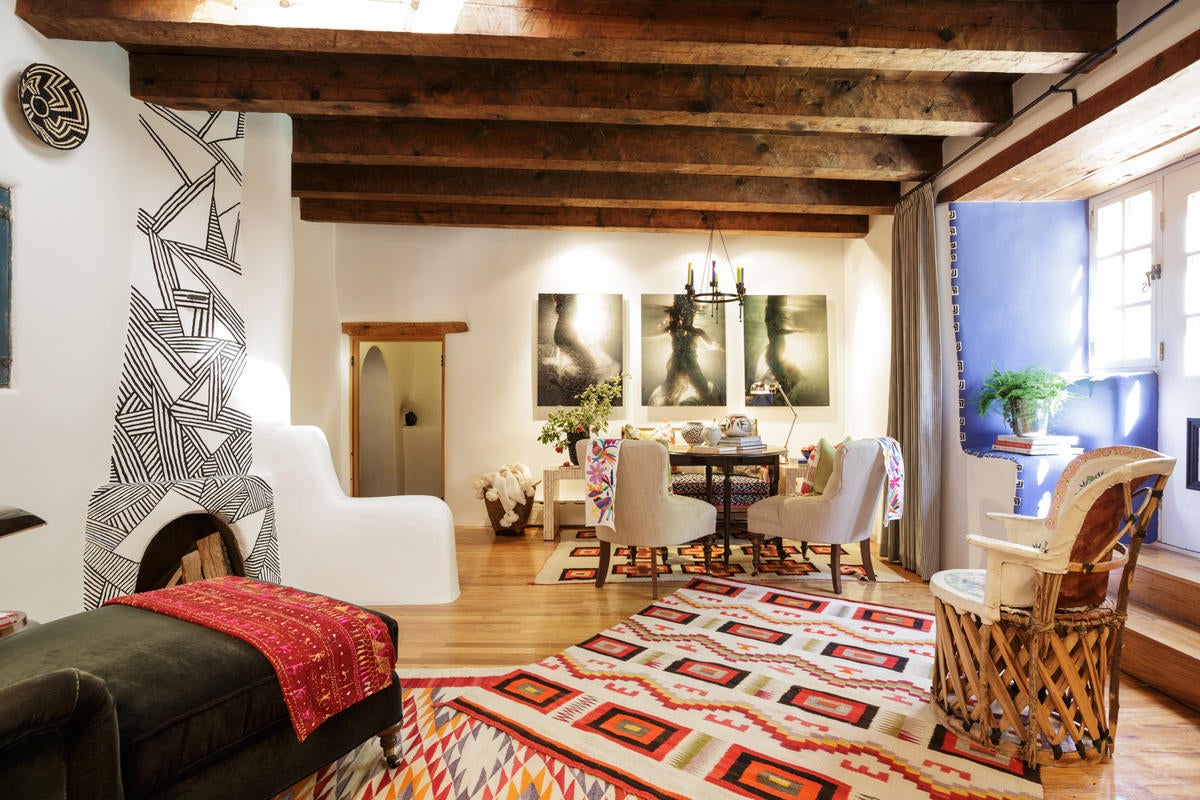 Do you have other team members working for you? How did you prioritize what roles you were looking to fill at the start?
Yes, we run about a team of five total. At first, I was really looking for somebody who could help run around and pick things up, like a generalized assistant. Those were the very early days. As the business grew and our projects became bigger, they needed more management and document communication, and we had to be specific about hires who can do the Revit, AutoCAD, InDesign and Photoshop. Our design packages today are very extensive. As our systems have developed, our employees have developed, too.
When you say that your design packages are extensive, what do you mean by that?
We do a concept presentation first, which is a printed design inspiration vision board that we'll present to a client after we've understood where they're coming from and they've sent us some imagery. From there, we do full watercolor renderings and a spec book. In addition, we do the floor plans for all the fixtures and finishes in the house. We have a key legend on the floor plans that are not only specific to paint color, but actually have photographs of the wallpaper on that page. When our design packages—called ID sets—are out in the field with the general contractor, it's very easy to understand. The GC will have full-blown watercolors to reference, as well as the key plans.
What made you want to take that step?
We started doing really large commercial projects. In order to play with the big boys, we had to act like the big boys. So we looked for employees and guidance from people that understood systems and what was lacking in [the] communication that interior designers [have] with a general contractor or a developer.
We deal with a lot of developers at this point, and I think sometimes I forget that the people that hire me aren't always as visual as I am. I can see what a space will look like in my head, and getting that out on paper is really important. So figuring out those systems and making that leap made everybody trust us more. I think the fact that we take it seriously and want to do a really good job communicating to the builder and developer and clients makes it easier in the long run.
How many projects are you working on at any given time now?
We run 15 to 20 at a time.
Is that a mix of commercial and residential?
It is, but residential has gone up this year, for sure. We were half-and-half before the pandemic, but this year, residential is everything. Right now, we have a complex of 286 luxury apartments that has a restaurant and a bar and really fun stuff in it. Then we have a hotel [that also] has a really great restaurant and bar, as well as a private community plan. So we try to balance all those projects as much as we can.
How hands-on are you able to be with each, and where do you delegate?
Matt and I do all of the designs, and we're also doing a lot of custom lighting and customization. Then I communicate all of that to our project manager, as well as the person that does all of our renderings, and we delegate the project management fully.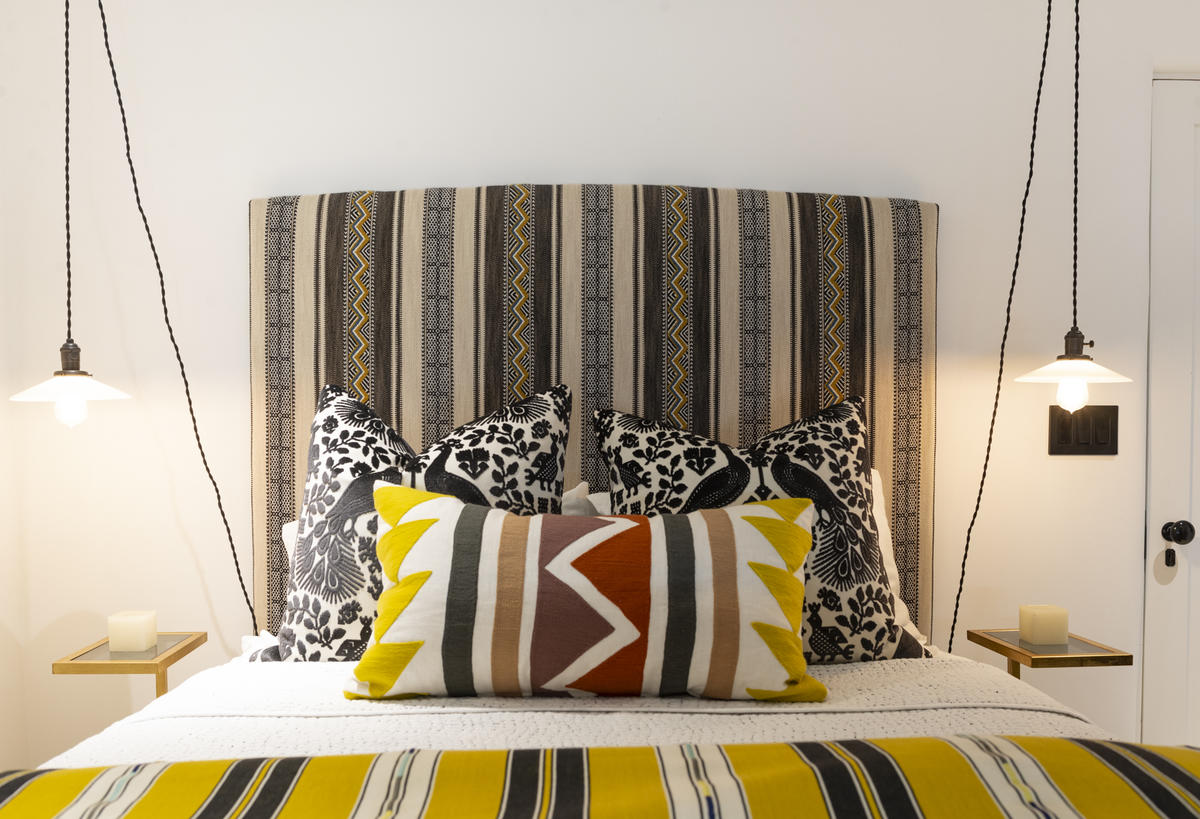 How are you assessing client fit or project fit?
I've learned that when clients come in looking for a design buddy, that's not my project. I'm a designer, and I like to do full design. That doesn't have to be the whole house, but it does have to be the whole kitchen. I'm not the type of designer who can run around to stores and pick out this and that—I'm a planner. I think because our systems are so in place, the clients that are on board with those systems are the ones that we take on.
Those strong systems—how did you build them, and what did it take before you got it right?
Systems are everything. If you don't have good systems, it's really hard to have a good, profitable business. But it's trial and error. I certainly don't have it perfect, and I think we'll always be striving to get better, but I studied a lot. I really dug into listening and understanding what clients and contractors needed, what their concerns were and what wasn't being communicated well. I took that constructive criticism and tried to figure out how we can avoid any of that for our clients.
Was there a moment when you thought, "Oh, we've got this right"?
I've had a couple of GCs say to me, "I love working with you guys because your plan sets are always the best." For me, that's the ultimate compliment. It's like, "OK, we've got this down pat."
My number-one goal is for everybody to have a digital or printed full design plan. Some of them say, "What light fixtures should I choose here?" Then they go to the spec book and look at the rendering and say, "Oh, that's what we landed on." It takes the confusion out, and clients are happy.
When you're revising those systems now, what does that look like?
One of the newer changes we made was putting the imagery on the plan set. Previously, we would have the spec book, which has all the imagery and references back to the key plan. We always do a physical set, and that's what goes out into the field on the job site. But digitally, there are updates that happen. Let's say we're dealing with a socket issue—digitally, that'll get updated, and another set will get printed with today's date so people in the field know that's the most up-to-date plan set and they're not looking at one from a year ago that's no longer accurate. The project manager for the architect or the general contractor is responsible for making sure that the subs have their most updated plan sets.
Can you tell me a little bit about Santa Fe and the New Mexico market?
The Santa Fe market is completely on fire right now. People are moving here left and right. Our business is up 250 to 300 percent, and the builders are as booked as they can be—they're running a couple years out at this point. It's really hard to get anybody for smaller projects.
Was it trending in that direction before the pandemic?
I feel like we've always been busy, but now it's a different level.
Is it more new builds or renovations?
It's both. New builds picked up more, but we're doing all of it, for sure. We found that some people were going to retire in five years and build their dream house or move their family here. Then, [after] this past year and a half, they decided now's the time. There are a lot of people like that right now.
How big are your projects in the residential space?
The new builds are definitely bigger and more open and spacious, and the remodels are generally historic and quaint and cozy and much more traditional. Santa Fe is really known for its adobe architecture. Some are 1700s adobes with small rooms that all run together. Really beautiful. Then the new builds are pretty large—probably 4,000 to 6,000 square feet.
There are particular builders that really focus on that more historic adobe look. It's probably half-and-half. From a community perspective, we have ordinances that only allow for an adobe brown pretty much anywhere. They're a little bit more lenient in the newer areas, but the hard-and-fast rule is that your stucco has to be in a certain range of browns, and it needs to reflect that historic aspect that we have in our cities. It's 400 years old, and that's kind of the most important. We have a really strong historical board, so people really respect that.
Is that limiting when you're working, or is it a good thing?
I think it's a good thing. Interior-wise, it's not very limiting. There are some cases where they'll allow you to do a white adobe look, but it's a particular aesthetic. You can kind of stretch a little bit, but I don't do a whole lot with the exterior, so it doesn't affect me too much. But the interior regions, I really push myself to have a unique aesthetic when it comes to that Southwest style.
How do you make that your own? What does that look like for you?
I followed what I was passionate about, which was really color and patterned fabrics. So 99 percent of the time, my starting point is fabrics. I'll generally look at what the client is liking and disliking, and then I'll choose a keystone fabric that has numerous colors in it. You can do that with a rug or a piece of art, but I generally start with a fabric and go out from there. I'll push myself to balance everything that the client has in their life: Are they world travelers, or have they been in Santa Fe their whole life? Whatever that story looks like, I'll try to pull that back and relate that to push their story forward.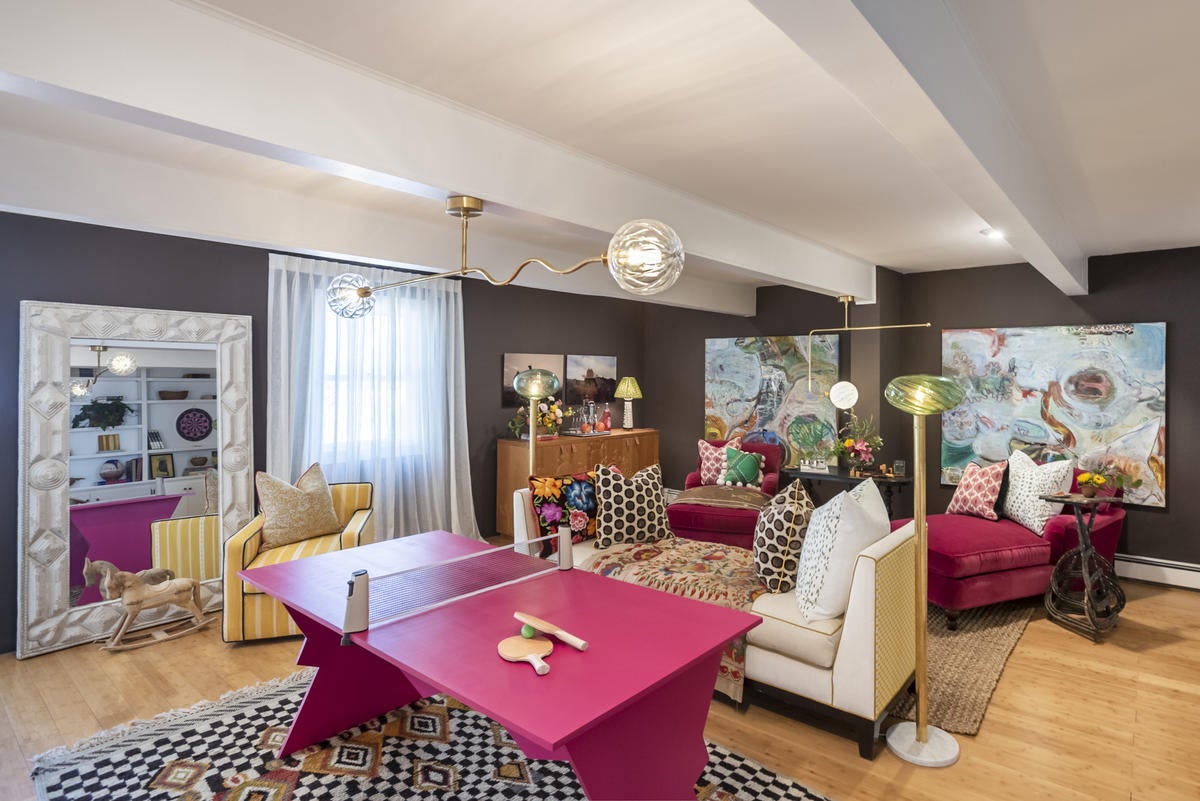 Are there clients who want something from your portfolio? How do you react to that?
I have clients that have walked through the showhouses we've done or seen photos from when we were in House Beautiful a couple of times. Clients will come and say, "I fell in love with this." I try to push back and say, "We're going to give you something of your own that's bigger and better." I don't generally get any pushback on that. Sometimes a client will have a particular fabric in mind, but I try really hard to make each project different and not reuse fabrics. I pull them out of my library.
You won't reuse it on another client?
It depends. If it was just the pillow and nobody else is going to notice, I'll reuse it. But generally, if it was a big statement—like drapes or a bench cover—I won't use it again.
What kinds of resources are available locally? How do you shop and source for projects?
There are some really great stores, and we have some incredible antique shopping here, but we don't have a design center. Instead, we've established our relationships with our reps. They'll know when a certain Schumacher line is about to come out and they'll send it to us immediately. As they get to know us and we get to know them, they're incredibly supportive.
I think sometimes not being able to sit in things can be challenging for a client. I go to High Point twice a year and really take that seriously for our clients. So I understand if a client is smaller or bigger, what works if you're smaller and want a more upright sit or whatever that situation might be. I have a good understanding of how comfortable it will be and how to work in a certain situation.
For the client who wants to sit on a piece of furniture, how do you get over that hurdle?
I always have fabrics, so they can see the fabrics and understand that. Occasionally, I'll have a sample cushion sent so the client can understand it. If a client really, really wants to, and really feels that it's important, then we'll fly to a design center and check it out. Or if they're going to be in a city, I'll have them go and check it out to really get that fit and feel.
Does that happen often?
Most people are willing to trust. I haven't had that happen too often, where they really felt like they needed to go to the design center, but it's fun when they do.
In the design process, how are you educating your client as you go and helping them feel comfortable?
That goes back to the process. That first meeting where we do that concept presentation, which is all inspiration images, that's a really long conversation. A certain image may jog a memory of, "Oh, you know, I really hate orange. Let's make sure there's not orange," or "Velvet's not my thing." Opening up that dialogue in those initial meetings is the biggest part of that trust factor, for sure.
We jump from that to full design. When we do the full design, we'll do a big concept presentation where we have these huge 16-foot-long tables, and we'll lay out the entire project room by room, and all of the finishes and fabrics and all of that touch-and-feel [stuff], along with the drawings and photographs. So it's a very complete vision. Occasionally, we'll totally miss the mark. That doesn't happen often, but once in a blue moon, somebody will be like, "This living room is just not at all what I envision." And we'll have to further that conversation a bit more, and we'll knock it out the second time.
I love that you said that, because I think it's so important to normalize the fact that it's not a slam dunk every single time. It's much more complicated than that.
It's very complicated. I just had a client the other day who loved every single thing about the room that we specified—except for the two sofas. Those in particular were kind of specific and modern, and really went with the design. What happens in those situations is that there's a trickle-down effect. You have to be willing to keep the integrity of the project to say, "OK, that's totally fine—we'll find some more comfy sofas. But I'll have to change these lamps, and I'll change these chairs, as well, to make this all flow." To me, I look at that as a challenge to make the room better.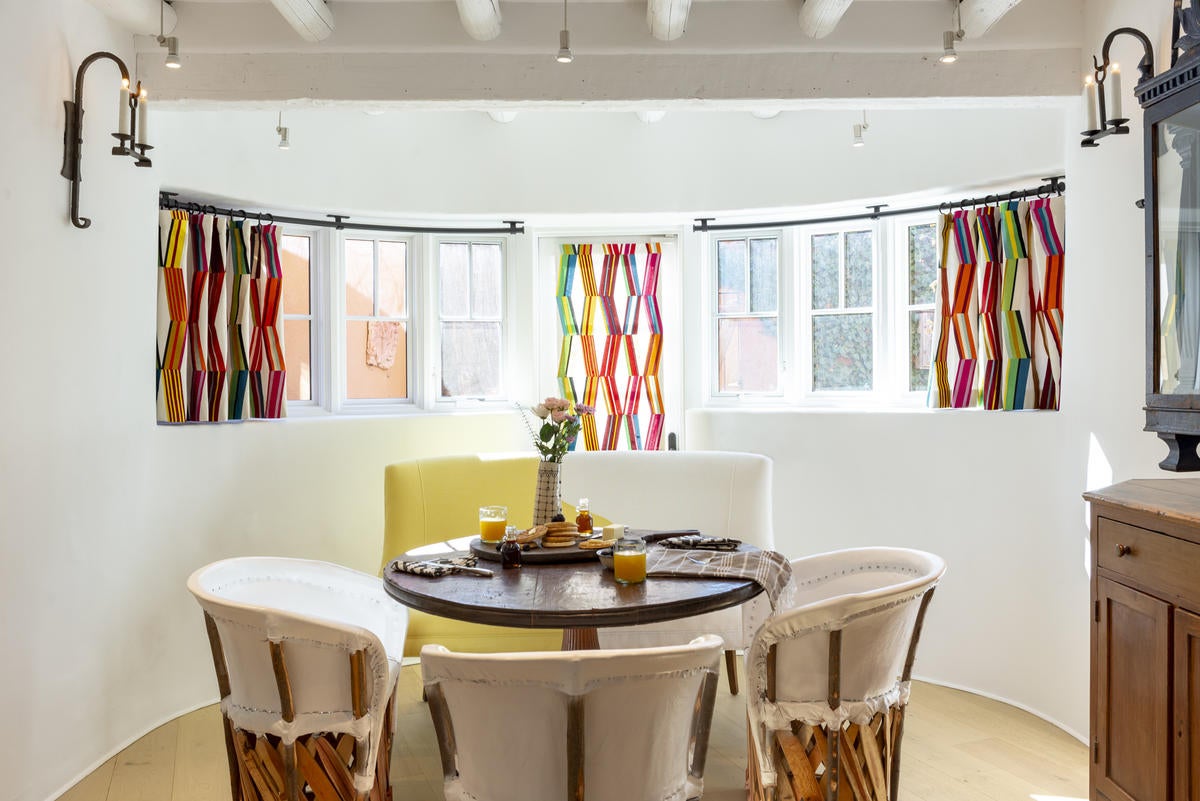 How do you charge for your work, and how do you talk to clients about money?
I do that right off the bat, and it weeds out the looky-loos. I'm not a shopping partner; I'm a designer. That sounds rude, but it's true, so I have that conversation right [away]. We charge $135 an hour. I charge an upfront design retainer. I'll go for free to the client's house or look at the plans and come up with the amount of hours that I think it will take to execute the project, which I'm pretty good at understanding at this point. Then we'll set forth a contract and design fee retainer, which is usually about 50 percent. We structure it according to phases of a project. We get an upfront retainer, and then we start work after that.
When you use up those hours, do you go back and say, "OK, for us to keep going, here's the second half of the design fee"?
I do structure it that way, but generally, I'll meet a certain mark. So after we do our content presentation, then I'll go back. I estimate the hours and go back to the client. It's in our contract upfront, so after the concept presentation is complete, they'll make a payment to start the next part to go into full design, which is the heavier chunk of the payment. Then there'll be a final payment at the end.
Is the project management piece billed differently? How do you make that part work?
I build the project management into the profit of our sales, and then the design is paid for through the retainer. We do a 35 percent markup from wholesale on the product. Let's say a client hired us for full design, but they can only execute one room. They could actually execute that design themselves at whatever point they wanted because they own that design at that point. Building that 35 percent in and not charging the project management as an hourly covers us for the management of the project.
Do you get pushback on billing, or are clients pretty understanding of how it works?
I think clients are pretty understanding. When I was strictly billing hourly, it felt like nickel-and-diming, and it would lead to problems. That just didn't feel right anymore, which is why we started doing set ahead-of-time progress payments. It's a little bit clearer [for clients], and they understand that if they're buying a product through us, that project management fee of 35 percent markup is included.
Are there a lot of clients who choose to bypass that project management option?
No. If you're using a designer, we're doing a lot of custom stuff. What I do think happens is that we'll do the full design because the client really wants to have that full vision of what their home could be, but they can only afford to do the kitchen, or they can only afford to do the living room. So we'll run with a client that'll progress things out over two years. We'll stay in that project with them until they're done, but only execute when they're ready to pull the trigger. Sometimes, if the design is a year old, then we have to pivot and find something that looks similar if something went out of style, and we just all agree to that upfront.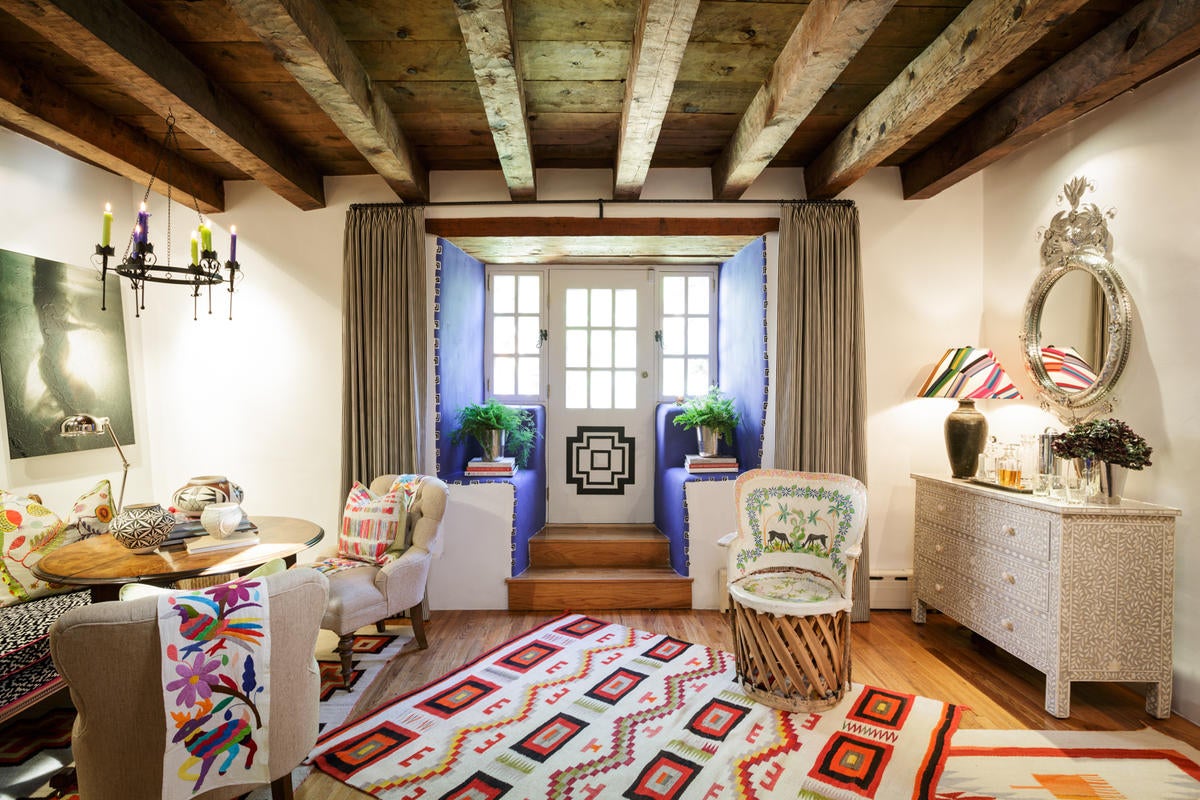 Where do you see the most opportunity to grow right now?
Honestly, pre-pandemic, I thought it was all about commercial. Right now, new builds are really what's growing. My goal is to grow the business more nationally and internationally, and keep taking those baby steps to progress our clients around the country, and eventually the world. I want to keep stretching my wings as a designer. From a personal perspective—not necessarily a business perspective—I think that's really what I'd like to do.
What do you want the firm to look like in the future?
I don't want to be a huge 100-person firm. Some people manage it really well, but that's not my perspective. My perspective is that I've always hired as needed. As the business grows and develops, those job openings naturally start to show me where we need to fill in the gaps. If a client is unhappy, and I realize that's because we're not managing this properly, that's the opportunity where we start to fill in the new employees. As we get more projects, we'll hire people. My perspective on businesses is to fill in as we grow, and to build it that way, which is why I never say no to a project.
What's the biggest thing you wish you knew from the start?
From a design perspective, I had this really strong feeling inside about this particular aesthetic. I think I didn't quite grasp the local connections and the building of the business from the ground up, as far as the clients go. That took me a little while. That wasn't as natural to me as the design side. As I started to nail down our aesthetic and that became stronger, I became really passionate about the creativity that growing a business gives you. That was something that was learned that I wish I would have understood better.
How has that reshaped what success ultimately looks like for you?
Well, it's made me not afraid of growing. Hiring that first employee was terrifying—like, "OK, we're going to take on somebody else besides our kid" to provide for and write a paycheck. Now that's a blessing and it's not so scary anymore. It made me feel like growth is doable and exciting.
To learn more about Heather French, visit her website or find her on Instagram.