Direct-to-consumer outdoor furniture brand Outer announced that it has completed a $50 million Series B funding round led by Kathy Xu of Capital Today. With the investment, the company plans to develop new sustainable materials, build an eco-friendly supply chain and expand into an international market. Following a Series A round in January of this year, the new capital brings the startup's total funding to $65 million—and for good reason: Outer experienced a 1,000 percent sales increase amid the pandemic. And the brand achieved that growth without the middlemen of retailers, distributors and traditional brick-and-mortar showrooms. How did they do it?
The trend was well underway before the pandemic. As malls and department stores have increasingly lost their luster (and foot traffic), retailers have sought ways to reach customers outside the traditional experience. The Los Angeles–based company, founded in 2017, attempted a strategy from outside the world of retail—specifically, the model popularized by Airbnb. Outer co-founder and CEO Jiake Liu has been a guest and a host for the travel company, a process that taught him the importance of personal connections on both sides of the housing equation.
In 2019, Outer launched its Neighborhood Showroom program, in which customers who had purchased the company's modular outdoor furniture could sign up to become a "host" in their area, welcoming prospective customers into their home to check out the products in person by appointment. (Virtual tours began to take off during the pandemic.) In return, hosts receive a discount on their own purchases, along with monthly compensation ranging from $200 to $2,000 per month, depending on their availability, neighborhood and seasonality. Starting with just 12 residences in the L.A. area, Outer has grown its host base to 1,000 across the country in a little over two years. The success rate has proved the unorthodox model to be worth the brand's time, with one-third of every showroom visit resulting in a sale, according to the company.
Liu knew the unusual strategy would help customers envision the products in their lives. "When I was shopping for my own outdoor furniture, I remember going into a stuffy, air-conditioned showroom and seeing a set of furniture that's never [been] outside—it's never seen the sun, the rain, the environment," he says. "I thought, There's got to be a better way to allow potential customers to experience the furniture in person."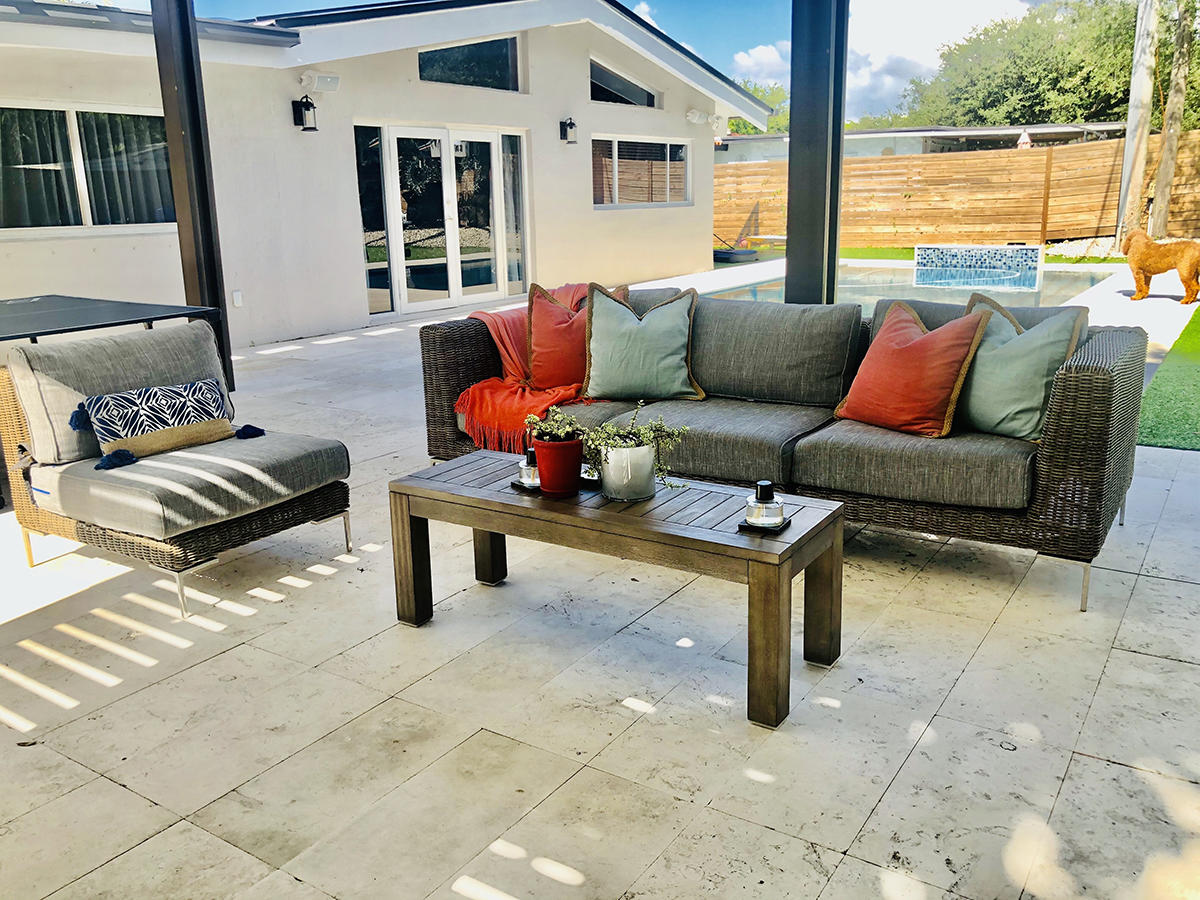 Longevity is the true test of outdoor pieces, so consumers typically want to see how they perform after a few seasons of being exposed to the elements. According to Miami-based host Gema Santana, questions related to performance are the most commonly asked as potential customers sit on the pieces and inspect the materials. Plus, the outdoor setting offers a less awkward terrain for strangers, says Liu: "It's not like selling a mattress—imagine inviting a stranger to roll in your bed. That's a different conversation!"
Another driver of the strategy's success—and the biggest reason hosts give for deciding to participate—is its emphasis on building community, both internally among hosts and within the surrounding communities. A recent survey conducted by Outer found that 97 percent of hosts wanted more contact with their neighbors and community, a number bolstered by the 89 percent who reported feeling more connected to those groups after hosting a Neighborhood Showroom visit. When scouting, Outer seeks hosts with the desire to connect and those Liu refers to as "true believers"—people who genuinely enjoy the furniture and can speak to it authentically.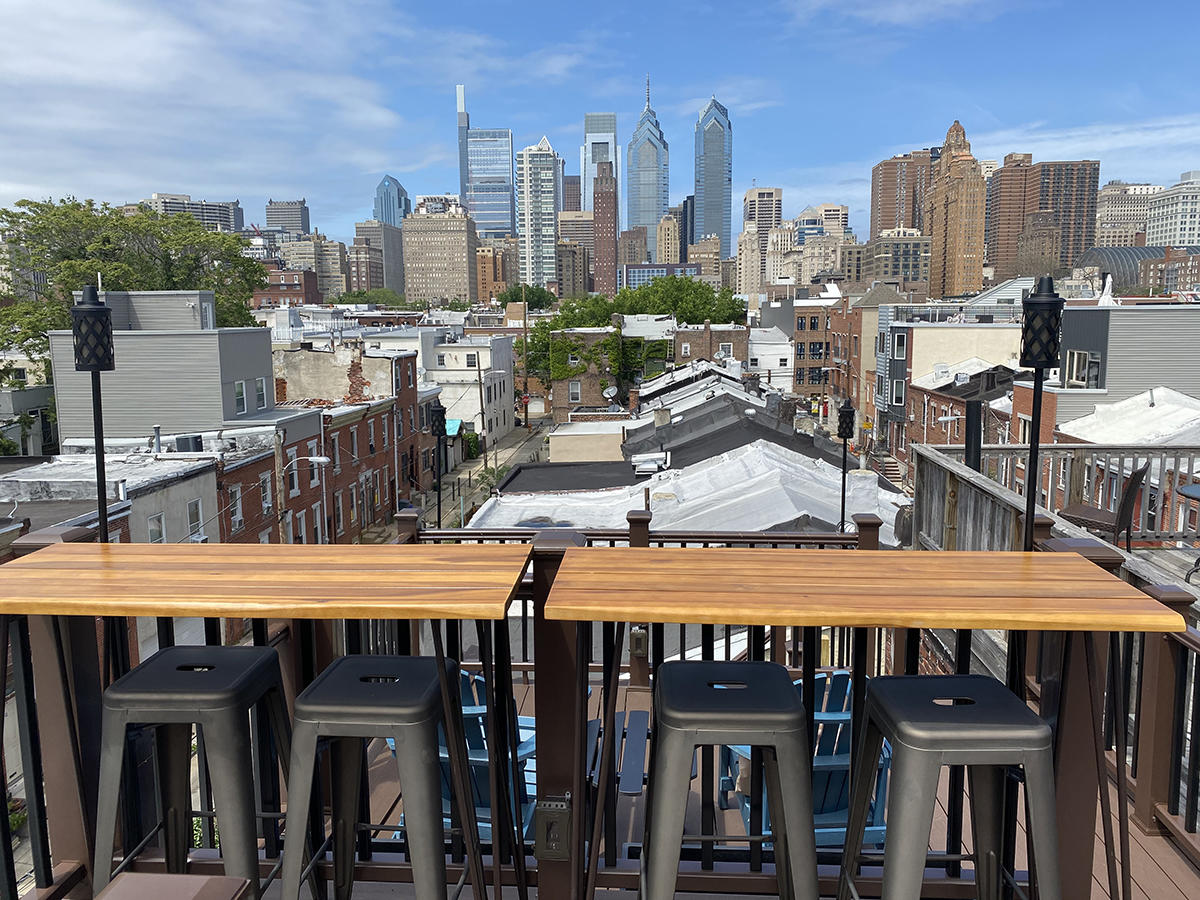 William Pilat falls into that category. A self-described Shark Tank advocate (Outer was featured on the business reality show in 2019), Pilat purchased his first set of the company's furniture following a 400-square-foot roof deck renovation on his Philadelphia home after seeing it on the show. "They had this community aspect—I remember watching and thinking, That's just wonderful, being in the same situation someone was in previously and helping them along in their experience," he says. "The moment the deck was built, I called Outer [and asked]: 'How do I do this?'"
As a marketing professional, he was a natural fit for the program. Outer doesn't provide its hosts with a sales script, and the company compensates them whether or not the customer follows through with a sale. As a result, Pilat says the interactions often turn into personal, get-to-know-you visits.
The neighborhood feel has been a favorite aspect for Atlanta-based host Emily Porche, who happens to be an e-design company owner and design blogger. A five-piece wicker set from Outer sits around a fire pit overlooking her home's pool and two fairways on the golf course beyond. Porche says she has even kept in touch with a few visitors from the few dozen tours she has hosted thus far. "I love being social and meeting new people, especially those in the community around me, so thought this would be a fun, non-intrusive way to host and get to meet people in my own home," she says.
While the brand has participated in other retail experiences, including pop-ups in Chicago and L.A., Liu says Outer is focused on building out its Neighborhood Showroom infrastructure rather than breaking into traditional showroom spaces. "I do think we're in the unique position to pave the way for neighborhood commerce," he says. "The way that people shop, and what people expect from retail, is evolving. A lot of people chant the death of retail, but I don't personally believe that. If you can just go to a neighbor's backyard and check out products in a real, natural, authentic setting, talking to a customer without the pressure of a commissioned salesperson, I think that's an option that should be available not just for outdoor furniture, but more products in the future."
Homepage image: Emily Porche's outdoor setup, where she hosts Outer's Neighborhood Showroom visits | Courtesy of Outer