In Business of Home's series Shop Talk, we chat with owners of home furnishings stores across the country to hear about their hard-won lessons and challenges, big and small—to find out what they see for the future of small industry businesses like theirs.
This week, we spoke with Kelly Whitesell, owner of home goods store Eskell. After spending years in the fashion industry in New York, she moved to Chicago to create a clothing line and boutique, which opened in 2005. Over the past decade and a half, Whitesell has pivoted through different buildings, different leadership and different stock, eventually landing on the home goods she offers now plus a side hustle of staging. Here, Whitesell discusses finally finding her true path, the funny object her customers adore and why she can never turn off.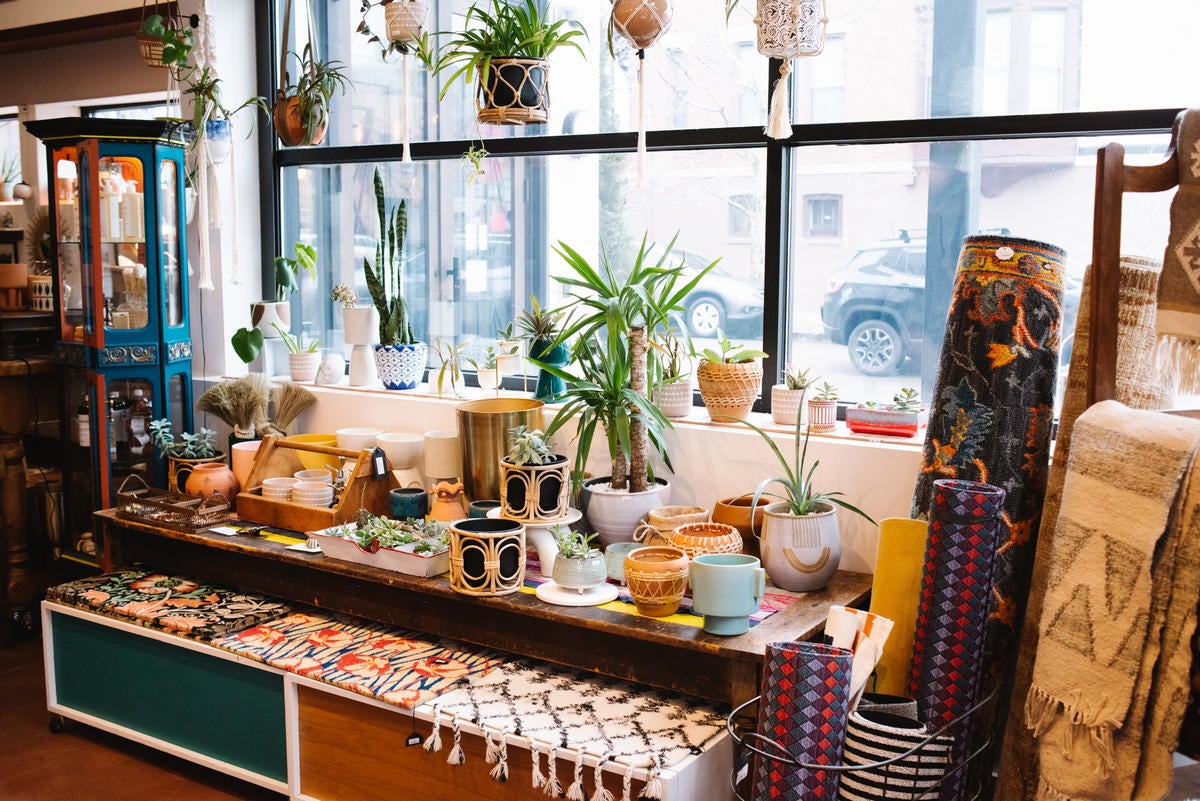 What was your professional background before the store?
I lived in New York and went to FIT for fashion design. After that, I stayed, and I worked for a few small designers because I wanted to have a more hands-on, homegrown experience. I bumped around, did freelance jobs and was trying to figure out what I wanted to do. My friend worked for Spiegel; they were based in Chicago, but she traveled doing garment sourcing. When that company moved to New York, she stayed here in Chicago, and that's around the time I moved. We were like, "Oh, let's open a store!" So that's what Eskell is, our names together: Elizabeth and Kelly. We opened as a small boutique. We had our own collection, and we had a showroom in New York that represented us. We did two collections a year for probably five years. We sold to Barneys, to a lot of small stores, to stores in Japan. This went on until 2010 or so. I designed all the prints and then we had them custom-printed, and it's really expensive. Making clothing in general costs a fortune, unless you have a backer. It was expensive, and the fashion world was changing, and my interests started to change and my partner and I split ways.
That's when I started to turn the store more toward home goods. We began adding candles, lots of gift stuff. When we opened up the current location, we bought the property and put apartments upstairs, and we built it to be able to house furniture, basically. By that point, I knew what I wanted to do, and it came together pretty well.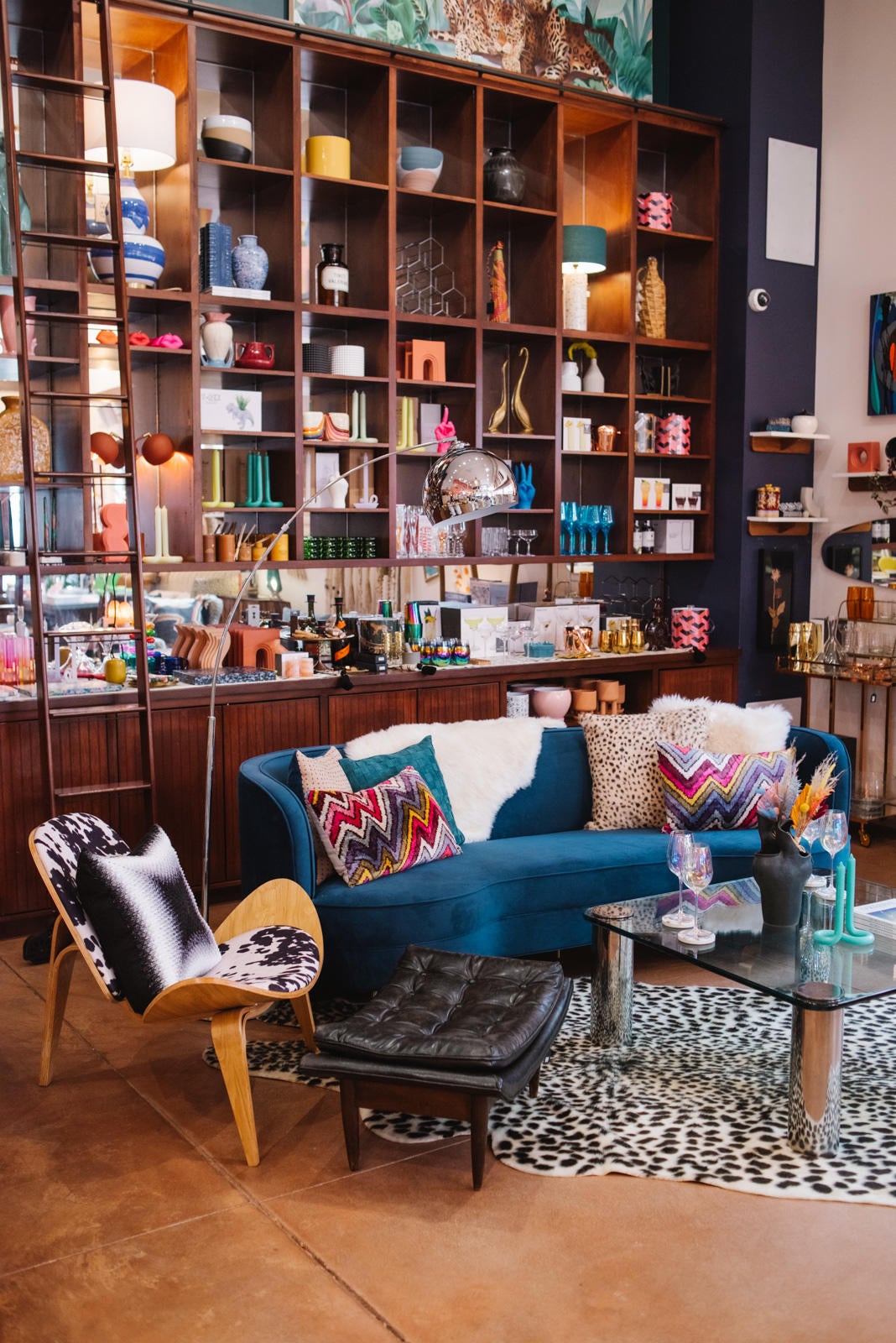 What's the general vibe of the store?
I don't want to say it's bohemian, because it just sounds cheesy, but you should be getting things that you love from a few different places. It should be a collection. That's what our store is, a collection of different things from different places that I love. We have new stuff, we do reupholstery, which is an extension of my design background. We have vintage too, so that's green, which is nice, because buying new stuff all the time, it does seem so wasteful. I like the hunt. It's a freestyle curation.
Who is the typical customer?
We have all kinds. Our store, it's like a mini vacation for people. They just want to come in and get lost and walk around. We do have a lot of stuff, so if you really want to see what's going on, you need a little time to wander. For sure we have regulars. It's so sweet—we have a lot of girls who grew up shopping at our clothing store, and now they're first-time home buyers: from "We used to come here in high school" to "We need a couch." They understand our aesthetic. We've been in this location for four years and there are a lot of people who are still wandering in like, "Oh, I've always wondered what this is. What's going on in here?" And then we also do home stagings too, so we have a lot of customers from that. They'll see a place that we staged, and that drives them into the store to shop.
How does the staging part of your business work? Are you using products from the store, or are you doing additional sourcing?
At first it was mostly working through real estate agents, but now we have a page on our website. A lot more sellers contact us directly. As far as getting stuff for staging, we have a storage space in the basement of our store, but a lot of times we will take stuff off the floor. If I need something in particular, I order it. Or we'll go antiquing, and we'll look around for plants. [Staging] can be very cookie-cutter and supergeneric, or cheap and weird. It can be soulless. But again, our store aesthetic has nothing to do with that, so it feels authentic. It feels like someone lives there. We pull from all over to make it unique.
I like it as an additional thing, but I think it would make me miserable if I were staging full-time. It's satisfying, but the store is too. [Staging] gives me the freedom to buy stuff for the store, like: "Eh, we could just use that for staging." They go hand in hand.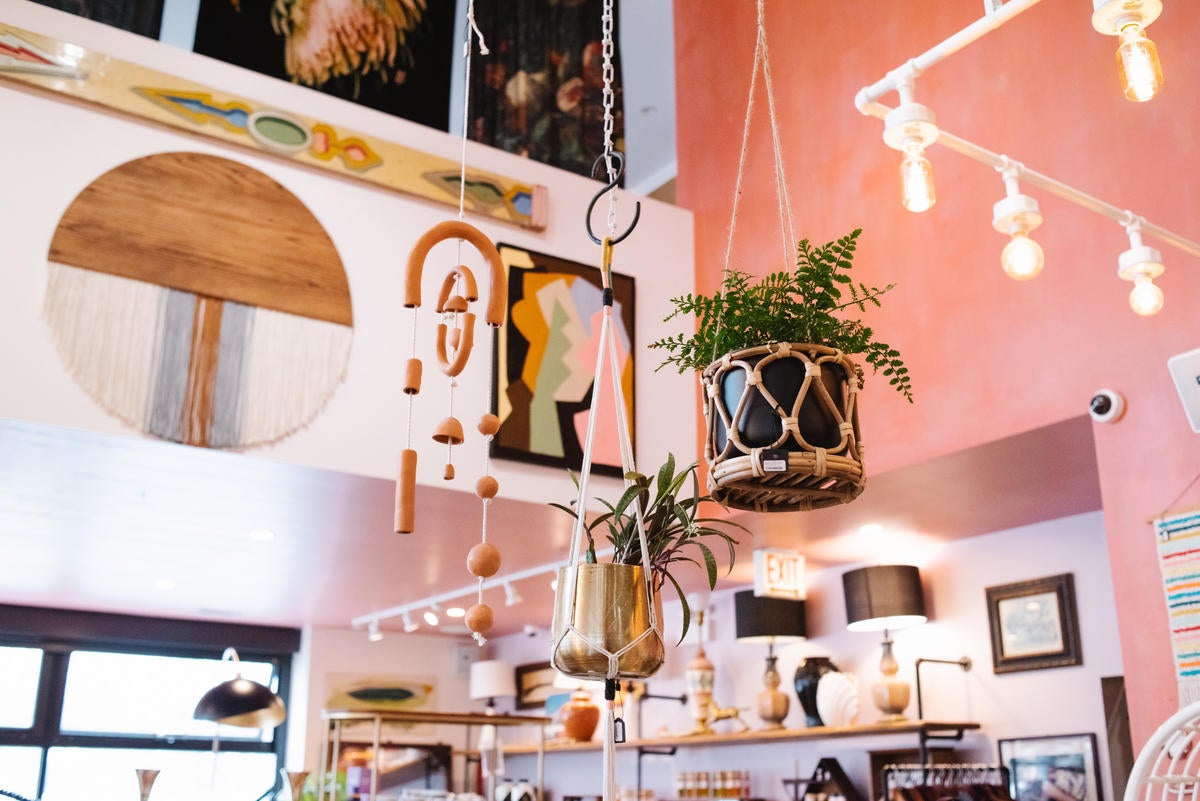 What's one of your favorite items in the store? What makes you smile every time you walk past it?
I like whimsical objects, and I'm weirdly obsessed with really dumb things. We have this top hat wine stopper: I live for finding that stuff. Our top SKU—we do not have it in stock right now because every time we get it, we sell out of it—is a disco ball ice bucket. I can't order enough of these things. It's unbelievable. I get emails and people are like, "Let me know when this is back in stock." There are no rules, and that part of it is really freeing to me. We can try stuff out, and if it bombs, then that's fine. We don't have to order it again. Another thing we just had for two seconds and sold out of: these clear resin coasters [with] pills inside. The line is called Tart By Taylor. They're low-commitment things that are fun to shop for when you're like, "I'm kind of in a bummy mood. I need this vase." It's a mood booster.
My next question was "What is something you cannot keep in stock?" But I guess it's that category.
A lot of times it is. The disco ball ice bucket, seriously, there's not enough on this planet for me to buy. But also, we have this faux sherpa swivel chair. That is a hot seller. Furniture is hard because it takes up room. I love rugs. Love. I love buying rugs, I love selling rugs, I hate moving rugs. Displaying them is a pain. I think putting the rugs online is our next step, because they just take up a lot of room. We sell rugs well. That's another nice thing: People buy stuff off the cuff all the time. They walk in for 10 minutes, buy a couch. Walk in for 10 minutes, buy a rug. People come to our store for our curation.
Is there any advice you would give yourself if you could go back to opening day?
Don't start trying to think too hard about who you're buying for instead of following your instinct. The home world's a little intimidating when you're coming from fashion. But now I am dealing with interiors in my own way. I'm a designer of many things, and it's taken all these years to realize that. I'm designing someone's engagement ring right now. I'm designing someone's loft. I think that designers are designers. You don't have to be pigeonholed. I was like, "Wait, I want to do a home store." I [was] over designing clothes. I hated the pattern making. It was figuring out how to move on. I really struggled, feeling like I was giving up, but it was more like letting it go.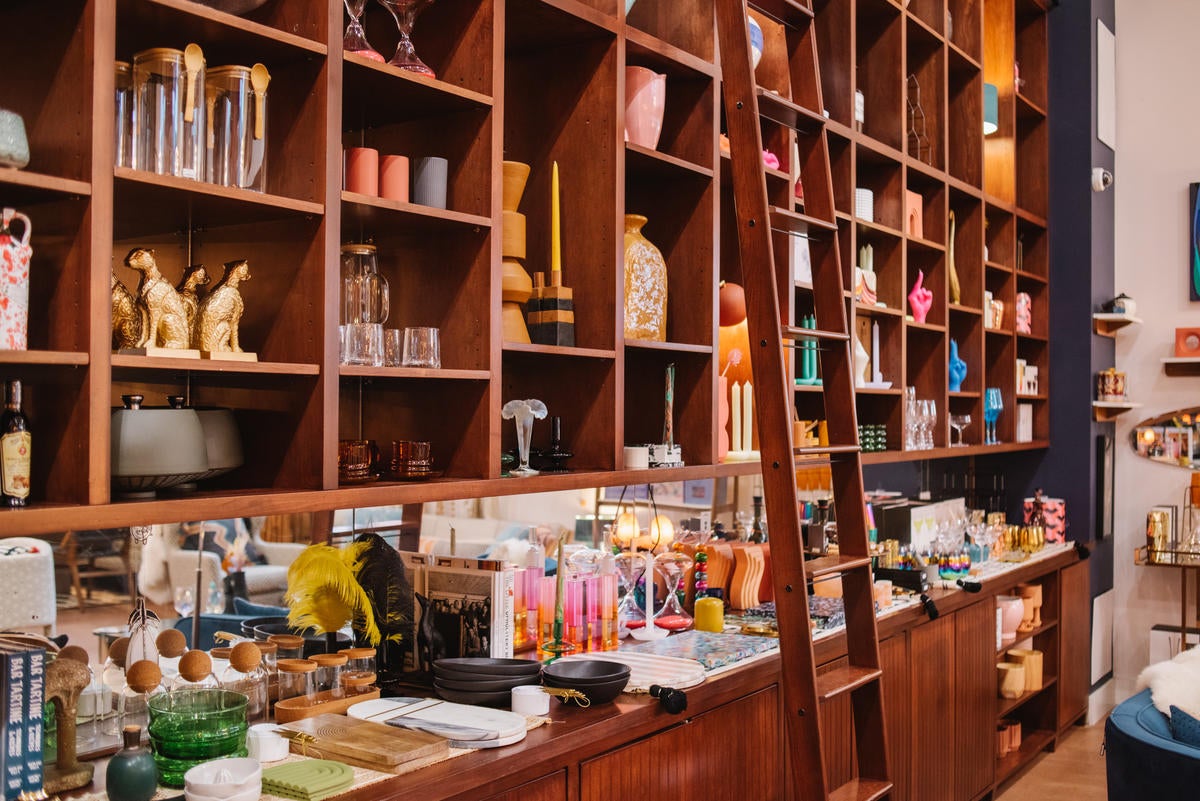 Every single retail owner says, "Trust your instincts," when I ask that question.
I'm a bad liar. I've always known who I am and what I like. You've got to figure out who you are as far as what you're trying to buy, and not think too hard about what you think other people want.
What is your biggest everyday challenge?
Just having too many things to do. My team is amazing, but a lot of things pretty much only I can do. Before one is done, there's another new project. And I have twin boys who are 11, so my time is always the issue. It's probably bad, but I can never go on vacation and say, "I'm going to turn my phone off." Yeah, right. I love working, so I work all the time. Even on vacation, I'm like, "Let's go to the antiques store!"
What is something you wish your customers could understand about the business?
We are buying nice things, and nice things cost money. If you want to go to Target, then just go to Target. I'm not a brand shopper in that I'm not buying brands that are expensive [just] because it's this [particular] line. If I find it when I'm antiquing, OK. I'm more excited about finding something when I'm out hunting or at an antiques store. I think our customer really does understand this, though, for the most part. There are one or two that are like, "Oh, this is expensive!" But we price it at what it needs to be priced at, and a lot of work goes into everything we do. We really work our asses off. But I do feel pretty understood by our customers, and they love and appreciate coming in. Shout-out to our people!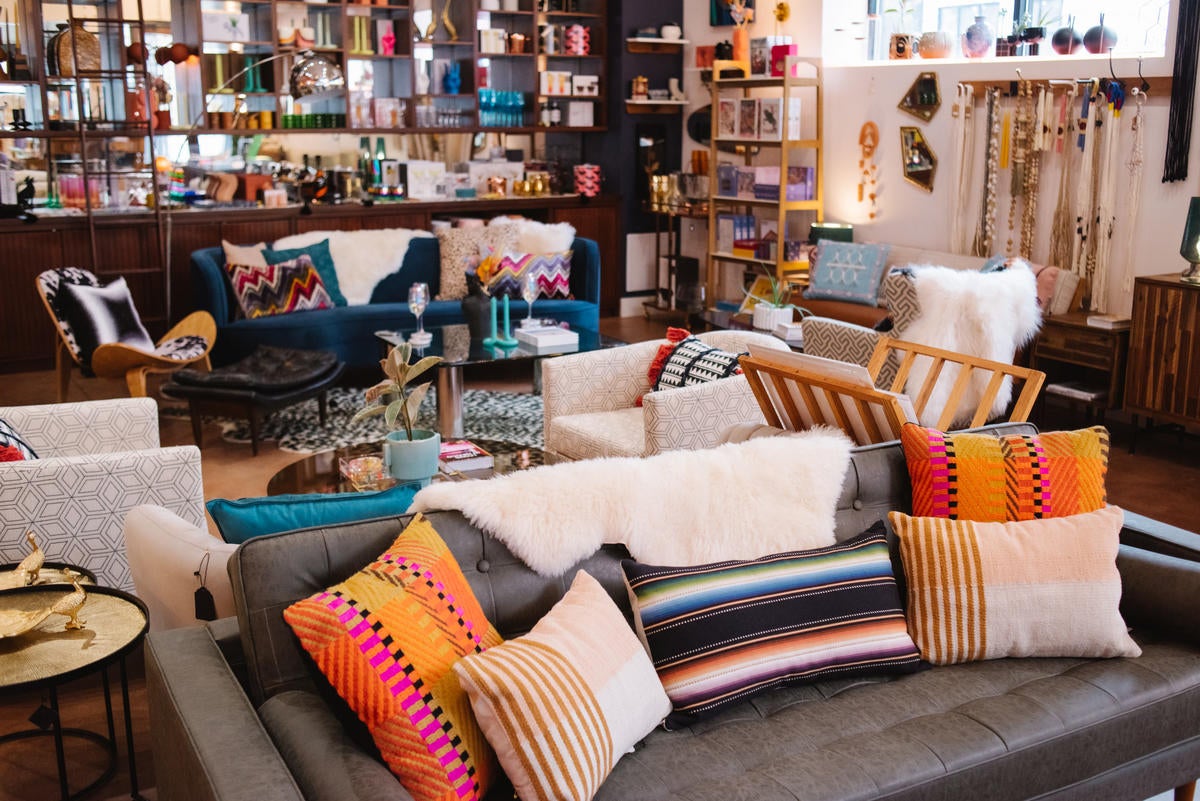 Is there a challenge specific to Chicago that people in other cities might not know about?
Chicago is great. After living in New York, people are different here as far as the way that they shop. They own a house here, usually, and they invest in their houses. Whereas in New York you have the Carrie Bradshaws with the shoes in the oven. It's a different mentality. I live in the same neighborhood as our store, and I love that. I've always wondered what it would be like if I'd stayed and opened something in New York instead of moving here. In New York, stuff is a dime a dozen. There's so much everywhere. And it doesn't turn over here in the same way; New York is seriously so fast. If you don't remember something being there, nobody else does either, and it's on to the next thing. It's rough.
Not to mention rents.
I mean, Chicago's expensive too. We threw money away in rent for years. I looked and looked for a place to build, and it took me a while. But it was being smart about it, putting apartments upstairs and looking at the whole building as more of an investment in general, as opposed to just handing our money over to someone. That probably goes back to the lesson question, with how much rent we spent back then. But we had to start somewhere. I'm older, and I was ready to make the commitment. It was part of the whole plan when we built this place.
What is a great day as a shop owner?
I always like when my favorites come in. There are those days when all my people pop in, and that's fun, but it's also really fun when people come in and splurge, just get really excited about something and go for it. Or when they come in for the first time and they're like, "Oh my god, what is this place even?" They're so excited. The other day, there was a woman who came in: "I was feeling kind of blue, and I just needed to go out of my house." We're here for that because we try to have good vibes. Yeah, come in and hang out on our couch and just get in a good mood.
Homepage image: Kelly Whitesell, owner of home goods store Eskell | Ryan Gregory