Growing up in Berneck, Switzerland, there were a lot of things that product designer Kevin Seitz, whose resume includes stints at Martha Stewart Living and Kate Spade, took for granted—the local tradition of barrel making, for example, or the unique, brass-plated harnesses that the region's farmers used to outfit their cows. "There are all of these little flourishes that are mixed with an old-world tradition," Seitz tells Business of Home. When he founded his own firm, Studio Seitz, with his partner in business and life, Rob van Wyen, in 2018, it was those flourishes that inspired the debut collection. "I've always been designing things on the side," says Seitz. "Last year, we decided that we had enough products to create a full story around. Rob has a background in creative direction and brand building, so it was also the perfect opportunity to work together, which, as a couple, has been a really exciting progression of our relationship."
Called the Heritage Collection, the line features five seemingly disparate pieces, from a dog bowl to a dresser. "It's funny, a lot of people don't see the connection between them," says van Wyen, who previously worked in brand creative at One Kings Lane and West Elm. "And I can see that, but I think where we tried to have a connection is through the materials and the influence." Seitz's Swiss upbringing informed each item, with elements like those brass plates on the cow harnesses interpreted into ornamental pulls on the solid ash dresser.
Some of the techniques the duo have harnessed, like elegant joinery, have humble roots: "Switzerland is now seen as a very rich country, but back in the day it was actually really poor," says van Wyen. "Craftspeople tried to use as little material as possible, which often meant going without glue or nails as well." Studio Seitz brought that methodology to all of their pieces; the brand's Stabellenbank (Swiss for stable bench), for example, is held together by four hand-turned legs and joinery alone. Because the town of Berneck lies in a valley that's rich with clay, the region also has a history of peasant ceramicists. Seitz's family has lived in the region since the 1700s, and many of his ancestors, back to his great-grandfather, were potters. "The area has a very interesting history," says van Wyen. "But we had to look at how to take that, get inspired, and modernize it so that these traditions don't die away. We wanted to use traditional craftsmanship on everyday items that have a tendency now to be sort of generic."
Currently in the process of furnishing their second home, van Wyen and Seitz wanted to create pieces that they needed for their own living space. "I think it was partially about solving a need in our own lives," says Seitz. "We have two dogs, and anything out there for dogs is mostly plastic or has paw prints on it. We wanted to have something that suited our lifestyle—and we know other people out there are design-driven, so we thought if we were missing it, other people were too."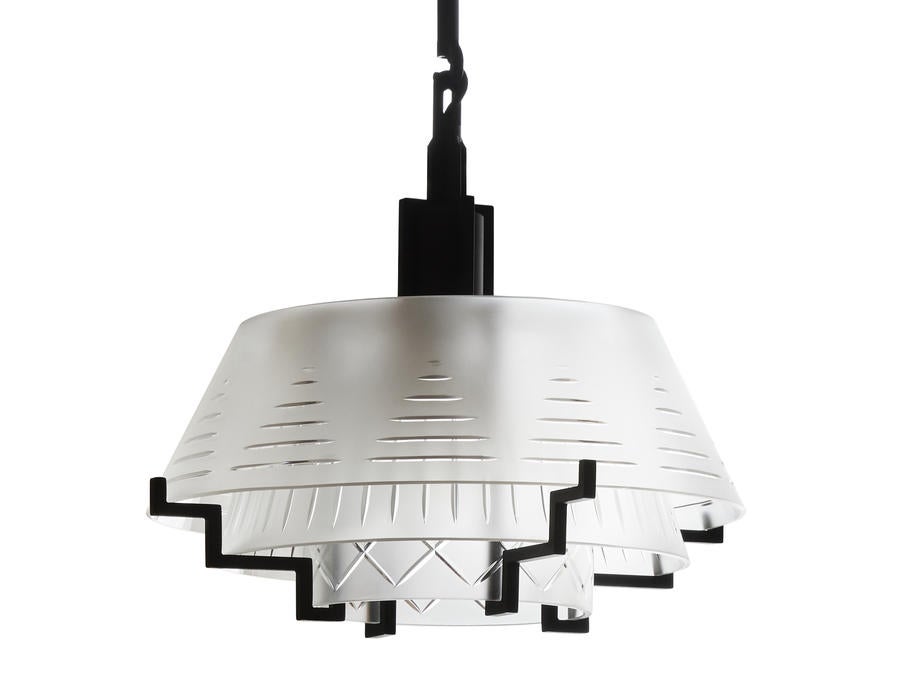 The lack of modern heirloom furniture also shaped the perspective of the collection. The shift toward fast furniture has sidelined craftsmanship in many corners of the industry, and, consequently, a dwindling stock of craftspeople. In his hometown of Berneck, Seitz says there is now one lone barrel maker, once a bustling local trade. "I think people do want to invest in pieces that they can have for a lifetime," says van Wyen. "But they want them to be functional as well. We wanted to create something special, that isn't an art piece. They're durable enough to move with you."
The collection is currently available through the studio's website, and will exhibit at the Architectural Digest Show in March. They're also working with a yet-to-be-launched design e-commerce marketplace, which they expect to be live later this year.
The pair plan to expand the collection, adding another five pieces in March, and are considering a future collection inspired by the Malaysian heritage of Seitz's mother. "What we're really driven by is our past," says Seitz. "What drives us in general is the pursuit of craft, and creating objects that can last a lifetime, and that comes from a cultural perspective too. It's always fun to mix and remix those histories, and fit them now into our modern traditions that we have."
Homepage image: The Stabellenbank bench by Studio Seitz | Stephen Kent Johnson