Creating a custom piece of furniture is a valuable skill in any interior designer's toolkit. It offers the ability to bring a vision to life more accurately or demonstrate to a client that you've taken care to craft something specific to their space. However, the early stages of the process—getting those initial angles and dimensions on paper—can feel like a push to reinvent the wheel (or chair, or sofa). If you could access the existing canon of furniture blueprints in order to create your own one-of-a-kind design, why waste time treading through that unnecessary first step?
With the recent launch of its new Templates gallery, Buildlane has developed a way to streamline the custom furniture design process for its designer clients, ironing out some of the creative roadblocks. The initiative offers an entryway into the creation of custom pieces—instead of starting with an entirely blank slate, users can browse a vast digital library of frames curated by the Buildlane team, tapping into the furniture maker's design expertise to choose the best base off of which to build a unique piece.
"Custom can be intimidating, whether you're a brand-new designer or a seasoned vet," says Frank Eybsen, founder and CEO of Buildlane. "Our mission is to make it easy."
The new service was born out of the frequency with which designers were requesting custom furniture on Buildlane's platform, as well as which steps to create custom pieces produced the biggest pain points. The company found that most designers tended to make minor modifications to established design blueprints—and furthermore, the majority sought out guidance when it came time to hammer out the details of a custom piece.
With Templates, Buildlane's goal is to compile a massive library of commonly sourced styles, contextualized by information provided to designers upfront on the best practices for detailing each one. "It's all very deliberate, practical and functional," says Eybsen. "The concept of templates is common in fields like graphic design, but no one talks about them for furniture."
In a project spearheaded by the brand's resident "furniture academic," Hunter Scanlon, the program's templates were collected through an extensive research process that surveyed historically popular furniture designs, styles frequently requested by Buildlane's own clients, and pieces commonly found at large retailers and trade manufacturers. In an ongoing process of building out Template's offerings (with new selections added weekly), the chosen styles are then workshopped by Buildlane's network of furniture makers, who help finalize the specifications for each template before it hits the platform.
After signing up online for a free Buildlane account, members of the trade can browse the Templates library's 100 existing designs, all of which are presented as 3D models rendered in a basic wood finish and simple off-white upholstery. From there, designers have the ability to download a template, design a piece, upload their customized version and request a quote from Buildlane's team to bring the idea to fruition (or even have the Template built as is in their favorite COM).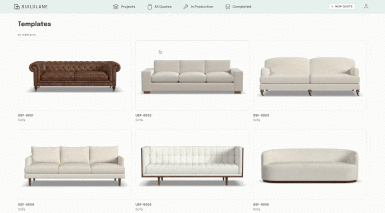 The new offering is poised to be a hit with designers who are new to the platform's custom offerings and those who are well versed in designing one-of-a-kind pieces with the company. Monterey, California–based designer Ashley Yeates already had experience designing pieces from scratch with Buildlane when she started testing out the Templates feature. She has found that working within the existing framework that Templates provides not only speeds up her own creative process but also helps get a piece moving along so she can pass the quote to her client in a timely manner—a coveted service in a climate where extended lead times have become the norm. "In this business, a lot of times when people want something, they want it yesterday. Any type of delay opens the door for them to go find something like what they want somewhere else," says Yeates.
In one case, the designer set out to create a custom chaise lounge but ran up against issues sketching the piece's angles, scale and proportions exactly as she had envisioned them. To solve the problem, she surveyed Buildlane's Templates database. She found a traditional midcentury sofa with the sort of classic lines she could adjust to fit the piece she had imagined. Using the program's framework as a jumping-off point, she divided the back of the piece in half and brought one section to the sofa's opposite side to form the tête-a-tête piece she dreamed of.
"It was a really quick way for me to take a design concept and play off a classic design, and submit it without having to do start-to-finish freehand sketching," says Yeates. "I've got this crazy holistic approach to furniture design, and Buildlane has brought me the tools to simplify the big picture to get the results."
By January, Buildlane expects to have upwards of 200 templates live on the site, and the team hopes to grow that number to 600 within the next year. From there, the possibilities are endless: "This is just the start," says Eybsen.
Additional reporting by Siobhán McGowan. This story is a paid promotion and was created in partnership with Buildlane.
Homepage photo: Courtesy of Buildlane