The 50 States Project is a series of candid conversations with interior designers across the country about how they've built their businesses. This week, Charleston-based designer Angie Hranowsky tells us how publishing her own home helped put her business on the map, why she stopped charging a flat fee and why she never wants a giant firm.
When did you realize that design could be a career?
I was an art history major in college, but didn't know what I wanted to do. I met friends who were graphic designers and had attended the Portfolio Center [now the Miami Ad School in Atlanta], which I thought was cool, so I ended up going there to get a graphic design degree. It was two of the best years of my life.
I moved to Miami and worked at a graphic design firm for a few years. I did my own apartment there, then I moved to Charleston with the boyfriend who became my husband, now my ex-husband—this was the end of 2000. We had lived here for barely a year in 1995 and I fell in love with the city, like everybody else, but we moved to Atlanta and then Miami because I wanted to go back to school and live in a bigger city. But eventually we ended up back in Charleston and bought a house. That's when the light bulb went off. We bought that house, renovated it, and I decorated it on a shoestring budget. I thought, "I'm in the wrong business. I like being a graphic designer, but I love interior design." I knew in my soul that that's what I wanted.
What about that house unlocked that for you?
I had decorated the previous places, but I didn't own them. It wasn't until I owned my own house that I could do exactly what I wanted with it. We didn't have very much money, but I thought, "If I can do this with our tiny budget—I could be in a magazine if I had a client with a budget." I just knew.
But then it was like, OK, how do I segue into interior design? A friend of mine was a commercial photographer, and she said, "We need to photograph your house and you need to send it out." At first I thought, "Well, I'll send it to Charleston magazine." And then I was like, "You know what? I'm going to send it to everybody." As a graphic designer, I knew how to package myself. I got this beautiful Italian paper and I made this little book with a letterpress cover; a friend who was a copywriter wrote a little profile and my seamstress sewed all the pages together. And then I sent out these beautiful little books.
Who did you send them to?
I decided that I would just pick two editors at all of my favorite magazines. I didn't know what I was doing—this was in 2004 or 2005, so we were emailing, but you weren't attaching PDFs or sending all of your images via Dropbox. I sent it to Domino, House Beautiful, Elle Decor, Metropolitan Home and Southern Living. And within a week I got a call from Linda O'Keefe at Met Home, who wanted me to be in this smaller story. It wasn't the whole house—she wanted maybe three rooms—and of course I was thrilled and said yes. I had to sign a contract, and they very quickly sent a photographer over to shoot these three rooms.
About a month later, I got a call—on the same day, within two hours of each other—from Sara Ruffin Costello at Domino and Doretta Sperduto at House Beautiful. They both wanted to shoot the entire house and do a full story. I didn't know enough about the industry, but even I knew enough to know that was not going to happen because I had already given it away to somebody else, even though it was only part of the house. Doretta was great and said, "Send me whatever you do next, you're on our radar." I played phone tag with Sara for two weeks, and when we finally got on the phone, and said I already promised the house to Met Home, she was like, "Oh, yeah, we can't do it." But she called me back and said, "We want you to do our 10 favorite things [column]." I ended up doing that—and you know, this is back in the day when they really invested. They had a whole crew come down to Charleston for a one-page article. I even had a makeup artist. I mean, it was crazy back then.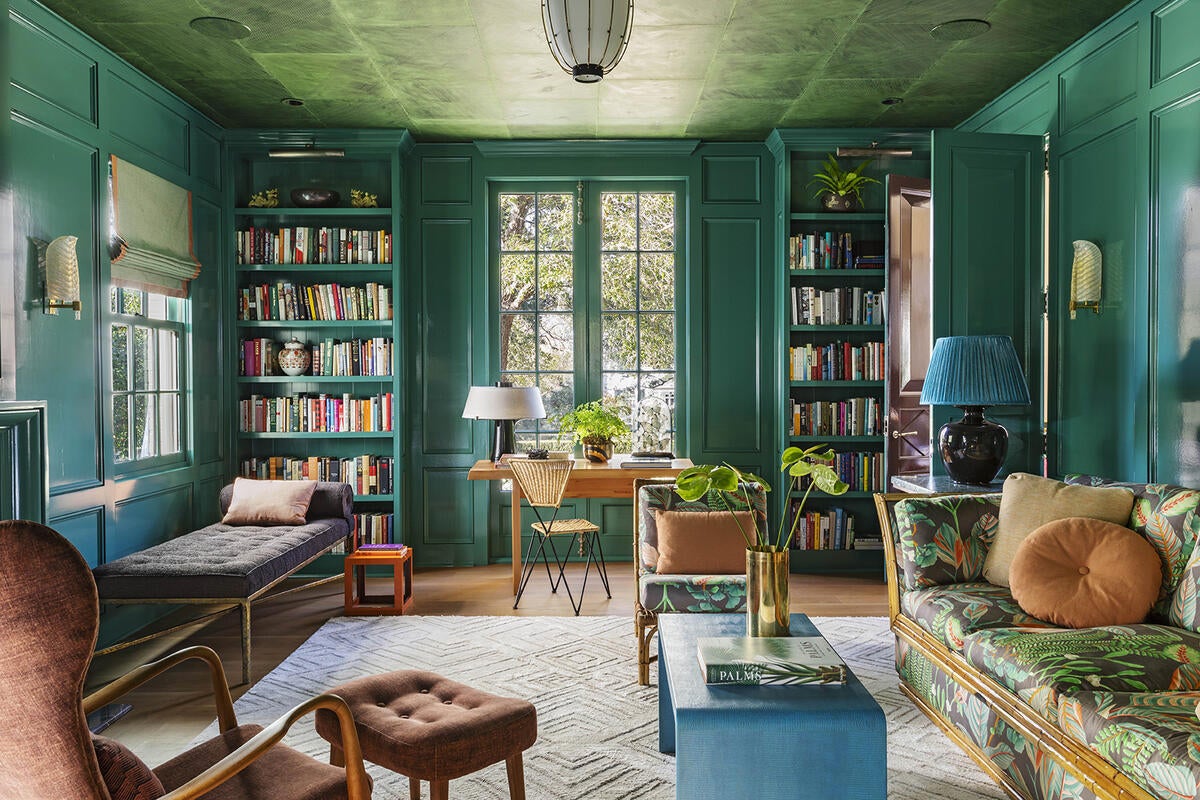 How did that press shape the trajectory of your business?
Well, as all of that was happening, I decided that maybe I wanted to go back to school. So I went down to SCAD in Savannah, which is about a two-hour drive. When I met with them, I realized there was no way that I could drive back and forth to graduate school with a full-time graphic design job and a baby. There was just no way. Then I found this program at Parsons in New York that was about five weeks long—it was just to get your feet wet. So I moved to New York for five weeks, lived with my best friend, and my ex-husband and daughter, who was two, would come up on weekends. It was amazing.
Then my mom moved to Charleston. I did her house, and House Beautiful picked it up immediately—that was in 2006. And after that, my name started getting out there. I was getting some small projects.
But you were still holding down a day job doing graphic design?
I was doing both for a while. What really changed that was the recession in 2008. A few weeks before that crash, I got a call from Lindsay Bierman, who the editor of Cottage Living, and who asked me to be the designer for a showhouse in Charleston. Of course I said yes. Then my whole family flies to Italy for a week for my mom's 60th birthday. The crash was the week we were gone. I lost every single graphic design client that I had in that moment and they never came back.
What about the interior design work? Did that stick around?
The design clients I had at that time weren't very big, and they went away for a little bit, but they came back. Through all of that, the Cottage Living idea home was creeping along for a few weeks. Then Cottage Living folded. A month later, they announced that Lindsay was moving to Coastal Living, and they were going to do a Coastal Living idea home—but we had to find a builder, because these builders need all this money to build spec houses, and they couldn't do that anymore [in the economic climate]. We ended up finding a great builder; Historical Concepts out of Atlanta came on as the architect; and it ended up being a completely different house in a better neighborhood—the whole thing just got better. But we still had the same deadline.
Other than my own house, that was the first time I really got my hands on a house from top to bottom. I went in and was like, "This is the moulding and these are the ceilings and these are the bookshelves and this is the kitchen." The builder was like, "Oh, we didn't have that in the budget," but we figured out how to make it happen. When all the editors showed up to photograph the project, they were so shocked when they walked in. We had it styled—it was just totally done. And they said, "The house is completely ready?" The builder and I looked at each other and we said, "Well, yeah, you gave us a deadline." And they said, "This never happens. We usually come in and the bathrooms aren't done, the floors aren't in—" We were like, "Oh, we just haven't slept."
Did that project lead to jobs?
Around the same time, my then-husband and I found this great modern house in Charleston. It was built in 1972. There's not a lot of modern architecture here, and I totally found it by accident. Long story short, I kept going back to the person who lived there and finally she sold it to me. We renovated it, and it was also going to be in Met Home, but they folded. It ended up in Charleston Home, the very short-lived magazine we had here for about two years. Brie Williams came down and photographed it, and I ended up getting clients from that. And then I got a few clients from the Coastal Living idea home, and within a two- or three-year period after the recession, everything just kind of took off for me.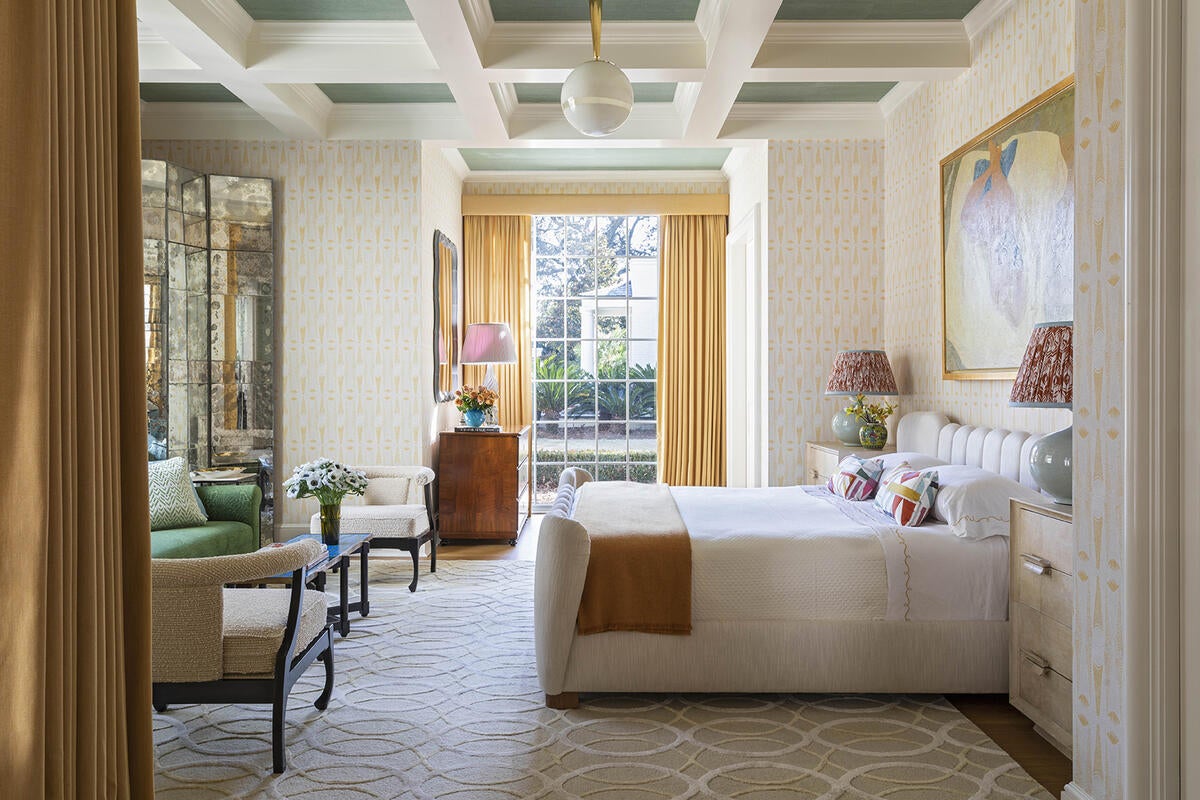 Was it just you in those early years?
It was just me in the beginning, and I was working from home. All of a sudden, I was like, "Oh, gosh, there are bolts of fabric everywhere." When I was freelance as a graphic designer, I could have a little office. I had a lot of books and stuff, but it's not the same as having fabric samples and bolts. So in 2010, I got my first office, even though I was still working by myself. Everybody around me was saying, "Angie, you've got to hire someone." And I knew it. I just couldn't slow down long enough to do it. But I finally did that in 2012.
What finally prompted you to take the leap?
I think a lot of people have this story: I was ordering, I was designing, I was working all night. Basically, if I wasn't with my kids, I was living at the office, and things started to fall by the wayside—I would get behind on invoicing because I didn't want to do it. But I'll tell you, my first employee, Jane, is still with me.
What's her role?
She started off part-time as my assistant. I remember saying to her, "I have no idea what you're going to do, I just know I can't do this by myself." She had no experience as an interior designer, but she's very organized. Within a month, we knew what our roles were. She's the operations manager. She makes that whole side of the business run. It was just the two of us for a long time. I brought in a couple junior staff members part-time a few times, and then in the summer of 2020, Lilly Rufty came to intern for me, and she was amazing. I've known her mom, Melissa Rufty, a designer in New Orleans, for a long time. As soon as Lilly went back to UGA to finish her senior year at school, we got slammed, and I thought, "I wish Lilly was out of school."
I posted on Instagram saying that we needed someone, and within 24 hours, Lilly sent me an email. She said, "I've decided to move to Charleston when I graduate in May—and if there's any way you can wait for me, I would love to work for you." So now it's the three of us, plus a freelance bookkeeper and accountant.
You waited!
Well, it just so happened that there were a ton of people back in Charleston [because of the pandemic] who were from here, but working elsewhere. I ended up hiring someone part-time who had been furloughed from the design department at Ralph Lauren. Right after she moved back to New York, Lilly moved here, and now she's been with me ever since.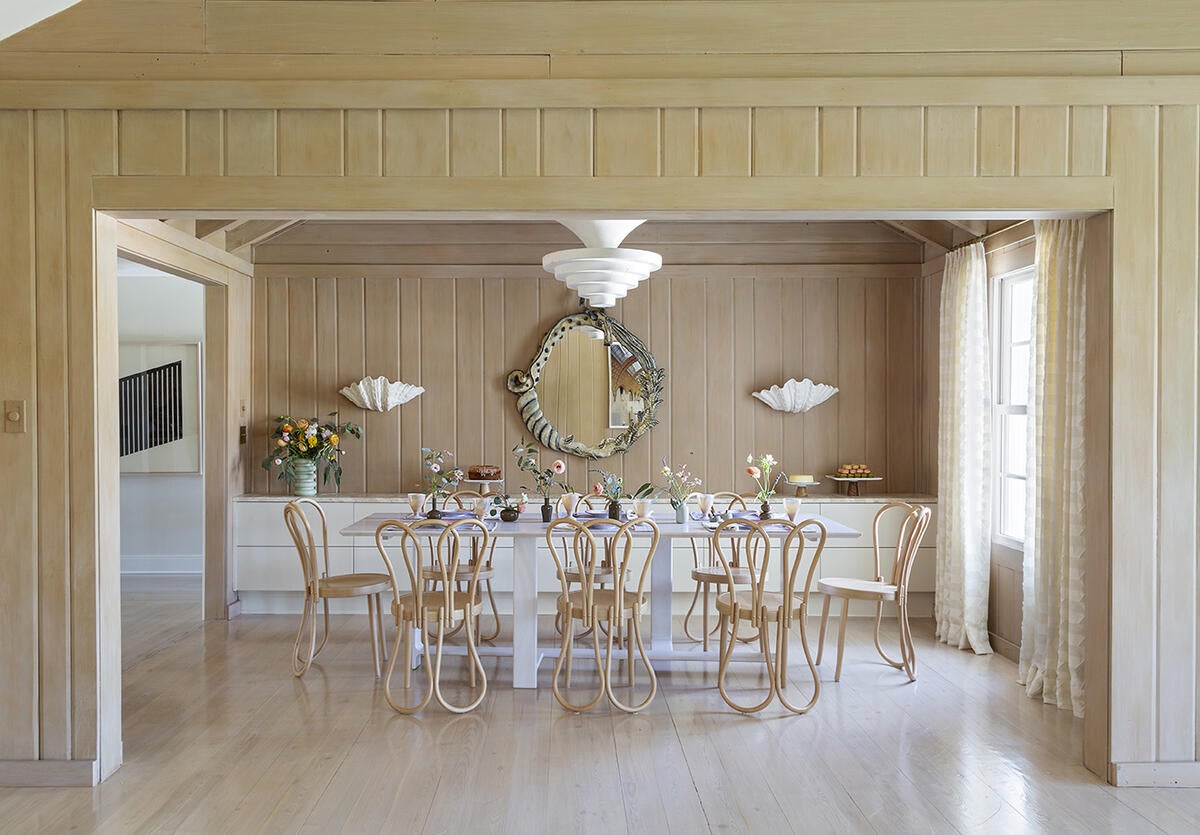 What does a full plate look like for you today?
I work directly with all of my clients, and I do all of the designing. We usually have four to seven projects, all at different stages. That might be two or three really big projects going, and then we've got some repeat clients who come back. But I am very, very hands on. I'm talking to the clients, contractors and architects all the time.
What changed when you brought someone on to help on the design side?
That was huge. I knew for a while that I wanted it, and I was getting to the point where I needed it. Because I'm a graphic designer, I can design the shit out of a contract. I do my own Christmas mailings. I just rebranded everything—I did all my own stationery and business cards. I mean, I hired a person to do my website because I was like, "I'm not in this world anymore," and it's too huge, but when people reach out to me and they say they need lo-res or hi-res photography, I know exactly what all of that is because I lived in that world.
As a person who's asking for that kind of stuff all the time, I can tell you that's rare.
I know! And I love the fact that I have that background, so I can throw stuff into Photoshop really quickly. But before Lilly came on, I was doing the drawings by hand. Now that she's on board, I'm able to sketch them out and not spend so much time on them, hand them over to her and then she can do the kitchen elevations. If we don't have a full house plan, sometimes I'll still go in and measure, then draw the floor plans for the rooms—now I can hand them over to her and then she'll put them in CAD.
How did that change the way you approach the work?
I still like to draw all of the furniture plans by hand—it's just a more organic process for me while I'm thinking about it, because I'm able to go through different layouts in a room. Once we finalize those furniture plans, I'll give them to Lilly to draw. She helps me manage working with the contractors, subs and architects—keeping those meetings scheduled and making sure that they have everything that they need from us. I still work a lot, but it definitely helped tremendously when she came.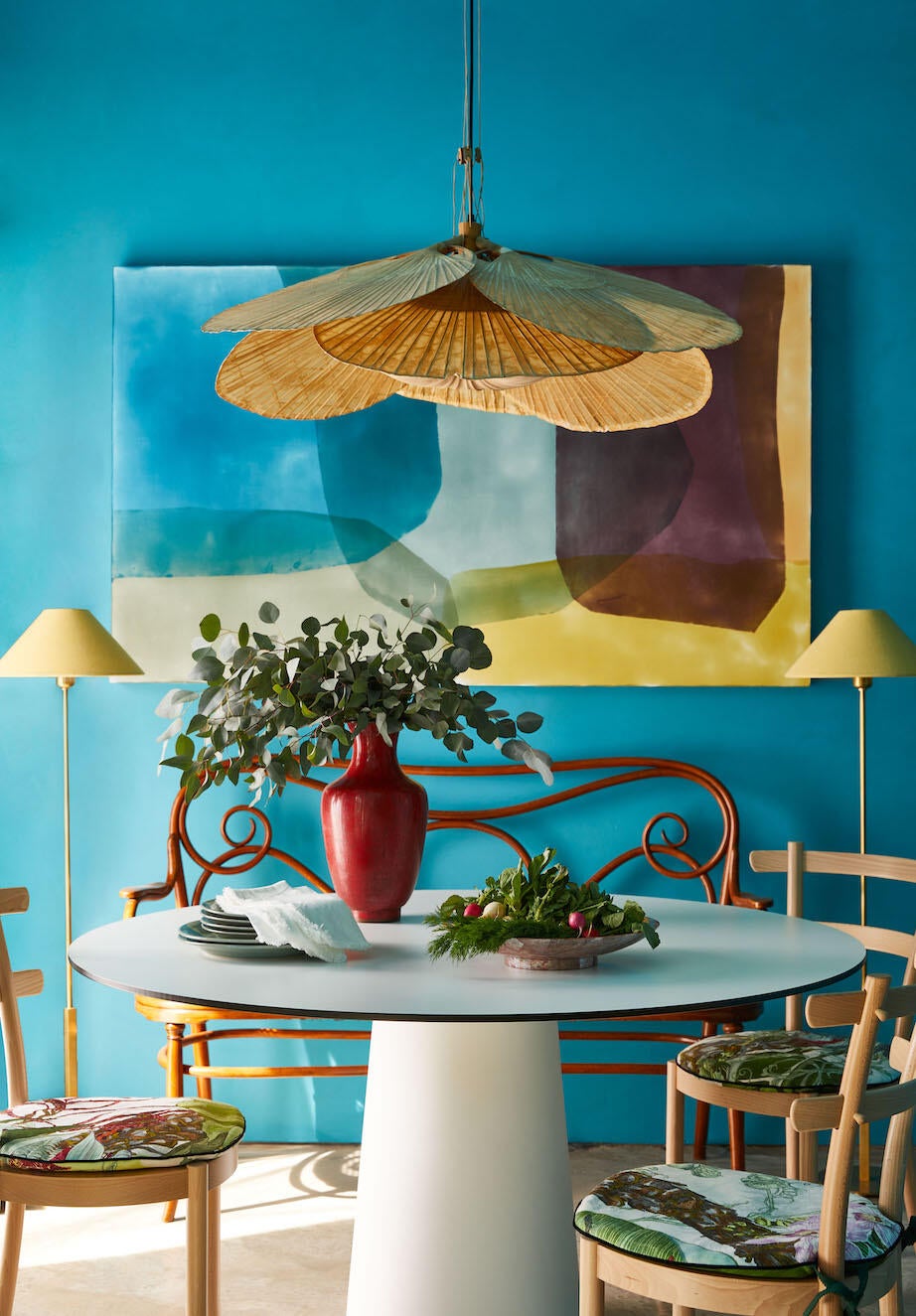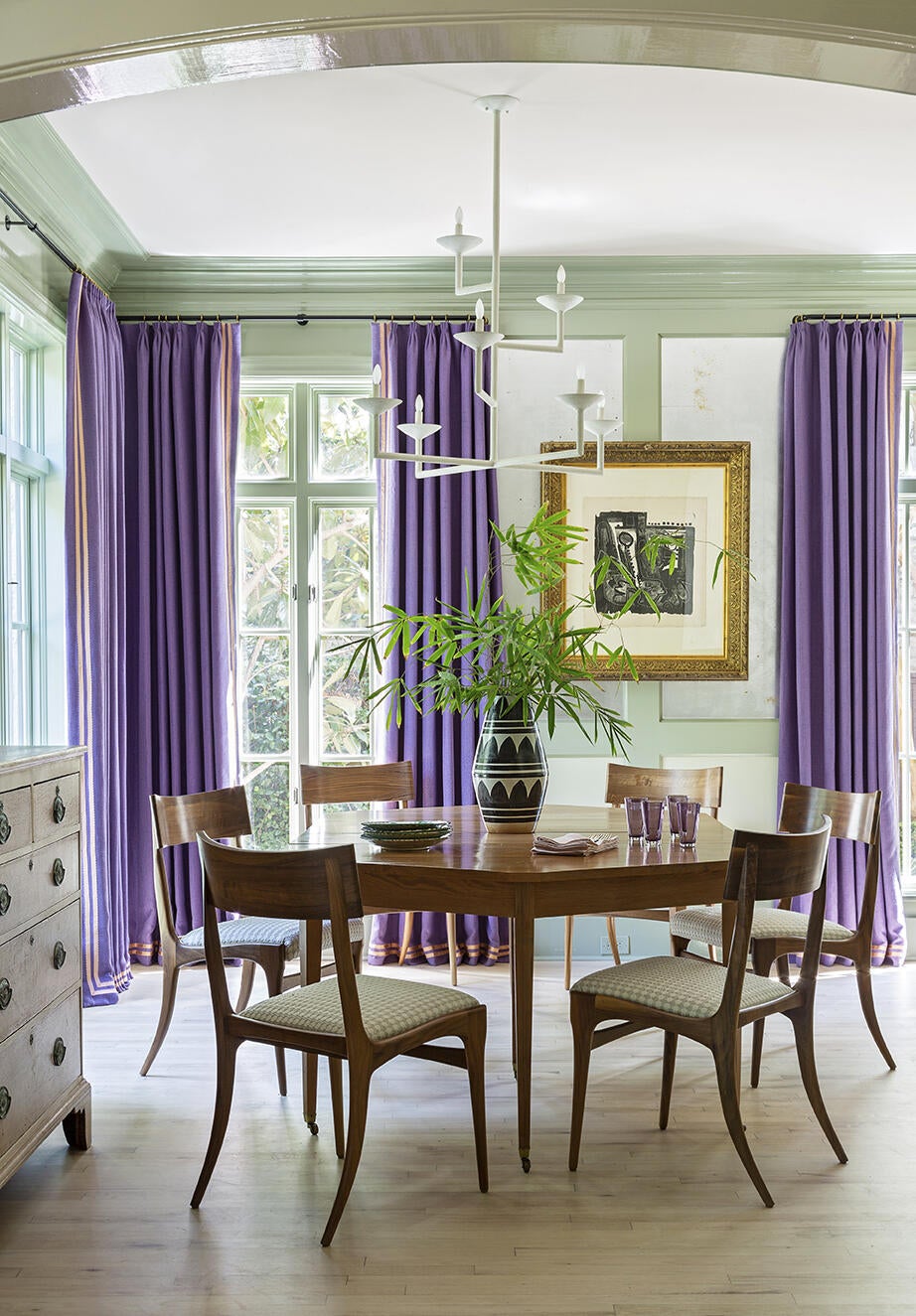 With your graphic design background, how have you thought about the marketing and branding component of your business?
I was very aware of that early on. When I was still doing some graphic design work, I didn't take a couple of potential [design] jobs coming my way because they just weren't right for me. I had another job, so I was able to only take the things that were right for me, and I was very aware of the kind of work that I wanted to put out there. I've also turned down some press opportunities over the years that I didn't feel like were the direction that I wanted to go in [or representative of] the kind of clients that I want to have.
Some of it is just kind of intuitive—like with my Instagram, I think because it's so personal to me, it works for my brand. Or when I hired someone to do my website, I wanted the overall site to be beautiful. I want it to speak to the level of work that we do. People are always asking me about doing a book, and I really do want to do one, but I think one of the things that slows me down is that I want it to be a really beautiful, interesting book—not just pictures. What's the paper? How is it bound? Is there stitching on the side? I collect books that are beautiful and really cool.
How does your vision influence your approach to photography and styling?
Usually I style everything myself, unless a magazine sends an editor. When I'm doing my clients' houses, I like them to be styled and ready to enjoy. I don't just do the furniture and the drapes and the pillows—I want to have the art and the accessories and the books and the sculptures and all of that. For the photography, honestly, it's just intuitive. I mean, in my very first house that we photographed, Julie and I didn't know how to shoot interiors. We were just opening magazines, and not seeing any lights on, so we turned the lights off.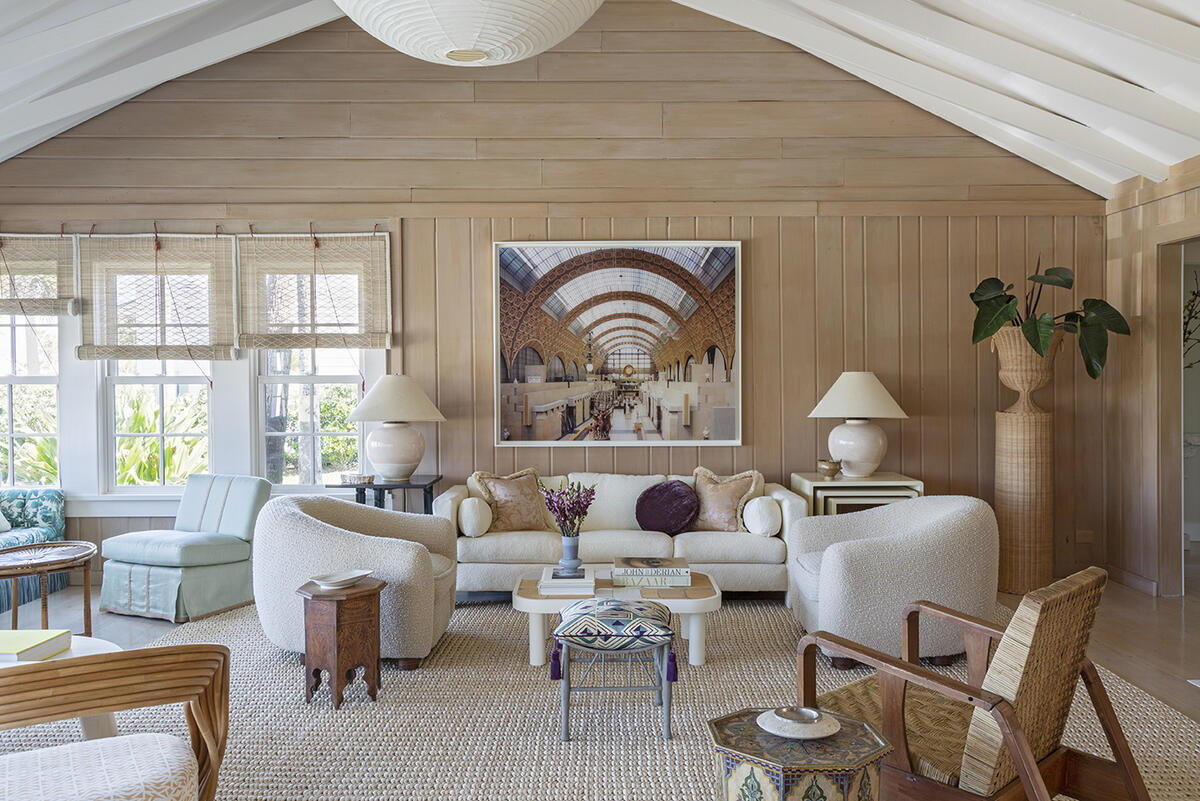 As business grew, what has been your approach to the client experience?
We've been really fortunate to have some really great clients. I build really close relationships and become friendly with most of my clients. We don't do a lot of hanging out during the process, but afterward we tend to be friendly.
Do you ever want that to grow your firm to the point where you'd have more space from clients, or is that intimacy important to you to protect?
I don't ever want a 20- or 30-person firm. I could see us getting to four or five people at some point, but I like the intimacy and how personal the size of the firm is now. I do want amazing projects, but I don't want 20 projects a year. I want fewer big projects.
Aesthetically, what is the creative process with the client like for you?
I try to go to a meeting with a pretty clear direction of where we're going—a color palette, fabrics, wallpapers, materials and a furniture plan. And then I might have a number of furniture pieces selected, especially for the main rooms—not everything, but enough that they really see where we're going. And then you're finding pieces as you go and filling in. That's sort of an organic process.
But I think some of it is educating the client, too. Most of the time when they come to us, they love our work and trust us, and that is huge in our business, because the clients can't visualize the house. You can show images and boards and pictures and materials and elevations, but they can't visualize it. I can walk through the house in my head. So when I'm designing it, and you get that across to them as much as you can, but they have to trust you. You also have to tell them to wait until all the pieces are there—it's kind of like a puzzle, and if you start pulling things out, or all the pieces aren't in yet, it doesn't make sense. So when you have a client that trusts you, then the end result is fabulous.
Also, you have to educate them on value—why is it worth spending more money on this? It's really better to invest in this because you're gonna have this for a long time, or this is how this is made, or this is where this artist is from and this is their background. Clients get really excited about that part.
Are you open to clients finding things along the way?
Oh, yeah. I mean, you certainly don't want a client to be like, "Hey, we just bought a sofa." That would not be cool, but it's also in our contract and the clients that come to us are wanting everything that we're doing, so you get all of that out upfront: What pieces are you bringing with you? What pieces do you want to keep? But certainly they might be traveling or might see something, and usually they'll send it to us and say, "What do you think about this?" And I'll be honest, like, "Oh, my God, that's fabulous, I never thought of that," or whatever. And then sometimes you're like, "I think we can find something else."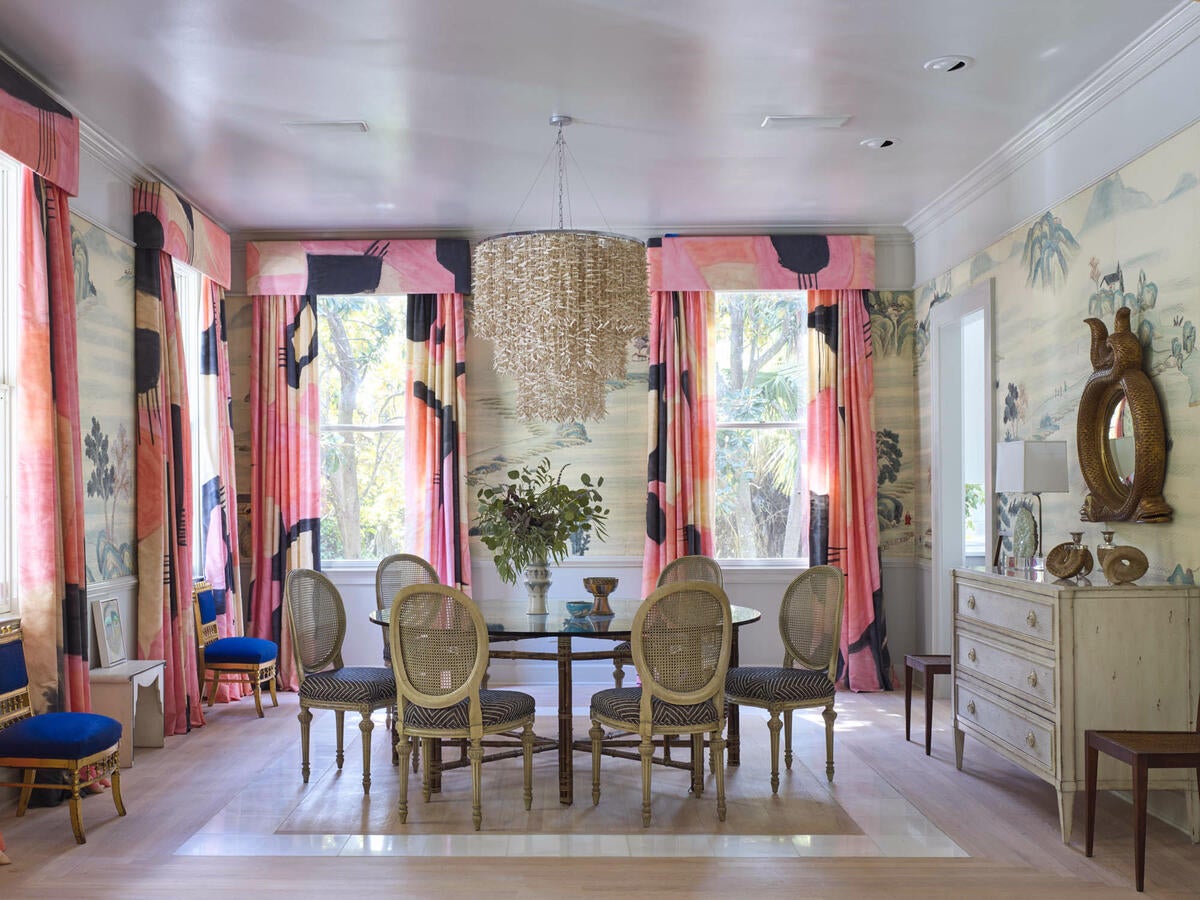 The design community in Charleston is, as a visitor and someone looking in from the outside, so extraordinary. How does that shape the way you work?
The design community has grown exponentially. When I first started doing this, I remember saying, "Nobody in Charleston is doing the kind of design that I want." I am for the most part a modernist at heart. I love 20th century architecture. I love lots of periods, antiques and contemporary. There weren't that many designers here, and the ones that were here were pretty traditional. Nothing was even remotely modern.
I thought, "I could fill this niche," and I totally did. Because what I was seeing around me was the same reason that we were drawn to Charleston. I'm not sure I would have wanted to live here in 1985. But so many people were moving here and have moved here and they're coming from all over—from New York and London and California. And even back then, I thought, "All these people are moving here—they can't all want the same traditional historic Charleston." And they didn't.
What's great about Charleston educating me was that I love modern art and architecture and design. I also love history; I love living in this historical city, it's beautiful. And I would get these great clients that would come with some really beautiful, inherited pieces. And I think being in Charleston really educated me on mixing different periods together. And also it's a city that you just walk outside and you're inspired. I mean for a creative person, that's huge.
What kind of resources are available?
I don't shop a lot in Charleston. It's a pretty small city, so we don't have a ton of sources. I have three go-to antique stores. We have a shop called Fritz Porter—there are local resources. But I've always had resources all over the world. Had I lived in Charleston 30 years ago, I would have not been able to do the kind of work that I want to do from a city like this. I would have had to live in New York to pull off what I can now do from here. We have a lot of great artists, artisans and talent in Charleston to build and create things, for sure. But in terms of furniture and rugs and all of that, I'm sourcing all over the world.
It used to be that I would go to ADAC maybe three times a year. I don't do that as much as I used to. I go to the D&D Building in New York once every couple years. I love to go to Los Angeles; my daughter actually goes to school out there. But it's just different now because regional reps will come and we can order things from them. But also because of Instagram and social media and everything, you have access to all sorts of things. So I'm constantly coming across things and I will DM it to my team and say, "Order all these samples."
Do you have a big design library?
I do. I'm always like, "Can we keep the rug samples?" Most places will let us keep the rugs. Fabrics, it's no big deal. They don't care because they want you to use them. [My sample collection is] constantly growing, and right now we're trying to figure out how to make more room. But that was very important to me from the very beginning because I'm not in New York. I can't just run to a store,. So I've really worked hard over the years to create a really great design library.
How have you approached billing for your work?
We do an hourly rate. I do an estimate or a proposal with an estimated number of hours for the scope of that project. I've tried the flat fee; it never worked for me. It just comes back to bite me every time—no matter how many clauses, the project takes longer. I always end up losing money, or it becomes too difficult and complicated to get paid. It just does not work for me. I'm not a very formulaic designer, so every project we do is different. And I'm doing a lot of research—I'm not doing sort of the same version every single time. And maybe if it was more predictable I'd be able to do a flat fee. So we do hourly, but I also give them an estimate upfront,so they're not just going into it blind. They can also see what we invoice for at the end of each month. I tell them upfront: some months are going to be really big and some months are not.
How do you account for texting or calls with clients? Are you billing for all of that time as well?
It depends on what it is. If we're on the phone for a little while, then yeah. If it's just a quick text back and forth, then no. So far, it's not really bothered me. I haven't had a client that took advantage of it where they're just blowing me up all night and every weekend, so if a client shoots me a text in the evening or on the weekend, or whatever, it's usually no big deal. And if I'm too busy, then I'll respond on Monday morning or something. I will say, having things in email is important, because you can save them and go back to them. Whereas with the texts sometimes it can kind of get lost and you're like, "Oh, I forgot they sent me this." Every once in a while, I'll be like, "Can you put that in an email?" Because sometimes you don't have a response right off the cuff.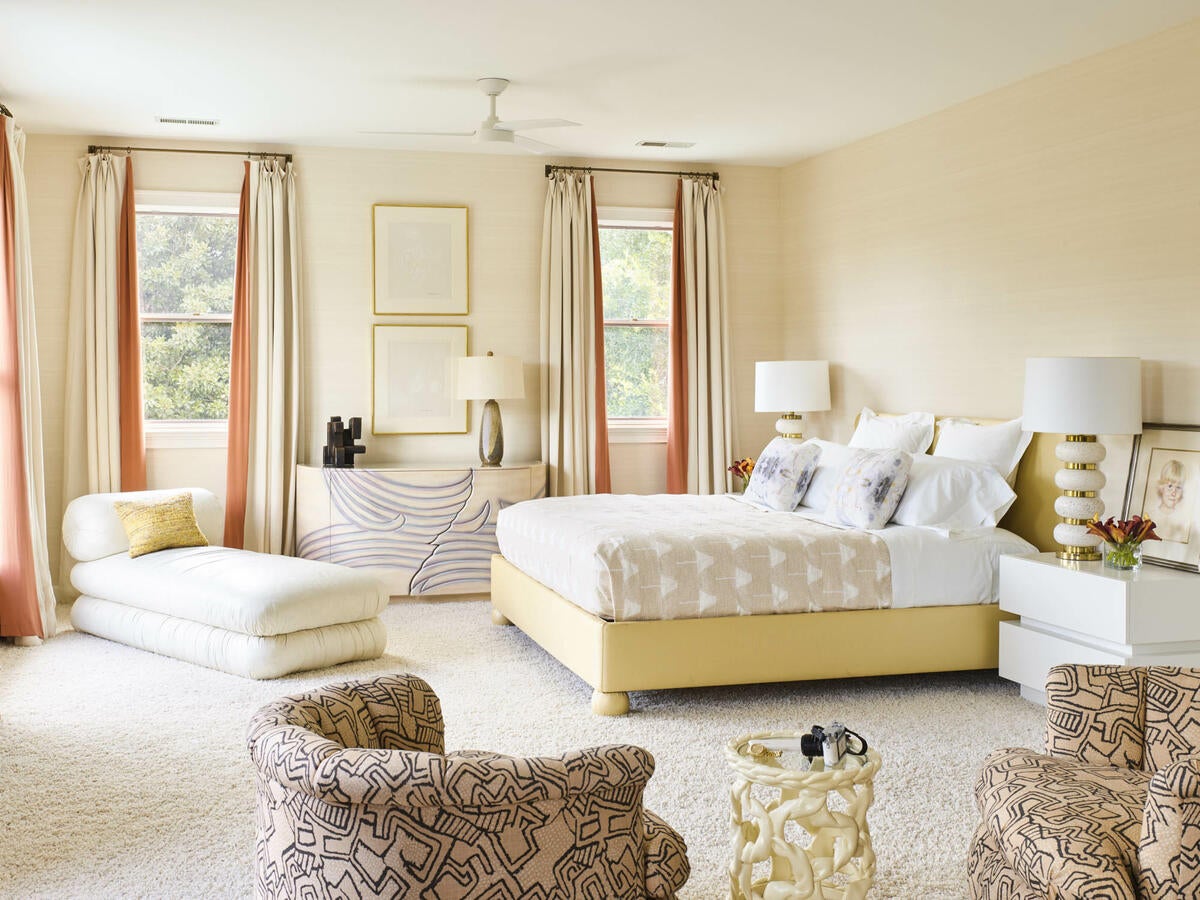 Press played a big role in amplifying your work. How do you think about the media landscape today for design?
Press did help to catapult my career. It has changed a lot. I'm still a press-loving girl. I think maybe it's even more important now because it's even harder to get, especially print. So I still try to scout the projects that I think are worthy. I think a lot more magazines are getting better at having an online presence. And then Instagram, of course, is hugely important. The Instagram thing is a little tricky because if you want to try to publish a project, you can't just throw the whole thing on Instagram or [a magazine is] not going to take it. So I have projects that I'm holding that I could put on Instagram, but I'm not because the [media] scouting process takes a long time. Sometimes they buy the photography from my photographer, sometimes they want to reshoot it. I think younger people are so used to getting everything so quickly, but you really have to be willing to play the waiting game with traditional press. But if it's a really good project, it's important, at least for me, to try. I try to post little close-up detail shots, especially on Stories and stuff, without revealing too much.
Does press or even Instagram move the needle for your business these days? Is that where new clients are coming from or is it more word of mouth and referrals?
Honestly, it's a combination of all of those things. I think maybe once or twice I've had a client hire me specifically because of a press thing. I definitely have some clients that found me on Instagram. Actually, that's probably becoming even more common. Sometimes you get recommendations—architects will recommend you. We have this really great client, they're New Yorkers, and they have a house in Connecticut. And she was in the publishing world for a long time. And they have a really great historic house here and hired an architect and [asked for a designer recommendation]. Sometimes it's a referral. Usually, it's just kind of a combination of things, and all of it is important.
What has the biggest challenge been for you as an entrepreneur?
Getting to a point of being comfortable enough to say no to clients that aren't a right fit and getting to a point where you stand up for the level of work that you do and what it costs. This is a business, and this is what we're worth—we work our butts off and we're good at what we do. You don't go to your dentist and ask for a discount, or your mechanic. There's something about being in the creative world in general [that makes people dismissive]—but it's not like you just sit down and it comes out. When I'm designing a project in the very beginning, I will kick everybody out of the office for days. I don't watch TV or listen to music—I have to get in a zone. I think standing up for the quality of work that you do, and getting paid for it is really important, especially for creative people.
The second thing is having the confidence to bring on another person full time to help me with the project management and drawing side of the business. I was so hesitant, but when I finally pulled the trigger, it was a game changer for me. If you want your business to be the best that it can be, you've got to have the right staff and enough people to help you do it because you can't do everything. And not everybody's good at everything. But I think I'm good at running my business and I create a really, I think, fun and happy place to work. I'm pretty flexible—I go into work every day, which I think is huge. But you know, they always say you've got to get the people to do what either you can't do or what you don't want to do so that you can focus on what you want to do and what you're good at. I think it's important that you build the right team.
What does success look like for you today?
It's having the kind of clients that I really want to work with, that are kind, that I enjoy working with; and projects that inspire me and allow me to do my best work give me opportunities to travel and have experiences and have a comfortable life with my family. And to have a great team around me. And I feel really, really lucky that we have that. And I worked hard to get it.
To learn more about Angie Hranowsky, visit her website or find her on Instagram.