In our series, What I Love, we're asking designers to build us a mood board of what's inspiring them right now.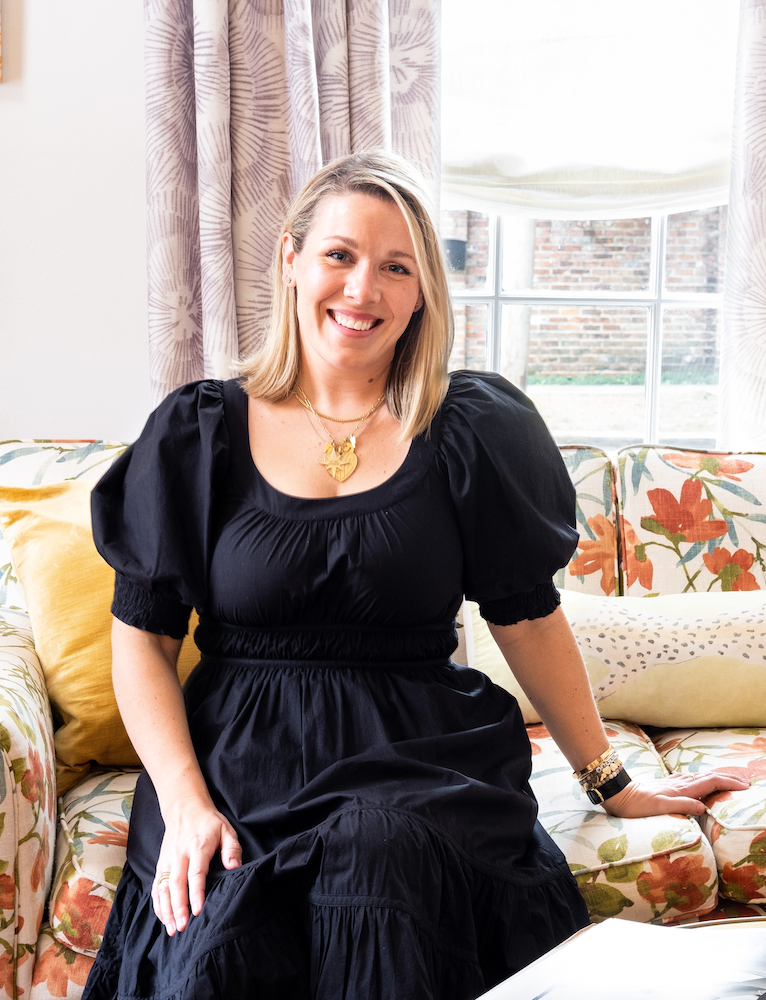 Hattie Collins takes a fluid approach to her designs. The New Orleans–based creative behind Hattie Sparks Interiors relies on a blend of touchable materials and feel-good hues to foster spaces that are warm and relaxed yet sophisticated.
Case in point: Her current flat lay—which is every bit as colorful as it is tactile. Teeming with rich earth tones and raw finishes, the selection evokes the soothing spirit of the great outdoors. "I'm drawn to elements of nature," she tells Business of Home. "Greens, yellows and rusts; and graphic, sculptural touches."
Though color reigns supreme in Collins's scheme, she's sprinkled in a handful of neutral items to help ground the palette without becoming too heavy or serious. "All of the neutral selections are still a bit quirky," she says. "It's a combination of interesting pieces that layer so well together."
Here, Collins breaks down the details, from pastel-hued floral wallpapers to bronze-glossed brick tiles.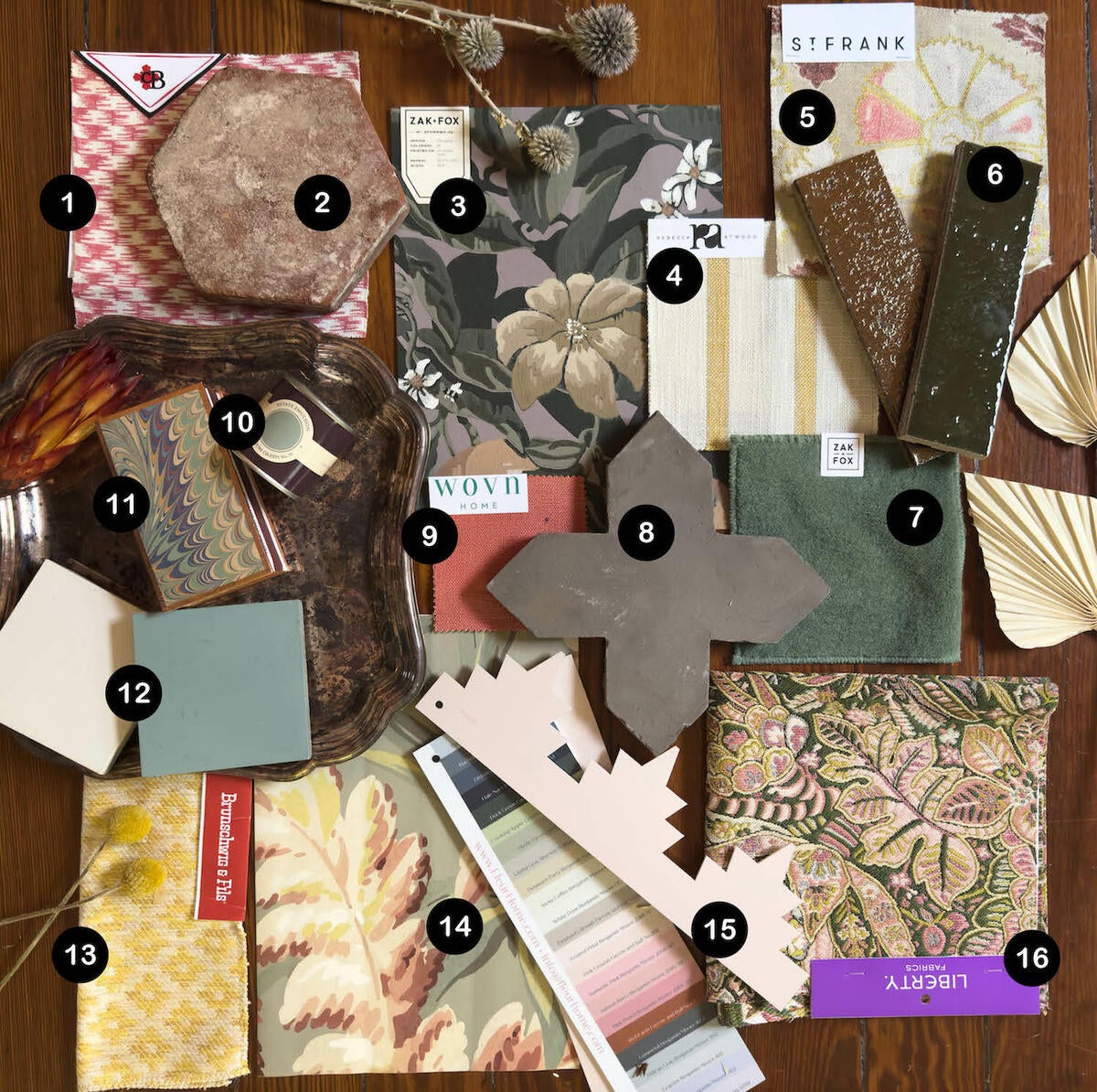 Courtesy of Hattie Sparks Interiors
1. CESTINO FABRIC IN CORAL BY CASA BRANCA
"I love this take on a traditional ikat pattern—it's subtle but still graphic."
2. ANTIQUE TERRACOTTA HEX FLOOR TILE IN PROVINCIAL RED BY CLÉ TILE
"Antique terra cotta flooring will always hold a dear place in my heart—the first home I renovated for my family had terra cotta kitchen floors. It's great for high-traffic areas, especially if you appreciate a little patina."
3. ORANGERIE WALLPAPER IN NO. ZFORNWC-06 BY ZAK+FOX
"This wallpaper is so gorgeous, and the beauty is really in the details—the sweet bumblebees, the lush oranges and the blooming flowers. It would look beautiful in a bathroom."
4. MARKET STRIPE FABRIC IN GOLDENROD BY REBECCA ATWOOD
"Rebecca's fabrics always work their way into my designs, and I appreciate the simplicity of this Market Stripe so much. I especially love the goldenrod and cream combo."
5. BLUSH DAISY SUZANI FABRIC BY ST. FRANK
"I'm a huge fan of all things St. Frank, and I'm dying to use this pattern for a headboard or an armchair. The combination of the blush, yellow and deep purple tones is so good."
6. MODERN FARMHOUSE BRICK TILE IN BRONZE GLOSS BY CLÉ TILE
"How amazing would these look as the backsplash of a fabulous bar? The shine is incredible, [bringing] the perfect combination of luxe and a little rustic."
7. MOSU FABRIC IN NO. ZFMSUVT-08 BY ZAK+FOX
"The softest, most luxurious fabric—perfect for upholstering a snuggly reading chair."
8. BELGIAN REPRODUCTION TERRACOTTA STAR + CROSS TILE IN FLEMISH BLACK BY CLÉ TILE
"Another terra cotta, I know—but this star-and-cross Belgian reproduction is so unexpected and pairs so well with creamy white or dusty green cabinets in a kitchen."
9. LINEN DRAPERY IN CORAL BY WOVN HOME
"I love Wovn Home for beautifully made, quality drapes and shades. This coral linen fabric is a shade I'm itching to use in an upcoming project."
10. CARD ROOM GREEN PAINT BY FARROW & BALL
"My absolute favorite green for everything from bedrooms to cabinets to bathrooms. You can't go wrong with Card Room!"
11. MARBLE MATCHES BY SHANDELL'S
"I'm very into marbling right now—wallpaper, lampshades, little touches here and there."
12. CEMENT TILE IN WHITE AND RU BY CLÉ TILE
"I love this color combination for a checkerboard moment!"
13. VICEROY STRIE II FABRIC IN CANARY BY BRUNSCHWIG & FILS
"I'm very drawn to yellows lately, and I recently used this fabric to re-cover a set of midcentury dining chairs. It's just enough pattern to add some interest without being too overbearing."
14. PLUMA WALLPAPER IN EAU DE NIL BY HOUSE OF HACKNEY
"I had this wallpaper in the entry of my old home, and it makes such an elegant statement. The muted tones aren't overwhelming, but the scale is still impactful."
15. MUSES TRIM BY FLEUR HOME
"This local New Orleans company makes gorgeous trims that are such a smart way to create a memorable moment within a room."
16. PERSIAN VOYAGE JACQUARD OUTDOOR FABRIC IN LACQUER BY LIBERTY
"Who said outdoor fabric has to be boring? This pattern from Liberty is so chic and whimsical."
Homepage photo: A flat lay by Hattie Collins | Courtesy of Hattie Sparks Interiors