German plumbing brand Grohe has earned a spot on Fortune magazine's "Change the World" list of 50 international companies making positive change. Fortune recognized the company for recycling 99 percent of the water needed to manufacture its kitchen and bathroom faucets, as well as for Grohe Blue, the kitchen faucet system that reduces CO2 emissions by 60 percent.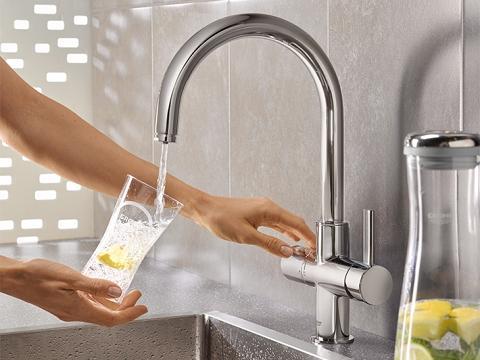 "We are overjoyed at this accolade and very proud. To be the only decorative plumbing company to appear in the international 'Change the World' ranking is a great honor for us," said Grohe CEO Michael Rauterkus. "Sustainability has always been an integral part of our company's DNA. We will continue to contribute to sustainability with our innovative products and technologies, so that future generations will also have the opportunity to experience the 'Pure Freude an Wasser' ['The Real Joy of Water'] without worries."
Earlier this year, Grohe had also received the Corporate Social Responsibility (CSR) Award from the German federal government, for being a sustainable business.
Wrote Fortune of the winning brand: "Germany has some of the world's toughest sustainability standards, so a German company that routinely wins awards in that department is worth noting. Grohe, part of Japan's Lixil Group since 2014, has an obsessive approach to eradicating waste and minimizing energy use. ... Its smart home system shuts down a residence's water supply if it detects a leaky pipe; and its water filtration systems provide bottled-quality water from the faucet with a carbon footprint 40 percent smaller than that of normal bottled water. Corporate standards are maintained by staff training sessions, while suppliers are subjected to strict audits to ensure they meet social and environmental benchmarks."
"Addressing the social challenge of reducing water and energy consumption is a driving motivation behind the product innovations and technologies that our Lixil brands create," said Steven Delarge, the president and CEO of Lixil Americas, the business unit running Grohe in North America. "We know that our global business can grow, while the resources we consume declines, making this a truly win-win for our stakeholders and the environment."