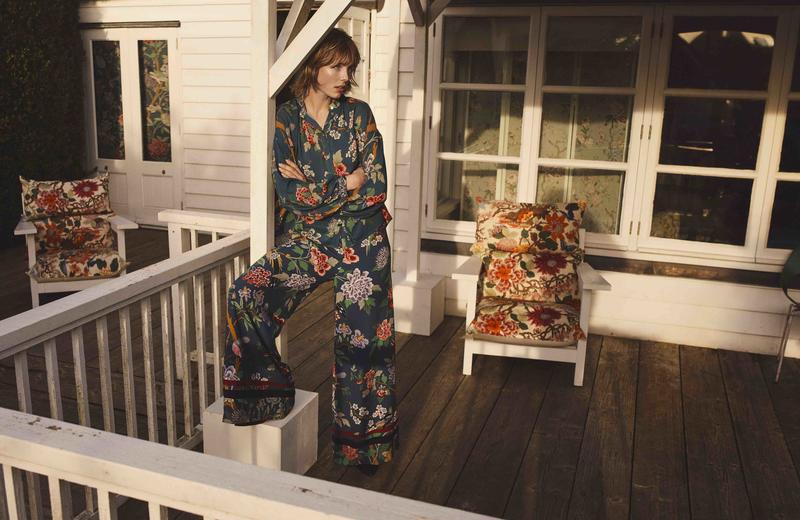 Good design goes with anything. Legacy print brand GP&J Baker collaborated with fashion retailer H&M to create a summer line of womenswear. Prints from GP&J Baker's archive of wallpapers and fabrics inspired each piece in the collection, including Hydrangea Bird, Blossom, Oriental Bird, and Magnolia. The last print, inspired by flowering trees from hand-painted Chinese wallpaper, is the most popular of five that William Turner painted for the brand in 1913.
H&M's team met with GP&J Baker last fall wanting to collaborate using the prints that were seemingly perfect for what it had in mind for this summer.
The collection consists of a selection of light and sheer T-shirts, trousers, dresses and skirts. Each item is fluid and voluminous, and include details like puff shoulders, lace inserts, contrast print trims and balloon sleeves. The fashion team did its best to stay true to the archival designs, altering the scale of each pattern so that it could be better appreciated in clothing, in addition to the decor for which it was originally created.
"The collection gives GP&J Baker a unique opportunity to highlight its cherished heritage designs and see them continuing their journey in to a new arena in such an innovative and interesting way," Ann Grafton, the brand's managing director and creative director in the U.K., said in a statement about the collection. "It is also the perfect opportunity to introduce them to a new, contemporary audience."
The line launches on August 2. GP & J Baker is the latest in a long history of collaborations for H&M, starting with Karl Lagerfield in 2004. While most of these partnerships have been with fashion brands—including Roberto Cavalli in 2007, Comme des Garcons in 2008, Alexander Wang in 2014, Erdem in 2017, and, coming this November, Moschino—H&M gravitated toward GP & J Baker's summery florals because they fit in with the maximalist look it was trying to create. GP&J Baker can be found at Lee Jofa showrooms, as well as LeeJofa.com in the U.S.