In our series, What I Love, we're asking designers to build us a mood board of what's inspiring them right now.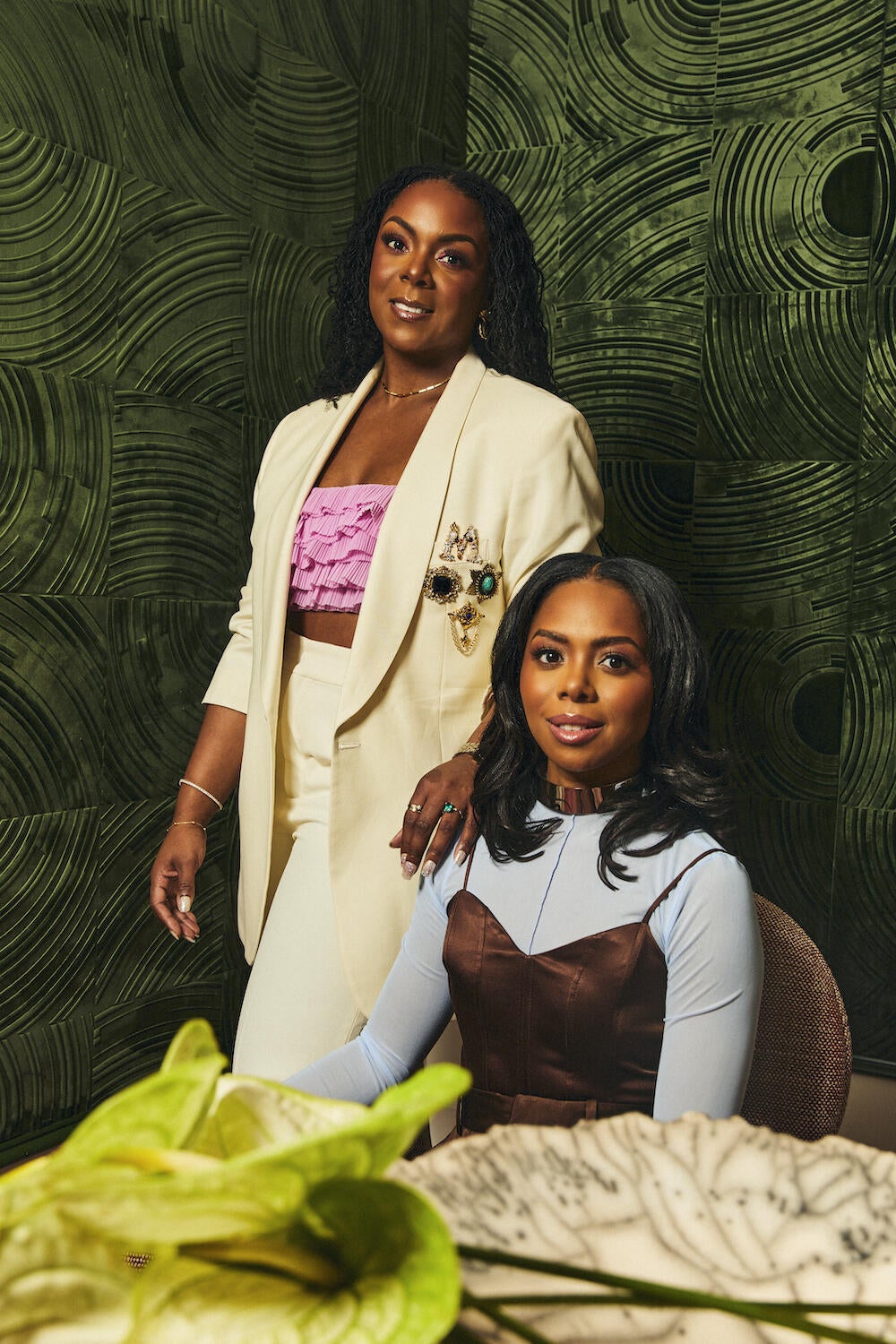 To say Tavia Forbes and Monet Masters are fans of the 1997 sci-fi film The Fifth Element would be an understatement. The Atlanta-based duo behind Forbes Masters don't just cite the movie as one of their favorites; it served as the inspiration for their Bernhardt Designer in Residence gallery design on display at Fall High Point Market. "While sourcing for this project, a common thread evolved of bold, contrasting colors and futuristic design elements," Forbes tells Business of Home. "We drew inspiration from a past BIDN conference titled 'The Future Is Female' as well as our favorite sci-fi movie, The Fifth Element."
The scheme—which spans three separate spaces including a bedroom, lounge and entryway inside the IHFC showroom—is every bit as bold as it is forward-thinking. The mood boards that guided each design teemed with vibrant color combinations and interesting materials. Masters describes them as "moody and futuristic, emphasized by eclectic pops of color against a monochromatic scheme of casegoods."
The final designs offer a medley of eye-catching colors and textiles inspired by the four elements (earth, water, fire and air), ranging from liquid metal–look side tables to acrylic headboards and bright orange velvet fabrics that pay tribute to the hair color of one of The Fifth Element's main characters. "The theme is a juxtaposition of earthly elements with the opulence of a futuristic resort destination," says Forbes.
Here, the pair breaks down some of the details behind each of their flat lays—from hieroglyphic-esque wallcoverings to trippy op art–style fabric prints.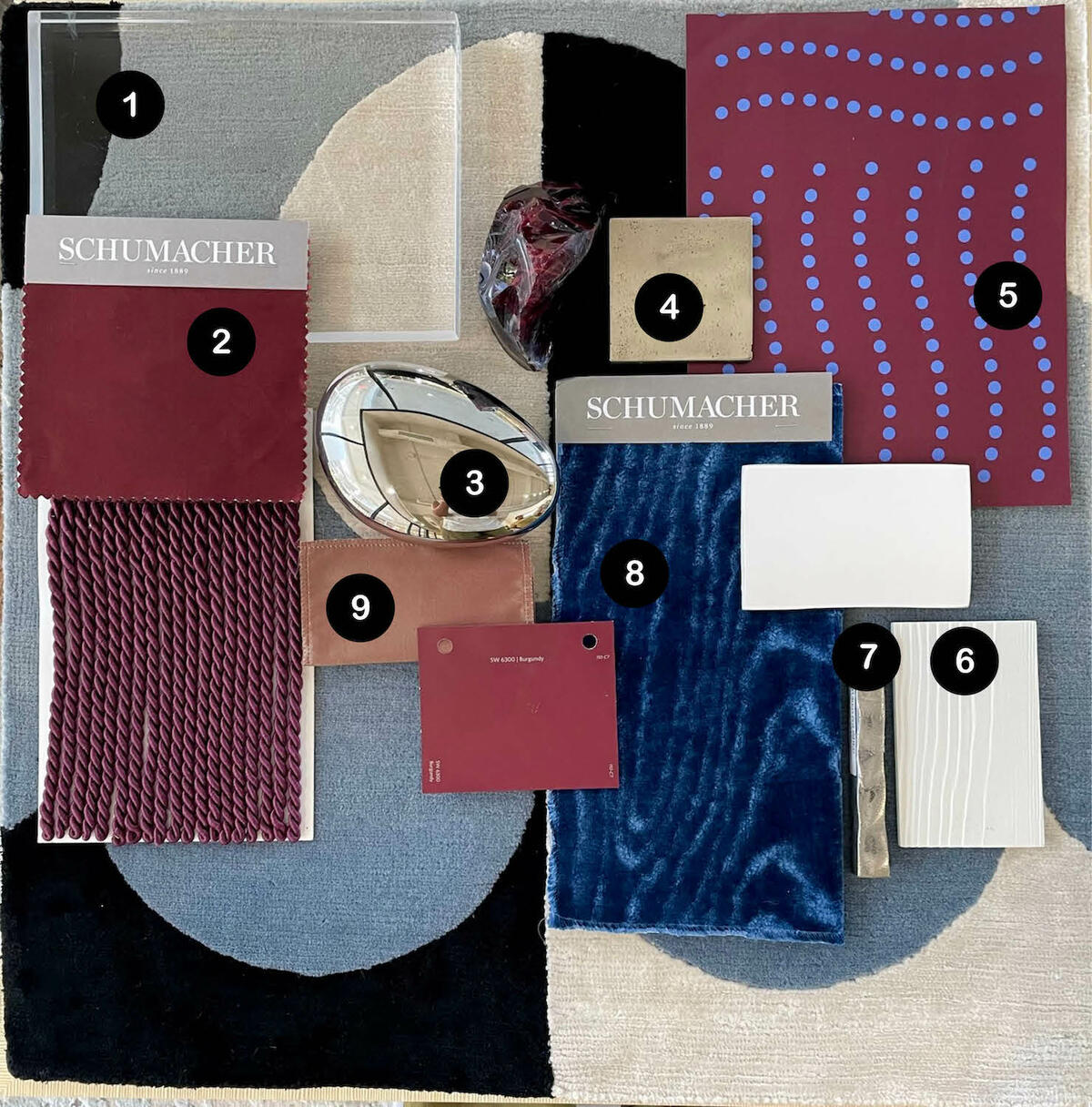 Courtesy of Forbes Masters
Bedroom
1. ESTELLA FABRIC SHELTER BED BY BERNHARDT
"An homage to Gary Oldman's Zorg costume [in the film The Fifth Element]—the curved acrylic headboard on this bed reminded us of the character's headwear."
2. MASACCIO TAFFETA IN CLARET BY SCHUMACHER
"Jean-Baptiste Emanuel Zorg is basically the antagonist in The Fifth Element. He wears a ridiculously cool vest that reminds us of this beautiful silk and taffeta fabric that we used for the duvet. This was the first fabric we found, and we built the entire bedroom scheme with it in mind."
3. YUMA SIDE TABLE BY BERNHARDT
"The chrome finish on this side table was another futuristic element that attracted us to this piece."
4. STELLAR ENTERTAINMENT CREDENZA BY BERNHARDT
"The name says it all. The Stellar credenza adds a constellation motif to this otherworldly space."
5. CUSTOM WALLPAPER BY FORBES+MASTERS FOR BERNHARDT BY MITCHELL BLACK
"The film's character Leeloo (played by Milla Jovovich) has a tattoo that represents the four elements. This pattern by Mitchell Black was a custom creation in her honor.""
6. NAVAR DINING TABLE BY BERNHARDT
"We love the organic nature of this table, reminiscent of rock formations but finished in a high-gloss lacquer for that futuristic edge."
7. TORRES FABRIC ARM CHAIR BY BERNHARDT
"The Torres chair's molten silver finish and clean lines provide a sharp contrast to the Navar dining table."
8. MARISA MOIRE VELVET FABRIC IN LAPIS BY SCHUMACHER
"For the dining chair upholstery, a classic moire pattern in brilliant blue was the perfect tie-in to our adjacent lounge space."
9. GIORDANO TAFFETA IN AGATE BY SCHUMACHER
"We used this taffeta fabric for Euro pillows to complement the duvet cover."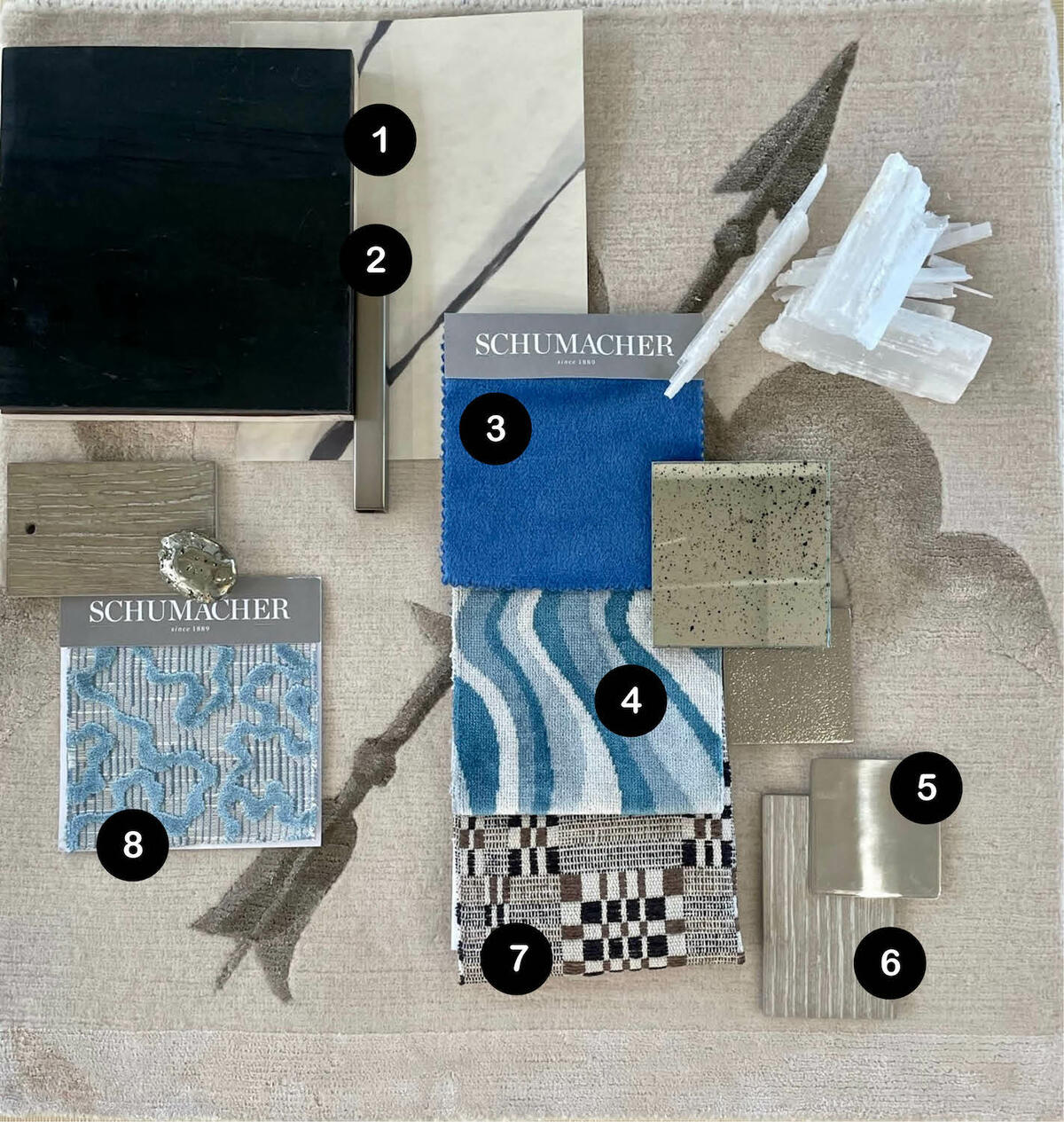 Courtesy of Forbes Masters
Lounge
1. BOULDER BEACH MURAL - OFF WHITE LINEN WALLPAPER BY FORBES + MASTERS FOR MITCHELL BLACK
"We thought this was the perfect opportunity to showcase one of our new wallpapers in our second line with Mitchell Black and it was a great organic backdrop to our themed space."
2. ARDMORE FABRIC BENCH BY BERNHARDT
"We loved how the timeless appearance of this oversize bench was a perfect balance to the very ornate and shapely pieces also in the lounge."
3. PALERMO MOHAIR VELVET FABRIC IN COBALT BLUE BY SCHUMACHER
"Diva Plavalaguna is the iconic character who performs opera at the main event in The Fifth Element. She was our inspiration for this room, and although we're exploring many beautiful patterns, we upholstered the bench in this fabric to represent her."
4. SWIRL VELVET FABRIC IN MINERAL BY SCHUMACHER
"This fabric gave us groovy vibes, and we felt like it was appropriate to use it on this acrylic chair."
5. ANSEL FABRIC SOFA BY BERNHARDT
"The legs on this frame really stood out and felt like a curvy spaceship landing in our lounge."
6. NALA FABRIC CHAIR BY BERNHARDT
"Our favorite part of this chair is the chunky arms and its oversize stature."
7. BRIMFIELD FABRIC IN CINDER BY SCHUMACHER
"Certain perspectives of this fabric give a cool optical illusion, which feels appropriate for the space."
8. JANIS VELVET FABRIC IN MOONSTONE BY SCHUMACHER
"As sofa upholstery, this fabric simply brought us joy. The layering of textures looks and feels amazing."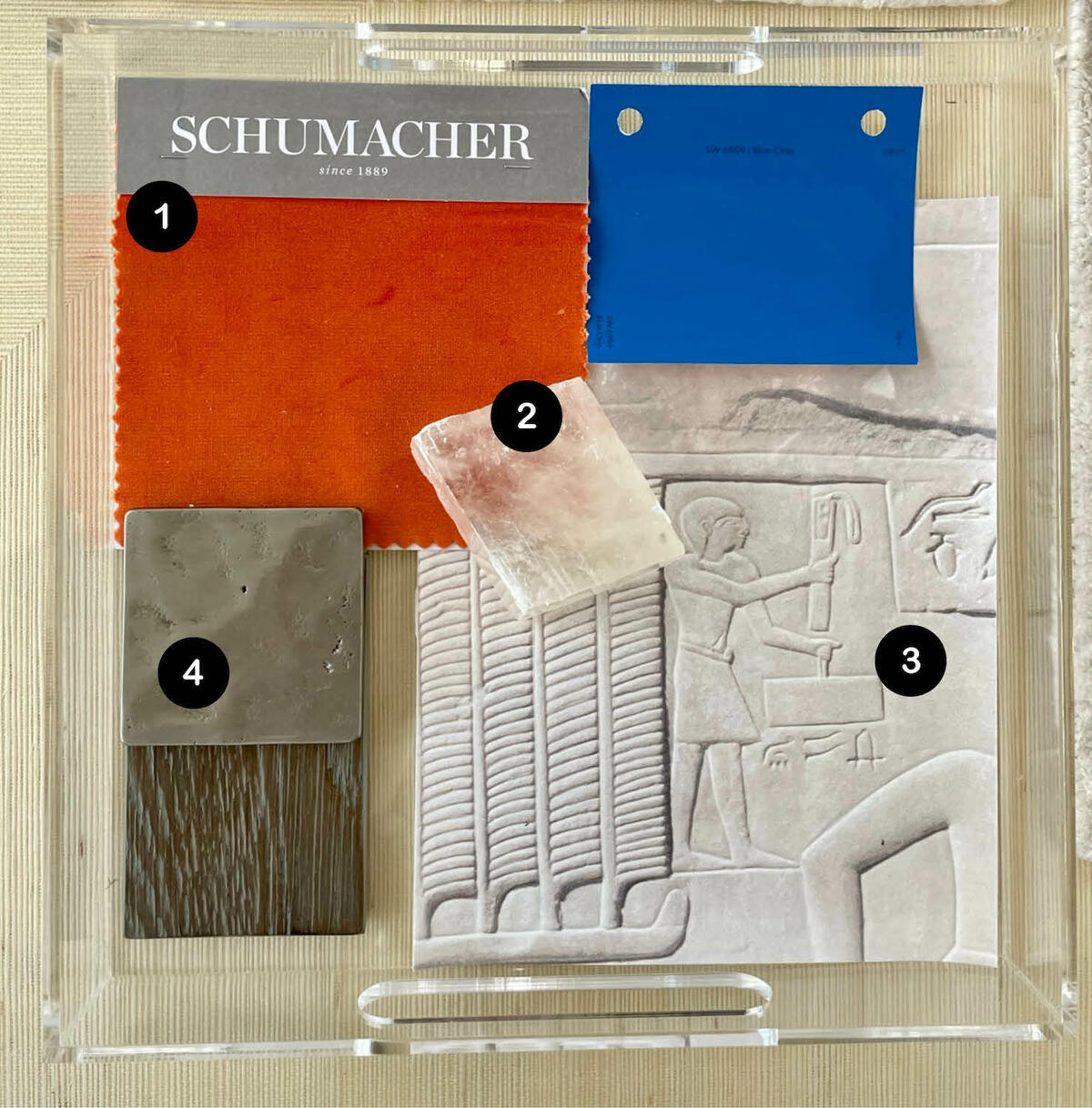 Courtesy of Forbes Masters
Entry
1. GAINSBOROUGH VELVET FABRIC IN MANGO BY SCHUMACHER
"Inspired by the vibrant orange color of Leeloo's hair—the main character in the film and an iconic part of the movie's cult following—we used this velvet fabric on the ottoman."
2. BARON WALL SCONCE BY CURREY & COMPANY
"These sconces are futuristic in shape and aesthetic, and also reminded us of stars."
3. ABKAOU WALLPAPER IN MARBRE BY PIERRE FREY
"This paper evokes the final scene in The Fifth Element—one of our favorite parts—which is set in a cavelike temple."
4. PRADO BENCH BY BERNHARDT
"We were drawn to the hammered metal on the bottom of this ottoman."
Homepage photo: A flat lay by Tavia Forbes and Monet Masters | Courtesy of Forbes Masters