For that wow factor in the kitchen or bathroom, nothing can match marble. Grounded yet regal, a large-scale, dramatically veined piece becomes the focal point of any room, beckoning guests to touch it. And in September 2023, designers in the New York area will be able to do just that by hand-selecting huge segments of natural stone on-site at the Ann Sacks gallery and showroom in Long Island City, Queens. Following the openings of similar showrooms in Nashville and Dallas, this third location is part of the Portland, Oregon–based company's plan to present vast slabs of exotic marble in a re-imagined retail setting that also sells ceramic, porcelain and concrete tile, among other home surfaces.
"Ann Sacks curates our stone from all over the world—Italy, Greece, Portugal, India," says chief designer DeeDee Gundberg. "We search for varieties that will appeal to the luxury client and resonate with what's happening in interior design today." Unlike competitor brands that may include commodity products like manufactured quartz among their offerings, Ann Sacks prioritizes premium marbles like Carrara and Calacatta in surprising palettes with balanced veining patterns that only Mother Nature could create. "We look at stone like pieces of art," she says. "We want each slab to be so beautiful that when people walk through our galleries, they stop and wonder at every single one."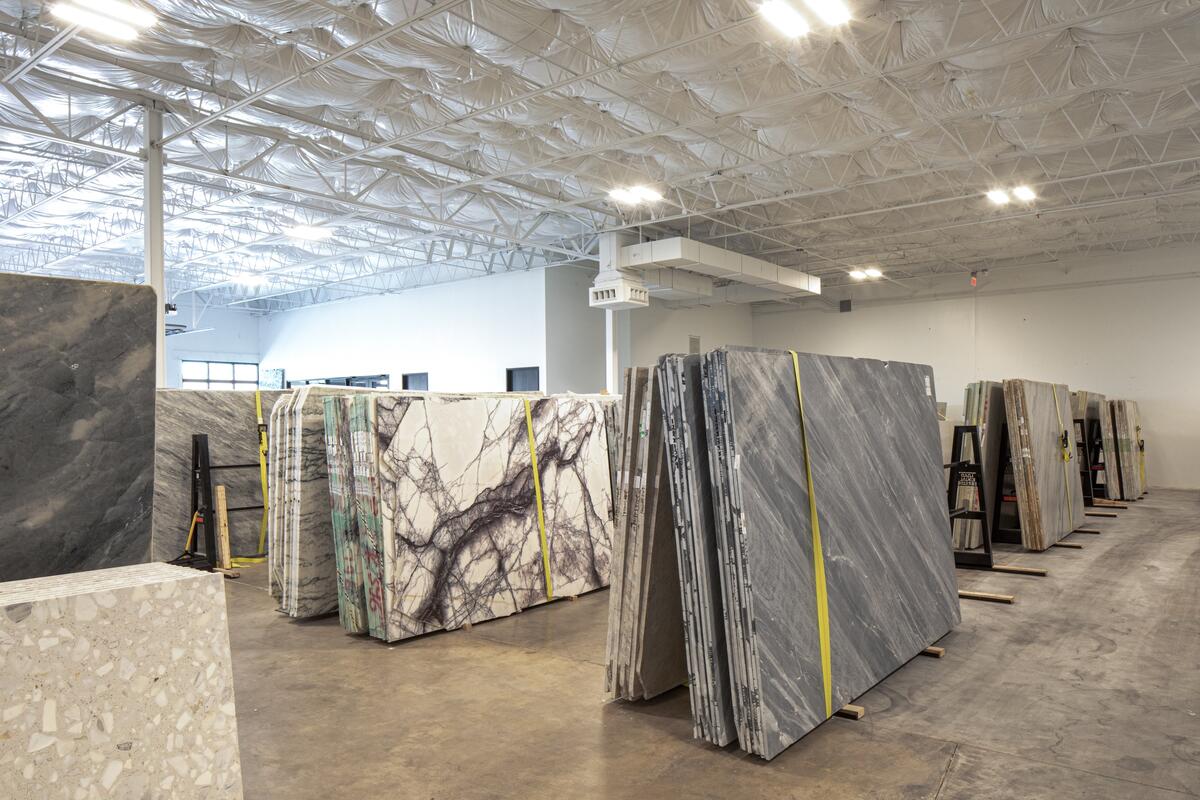 Photography by Chad Mellon
While the classic all-white kitchen will always have its advocates, homeowners are increasingly embracing richer colorways in natural stone, inspired by the daring designers spearheading the trend. For her new home in Dallas, Nikki Chu braved a statement-making backsplash and island of Ann Sacks's Calacatta Viola, an Italian marble with heavy veining that flirts between deep eggplant purple, maroon brown and warm gold. It's the first thing guests see when they cross the threshold. To transform the home's boxy, 1969 bungalow-style interiors into an open floor plan, Chu knocked down the walls of the original galley kitchen, then raised the ceilings as high as 18 feet. With the anchor of the Calacatta Viola island in place, she hung a 9-foot-wide Lindsey Adelman chandelier above it, the fixture's glittering golden strands picking up on the movement of the veining. "I get so many compliments because it's so unexpected. Dallas is changing, but 90 percent of the homes here are traditional; they definitely don't have kitchens that feel like hotel lobbies," says Chu. "But even if you did want a white kitchen—and mine is primarily white—what makes it so dynamic and jaw-dropping is the choice of marble."
The growing interest in veining structure has influenced the cuts of predominantly white stones as well, with the stronger-patterned Statuary staking its claim alongside the more tonally striated Carrara. But it's rainbow-colored veining that's really having a moment: "Pinks, reds and greens are all extremely popular right now," says Gundberg. "Purple is on fire."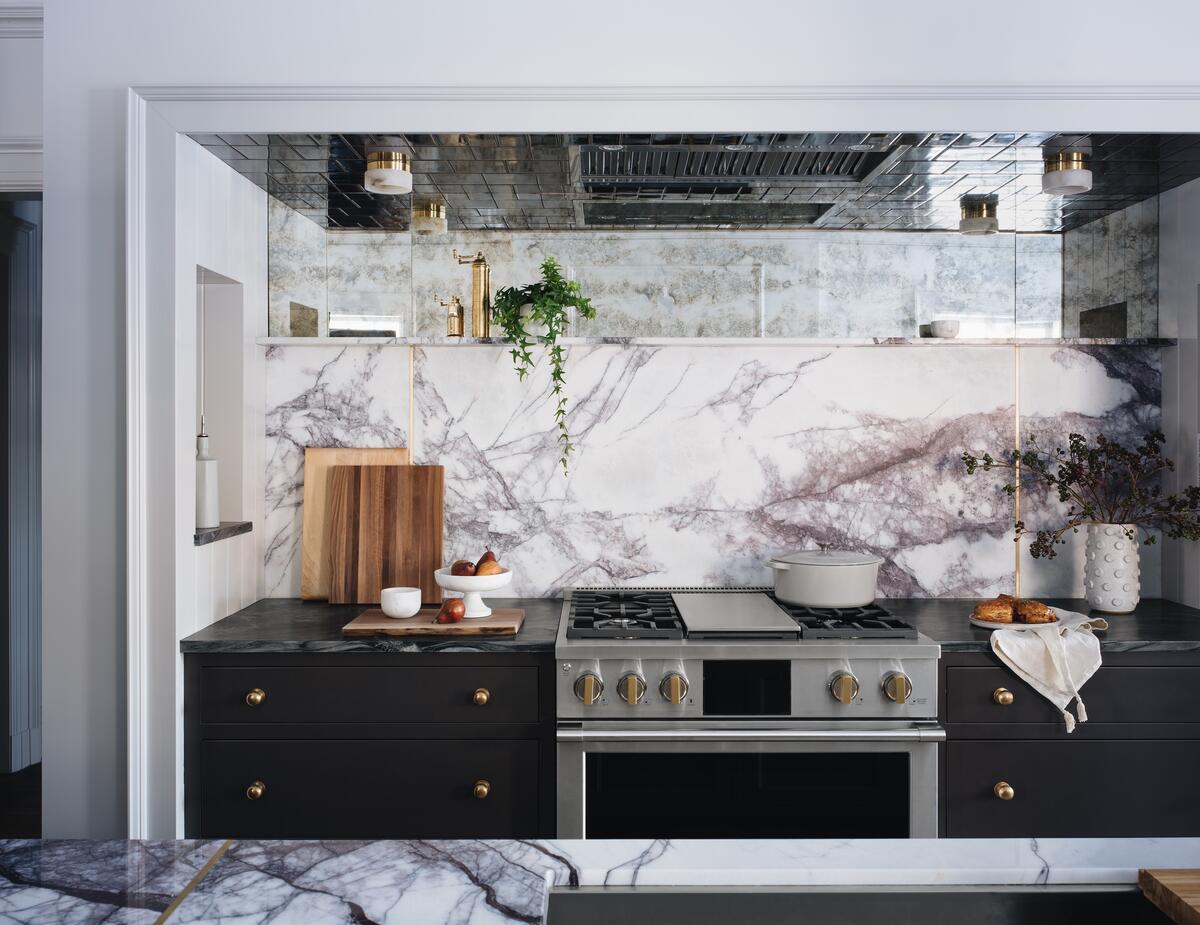 Courtesy of Stoffer Photography Interiors
Jean Stoffer turned to a cooler variation of the hue for the kitchen backsplash of a colonial home in Cedar Rapids, Michigan. By ingeniously delineating the seams between slabs with unlacquered brass strips, she introduced an enchanting element of glamour into the already atypically large installation. "I'd never seen this shade of lilac before. In one sense it's subtle, a very browned-down purple," she says of the Turkish marble. "I wanted to balance that with the warmth of brass." Not merely decorative, the metallic accents deliver a trompe l'oeil effect by making the veining appear to travel from one piece of marble to the next. Without the brass embellishments, the three marble pieces would have been much more difficult to align. "Even if you're off by just a quarter inch, you can see the breaks," explains Stoffer. "But with the brass strips, while the pattern is actually offset a bit, the impression is that it's continuous." She specified a honed finish for the stone.
"Mounted on a vertical, the reflection off polished marble can be distracting. I wanted to see the nuances of the color and the pattern without a glare, so I love that Ann Sacks offers both options," says Stoffer. Utilizing the slab as a backsplash displays the individual beauty of the stone but spares it direct wear and tear. Then again, traces of wineglass rings and water droplets can have a romance all their own.
"When you think of marble, initially your mind goes to aesthetics: 'Oh, my God, it's so beautiful, I don't care, I want it.' Then you bring it home and a couple of friends come over," says Chu, who loves to entertain in her kitchen. With the enduring marble of ancient Italian cities as precedent, she considers any scratches or stains to her own Calacatta surfaces part of her home's personal history. Her philosophy: "It has been enhanced by your lifestyle, and now it's like you and the marble are one." Practically speaking, regular applications of sealant help protect it too.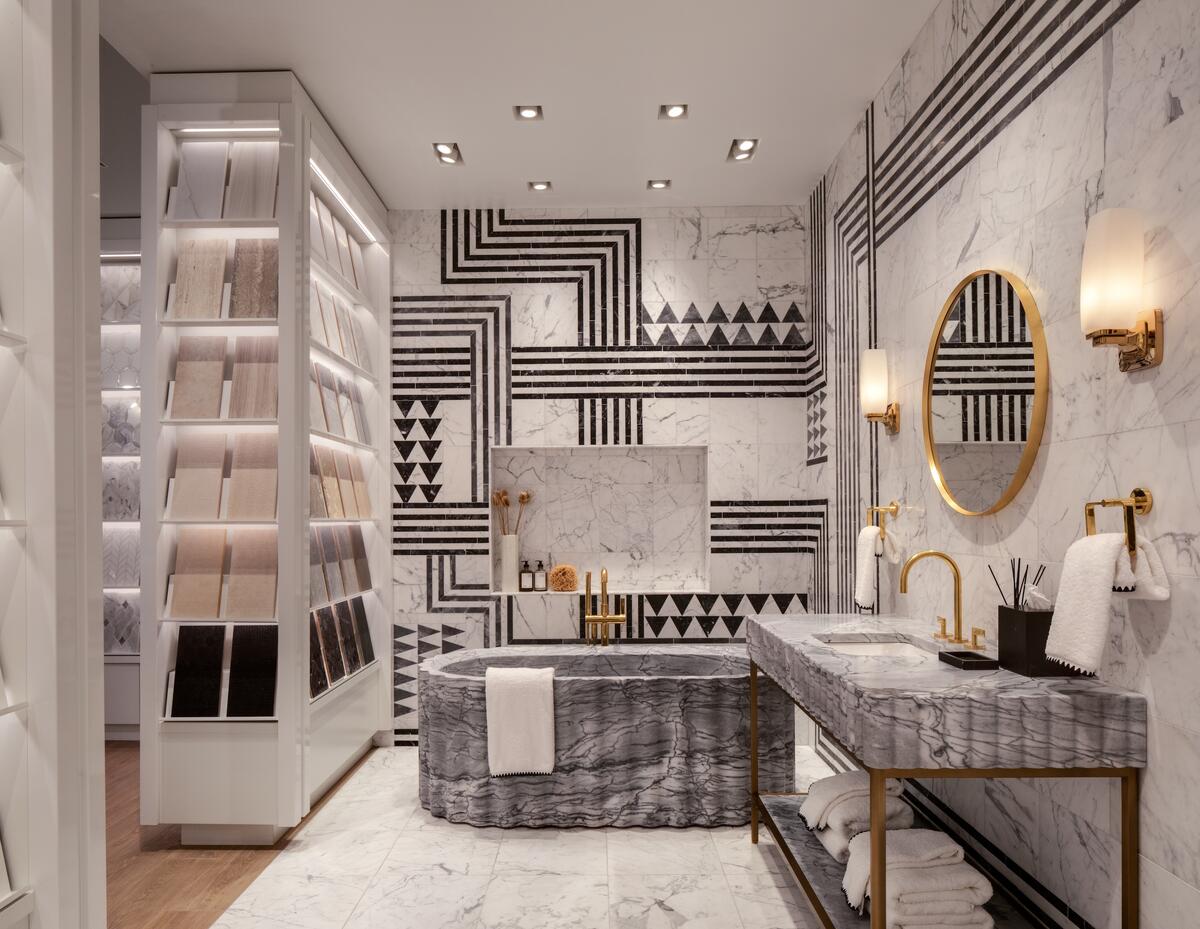 Photography by Chad Mellon
Stoffer bought her lilac mini-slab from an Ann Sacks showroom in Chicago after having first been smitten with a ceramic tile in the same color and then discovering its marble equivalent. (She used both in the Cedar Rapids home.) The Ann Sacks slab gallery in Dallas is local to Chu. For designers debating key materials for projects, in-person visits to Ann Sacks retail outlets are linchpins to the process. At its forthcoming outlet in Queens, New York—across the East River from its two storefronts in Manhattan—the company is combining showroom and warehouse functions in a special retail model devised to support its design industry clientele. Complementing the assortment of marble slabs both massive and mini in the adjoining gallery, a more stylish and accessibly merchandised presentation of samples will make for improved front-of-store customer service. The showroom will also feature lighting, bathroom vanities and mirrors from Robern, and faucets and fixtures from Kallista, sister brands of parent company Kohler. An edited selection of vases, bowls and other objets d'art rounds out the whole-home approach.
"You get the complete experience: our stunning new showroom model and, connected to it, the slab gallery. It will be a fantastic place for designers to roll out their plans on the big worktables, take their samples to the gallery and tag the exact cut of marble they want," says Gundberg. Afterward, they can enjoy a celebratory cup of coffee in front of the two fireplaces in the scullery kitchen and explore the Ann Sacks dinnerware on display.
This immersive retail vibe is intended to inspire—and Chu, for one, is onboard. For an episode of her upcoming show Nikki Chu's Renovation Diary, airing on the AspireTV network later this year, she filmed a segment at the Ann Sacks Dallas gallery, where she was enamored anew by the materials at hand. Marveling at the global selection of stone, she says, "I feel like I'm taking a tour around the world. You can see the dynamics of the earth, and how it's unique to every region. Each slab of marble feels like a slice of heaven."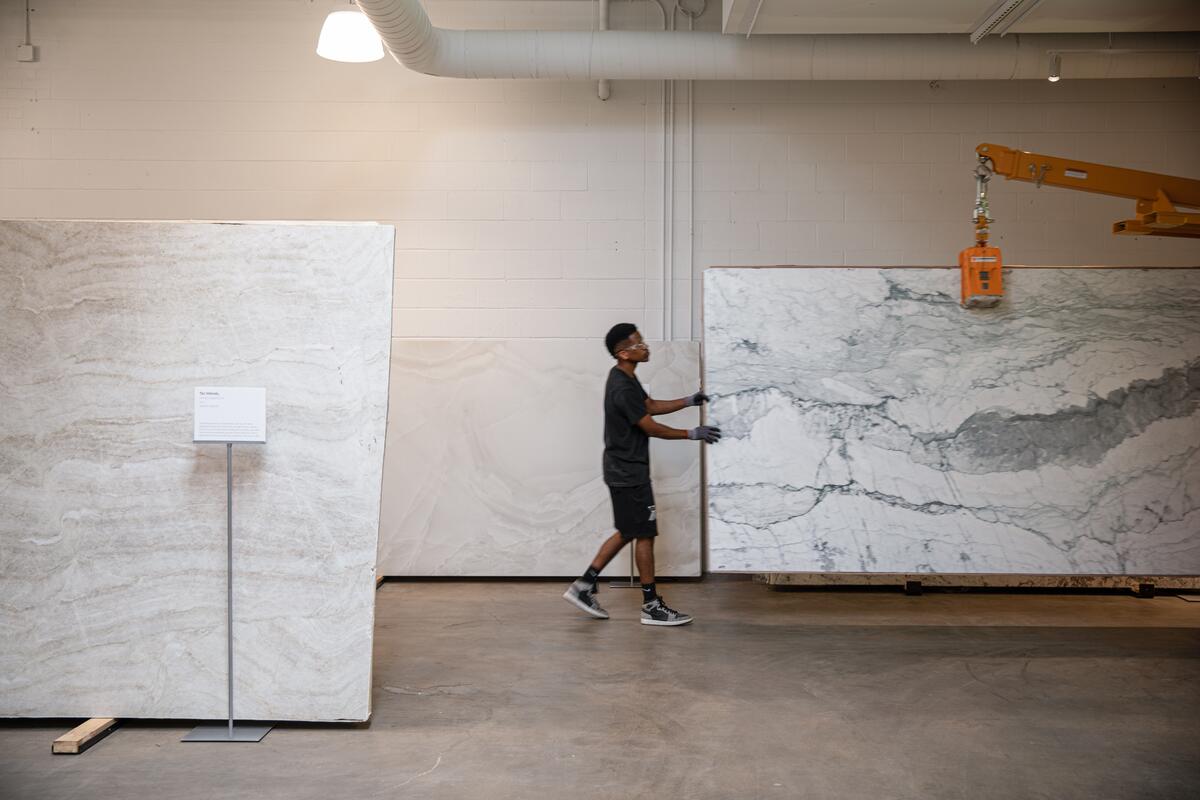 Photography by Chad Mellon
This story is a paid promotion and was created in partnership with Ann Sacks.
Homepage image: For the kitchen of her gut-renovated midcentury home in Dallas, designer Nikki Chu—with Foxy, her Shiba Inu—chose Calacatta Viola marble slabs from Ann Sacks for the backsplash and island, then added a glam Lindsey Adelman chandelier above | Photography by Pär Bengtsson