Robern may have built its reputation on sturdy, American-made medicine cabinets and vanities, but the uninitiated would never know based on its latest scene-stealing series of sleek lighting solutions. Founded in 1968 in Bristol, Pennsylvania, where every piece is still assembled by hand, and part of the Kohler family of brands since 1995, Robern is turning heads with its new Hollywood-inspired Tenor performance lighting. Further enhanced by proprietary Sway technology, which manages lighting tone and intensity in one discreet control panel, the line is introducing Robern to a whole new caliber of customer.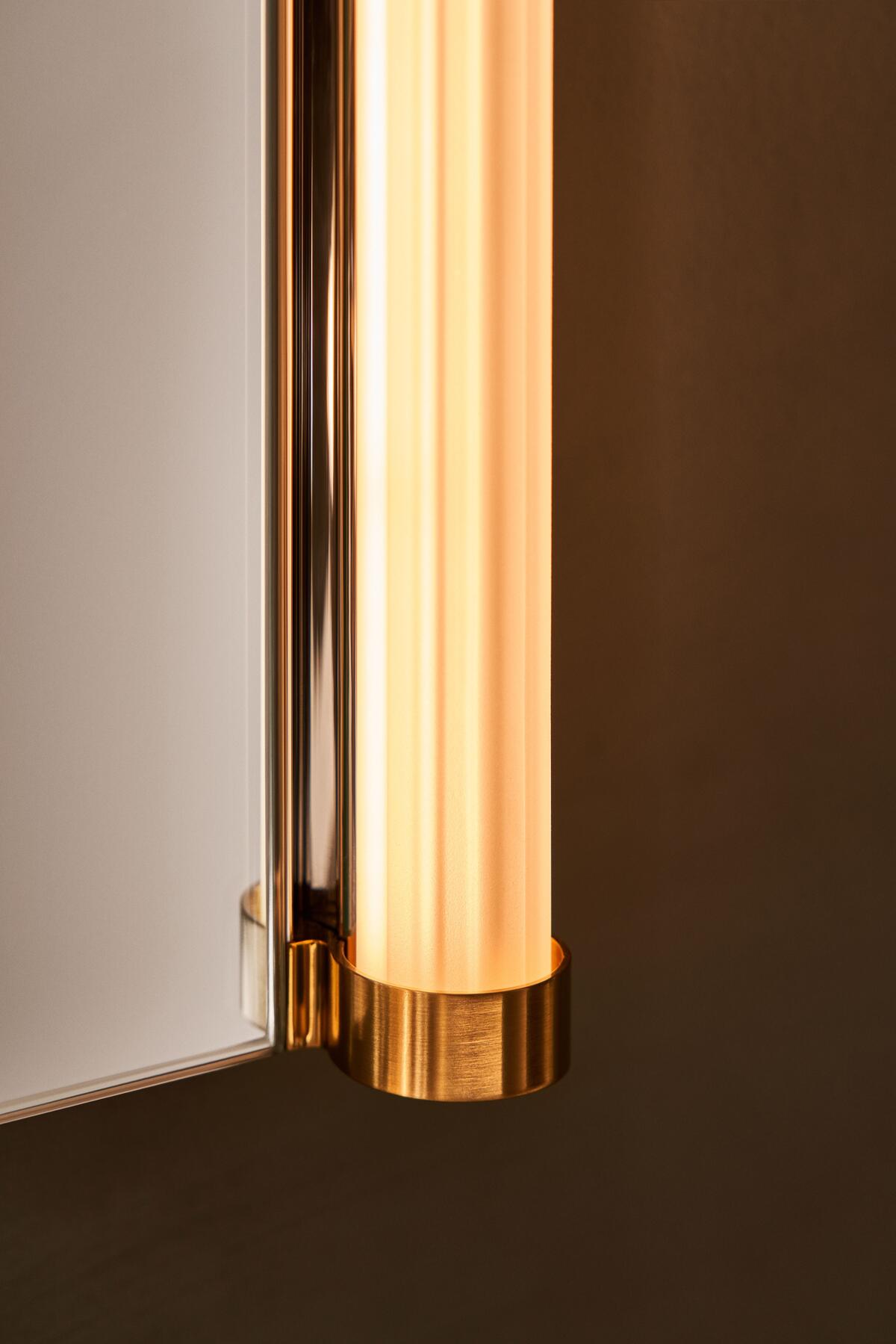 A modern, more sophisticated take on modular lighting for bathroom mirrors, Tenor features three tubular frosted-glass designs that culminate in complementary endcaps available in four subtly impactful metallic finishes. "The goal was to create a very slim profile, within a one-and-a-half-inch width. That was the demand from the field, to accommodate space limitations imposed by mirrors or medicine cabinets," says Linda Yang, an industrial designer at the company. "In response, we developed three distinct models: the simple geometry of a round tube; the traditional glamour of a fluted one, because textural elements are popular now; and the most contemporary design, diamond, which has a faceted front." She pictures the round version with Chrome or Matte Black endcaps in commercial or industrial interiors; the fluted edition matched with Brass for a glowing, golden-age-of-Hollywood vibe; and the diamond shape's angular dimensionality set in Polished Nickel for a "super modern" bathroom.
"As a designer, I want to provide as many options as possible to our customers, but in the least number of parts," explains Yang. To that end, even though the shapes of Tenor's outer tubing differ, they're built around the same core of energy-saving, flicker-free LED components. "I was really happy Jim figured out how to efficiently produce three different profiles," says Yang, referring to Jim Stanley, staff engineer, who took her concepts and turned them into 3D prototypes.
The line is available in two iterations: Tenor Dimmable operates with a standard Lutron wall switch. For next-level customization, Tenor Tunable, paired with the requisite Sway control panel, offers dimming, tuning and personalized presets for a la carte lighting. Prioritizing efficiency in the panel as well, Stanley engineered the fine-tuning and fine-dimming functions into the one device, when typically they require a minimum of two. Tenor Tunable can be modulated from a warm, low 2700 temperature up to a cool, white 5600 on the Kelvin scale, while the brightness can be taken from 5 percent to 100 percent. As with the Dimmable version, three lighting moods come preset, but customers can replace them with their own. Simplicity is also built in: A single Sway panel can control up to six Tunable lights. "Not having to play around with multiple controls to get to an ideal setting for multiple lights makes Sway very user-friendly," says Stanley.
"The presets are so simple but will enhance your daily routine a lot," adds Yang. "When you're doing your makeup, you might want to use a cooler temperature in the morning, before a day at the office, but a warmer one later, if you're going out to a candlelit dinner."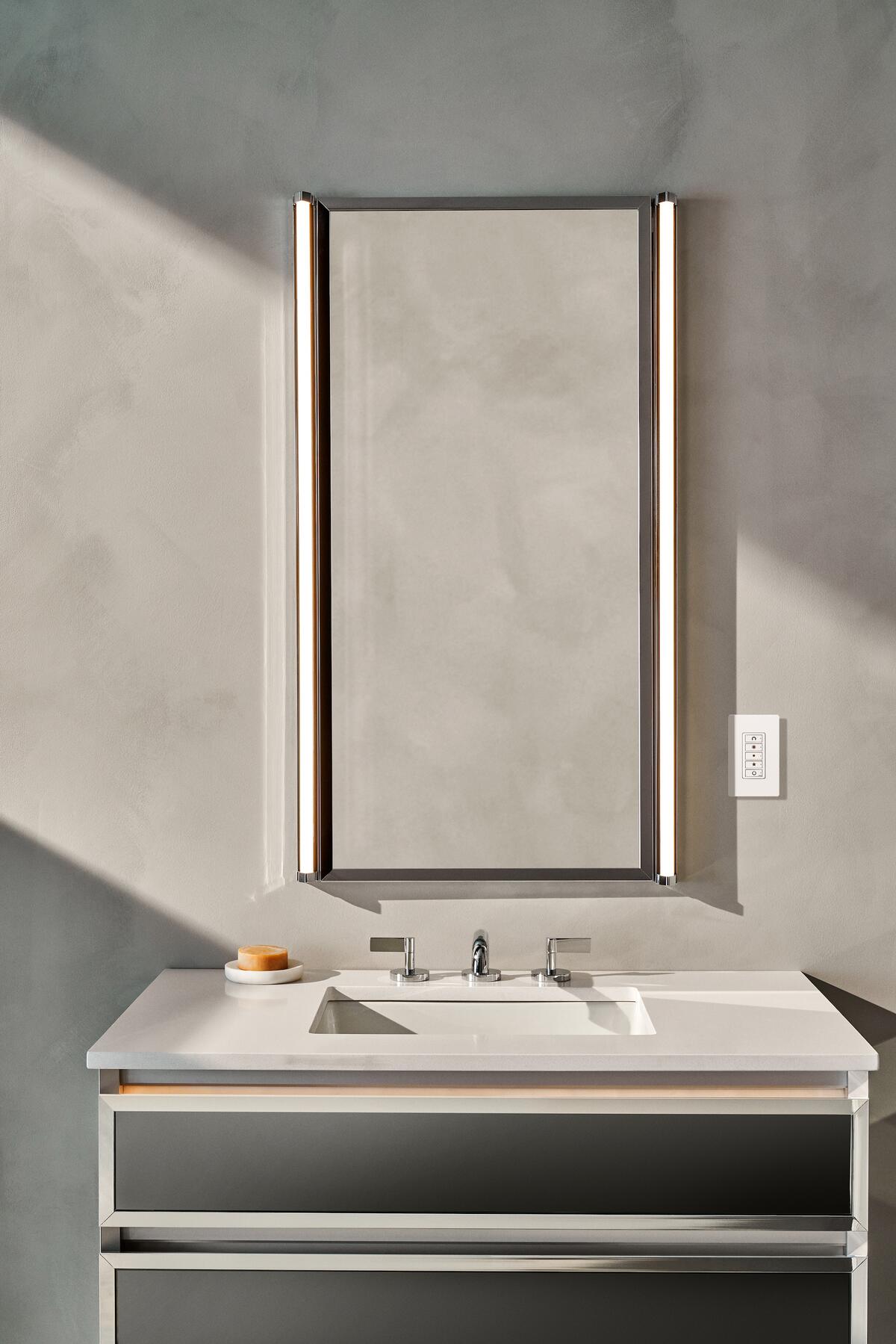 By presenting the two products hand in glove—a streamlined new lighting series plus its custom control panel—Robern spares designers and electricians the challenges of comparison shopping, matchmaking with outside manufacturers, and coordinating installation and utilization across various systems. It's all self-contained, and stamped with the dependability of the more than half-century-old business. "You have the best of both worlds: the stylish product itself and the ability to truly customize its output," says Robern general manager Devon George.
Compared to more complicated—and costly—whole-home lighting systems that require special bulbs and extra storage space to conceal all the wiring, Sway is sized to fit flush within a standard Decora wall plate. The small rectangular panel can be neatly aligned with, for example, the outlet where you plug in your blow-dryer. Visually, that cuts down on clutter—what George calls "wall acne." The icons on Sway's five buttons—also designed by Yang—are as universal and intuitive to tap as those on a smartphone's touch screen.
"When people think about lighting, they think of the decorative aspect. But whether it's the color-rendering index, the capacity for dimming or the placement, lighting is actually all about performance," says George. For designers looking to maximize bathroom wall space, Tenor delivers a broad impact in a narrow footprint that's both aesthetically and functionally superior to overhead fixtures. Rather than dispersing light from the top down, which casts shadows, Tenor provides seamless, full-coverage illumination by flanking the length of a bathroom mirror. "Mounted alongside our mirrors or medicine cabinets, these elegant lights—set in endcaps with gorgeous finishes to match your hardware and plumbing—produce a reflective surface that's beautiful and accurate," says George. Corresponding to Robern's cabinetry, the lights' 30-, 36- and 40-inch lengths can be situated alongside its M Series and M Series Reserve, as well as its PL, PL Portray and Profiles series.
The Sway control currently works exclusively with Tenor Tunable, but the company expects to expand its usage to future collections by winter 2023. As it stands, the panel can be easily outfitted with any of the thousands of third-party wall plates on the market, but Robern-made versions in luxe materials like marble may also be on the horizon. While bathrooms remain the business's foundation, there's nothing to stop intrepid designers from using the lights to fashion walk-in closets, butler's pantries, even primary bedrooms as its portfolio of modular performance lighting grows.
Such creative experimentation is part of the brand's ever-evolving identity: "Tenor and Sway are great examples of how Robern is moving toward being not only a medicine-cabinet maker but a company that helps its customers completely transform their bathroom space into a holistic sanctuary that ensures they feel beautiful, confident and ready for the day ahead—or a good night's sleep," says George.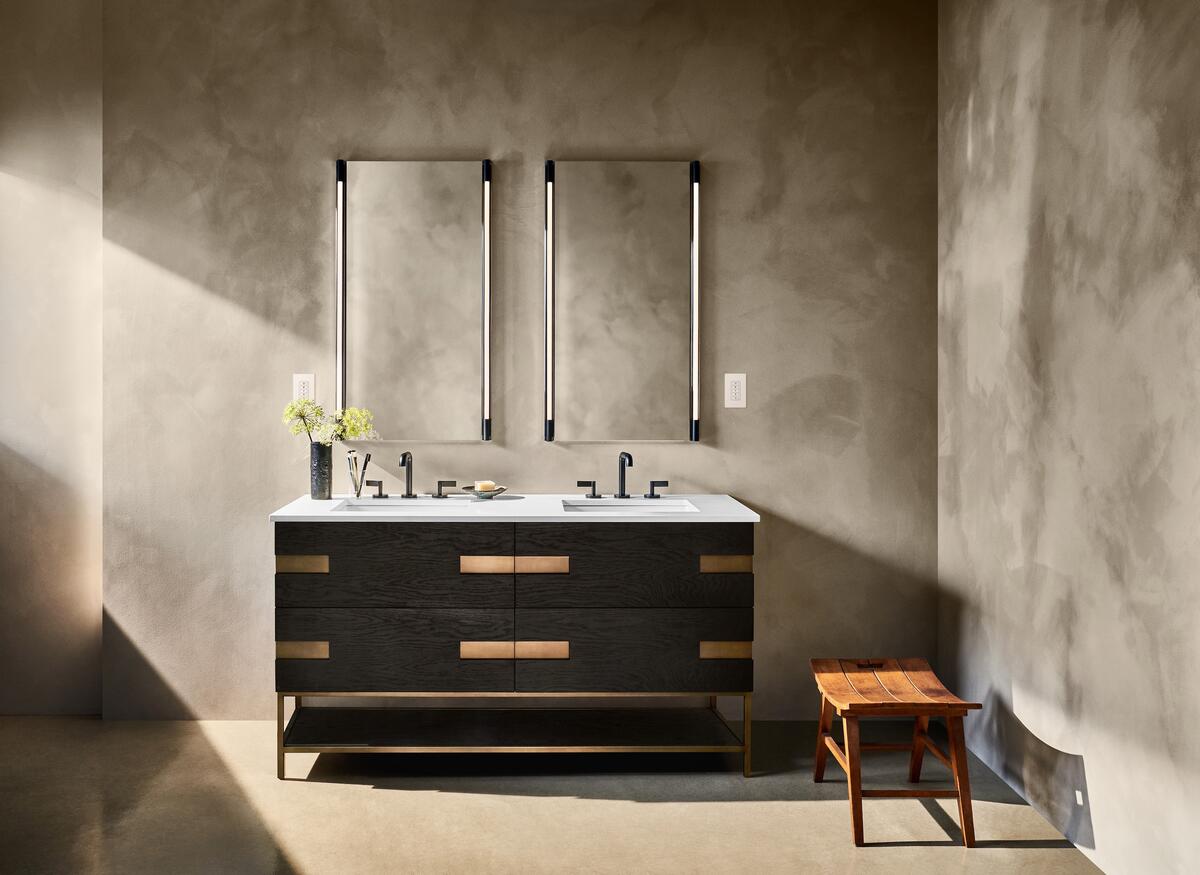 This story is a paid promotion and was created in partnership with Robern.
Homepage image: The slender dimensions of Tenor performance lighting make the most of bathroom wall space | Courtesy of Robern